For more than 20 years, educators have played a vital role in supporting Seeds of Peace's efforts to cultivate new generations of young leaders.
From Los Angeles to Lahore, they multiply our impact in traditional classroom settings and beyond: Supporting our alumni in their own projects to lead change at home, utilizing the skills and tools they learned from Seeds of Peace in educational initiatives within their communities, and even starting schools and programs that focus on underserved populations.
October 5 is World Teachers' Day, and in honor of this internationally recognized UNESCO holiday, we invite you to learn more about some of the dedicated educators who have contributed to and benefited from Seeds of Peace programming, including as GATHER Fellows and Delegation Leaders (educators and community leaders who travel with a delegation of Seeds to Camp and participate in educational workshops).
Here are a few of their stories:
Mehwish, 2015 Pakistani Delegation Leader, 2019 GATHER Fellow: Based in Lahore, Mehwish works with vulnerable communities, especially youth: educating them on their rights, empowering them to make good choices, and engaging them in the civil process so that they might be voices of change. Read about how she helps others find their voice through education.

Anis, 2018 GATHER Fellow: His experience volunteering at a refugee camp in Greece inspired Anis to create El Sistema Greece, a project that uses music education as a tool to bring opportunity and humanity to refugee children. The NGO's mission is to transform conflict through music, friendship, and mutual human support. Find out how Anis's group uses art and music as tools for consolation, regeneration, empowerment, and education for children in the camps.
Pious, 2008 Educator, 2016 GATHER Fellow: Originally from Ghana, Pious moved to Maine in 2002 and has been working with marginalized youth ever since. As a Youth and Community Engagement Specialist at the Muskie School of Public Service at the University of Southern Maine and a City Council Member of Portland, Maine, he has spent the better part of his career focused on engaging youth and creating dialogue across cultural, ethnic, socioeconomic and faith-based groups. Hear Pious talk about his life and work as the first Muslim member of Portland's City Council in Episode 1 of the Inspired podcast.
Molly, Delegation Leader, 2018 GATHER Fellow: After spending two formative summers at Camp as a Delegation Leader (2011 and 2018), Molly started to wonder what would happen if school felt more like a camp—a place that prioritizes good human development, building meaningful relationships, and that believes young people are capable of doing big things while they are still young. Find out how she's been working to bring some of her most meaningful Camp experiences into the classroom.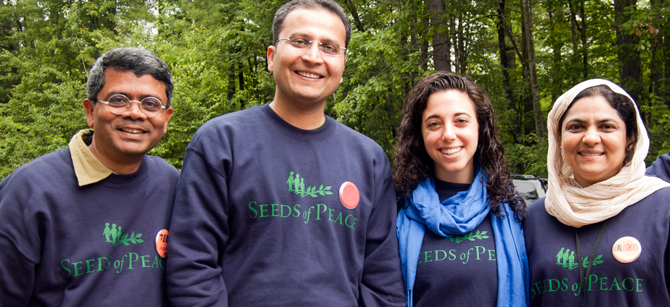 Ahmed, 2004 Pakistani Seed, 2018 GATHER Fellow: What he lacked in funding, Ahmed more than made up for with determination when he set out to break the cycle of poverty for children in Pakistan. The method: Providing free, quality education to young girls who almost certainly would not have had otherwise had the opportunity. Step into the school that Ahmed founded in Lahore in Episode 3 of the Inspired podcast.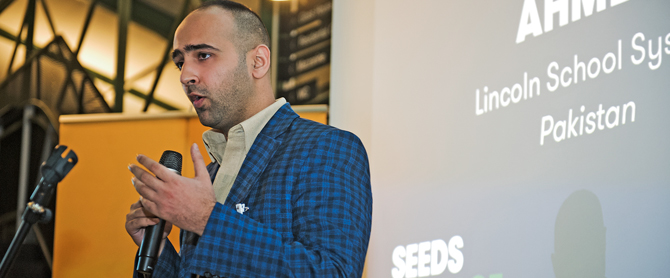 Hanoch, 2015 GATHER Fellow: Using everyday objects, Hanoch creates colorful collage portraits that spark the imagination and stimulate new ways to look at the world beyond the status quo. As a Fellow, he worked to create an arts education curriculum and teacher training course based on his artistic method that helps participants explore themes like composed identity, history, dreams, community, and the "other." Read more about his work.
Marios, 1998 Cypriot Seed, 2018 GATHER Fellow: As a teacher, Marios found that one effective way to promote peace and detoxify relations between Turkish and Greek Cypriots was by building empathy between children. Motivated by the heartbreaking effects he was seeing that stereotypes and othering have on his young students, he set out to counter messages of intolerance with with ones of intercultural respect. Learn more about the children's book series that he created.
Find out more about programs and resources that Seeds of Peace offers for educators, and discover more inspiring stories about educators who are supporting young changemakers in classrooms and communities around the world.