What would compel a left-leaning Asian-American from Hawaii working at IDEO in California to quit his job, drive across the United States, and live out of his Prius while inserting himself into communities where he might not belong, or even be welcome?
"I wanted to understand for myself firsthand why our country is so divided by actually talking to people," said Scott, one of this year's GATHER Fellows.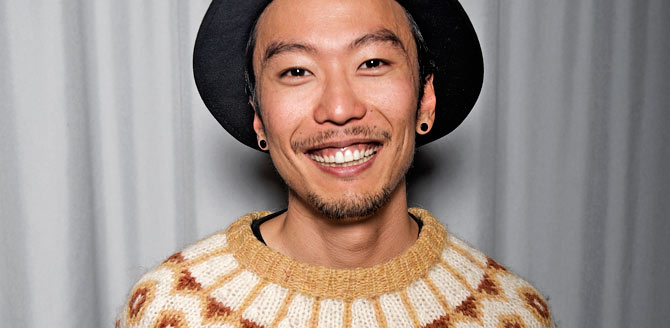 So far, Scott's quest has taken him to the Rocky Mountains (Colorado, Wyoming, and Montana) and the Twin Cities (Minnesota), where he's been since September. His plan is to head to North Carolina, then the Gulf Coast in Alabama, and finally spend time in Arizona, before he ends up back on the West Coast. But that could change; he's been reading the proverbial road signs along the way and letting the journey dictate the destination.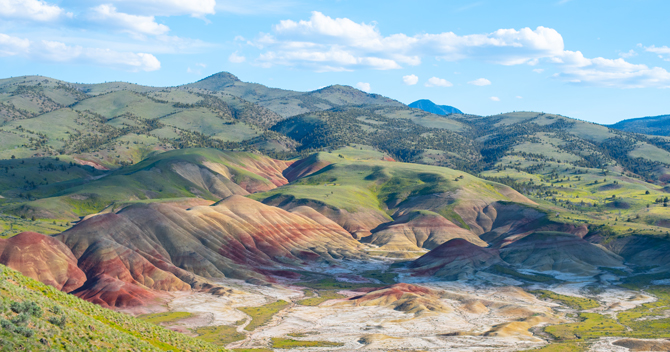 That's a lot of miles to put on a car. And even more, a tremendous amount of personal perspective to be challenged and transformed.
"So much of what we see in the media focuses just on our divisions, focuses just on the problems, on the doom and gloom," he said. "I think it's really important that we also share another narrative of how people are actually trying to solve the rifts that exist in our society."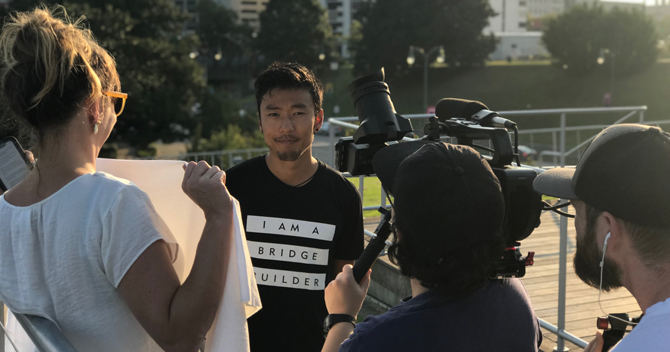 For Scott, the journey started out as a personal one.
"I was a closeted gay person until I was 20," Scott shared. "I felt a lot of shame for who I was, and a lot of that shame came from messages and narratives that I heard from the religious community growing up."
He was fortunate to have a supportive family, but he still felt immersed in the messages from some members of the faith community which made him feel like being gay "wasn't right." The wounds of the messaging he had absorbed throughout his life were so deep, that he had an internalized hatred toward people of faith. "I was basically parading around as this person who wanted to be really inclusive and love everyone, and at the same time, I was actively discriminating against people who were religious."

Through hard conversations with a friend, he realized he needed to do his own healing by recognizing his biases and introducing more nuance into the way he sees people with a religious background. He began immersing himself into different spaces, meeting faith leaders, learning about what guides them spiritually. It was then that he began to work through his feelings and come to a place of connection and understanding.
The personal is political, and the climate in the United States leading up to the 2016 election and beyond has been fractious. Scott spoke of a Reuters/Ipsos poll indicating that one out of every six Americans has stopped talking to a friend, family or loved one because of the presidential election. Yet, he strongly believes there's value when diverse perspectives come together to solve a problem.
"We need to be able to connect with our neighbors for our wellbeing and to strengthen our relationships and democratic institutions," he said. "When an extreme weather event rips through a community, your neighbors are the people you're going to rely on to make it through."
Scott's initial plan was to go from city to city, town to town, documenting his journey for various publications. But he realized it wasn't sustainable. "I was living out of my car and moving constantly. I was not taking very good care of myself mentally or physically."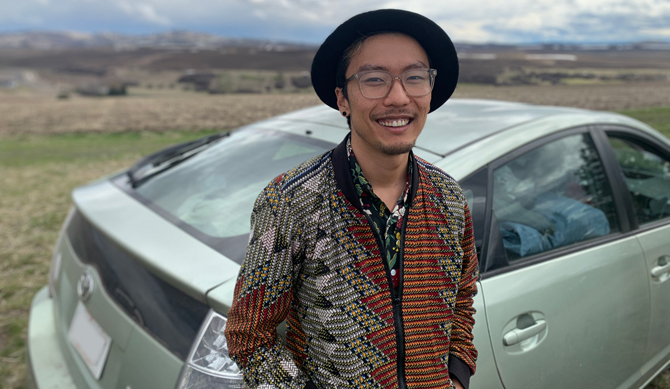 He also realized he'd be more effective in getting to a place of understanding if he could spend time in each location, immersing himself in local communities and culture. He taps into his vast network to make connections in order to find people to speak and share experiences with.
His itinerary, which now has him rooted for about three months at a time, is both geographic and issue-based. Scott has spent time with folks who were gun advocates. He went on hunting trips, something he never thought he'd do in his life. He spoke for over an hour with one man, asking him questions about his relationship to guns, when he first fired one, and how his grandmother introduced him to gun culture. By the end of the conversation, the man thanked him for respectfully listening—"it feels like no one does that anymore," he told Scott—and they discovered they actually had common ground, even though that wasn't how the man had first presented.
"There's a time and place for advocating," Scott said, "but in this moment, I'm really trying to listen. I'm really just trying to understand." One of the things he had never realized was that many hunters have a deep respect for the environment and maintaining habitats. "They're environmentalists, though they might not describe themselves that way. It taught me that language really matters."
In Minnesota, Scott is bringing a community of faith and LGBT leaders together. He is creating a short film documenting these conversations, hoping that this video will lead to a series of additional videos that each focus on a different issue at the root of the divides in the United States. This is forming the basis of his journey around the country.
"One way we're going to tackle divides in our country is by exposing ourselves and others to counter-stereotypical information," he said. "Using videos to present counter narratives that challenge the assumptions people have about others and bring more nuance into conversation leverages the power of storytelling."
In North Carolina, Scott plans to explore the divide between rural and urban communities, something he's been writing about for Grist magazine—where he's a columnist. While in Alabama, he wants to explore and counter southern stereotypes, and was inspired by a friend from there, a climate change activist, who has worked to find common ground with her father, a pastor for a mega-church network in the south who is a climate denier (though in 2019 he has started to include clean water and reducing plastic use into his sermons). His final stop in Arizona will take him on a pilgrimage to study the history of Japanese internment camps and juxtapose that with how communities are dividing and bridging around the topic of immigrantion.
Philosophers tout the journey, rather than the end goal, as being the primary focus of any major undertaking. And while Scott is changing minds, and changing himself, in this process, he does have a larger goal: He wants to shift societal behaviors. He cites others who are doing similar work in a range of settings—like Living Room Conversations, Better Angels, and Millennial Action Project. "There are so many people who are working on bridging differences like I am, and I think we as a collective are all hoping for shared impact."
If his work sounds familiar to those in the Seeds of Peace community, it's not entirely a coincidence that he found his way into the GATHER Fellowship. Before leaving his job in California, Scott was creating an event called 'Gather.' While doing research, he came across the application for the Fellowship. "I was reading the copy and it was like, 'Are you trying to make a project come alive, looking for community, looking for resources and support,' and I was like 'YES!'"
It also happens that he had been researching organizations that bridge differences and divisions and was intrigued by the Seeds of Peace Camp. "When I saw that the organization putting on GATHER was Seeds of Peace, I was like, "That's so serendipitous.'"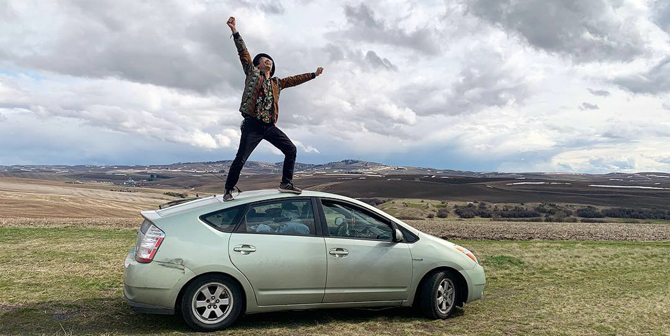 Scott acknowledges that doing change work can be very lonely and difficult. He's experienced moments on his trip where he's wanted to give up, and doubted whether he could represent the issues in a way that's productive. But through the Fellowship, he has been able to be vulnerable and seek support from his peers.
In addition to his listening tour and video series, Scott's GATHER project also involves writing a book that details his journey, and designing a toolkit that includes practical tips for bridging differences. He believes building partnerships is key to this work, which is why he's established many while on his journey with organizations like the Greater Good Science Center at U.C. Berkeley. Stories, skills, and science—Scott believes all three are important components to changing society.
"There are so many different kinds of people and perspectives out there," Scott said, "and I don't think we do justice living a life when we don't get out there and feel all the things that are possible to feel, and meet with all the people that it is possible to connect with. The meaning of life is to break out of those boxes."
You can follow Scott's journey in real-time across the United States on Instagram.
This series highlights our 2019 GATHER Fellows. To learn more about the inspiring social change that Scott and our other Fellows are working towards, check out #FollowtheFellows on Facebook, Twitter, and Instagram.