Our alumni are working in ways small and large to make an impact in their communities. This "Alumni Profiles" blog series will feature some of our over 7,000 changemakers in 27 countries around the world who are working to transform conflict.
Ahmed has been on our radar for a long time: three years after attending Camp as part of 2004's Pakistani Delegation, he was elected the youngest-ever leader of the Youth Parliament of Pakistan.
Now, as one of our Seeds of Peace GATHER Fellows, Ahmed is using his visionary educational model—the Lincoln School System—to bring equality to women's education in Pakistan.
Seeds of Peace: Tell us a little about your journey starting the Lincoln School System.
Ahmed: It was a difficult decision to start this academic institution, as I did it without funding from any donors. All I had was the will to transform the lives of poor children of Pakistan. The day I opened the school, we had 15 students; now we have 175. We have grown from a staff of two teachers to 11 teachers and six support staff. It's been such a fulfilling journey, but it's also just the beginning.
Seeds of Peace: Can you talk a little bit more about the program?
Ahmed: Lincoln School System is an organization that provides high-quality, affordable English-medium education [Ed: a system that uses English as the primary language of instruction] to children living in areas with low literacy rates. It works on a unique model that charges a full tuition fee for boys and uses that money to heavily subsidize the education of girls. We had to adopt this model as many people in Pakistan spend money on the education of boys while sending girls to extremely low-quality government schools or free Islamic seminaries.
Seeds of Peace: What do you aim to accomplish as a GATHER Fellow?
Ahmed: My vision is to reach out to millions of uneducated children in Pakistan and change their lives for the better. I know I cannot do it alone and I need to learn from some of the best minds working around the world. As I learn from people doing amazing things in their respective fields, I will be able to expand the network of schools and reach out to those children whose families have been living in poverty for generations.
Seeds of Peace: What is your superpower?
Ahmed: Wolverine's super healing! No, seriously—it's the ability to recover from any setback. There have been many times when I faced extreme difficulties and it seemed that I would have to curtail the scope of the organization. However, my team and I never gave up and always bounced back to transform the lives of children. I am very proud of it.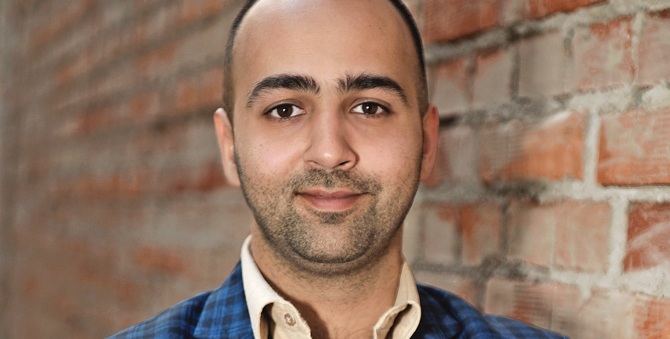 Seeds of Peace: What about the incubator in Stockholm got you most excited? Was there anything you were nervous about?
Ahmed: I was excited to meet amazing social leaders from around the world. I learned from the best of the best, but now I also feel like I have a lot of weight on my shoulders. I sincerely hope that I'm able to implement the ideals I learned in Stockholm and transform the lives of millions of children in Pakistan!
We wish Ahmed and Lincoln School System the best of luck! Of course, with the tools and support system the GATHER Fellowship, luck is the last thing he'll need. For more information on the Lincoln School System, visit their Facebook page.
Photos by Stina Svanberg.