Fifty years ago this month, police raided the Stonewall Inn, a gay bar in New York City. The landmark moment ignited long-simmering tensions that would soon spread to demonstrations throughout the country, marking the beginning of the modern gay rights movement in the United States.
June is Pride Month in the United States, commemorating Stonewall and celebrating the contributions of LGBTQIA+ people to society, not just in the US, but around the world. So this month, we are highlighting works that explore and build understanding toward issues related to this community. Here's what our staff have been reading: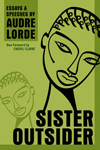 Sister Outsider, by Audre Lorde
At the heart of this collection of Lorde's most powerful essays and speeches is her identity and experiences as a black queer woman. She was one of the first activists and writers to engage with the subject of intersectionality, and the theme plays a major role in Sister Outsider. Through a blend of personal stories and her unique version of activism, Lorde tackles the issues of sexism, homophobia, classism, and ageism, arguing for a society that not only is inclusive, but also celebrates individual differences. What I personally find most inspiring about Sister Outsider is Lorde's refusal to apologize—for her identity, for her beliefs, for her anger at the status quo. This beautifully written collection of shorter pieces makes for a relatively quick and easy read, but if you only have time for one or two, I suggest "The Master's Tools Will Never Dismantle the Master's House" and "Age, Race, Class, and Sex: Women Redefining Difference." — Molly Gump, Development Intern
Sister Outsider is a great book for many reasons, but one of my favorites is how relevant it is to dialogue. It engages with power, anger, identity, and emotion, and not only does Lorde tell her story as a queer women of color—that in and of itself is a radical act—but it addresses how we navigate power in dialogue. — Kiran Thadhani, Director of Global Programs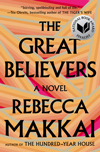 The Great Believers, by Rebecca Makkai
This time machine of a book, which chronicles the outbreak of the AIDS epidemic in Chicago, brought back memories that were somewhat at a distance from the life I led in the mid-to-late 80s. I didn't know anybody who was gay when I was in high school. Not that homosexuality didn't exist amongst teens in Miami. Rather, people were still closeted. I look at schools today, at my own kids' peers and their understanding of what it means to be human, and I'm left thinking that we've progressed so much in 30 years. Yes, there are still shameful things happening today, but they stand out as shameful against a society that has become infinitely more accepting of the many ways people love and live. And that gives me hope for what can be 30 years from now, for the LGBT community, as well as other groups that are still marginalized and underrepresented, undervalued. The arc of justice … keep bending. — Deb Levy, Director of Communications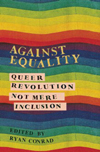 Against Equality: Queer Revolution, Not Mere Inclusion, edited by Ryan Conrad
Against Equality is a collection of essays and articles written by queer activists and scholars that challenges us to think about what queer liberation actually looks like. Is it marriage and military service and hate crime laws? These authors say no. Instead, they point to the ways in which these goals reinforce the power of marriage, the military, and the prison system, when what we ought to be doing is removing these oppressive structures from our lives. This collection is split into three sections which deal with these exact goals of the gay rights movement. The authors in this book are not interested in a straight world where we are included. They are interested in a queer world, a free world, where people do no have to look or act straight in order to be free. This is an excellent introduction to leftist queer thought and offers some history of how the radical queer liberation movement became the assimilationist gay rights movement in the US. The authors in this book are courageous in their rejection of what straight society has deemed good and respectable, and deeply inspiring in their commitment to the freedom of our community. — Greg Barker, Manager of Facilitation Programs
Jughead Vol. 1-2, by Chip Zdarsky and Erica Henderson; Ryan North and Derek Charm
In 2015, the entire Archie Comics line was rebooted. Jughead, best friend of the eponymous Archie, was revealed to be asexual. One year later, the character received his own spinoff, which explored something truly remarkable about this development: the radical normalcy of it all. In these stories, Jughead is an ordinary teenager doing ordinary things (well, for the world of Riverdale, at least). His asexuality, as with the sexual orientation of his gay classmate Kevin, is beyond simply being accepted by his peers—to them, it's a complete non-issue. Even more, Jughead is laconic and detached … he's the cool kid of Riverdale High. Many kids don't know what asexuality is or that it could be a possibility for them, much less that it's an entire queer identity of its own. What makes Jughead a milestone is how it extends that representation to an all-ages title, where it's even more important that readers can see themselves in what they're reading. — Chris Luggiero, Communications Associate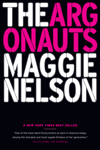 The Argonauts, by Maggie Nelson
Like the people it portrays, The Argonauts defies easy classification. Part memoir, part work of literary criticism—Maggie Nelson calls her writing "autotheory" early in the book—this genre-bending story "is an intimate portrayal of the complexities and joys of (queer) family making." At its core is the author's love for, and relationship with, a genderfluid person. As Nelson's pregnancy and the process of motherhood brings her on a journey of self-discovery, her partner embarks on his own, undergoing testosterone therapy and eventually gender confirmation surgery. In her review for The Los Angeles Times, Sara Marcus writes that The Argonauts comes "away and back again to central questions about deviance and normalcy, family-making and love," asking, "How does anyone decide what's normal and what's radical? What kinds of experience do we close ourselves off to when we think we already know?" — Mirna Ansari, Middle East Programs Coordinator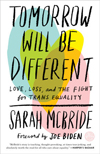 Tomorrow Will Be Different, by Sarah McBride
At 22, Sarah McBride came out as trans in her college's student newspaper. One year later, she successfully fought against employment and housing discrimination based on gender identity in Delaware, advocating in the face of national hostility. Upon signing the Gender Identity Nondiscrimination Act of 2013 into law, the governor thanked her personally for her efforts. In Tomorrow Will Be Different, McBride tells her entire story, from getting engaged in politics years before her transition to becoming the first openly trans woman to speak at a major US political convention in 2016. She speaks on both the progress of, and challenges faced by, the trans community with a clear-eyed optimism and enthusiasm many of our leaders could learn from. Even the death of her husband from cancer four days after their marriage—a saga she covers in heartbreaking detail—fails to bring her down into the cynicism that marks our politics today. Tomorrow Will Be Different is also remarkable for its portrait of youth activism, and I hope her story provides a roadmap for other young leaders looking to get involved in the issues they care about. — Eliza O'Neil, US/UK Programs Manager
What would you add to this list? Any recommendations for future editions of What We're Reading? Let us know in the comments below, or send your picks to lori@seedsofpeace.org.