Six years ago, I was an introverted teenager from Palestine who was flying to the United States for the first time to attend a summer camp deep in the woods of Otisfield, Maine. I was a 16-year-old who had taken on the challenge of stepping out of my comfort zone, leaving home, and questioning the beliefs and prejudices that I had learned growing up.
For the first time in my life, I was surrounded by a diverse group of people from multiple parts of the world. It would also be my first time being part of a community that fostered confidence and celebrated difference. By the end of those three weeks, I made special connections with people I never thought I would even have a conversation with, and most importantly, I had found a second home.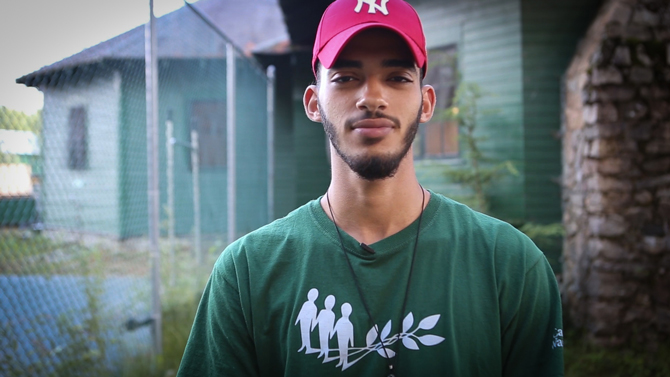 This year, I am a journalism major going into my senior year, and one of my graduation requirements was that I take part in an internship program over the summer. I am fortunate enough to have the privilege of returning to that same summer camp I went to in 2013, this time both as a counselor and as an intern of the organization's communications team. Meaning that this summer, I will be providing you a look from inside at the different aspects of Camp that are usually kept a "mystery" until our campers arrive.
This dual role definitely brings with it a challenge: how do I offer this valuable insider's view while also not revealing too much? I don't want to take away from the magic that participants experience when they get here, which is one of the most special things about Seeds of Peace. That being said, I will be writing a series of blog posts throughout the summer that give an intimate view on what goes on during the time spent at Camp. A "behind the scenes" of the program, if you will.
These blog posts will range from describing the training that counselors go through during orientation before the campers arrive, sharing a conversation with the kitchen staff to learn what it takes to feed such an international and diverse group of people, discovering how the campsite is maintained throughout the year, revealing moments of transformation, and describing how Seeds of Peace manages to create an inclusive community that is very different from what teens usually experience, among other things.
A large number of our campers come from areas of conflict and war, and stepping into a safe space where they are accepted and supported is an unfamiliar feeling to many of them. Six years ago, Seeds gave me the self-confidence and courage to use my voice and speak about the injustices happening in the world, and this summer I'm looking forward to seeing the impact Camp has on our participants and to share it with you all!