Borders—be they the physical ones defined by governments that might prevent us from having the job or the life that we desire, or the intangible ones that keep us from connecting with a neighbor who is different than ourselves—are never far from Mohammad's mind.
Through either his father's job in education or his own studies and career as a renewable energy and economic development expert, the son of Palestinian refugees has traversed many, many borders—among the places where he's lived, worked, or studied are Kuwait, Jordan, Lebanon, Egypt, Israel, Tunisia, Morocco, Saudi Arabia, Oman, London, and New York City, and he hopes to soon add Paris, and eventually Vancouver, to that list.
While it wasn't always easy, he said this mobile lifestyle shaped who he is: A self-described "nomadic Arab" who is naturally curious, easily maneuvers between cultures, and is always looking for the story, opportunity, or connection that is just beyond the lines that typically divide us. Occasionally borders slow him down, but more often than not, they are what motivate and inspire him.
"My biggest passion is the idea of a borderless world," the 2019 GATHER Fellow said, speaking by phone last week from a sidewalk cafe in Amman. "A world where I am not judged for where I was born or where my parents were born, but for who I am. A world where people can transcend boundaries and borders, where they can connect with one another on a deeply fundamental level."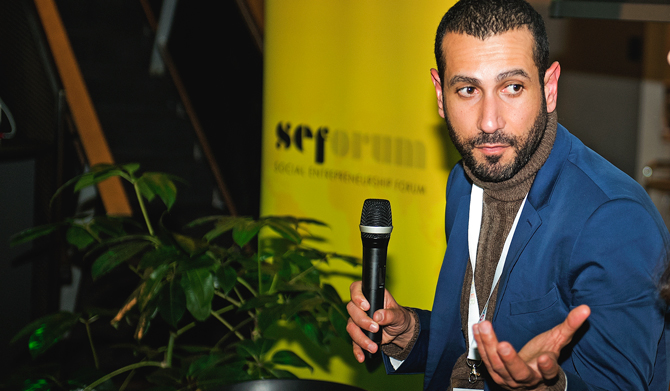 His focus in particular is Middle Easterners who have been forced to leave their homelands to resettle in Europe. Amid a rise in anti-Semitism, xenophobia, Islamophobia, and nationalistic sentiments across Europe, he is looking to change the narrative around the Middle Eastern diaspora there by uniting it.
Enter the Mediterranean Migration Narrative Project, an initiative that Mohammad co-founded and that is at the core of his work as a GATHER Fellow. The project would create a network of the Middle Eastern diaspora in Europe—namely the Mizrahi and Sephardic Jews who migrated in the middle of the last century and the more recent Arab refugees—to share their stories, form meaningful connections, and hopefully establish productive collaborations in food, business, and the arts.
The outcome, he said, will hopefully change the perception around refugees so that they can be seen not as a burden to their new neighbors, but as valuable additions to their communities.
"One of the big purposes of this project is to assert a more positive image of Middle Easterners," Mohammad said. "People love food, art, technology, and businesses that create jobs, so connecting them so they start projects that change them, and the societies around them, for the better is one way to insert positive impact from within these communities that they now call home."
The idea for the project was born out of friendships with several people who are now helping him build the program. Particularly meaningful was the story of his friend Rafram, a Jewish artist and culinary expert whom he met while living in Tunisia. Rafram was born on the Tunisian island of Djerba, but at a young age his family, along with many other Jews at the time, left the island to seek opportunities in Israel.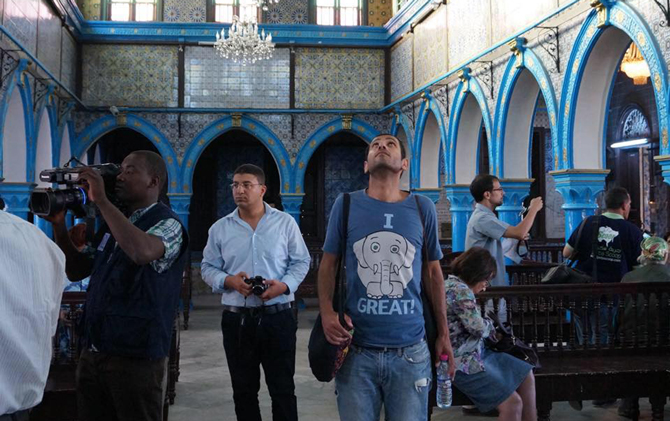 El Ghriba Synagogue in Tunisia
"More so than his departure from Tunisia, it was his decision to return that inspired me," Mohammad said. "As an adult Rafram said, "OK, I'm going back to my home country and I'm going to use art and food to revive a thriving Jewish culture in a place that's become monolithic.' That was pretty amazing to me."
As a Palestinian, he said that looking at refugees as productive members of society has always been part of his story, and he's troubled to see the region that he grew up in become increasingly less diverse.
"The Middle East is unfortunately becoming less and less diverse," he said. "It was first the Jews in the middle of the last century, and today it's the Yazidis, Assyrians, and Copts who are being socially coerced to leave."
So as much as he is driven to show Western societies the benefits of welcoming refugees into their communities, he is also eager to show the Middle East what is lost when a society becomes less diverse.
"The first thing it loses is its creativity because diversity fosters an atmosphere of thinking outside the box. Just think of how many tech startups in the U.S. were created by immigrants," he said. "So by demonstrating the value that these minority groups bring to their new communities, I'm also trying to send a message to people in the Middle East: Look at what you've lost by forcing minorities out, and how wonderful it would be if these minorities were working back at home, and what type of opportunities they could provide."
The project is still in its very early days: Mohammad and his collaborators are currently searching for the right 16 candidates for the first cohort. Ideally, he'll move to Paris this fall so that he can meet with candidates and potential partners there, as well as in Berlin and Rome, where he hopes to hold three workshops over the course of a year. His biggest challenge at the moment is funding, but he's optimistic that he'll have the cohort lined up by the end of the year.
And if all goes according to plan, he won't be running the program several years from now.
"The dream I have for this is that I won't hold it forever," he said. "I'm hoping that Jewish and Arab people in Europe will step up to become executive directors so that it becomes run by and for Europeans of Middle Eastern descent."
There is much work to be done, and there's no guarantee that the blood, sweat, and many, many hours that he pours into this project will pay off. He's taking small jobs here and there to pay the bills until funding is secured, but Mohammad said he's not deterred. His curiosity, his desire to reach beyond borders, and, most importantly, his commitment to create something lasting that others can build upon, won't let him rest until he sees this project through.
"There's a story in the Muslim faith, that when God created Adam, he said he wanted to create a 'khalifa,' which is Arabic for 'successor,'" Mohammad explained. "Humans are on earth for a reason, and that reason is to create a better world for those who will come after them. So to borrow that phrase, it's about being a good khalifa and leaving something behind that people can take and build upon and take to the next level."
This series highlights our 2019 GATHER Fellows. To learn more about the inspiring social change that Mohammad and our other Fellows are working towards, check out #FollowtheFellows on Facebook, Twitter, and Instagram.