In a hotel conference room in Nazareth, groups of Seeds sat in circles, heads down, eyes glued to their phones, silently carrying out a dialogue session using only the mobile messaging service WhatsApp.
After 20 minutes of talking only online, they put down their devices and had the same dialogue face-to-face, where they could read one another's body language, hear the tones in others' voices, slow down and listen to one another, just as they had learned to do during dialogue sessions last summer at Camp.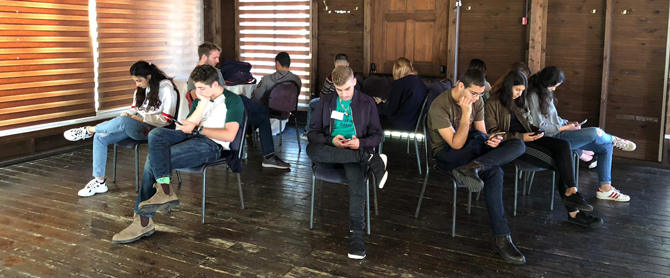 The exercise, part of a November 2018 "Role of Media" seminar, was designed to give Seeds "a tangible experience of the digital world versus face to face," said Orlando Arellano, who was part of the Seeds of Peace staff organizing the event.
While social media, the Internet, and even 24-hour cable news has given us more ways than ever to connect, speak out, and receive information, studies have shown that it's also leaving us increasingly isolated, anxious, and divided. Over the course of a weekend, 52 Israeli and Palestinian Seeds examined the cognitive, cultural, and personal effects of social media and mass-media messaging.
Through workshops, discussions, and real-time experiments, Seeds came to better understand how the media influences their daily life, some of the pitfalls of social media, and how it can be used in more productive and positive ways.
Here are a few key takeaways from the seminar:
1. Social media may be reshaping our brains.
While social media, texting, and email have given us more ways than ever to connect, studies have shown that these forms of communication are actually rewiring our brains in ways that could have deeply concerning effects for the way we view and interact with the world.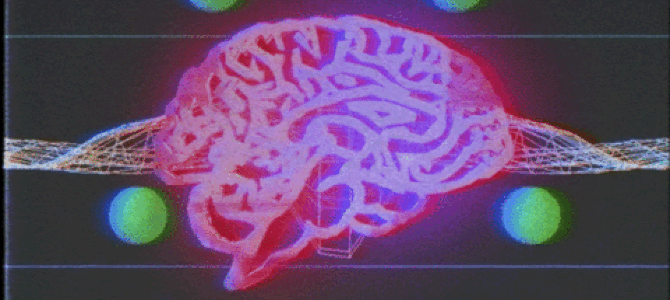 In a video shown to Seeds at the seminar, Dr. Dan Siegel, clinical professor of psychiatry at the UCLA School of Medicine, explained that studies comparing written communication (text, email, social media) versus face-to-face found that the written communication is lacking seven essential non-verbal signals—posture, gestures, timing, intensity, eye contact, facial expression, and tone of voice—all of which Seeds are taught to recognize to make them better communicators in dialogue sessions.
But it's not just dialogue that looks different when these cues are or aren't used- there's actually a difference in our brains. Non-verbal cues are sent out by the brain's right hemisphere, which works with our bodies to give us emotions, a vital element in connecting with another person. Written communications, however, and even thinking about how many "likes" a post on social media is going to get, activates the brain's left hemisphere, which has to do with logistics and analytical functions.
This shift is a notable one for researchers, Dr. Siegel said: "What I'm deeply concerned about is if social media, email, texting are not actually getting people more face-to-face time with each other, or getting even getting them in touch with what's going on inside of them, then the new generation will be much more use to a very surface level of experiencing the world."
2. The medium matters.
Communication isn't one size fits all, and if you're going to use social media—which most of us do—it's important to examine whether the platform you are using is the most appropriate for what you hope to communicate or to accomplish.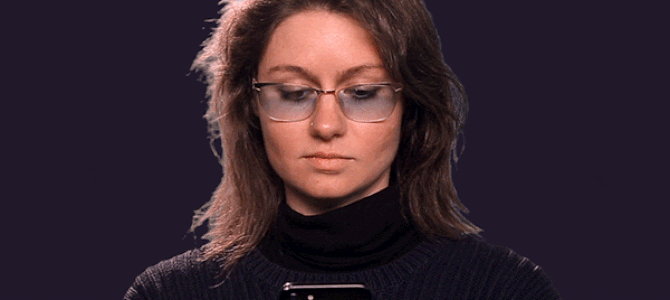 In one experiment at the seminar, program managers posted images and stories on Facebook to demonstrate how easily a conversation could go off the rails, or how an idea, no matter how carefully written, could be misinterpreted. One Seed said of Facebook that she realized "she was spending too much time trying to prove a point where I'm not being heard."
So before crafting a post, it's important to think about your intention and the possible effects. Do you want to educate, entertain, provoke, persuade, engage, or something else? Are you ready for responses from people who feel differently from you, and will you be able to continue the conversation in a healthy way in public? What will it mean when you narrow an idea down to just 180 characters, or only a photograph? Is this something you want following you forever?
If you're thinking of posting a message that you wouldn't shout in the middle of the town square, or an image that you wouldn't want on a billboard above your house, you probably shouldn't post it on Facebook or Instagram.
"WhatsApp is great for something by voice, but when someone is writing, maybe they're not conveying an entire idea or emotion, so it's probably not good for dialogue," Orlando said. Even emojis can't substitute the nuance and emotional depth of a face-to-face conversation (or phone call), when complex or emotional subjects are up for discussion.
3. Social media can be a tool for change.
It's easy to focus on the negative aspects of social media, but the positives are undeniable: these free platforms spread power from the few to anyone with an Internet connection.

Another video shown during the seminar gave powerful examples of ways social media has been used as a positive tool: In Mexico, citizens use it as a way to safely report information on drug wars and cartels. In Jamaica, health officials are supplying information to the masses about HIV. Anyone with a phone can now be a citizen journalist, and revolutions have literally begun on Twitter.
The possibilities for social media are endless, but, of course, the efficacy of any tool lies largely in the hands of the person using it. And understanding the ways that social media can be used for good, Orlando said, is critical to having more positive interactions online.
"We are living in a different time, and using media in a productive way can have a positive impact if we know how to use the tools around us," he said. "Generationally, it's an opportunity."