The former slave and abolitionist Frederick Douglass is often quoted as saying that "once you learn to read, you will be forever free."
Regardless of time, location, class, or race, reading has long been a gateway to knowledge, understanding, and empowerment—which is why so many societies throughout history have banned books or reading among groups of people they wished to oppress.
At Seeds of Peace, we're in the business of empowering, so it should come as no surprise that there are many voracious readers here on staff. We are constantly talking about, reading about, and sharing ideas about dialogue, leadership, empathy, and people working to change the status quo. And because we think many members of the Seeds of Peace community also hold this passion, we're starting a new series, "What We're Reading," that gives a window into this ongoing conversation.
Each month, we'll share staff recommendations of several timely or theme-related books, articles, reports, and more that in some way reflect the Seeds of Peace mission. And though some works might touch on political topics, they are not meant to endorse a certain view or take any side. Rather, we are looking to share works that will hopefully educate, inspire, stimulate conversations, and/or build empathy.
February is Black History Month in America, so we're kicking off the series with a focus on African-American authors, culture, and history. These works examine struggles involving race, gender, sexuality, and economic inequality; show the links between conflicts in America and conflicts abroad; and put us in the shoes of people chasing dreams, speaking truth to power, falling in love, and, all too often, trying to find a place in a system that was set up to exclude or oppress them.
We hope you find new ideas and experiences in these works, and if so, we'd love to hear about it. Are there other books you would recommend? Let us know in the comments section, and happy reading!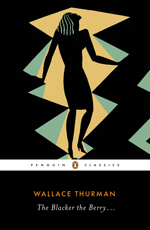 The Blacker the Berry by Wallace Thurman
Set in the 1920s, this story from Thurman, a renowned contributor to the Harlem Renaissance, follows the life of a very dark-skinned black woman who leaves her home in Idaho for Los Angeles, then New York City, in hopes of finding a community where she will be accepted. It is not a quick, how-to guide to overcoming racism and discrimination, but it is a quick read that will help the reader understand different perspectives of how something as basic as the shade of your skin can literally dictate and change a person's life. The U.S., and other parts of the world, have had "reform" and "change" in the 90 years since this book was published, but some problems linger; and the underlying theme of discrimination and colorism still rings true throughout many communities today. This novel makes you question whether we are making a difference at all, or if we are just renaming our societal problems so there seems to be change. — Imani Jean-Gilles, Communications Intern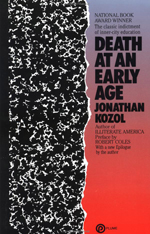 Death at an Early Age: The Destruction of the Hearts and Minds of Negro Children in the Boston Public Schools by Jonathan Kozol
In 1964 Kozol entered the Boston Public School system as a fourth grade teacher at one of its most overcrowded and dilapidated schools. Here, he discovered an institutional apartheid, a where teachers beat and neglected black students, often referring to them as "animals" and worse. Death, a 1967 National Book Award winner, was the definitive book on poor public education in Boston. More importantly, it really told the truth about public school for Black students in large cities in the U.S. — Tim Wilson, Senior Advisor & Director, Maine Seeds Programs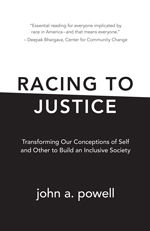 Racing to Justice by John A. Powell
This book and other works from Powell are a gift and true lesson to people working to build a future where belonging is at the center of our systems, structures, relationships, and identities. Racing to Justice emphasizes that how we talk, do, and live race has vast impact on our imagined futures. If race isn't central to how we understand our current or future social constructions, we will continue to perpetuate "inequality, mass incarceration, full participation in our political and cultural structures, and—perhaps most critically—with our most fundamental questions about who we are." — Kiran Thadhani, Director of Global Programs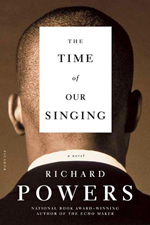 The Time of Our Singing by Richard Powers
Here's a novel, (a small piece of furniture, really, at 630+ pages) that blew me away with its intensity, authenticity, raw emotion, and human truths. It's the story of an African-American woman and a Jewish German immigrant man who meet at the 1939 Marian Anderson concert on the National Mall in Washington, DC. They fall in love, get married (breaking laws at the time—both civic and 'moral'), and have three children. This book gave me a glimpse into America's recent past and the human toll of systems of oppression the way no history class ever has, and put me inside the shoes of someone who struggled with identity over the course of a lifetime … a lifetime that spans multiple social movements and mores. — Deb Levy, Director of Communications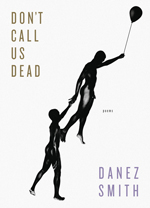 Don't Call Us Dead by Danez Smith
Danez Smith is a black queer poet, and I think one of the most important young poets of whom I am aware. This book, a National Book Award for Poetry finalist, begins with "Summer Somewhere," which imagines black men who have been killed in acts of violence popping up in an afterworld that is a perpetual summer day on the block. Here is a poet who loves black men—in a society that does not—and this love and care saturates the poems. There's beauty, brutality, genius, and humor, often all at once (see Dinosaurs in the Hood). The entire book is a gift, and the gift is his imagination; it's as though he said "there's no good place for us, so I'll write one." — Greg Barker, Manager, Facilitation Programs (P.S. The Poetry Foundation has compiled an outstanding collection of poems, articles, and podcasts celebrating Black History Month.)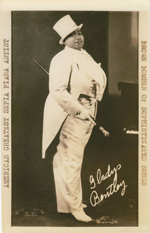 Overlooked: Black History Month The New York Times
This special edition of the The Times's belated-obituaries series shines a light on remarkable black men and women who in some way shaped our world or blazed trails for future generations. From a gender-bending star of the Harlem Renaissance, to slave-turned-millionaire abolitionist, these are lives worth studying, celebrating, emulating, and remembering for their accomplishments, as well as for identifying the systems that prevented many of them from ever achieving the fame or stature they deserved in their lifetimes. — Lori Holcomb-Holland, Communications and Development Manager