Mahmoud Darwish, a Palestinian poet once said, "My freedom is to be what they don't want me to be."
As a Palestinian citizen of Israel growing up in a bubble inside of a bubble—with religious, political, social, economic, and racial restrictions—this quote for me has always represented the balance between belonging and difference, to and from my community.
I grew up in a small Palestinian town in the center of Israel, and since it's a small town, everyone knows each other. If someone throws a wedding or a party, every single member of our town is invited. It's a very rare, beautiful bond that I'm lucky to share with people from my community.
My parents, and my entire (large) family that lives in our town, are well-respected and known for being well-educated people. My dad, who works in the Ministry of Education, is the sciences and technology inspector in the northern region of Israel, and my mom, who holds a PhD in mathematics and philosophy, is the principal of a school. So, growing up, especially as the oldest son in my family, everyone had high expectations for me regarding my education.
All of my cousins who finished high school, with no exceptions, are studying nursing, dentistry, or genetic engineering in universities in Europe and Israel. Everyone expected the same from me, and to be honest, I shared those same expectations. That's why I took the highest level classes of chemistry and biology in high school.
In the summer of 2016, I went back to the Seeds of Peace Camp. That's when I started to realize that I've been letting people decide my future, even if it wasn't the future I wanted for myself. I began to develop critical thinking skills that gave me the confidence to begin conversations with my parents that I never thought I would have the courage to start—conversations about my future, my life, and what they were like when they were my age. These conversations made it easier for me to confront them with my desire to not study medicine.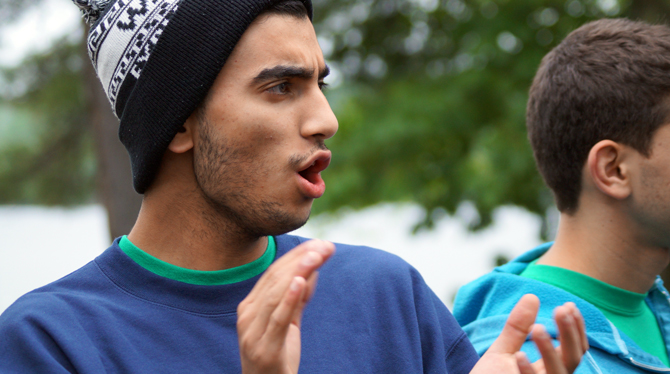 My parents were shocked at first, and we had many arguments about how people like me are too young to understand the world around them. My aunt, whose two sons both study medicine in Europe, would tell my parents, "Look at my sons, all successful. Osaid is already on a second gap year and hasn't started university yet."
It hurt me see the look on my parents faces, so that was my initial motivation to prove that I can also be successful and show my family that we live in a different world today. I'm not growing up in the same system as other kids; I've always felt different. I think now I feel ready to embrace that and show the world what Osaid can do.
My biggest dream is to become the greatest, most successful music artist in the world. Yes, it sounds crazy. But trust me, I know I will. I've been working really hard and I'm never stopping until I get there. I'm 19 years old and I've been producing music for three years. I have worked with many artists, including ones from Denmark, South Africa, Australia, Israel, and Sweden. I have one mixtape that I released last year and I have another coming in two weeks.
Switching from chemistry, math, and biology to music is a pretty big shift. But I believe music is something magical and limitless. It brings me comfort, pumps me up, makes me think differently … and it helps me connect with people from all around the world.
Music is my medicine and I want to use it to help heal others, whether as individuals or communities. The only limit that you have with music is your creativity and imagination, and that is the only limit that I want to have in my professional career.