My main motivation in attending Seeds of Peace was to look Israelis in the eye and ask them why we are unable to shape our present and future the way we want.
Why is it that rather than traveling from my home airport, I must go to another country to fly? Why does our chance for opportunity and dignity have to be controlled by the wishes and decisions of the Israeli government and military? I wanted to tell them what it feels like to constantly live feeling stripped of my own dignity.
When I attended Camp, war was fresh on my mind. The summer of 2016 was only two years after the Gaza war: a war where about 2,200 Palestinians and 71 Israelis were killed. It was hard to go to a peace camp when my last recollection of my country was of war.
In particular, it was most challenging when I attended my first dialogue session. Even though I was looking forward to it, I could not say a word because I felt strange being in the same room as Israelis. The first week of dialogue was filled with discussions that led nowhere. We argued constantly about the different versions of history that we had been taught and about our current living conditions. We also had our own version of statistics and numbers to use in arguments and counterarguments.
However, I quickly discovered the power of personal stories, and how those experiences matter just as much as facts on the ground and numbers do. Each of the stories shared in the dialogue sessions was powerful in the sense of how it transformed our perspectives. Each narrative was unique in the sense that it mattered deeply to each individual. The dialogue sessions were an opportunity to share something in common: our humanity.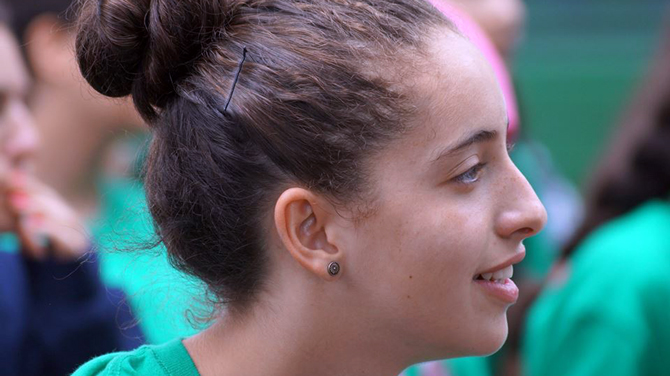 Not every story, however, was transformational. Some felt destructive, or counterproductive. I recall multiple occasions when I would leave dialogue sessions questioning why I was even there in the first place.
The answer to this question came later when I was assigned an Israeli partner in the high ropes outdoor activity. This challenge involves trusting a partner to guide you while you are blindfolded. Well, you can imagine how I felt; I could barely trust Israelis with my eyes open, let alone with a blindfold on!
I know that a complicated historical and political conflict is not a high ropes activity, but as I reflect on that experience, I think to myself: If we can trust each other with blindfolds, why is it not possible to trust each other to solve our common challenges back at home?
Halfway through the session, I learned that President George H.W. Bush invited me to his summer residence in Kennebunk, Maine. (I was fortunate enough to receive the George H.W. Bush scholarship in order to attend Camp that summer.) As I left his residence, I thought to myself that if a girl from Hebron has had the opportunity to meet the 41st President of the United States, maybe she can one day sit in the Oval Office as a visiting foreign leader, representing the Palestinian people and a State of Palestine.
I must admit that in a way, life after Camp is more challenging than life before. After countless experiences with Israeli peers that taught me how to understand and accept the other side, I had to go back to a harsh reality. When I went back home, I believed peace was the solution. However, it was hard to keep this idea in mind. Whenever clashes happened in the West Bank, my friends would ask me if I still believe in peace. And the reality is: I do not know what to tell them.
When I graduated from high school last year, I knew that my Israeli peers were preparing to join the Israeli army. I never cease to entertain the idea that I might encounter one of them at a checkpoint, and I cannot begin to imagine how that will feel. But the Seeds of Peace community is there to help. Camp is only the beginning of a journey full of learning, engagement, and understanding … a journey I am committed to staying on in the years ahead. In the future, I want to live in an independent state where people live with dignity and freedom. I want to see myself and them in a place where we would be able to witness peace and not only talk about it.
Excerpt from remarks delivered at the 2019 Spring Benefit Dinner on April 30 in New York.