Celebrity guests and a vibrant sunset across the river may have set the stage for our Spring Benefit Dinner last week, but they were merely the backdrop to the celebration of something even larger: the power of youth.
More than 650 friends, old and new, came out in support of our mission, and of our Seeds—their courage, voice, passion, and the potential of the next generation.
MSNBC's Nicolle Wallace, recipient of the John P. Wallach Peacemaker Award, noted, "I can't help but wonder what politics would look like if young people took over presidential campaigns, and debates, and the coverage of them."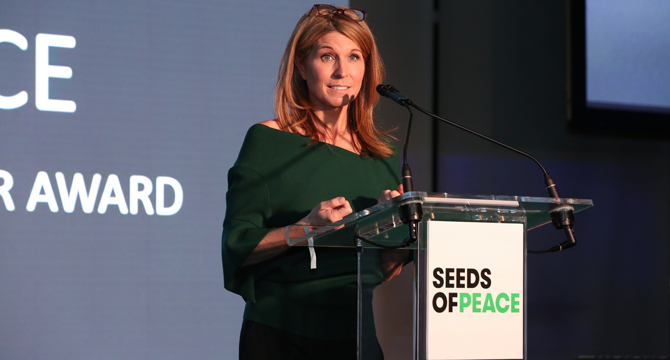 Whoopi Goldberg, the host of the evening, remarked on her own camp experience. "When I was a kid, no one thought we were smart enough to change the world. Things have changed."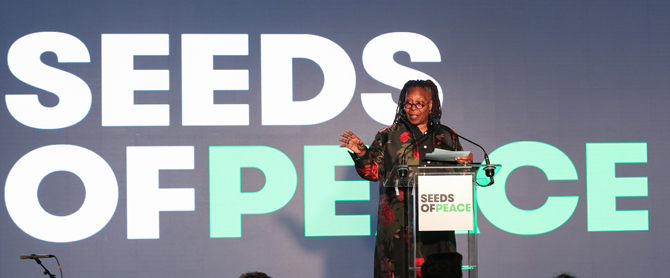 Certainly, the three Seeds who spoke from the heart confirmed Whoopi and Nicolle's observations, and inspired hope for our shared future.
Palestinian Seed Shahd talked about her experience in dialogue at Camp.
"I quickly discovered the power of personal stories, and how those experiences matter just as much as facts and numbers do. Each of the stories transformed our interpersonal perspectives … The dialogue sessions were an opportunity to share something in common: our humanity."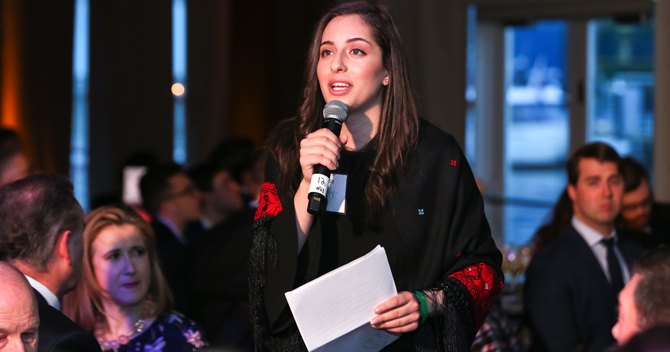 Avigail, an Israeli Seed, reflected upon our collective capacity for transforming conflict.
"Working for change requires partners, a community, a team, a circle of belonging. This is what Seeds of Peace is. An example of what human contact could be if conflict has ended. Reality is elastic, if we just put our collective effort to it. The magical normalcy of Camp proves that in the right environment, you can break the most stubborn of paradigms."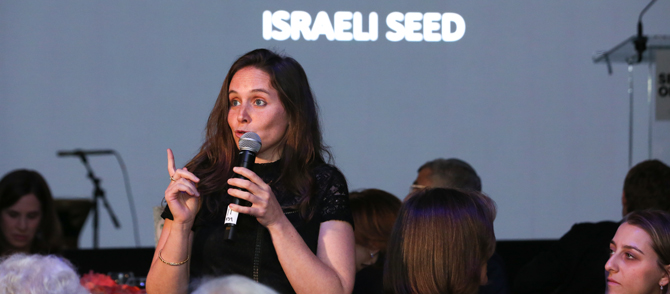 And Syracuse Seed Salat spoke of being born in a Kenyan refugee camp and ultimately finding his home on the field at Seeds of Peace—not just a physical patch of grass, but the embodiment of an unreal experience where people "delve into the most challenging topics fearlessly in the hope of growing past their comfort zone."
"They listen with their whole bodies even when they disagree with what is being said," said Salat. "They love with their whole hearts and help each other dismantle and heal from past experiences."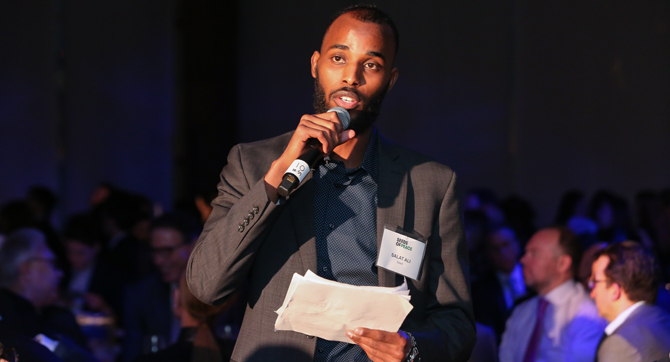 Just before the Jerusalem Youth Chorus closed out the evening in harmony, Arn and Nancy Tellem, Seeds of Peace Board members and the night's honorees, paid tribute to friends, supporters, and their own family. As Arn said, "My grandparents escaped anti-Semitism in Europe to come to the States, and Nancy's parents did too, at the last possible moment in 1938. On both sides of our family, the desire for a more tolerant, more peaceful world is encoded in our DNA."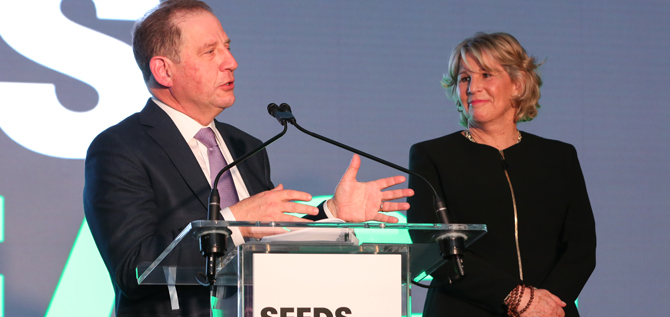 If you didn't get to attend in person, you can peruse this album to see the smiles and the highlights. And we will be sharing longer excerpts of the Seeds' full speeches on our blog, so be sure to check back soon.
It's not too late to celebrate our Seeds and support our continued effort to cultivate the next generation of leaders whose success will be rooted in empathy, conviction, and understanding.