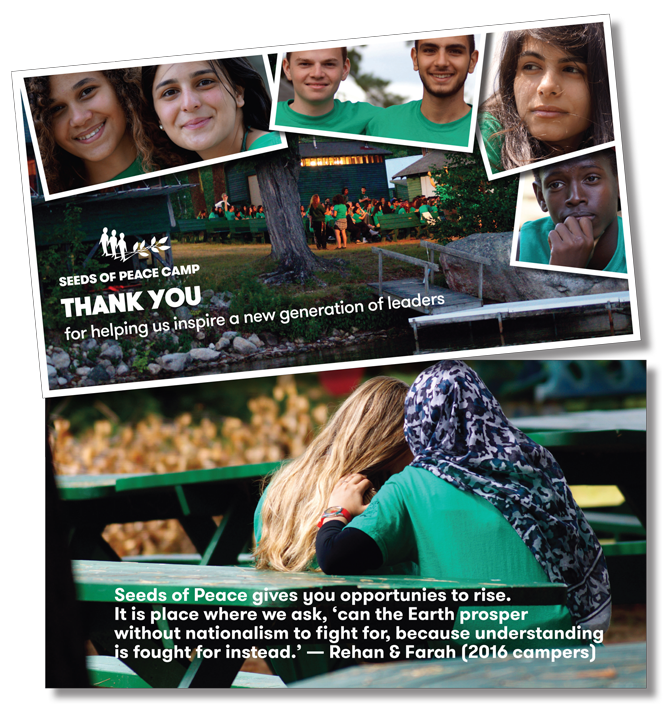 Throughout the summer of 2016, we will be posting daily reports and photos to keep everyone informed of what is happening at Camp. We know many of you wish you could be at Camp to experience and observe and we hope these reports can be the next best thing!
CAMP 2016 IN NUMBERS
282 campers representing 10 delegations: American/UK, Chicago, Egyptian, Israeli, Jordanian, Los Angeles, Maine, New York, Palestinian, and Syracuse (New York).
46 Seeds returning to Camp for advanced leadership program.
24 consecutive summers of Seeds of Peace programming.
SESSION ONE: MIDDLE EAST
Pre-Camp Report | July 7

Before we can welcome 300 campers to Seeds of Peace this summer, a lot of preparation is required. The environment itself has to be put back in order after a long, Maine winter. All the sports equipment and arts materials need to be repaired and replenished. But, most of all, the diverse adult staff has to come together as an aware, supportive and united community.
Returning staff arrive full of anticipation and excitement. They know that a very powerful summer is ahead. They know they will grow as human beings and will be able to help their young campers grow as well. Everything looks and feels familiar to them. Everywhere they look, there is a familiar face smiling back.
For older Seeds taking on new roles as staff members, their wildest dreams have come true. Given their personal experience in the Camp program, they can also anticipate the weeks ahead with confidence. Everything in the Camp reminds them of their time as campers, both the hard times, as well as the good. Their challenge is to evolve from campers to staff members, taking on the complex responsibility of keeping all campers safe, challenged and stretched out of their comfort zones. Their own previous Camp experiences will be helpful, but not entirely adequate for their new responsibilities. They will need more than memories to become great counselors.
The third group of staff members has had no personal experience with Seeds of Peace. They look with envy at the affection and trust shown by the other two groups—inside jokes abound and arms are easily wound around one another. At first, the new staff people tend to hold back and wait for ways to join in. But, after a while, they find commonalities and mutual interests with the other group members. It is very important for this group to begin feeling confident and at ease. At the end of staff training, every adult is expected to focus on the needs of the campers, primarily, and participate whole-heartedly in our temporary reality—Seeds of Peace Camp.
Tomorrow, after seven days of team-building, skills training, intensive discussions and lectures from experts, the first group of campers will come through the Camp gate. We are ready!
Arrival Day | July 8

Before the arrival of the buses, before we met a single camper, before the decibel level of the Dining Hall multiplied 100 times, the staff formed a circle close to the lake. With arms wrapped around the ones standing next to us, we told each other what we were hoping to achieve at Camp and what we already appreciate about the community we have begun to build. Moose, a senior staff person, who is also a Seed from Egypt, asked us to breathe in with our personal goals and breathe out with our appreciation. This technique gave each person the same amount of time to speak.
Our make-shift band using a variety of horns and percussion instruments started warming up just a few minutes before the first bus rolled into Camp with the American/UK delegation. Not long after that, the Israeli delegation bus rolled in, full of energetic campers despite the long ride from New York. We celebrated their arrival with singing and dancing, after they made their way from the bus through the arms of staff members forming a tunnel.
As is our tradition, the campers were welcomed by Bobbie Gottschalk, the co-founder of Seeds of Peace, and welcomed by our assistant Camp director, Sarah Brajtbord. After the campers had some time getting to know their bunk counselors, we all enjoyed some wonderful vegetable lasagna. Then the counselors helped the new campers get settled in their respective bunks. Many took advantage of the hot showers.
When the Palestinian, Egyptian, and Jordanian delegations arrived after sunset, we celebrated their arrival in the same way. This time, however, it was an even bigger welcome because the American/UK and Israeli campers joined us.
Tomorrow, all the campers will wake up with the bell and put on their Seeds of Peace green T-shirts and navy blue sweatshirts. When they all sit together for the first time at morning line-up, it is a special moment for everyone. We will do this every morning until the campers return to their home countries three weeks from now.
We expect the rain to continue through the night and into the day tomorrow. But the day after that will begin a warming trend, with lots of sunshine.
Video | July 8
Housekeeping | July 9

It was a cold, rainy day but that didn't stop us from getting all our chores done. This is what we call our "housekeeping day." Campers in their bunk groups go by turns to check in with the doctor and nurse, learn the Seeds of Peace song, find out who will be at their tables in the Dining Hall, who will be in their dialogue groups, make name buttons to wear on their shirts at all times and last, but not least, take a swim test in the lake! The swim test was definitely a test of their courage because the air temperature was cold enough for long pants and three layers of clothing covering their chests. The water temperature was actually much warmer than the air, so the courageous campers were rewarded once they jumped into the lake.
The Paradigm Shifters (PSs), second year campers, began meeting in the trophy room, their "home away from home" at Camp. There they will have dialogue and leadership training most of every day, broken up with some trips to an organic farm, a food bank for people in need and a kindergarten for small children from all parts of the world now living in Portland. Today they began by setting the ground rules for their discussions. Coming from different countries and cultural traditions, even the individual words had to be defined and re-evaluated before any consensus could be reached.
Bobbie also visited the PSs today. She gave them some historical and strategic reasons for bringing them back to Camp, as well as a psychological account of what every person needs before feeling comfortable as a group member. For example, people need to feel safe in the group. That is why their extended discussion about ground rules was so important today. They were establishing the boundaries within which each person could feel safe.
Video | July 10
Flag Raising | July 10

So far, for every session in all 24 summers of Seeds of Peace, we have never had rain ruin our opening flag-raising ceremony. This year, we were kept in suspense until the rain stopped just 30 minutes before show-time. We had been trying to figure out how to have the ceremony inside; given that the flag-poles lie permanently outside our gates, we would clearly have had a problem raising flags inside. Thankfully, we were not faced with that issue in the end.
Normally, the returning campers make speeches one at a time for each delegation. This time, they amazed us by joining together and making a presentation which combined all their thoughts into one. This was really effective. In fact, it probably had something to do with some later developments in the afternoon and evening. Instead of dividing the campers, they demonstrated how being Seeds has made it possible for them to work together to achieve a great result. This was probably the best opening ceremony we have ever had at Camp.
Seeds of Peace staff members Orlando, Leslie, and Tim Wilson all gave powerful speeches as well. Leslie spoke about the courage of everyone who has come to Camp in these times. Orlando spoke about the hurtful interrogations he received at many airports between the Middle East and Maine, just because he is dark-skinned. Tim mentioned all the long-serving staff here and the loss of Wil Smith.
Every camper and delegation leader began working in dialogue sessions today. Half the campers meet with their facilitators while the others have other Camp activities. Later on in the day, the second half of the campers also have dialogue and the others have Camp activities, including sports, sailing, canoeing, music, acting, art, gardening, and dance. Dialogue sessions meet almost two hours per day. The delegation leaders meet in dialogue for longer periods.
Two things occurred today which usually happen much later on in the session. During free-time, about 40 campers made a circle in the field and sang together until the bell rang for line-up. They represented all of the delegations. Then, while they were waiting for the staff show tonight, the entire Camp gathered together and asked that pictures be taken of them as a huge group. Neither of these self-inspired gatherings has ever occurred spontaneously so early in the three-week session before. This is probably due to what the speakers were able to do at the flag-raising ceremony.
Table Conversation | July 11

Today was the Big Picture day. Two photographers volunteer every session to take a giant picture of everyone at Camp. At the close of the sessions, the campers, staff and delegation leaders each get a giant picture to help them remember all the people they have grown to care about. It is our hope that each person will expand the circle of their concern to include as many people at Camp as possible. Even if they just make one good friend from the other side of their conflict, research has shown that this will alter their perception of the group to which their friend belongs.
It is really hard to have an extended conversation in our Dining Hall. The din of conversation rises and falls, while food is served and consumed. This is followed by the clatter of cleaning up the plates and serving items from the 22 tables. Once the tables have all been cleared, table cheers abound! Tables are used as drums to accompany the cheers. This is why we devote one night to quiet conversations with table groups arranged in 22 circles on the floor of the Big Hall. The whole group is given prompts to help the campers get to know one another. For example, one such prompt was, "Tell us about one time when you felt very proud of an accomplishment."
During the day, besides the two hours of dialogue, campers were taught games like pickle ball, Ultimate Frisbee and kickball. Some also went sailing, after learning about the elements of sailboats. During 15 minutes of free time, some very lively music inspired equally lively dancing in the Small Hall.
This was also the first day their bunks were inspected for cleanliness and order. The highest score is 10: one boys' bunk actually got a 10 on the first day. Four counselors are taking this kind of care for our "home" outside the bunks by coming up with fix-it projects all over Camp. Today they even put together a wooden ramp to help launch canoes and kayaks into the lake. They have been lifting and moving a lot of heavy items, which is a constructive body-building activity. Since they are being led by our sports director, Eias, who has been a body-builder for years, we are calling this activity, "Body by Eias!"
Truth & Dialogue | July 12

Our new schedule for dialogue sessions is really working well. So well that we can't believe we hadn't tried it years ago. Until this year, we have had morning and evening dialogue sessions. The evening session was problematic because it didn't allow any recovery time before the all-Camp evening activity. Once the campers get beyond the initial "honeymoon" stage, dialogue sessions can become quite emotional. That is likely to start happening after a few days of Camp. And, everything difficult seems more difficult at night.
Now we have put the evening dialogue sessions into the afternoon schedule. There is a 30-minute period of free-time right after these sessions, as well as line-up, dinner and sports or arts activities before the all-Camp activity. This gives everyone physical and expressive opportunities to recover from dialogue groups that may have been more challenging than expected.
The majority of campers arrive fully-convinced that the narratives they have learned at school and at home are the truth. In the first few days, they begin to create tentative, fragile friendships with campers from other delegations. In dialogue sessions, it becomes apparent that the so-called "truth" they have always believed is not the same as what their friends on the other side of the conflict believe as their "truth." This eye-opening realization can hit hard. Add to that, the blame and accusations leveled at them from other campers who also can't believe that their version of the truth is being challenged.
Music, humor and physical activity help lessen the stress. They have time to think about what happened in dialogue and talk with PSs about how to handle dialogue from now on. One dialogue group was scheduled to play "Steal the Bacon" late in the afternoon. But the counselors allowed them to talk about how they were feeling before the game was started, knowing that they needed to get their feelings from dialogue expressed first. After that, they were able to have a rousing game of "Steal the [Kosher, Halal, Vegan] Bacon."
Tonight's evening activity was a scavenger hunt with digital cameras. Campers were running all over Camp looking for items on the list they were given and taking digital pictures of them. This helped reunite bunkmates as they competed with other bunks, before heading for bed.
Gardening | July 13

This morning, the Delegation Leaders were asked to speak at line-up about the trip they took to other parts of Maine yesterday. They learned about the "Underground Railroad," which brought African slaves north to freedom from the South before and during the Civil War in the United States. Some of these slaves went as far as Canada.
The Delegation Leaders also visited a large high school in Portland and heard from Maine Seeds about the community service and political action projects they have led. The Delegation Leaders also had lunch with the PSs to share their experiences at Camp so far.
A group of campers have gardening as a special activity each morning. They tend to our organic vegetable garden and bring fresh produce to the kitchen for our meals. Today, they had a good time in the kitchen making dough and cooking the vegetables for pizza, which they ate for lunch!
In spite of the hot weather, there was quite a lot of Hip Hop dancing going on. Several of our counselors are quite talented dancers and know how to teach teenagers with skill levels from beginner to advanced. The music seems to keep everyone dancing in time, even if they are not yet able to perform all the dance moves.
Most of the campers have tried canoeing, sailing, or kayaking. Even though the afternoon brought heavy wind and choppy water, everyone kept afloat and made it back to shore.
The dialogue groups have produced a few tears but, so far, the campers are able to get past the disagreements in the dialogue huts and play soccer, street hockey, volleyball, and basketball. Tonight the whole Camp had our traditional World Cup Ga-Ga tournament.
Nearly a third of this Camp session is over; we have a little more than two weeks to go.
Riding out the Storm | July 14

The wind started blowing and the waves formed on Pleasant Lake mid-morning. Sometimes, when that happens, the storm that is behind the wind veers off in another direction. That seemed to be the case today until right after dinner, when thunder and lightning rolled across our lake, accompanied by heavy rain.
Everyone was told to remain indoors for safety reasons. One group of 18 campers was in the very small music hut with two counselors for a 45 minute lesson that turned into two hours. For the first hour, they had a music lesson. The second hour became a lively and loud jam session, heard above the sound of the thunder all over Camp.
The wind and choppy water on the lake created a challenge for the kayakers this morning. The strength it took for them to paddle against the current was recognized by their counselors at the noon line-up. Later in the day, the same group was scheduled for waterskiing. Whenever campers learn to water-ski, we congratulate them with the shockabra hand sign.
Besides land sports, swimming, dance and art, the campers had delegation meetings with the educators who traveled with them from their home countries. These meetings give the campers and educators a chance to discuss their Camp life so far, in their own languages.
While that was going on, the counselors met to discuss adjustments that need to be made to help each camper achieve whatever they can during the next two weeks. Among the many factors that account for differences between sessions of Camp, we must include the unique mix of participants and period of time, politically-speaking.
Tim Wilson, the former Camp director, conducted the bunk inspection today. He is much stricter than the current inspectors have been. So, all the bunks lost points for not having their window shutters in the safest position. And bunk 13 had to adjust to a 7.5 score instead of a 10 today.
Gaining Confidence | July 15
The atmosphere at Camp provides an opportunity to shine outside academia. No one gives grades (except for bunk clean-up). Campers who may struggle in school find themselves on an equal footing with the other campers. They thrive on the instruction they are given in sports, art, and music. In fact, it often is hard to tell who is more thrilled, the camper or the counselor, when a camper is successful. Many times, it is the counselor.
Today, a special activity group had a scavenger hunt while kayaking. The hip hop special activity ended their time together by making new name buttons, which incorporated what they had learned together. No one was given a grade. Everyone was included in the debriefing of their time together. The counselors teaching basketball helped the campers aim for a sure spot for making a basket. There is no way to measure the confidence that mastery of a skill provides, but it seems enormous.
Our Friday schedule includes a Muslim prayer service and a Shabbat service for Jewish campers. Counselors and Delegation Leaders work together to provide these services. An Imam came from Portland to help us with the Muslim service. On Sunday, we will provide Protestant and Catholic services. Next week, the whole camp will be invited to observe all the worship services.
Group Challenge Breakthroughs | July 16

This day brought many visitors to Camp. We always enjoy seeing former campers walk around with their spouses and children, pointing out the places where their memories reside. The youngest baby to ever come for a visit was here today, and his dad held him over the lake so his tiny legs dangled in the water. At first the three-week-old was not buying it. But by the second dunk he liked the way the water tickled his toes. Another Seed took buses for 12 hours all the way from Syracuse. And a brother and sister, both former campers, drove all day from New York City so they could visit their younger sister who is a camper.
Every day brings more challenges to the campers. We introduce new sports, take the dialogue sessions up a notch, and incorporate more creativity into the various original projects. Group challenge advanced to the low ropes course in the woods. The ropes are barely two feet off the ground but campers are asked to work together to avoid having anyone lose balance and fall off. If anyone does lose balance, the group must begin again. Group Challenge activities are organized according to dialogue groups. Breakthroughs in Group Challenge are often reflected in the next dialogue sessions.
Tonight was "Pirate Night." Bunk groups worked together to free our assistant camp director from Pirates who had kidnapped her from dinner line-up. This kind of game allows campers to settle down when they go to sleep at night. Otherwise hard feelings lingering from the dialogue sessions can keep them awake and deprive them of the sleep they will need to think clearly the next day.
A magnificent moon is floating above the lake tonight, accompanied by a colorful sunset and calm, blue water.
Sea Dogs | July 17

The rain was coming down hard when we awoke this morning. It was also colder than usual. The question was: would we be able to see the Sea Dogs baseball game today, as planned? There have been other summers when the game was cancelled because of rain. But the sun came out just as our five buses left Camp for the baseball stadium in Portland.
Just for the record, the Sea Dogs were playing against another team called the Fisher Cats. The Sea Dogs lost the game, but very few people from our Camp were paying close enough attention to know that. Instead, they paid attention to one another, cheered about nothing in particular, sang the baseball songs, and ate as much junk food as $10 can buy. And on the bus-rides to and from the game, they had conversations with campers and counselors who were with them.
Tonight, while the younger campers had dialogue groups and activities, the PSs met with the Delegation Leaders. The PS program involves community service work in their home countries. The educators listened with great interest as the PSs described the organizations they will be working with and why they chose them. Their projects range from inequality between men and women to sex abuse, early marriages, educational inequality, violence, and ecological issues.
All in all, it was a good day. One Egyptian girl even caught a foul ball at the baseball game!
Arts Day | July 18

Our day was punctuated by thunder and lightning storms. In between there were blue skies and lots of sunshine. Someplace else got the full force of the storms. We mostly got the tail winds.
This day was largely devoted to the arts, including a radio show, comedy skits, drama, mural-painting, the written word, personal stories and instrumental music. Campers participated by dialogue group, giving them a chance to know people from the other side of their conflict through the arts. They didn't have to listen defensively to accusations and insults. They could just take it all in.
This point in the Camp process is not easy. The dialogue sessions can be difficult to bear. Seemingly all the old arguments reappear, even as some members of the groups are learning how to listen and give their minds space to accept the opinions of others. This is when the PSs can be very comforting to the new campers; they remember how they had to get beyond this point, two years ago. They know from personal experience that beyond this stage, it gets better.
The Delegation Leaders left on a two-day trip to northern Maine and not a single camper felt bereft. Campers have developed close and trusting relationships with counselors, medical staff, and senior staff. They are making this place their second home.
Sadness & Anger | July 19

We're enjoying beautiful days at Camp. That doesn't mean that there haven't been some sad and angry moments. At some point during the three short weeks at Seeds of Peace, campers are likely to experience some measure of hurt feelings. Simply living together can produce hard feelings, even within the same delegation.
By now, "the gloves are off" and people know each other well enough to sense when someone is losing patience. We know that every harsh word spoken to a fellow camper will require many more kinder words later. Momentary rudeness can ruin someone's day: it's not possible to avoid seeing the offending party, and each encounter adds fuel to the fire.
Sometimes sadness and anger can't be shrugged off as if they don't mean anything. Now that the campers have lived together like friends or family, being let down by a friend can hurt to the core. That is why comforting arms around shoulders and sympathetic words are needed and gladly given by the counselors.
Play for Peace | July 20
In the midst of this point in the Camp session, it is helpful to give the campers a break from the struggles they are having with each other. Playing enjoyable sports together actually opens the way for increased empathy.
World-class athletes visited Camp today as part of the 14th annual Play for Peace event. It is exciting to have master classes with professional players who patiently teach them some of the tricks of playing basketball. In return, the campers invite them to lunch in the Dining Hall and to some of their bunks during rest hour to talk about their lives in the Middle East. And Theresa Edwards, a five-time Olympic medalist, even celebrated her birthday with us!
Edwards was joined by fellow basketball hall of famer Dave Cowens, current NBA players Tobias Harris (Detroit Pistons) and Matt Bonner (two-time NBA Champion with the San Antonio Spurs), and NBA champion Brian Scalabrine, who made his 12th Play for Peace appearance.
It's hard to stay angry at people who help you make baskets against giant basketball players. Almost impossible, actually!
View photos from 2016 Play for Peace »
Video | July 20
New Heights | July 21

Everything we do at Camp has moved up a notch these days. The PSs climbed a mountain. Group Challenge has moved up from the low ropes to the high elements, like the vertical playpen. This afternoon, an Israeli girl and a Palestinian boy were able to reach the top of the element in record time because they strategized and trusted each other to not let go.
In dialogue sessions, the quiet campers are considering the points made by both sides of the conflict and are beginning to make suggestions for getting vociferous group members out of the argumentative log-jam obscuring new perspectives.
The Delegation Leaders returned from an in-depth tour of northern Maine life. Campers in the photography course are creating ways of viewing Camp life and our environment in new ways. The vegetable garden, planted in the spring by a counselor who is also a Seed, is literally brimming with delicious vegetables like kale and lettuce.
An international dinner, planned and prepared by the Delegation Leaders with help from the kitchen staff, featured typical dishes from all the countries represented here at Camp. If we would have scheduled this dinner for last week, it most likely would have been divisive. But by timing the dinner just at the point when most campers and delegation leaders have started to come together, the different national dishes and cultural costumes were enjoyable to all. The picture-taking was non-stop!
Tonight we held a lip-sync contest for all the bunks. Two bunks at a time worked together on assigned music. Then they competed in performances.
Sports Day | July 22

This was a special Friday. Another camp brought girls and boys soccer and basketball teams to compete with ours. Their teams were composed of Americans and have been playing together all summer. Our teams have only been here for two weeks and haven't had very many opportunities to practice together since they were selected a few days ago. Nevertheless, Seeds of Peace prevailed in all four games. Maybe each country selected campers with athletic competitions in mind. Or maybe the cheering squad lifted their spirits. Or maybe they just got lucky many times. It was probably all of the above.
After the games were over, the teams from the other camp joined all of us at lunch line-up and our cook-out. It is at least 90°F today, so everyone was thirsty and hungry. The visiting campers were encouraged to sit with our campers to get to know each other. They were also invited to observe the Muslim prayer service, along with everyone else at Camp.
Everyone will also be invited to observe the Jewish Shabbat service tonight, as well as the Catholic and Protestant services on Sunday. These are opportunities most of us do not have under normal circumstances. Observing others in prayer tends to humanize them. These services have much in common—most notably a prayer for peace.
The day ended with bunk night. These are special times for interaction planned by the counselors. Bunk nights are purposeful and do not involve cleaning or other chores. They are designed to unite the bunks and make them feel more like home.
Less than a week of Camp remains. These are the "golden days," the days remembered long after Camp is over.
Café Night | July 23

Music was in the air! Jamming was happening in the music hut, all day. Although much of the percussion sounds came from thunder this afternoon, we didn't allow the rain to slow us down. Three artists were with us: Maysa, Tslil, and Austin. The campers were asked to name the instruments they use to express their thoughts. These included guitar, voice, writing, dance, acting, rap, drums and flute. They were asked to listen to the first person's expression, gradually adding more participation until the whole group was able to present a coordinated performance. This required close listening and courage—what we are hoping they will all achieve in dialogue as well.
This morning the campers got closer to understanding one another, sitting in small groups discussing what their religion means to them. Counselors sat with them, giving them all the same questions and asking each person to only refer to themselves, not their whole religion. If they were non-religious, they were asked to talk about that perspective as well.
Every session of Camp has its own personality and jokes. One running joke in this session is the way Bunk 13 always gets the highest score in bunk clean-up inspection. The inspectors are not the same people every time, so that bunks must be super clean. In fact, if you ask the Bunk 13 counselors what their secret is, it turns out that these boys wake up before the rising bell and start the process of cleaning their bunk before the campers in other bunks are even out of bed. All the other bunks wait until after breakfast to start cleaning. The parents of these teenage boys are never going to believe this! Today at line-up, the inspectors and some Bunk 13 campers showed the rest of the Camp the "proper way" to fold t-shirts and stack them on their shelves.
Tonight was Café night. The PSs prepared the Dining Hall as a space for conversations. But first the campers were told about the founder of Seeds of Peace, John Wallach, by Leslie and Bobbie. Then we screened the film shown at John's memorial service at the United Nations in 2002. John always exhorted the campers to make one friend from the other side of their conflict. So, Café night is a chance to get to know someone new from the other side. Actually, research has shown that making just one friend from the other side usually changes the way people feel about more than just that one person. The impact is generalized.
Talent Show | July 24

Those of us familiar with the Camp schedule were keenly aware all day of a sure sign that the session is coming to an end: the Talent Show. The event showcases the wide array of talent among the campers, who practice for days and sometimes, as is the case for whole delegation performances, long before the campers arrive in Maine. Campers often dress up in traditional clothing and perform dances stemming from their cultures. They also sing, dance, play instruments, act, read original poetry, and tell jokes about Camp, all to the delight of the audience. Tonight was no exception.
At the end of the Talent Show, just when everyone feels completely spent, Color Games begins! The lights go out and counselors run around the Big Hall with blue and green lights. The PSs immediately recognize what is happening and begin to chant "Color Games! Color Games!"
Tonight the campers seemed genuinely surprised and excited by all the hoopla over the team selections and the entrances of counselors who are Color Games Coaches.
For a tense few minutes, the campers were in suspense about their team identities—Blue or Green. One by one, the bunks were brought to the front of line-up and told which team they would be on.
For the next two days, all other identities at Camp will be set aside in favor of Green and Blue. Seeds scattered all around the world will be watching the Color Games scores via Facebook, rejoicing every time their team is winning and agonizing when they are behind.
No one will have time to phone home. The campers and everyone else will be busy as can be. The teams will compete in every sport and activity they have had at Camp, and then some. The confidence they have gained from the high ropes course, water-skiing, canoeing, learning a sport, or creating artwork, will be very useful during the Color Games competitions. The Games add another layer of confidence, as campers work together with people they might not trust yet, and surprise themselves with strength they never knew they had.
Color Games | July 25

The first day of Color Games started with a huge rope pull. The girls and then the boys compete and finally the whole Camp together, Blue and Green trying to win the first points of Color Games. Some campers try to improve their hold on the rope by spreading sand on their hands first. This method succeeds in making the contest even more abrasive than it would be without sand. Others try to dig their heels into the road, also a futile effort. The only trick that seems to help at all is pulling in unison.
The Green Team won the girls' rope pull and Blue won both the boys' and the all-Camp rope pulls.
Today we had bunk rotations in soccer, pickleball, Frisbee, volleyball, basketball, and dance. The coaches also devoted a lot of time to preparation for the Variety Show.
Some campers competed in wall-climbing and the vertical playpen. One girl really had to stretch beyond her comfort zone while climbing the wall. None of the handholds and footholds seemed to be the right distance apart for her. Then, when she realized that no one was going to replace her and her team thought she could do it, she leaned her head against the wall, found some courage and, with a little momentum, made her way to the top.
Other campers had to take on roles that were completely new for them. A camper who normally plays tennis was asked to be the goalie for his soccer team. He was doing this for the first time but found out that he could handle the job. When his team won 3-1, the team members rushed him and lifted him on their shoulders to celebrate his achievement. This is the way Color Games works best: campers taking intelligent risks to achieve more for the team and for themselves.
The evening Variety Show acts included a capella, spoken word, dance, original instrumental music, and a comedy skit with the prompt, "What if all the campers became counselors and all the counselors became campers?" At the end, each team sang an original team song. It was really beautiful!
Tomorrow we will try to finish Color Games by the end of the afternoon.
Message to Hajime | July 26

At Seeds of Peace, we often conclude that the days are long, but the weeks are short. This session has been just that way.
The early morning Peace Canoe race was really lovely to watch. Boys and girls were in the same canoe. Campers had to negotiate who would be guiding the direction the boat would take and how to make the best use of the weight distribution. There is space for 10 canoeists in our Native American 'war canoe.' The lake—a big part of our life at Camp—was cool and serene as the canoes cut across the water, with one person giving directions: "pull, pull" or "hold on the left side." Once the paddlers reached the far beach on the Camp shore, a runner had to race to the Camp bell near the Big Hall and ring it. It is a tough, uphill run before breakfast, but the sound of the bell ringing out the elation of both individual and team achievement was glorious!
After All-Star sports teams played their rounds of competition, it was time for Message to Hajime—about 90 minutes of coordinated relay races from station to station around Camp during which more than 100 tasks need to get done as fast as possible. Some were relatively easy, but others were quite challenging. For example, solving an algebra problem slowed up one team. But pretty soon, another challenge slowed up the other team. The final station involved the memorization and perfect recitation of the "message," word for word. The whole Hajime race is timed on stop watches. Whichever team successfully completes all the stations the fastest wins the relay race.
This time, Color Games and Hajime were won by the Green Team. Half the Seeds in the world are happy with that result. Even though they might be years beyond their time at Camp, many Seeds keep a close eye on how their old teams are doing. A running commentary is available to them online.
In the evening, we had a very moving memorial service for all 15 Seeds who have passed away over the last two decades, and for Wil Smith, who was the Associate Camp Director for many years. We have saved some of their writings. Several PSs read these to the new campers, in an effort to bring them into our family. We also had beautiful music, ending with Farah singing her song, "Say Hello to the Field From Me."
A somber and tired Camp then gathered at the campfire to hear the Color Games coaches show their appreciation for the campers' efforts in the past few days. We then heard more beautiful singing and ended with our traditional, "I'll be thinking of you," a mantra created by a Maine Seed, Chris, and sung by four counselors who have been his friends since he was a camper.
Insights | July 27

Today our mood swings took us from a Quaker silent meeting, hosted by Bobbie, to the final dialogue sessions, to picture-taking, to the "Goathouse" bunk visit to a small farm where they met some very sweet goats, to poignant songs and a slideshow of Camp pictures, topped off by a bunk night, showers, last–minute packing, and hopefully, sleep.
At the silent meeting, campers and counselors shared their insights about their own experience this summer. One camper spoke about arriving here in such an angry frame of mind that he could tell he was actually frightening some people. The reflection of fear on their faces surprised him and caused him to calm down so he could listen to what others had to say.
Another camper said that he has been covering up his unhappiness by trying to be a comedian. He realized that this wasn't helping him shed his sadness. In fact, it only made his sadness worse. As of today, he has decided to stop treating his sadness with comedy. And today, he was happy.
Tonight, older Seeds from the home countries of the campers spoke with all the delegations about the continuation of Seeds of Peace after Camp ends. Camp has a powerful impact on the campers, but from now on they will be "Seeds." They will try to establish the Seeds of Peace feeling at home. They know now that Seeds of Peace is the way life could be. No one can ever take that away. Nor should they ever give up trying to build a supportive community where they live. We ask them to carry Seeds of Peace, their second home, with them like a turtle carries its home on its back, and make this kinder way of life the norm, rather than the exception.
Farewells | July 28

On every other morning, the Camp bell wakes us up. But on departure day, we wake to music blasting from the front porch of the Big Hall. Some people started to dance to the music, but most gathered on the field to say goodbye to the people they have become close with over the last three weeks. It often feels strange to be simultaneously happy and sad.
The buses began leaving right after morning line-up. The Egyptians and some Palestinians left first. Then the Israelis, Americans, Brits, Israelis, Jordanians, more Palestinians, and Americans departed. Each time, the buses filled up with teary-eyed passengers very slowly.
Most campers left feeling glad they had made good friends among complete strangers—if not enemies. When they meet again, they will recall these three weeks at Camp and smile.
SESSION TWO: UNITED STATES
Second Session Photos »
Latest news from Camp »
Orientation | August 2

For the past few days, the Camp staff members for the second session have been meeting in preparation for the new campers, due to arrive tomorrow. These campers are part of our expanded United States program, with delegations from Chicago, Los Angeles, New York City, Syracuse, and across the state of Maine. Each delegation will have a combination of native-born and refugee-status campers among them. They have school-based programs, with a heavy emphasis on follow-up leadership training.
"Maine Seeds" is the original program, from which this new United States Program is based. It began in 2000 and has been run during all these years by Tim Wilson.
Today, Tim spoke about his personal commitment to the Maine Seeds program and six Maine Seeds shared their experiences. They cited an impressive list of leadership roles played by Seeds, including Student Member of the School Board, president of Girls' State, conveners and facilitators for community dialogues and Harvard Law School collaboration.
Sarah Brajtbord, our associate camp director, led the staff in a small-group exploration of each person's identity and how it plays out at Camp. We have a diverse group of people on the Camp staff, and they need to trust each other as they share responsibility for the safety and welfare of the new campers. It is best to establish healthy working relationships before the campers arrive so their focus can be where it belongs—on the campers.
Tonight, final touches are being applied to bunk preparation, including welcoming decorations for the doors. All the beds will be made and pre-assigned. All the table, dialogue and bunk groups have been established so that most have distinctly different memberships. Camp is quiet, as everyone is getting their last good night's sleep for the next two weeks.
Camper Arrivals | August 3

First, all the Maine Seeds arrived—including the PSs, who were wearing the Seeds of Peace t-shirts already—on two buses. The new campers were mostly wary of all the counselors who were clapping, cheering, and bouncing around with excitement when their buses unloaded. Soon, they joined in though, following the lead of the PSs.
The four other delegations arrived a few hours later, almost in time for dinner. Soon everyone was participating in some way. One of our counselors from Chicago is a prolific lyricist who created a rap about arriving at our Camp.
The PSs lost no time settling into the Camp routine. They began their dialogue in the evening. New campers will begin their dialogue and everything else tomorrow. For now, we just want them to settle down in their new Camp homes, their bunks, and get some sleep. It will be hard for many campers to listen to the sounds of the forest and the lake, instead of city noise. The crickets and frogs, the lake lapping the shore, the loons calling each other in the dark will all become familiar sounds after a few days. But tonight, these sounds will be very unsettling. Fortunately, their counselors know this and will reassure them.
Tomorrow morning, we will all wake up at 7 a.m. and greet the day dressed in green Seeds of Peace t-shirts. That is always a lovely sight.
Getting Settled | August 4

We packed a lot into this beautiful August day in Maine. The nights and early mornings are relatively cool; the temperature gradually warms up to swimming weather just in time for "general swim" in the early afternoon. Everyone had a chance to call home, saw the doctor or the nurse, took a swim assessment test, had their first dialogue session, ate with their Dining Hall group, made name buttons, and learned a bunch of cheers and the Seeds of Peace Camp Song.
This evening, the counselors put on a show to demonstrate all of the activities at Camp. For example, the waterfront sports were shown in the form of an orchestra of different types of boating—kayaking, canoeing, and sailing. The arts were shown as part of a skit about the sinking of the Titanic.
At the beginning and end of the show, the "Smashing Chickpeas," our staff band, shared their talent. Many of the familiar Camp songs have been sung already. This seems to be a highly musical group of campers—a delightful discovery for the highly musical counselors.
At the end of the day, the returning campers (PSs) hosted a campfire, sans marshmallows, to pass on some of their wisdom to the new campers. Since the PSs will spend most of their days in dialogue and in discussions regarding leadership skills and styles, this was their chance to have an impact on the campers who are here for the first time. It was obvious that the PSs had given this presentation a great deal of thought.
Everyone went to bed early, even the campers from California, where the time is three hours earlier.
Advice from Tim | August 5

We were graced by another beautiful Maine summer day. Over the years, we have had many people remind us in the mornings that we have been given another "Beautiful Seeds of Peace Day!," but no one more so than Wil Smith, our associate camp director who passed away last year. Those of us who worked with him over the years miss hearing him say that, rain or shine, every day.
The morning line-up was devoted to Tim Wilson's memories of Camp over the past 50 years and his primary message to the campers: take risks and do the job you were sent here to do.
By taking risks he meant taking intelligent risks—reaching out to new people and doing new things; making connections with the people you ordinarily do not have a chance to meet. Tim spoke about the people who mentored him and helped him take the risks he needed to take to be successful.
Several special activities began today. One involves working on original rap songs. At the start, the rappers were mostly male. But then more females began rapping. Today one of the girls rapped so well, you could see the amazement and admiration on the faces of the boys in the group. The counselors running this special activity are accomplished rappers themselves, so we can expect to see campers and counselors alike performing on the stage at the Talent Show next week.
This afternoon, Seeds of Peace co-founder Bobbie Gottschalk spoke with the PSs about the reasons for the PS program as well as their role at Camp and its evolution over time. She also told them about the main requirements for sustaining any group. And she asked them to pay attention to any blank-faced campers they might encounter, so that they will feel included.
After dinner we had "bunk night." The counselors planned special activities for their bunks, often based on their own memories of bunk nights when they were campers. Two bunks had an hour of dyad conversations, off by themselves. Two other bunks roasted marshmallows over an open fire and sang songs. Two others played Ga-Ga in a special pen designed for that. Two other bunks danced to music, one out on the swim dock and the other in the art shack.
No doubt, tomorrow will be another beautiful Seeds of Peace day. But, for now, the lights out bell has just rung and sleep is on everyone's schedule.
Here we go!
Competitive Spirit | August 6

Over 40 former Maine Seed campers visited us today. Our current campers knew many of them, having heard presentations made by the older Maine Seeds in their schools. Some of the visitors were older brothers and sisters of the current campers. At dinner line-up, the visiting Seeds introduced themselves and spoke about what they are doing these days, before joining the rest of the Camp for a cookout.
Several groups of campers learned to kayak and canoe today. Once campers learn how to hold the paddles and use them to steer the boats, the best way to figure out the rest is to just get out in the lake and paddle. The counselors paired the canoers across lines of experience and background.
We have been holding small Ga-Ga (a form of dodgeball) tournaments between bunks, during free time. Tonight we held a giant Ga-Ga tournament for the whole Camp. Campers were divided into four groups, representing fictitious countries, and used paint to decorate their faces. Although it was meant to be a light-hearted evening activity, the competitive spirit of the campers and counselors was definitely evident. Even the scores for bunk clean-up earlier in the day led to grumbling disappointment and complaints.
This is a group of campers who love to dance! A number of them were learning a South American dance today, while a woodpecker joined them up in the rafters of the Small Hall. They are learning new dance moves from all the different places they come from. They might even come up with a whole new kind of dance by the time Camp is over!
Diving In | August 7

The pace of a two-week session of Camp is often faster than a three-week one, but this time we were beginning to sense that the early "honeymoon" period experienced by the campers in the dialogue sessions was lasting too long. The campers seemed to be tip-toeing around potentially hurtful topics, avoiding confrontation at every turn. We want the campers to have time to confront each other on the issues that divide their communities, and then have enough time to communicate deeply and reconnect as friends.
It now appears that the honeymoon is finally coming to an end after all. Although each dialogue group is different, once one group begins to explore the issues—like race, privilege, and power—the others learn that it is okay to dive into turbulent water feet first. Their dialogue facilitators are with them for a reason. They can help the members of their group deal with hurt feelings, share painful stories, and develop empathy for one another. This will enable the campers to develop deeper connections and understanding.
Running parallel to the formal daily dialogue sessions are Group Challenge activity periods designed to compliment the dialogue process. By altering the dynamics outside of dialogue, advances can more easily be achieved inside the dialogue huts. Today, for example, a dialogue group was challenged to collectively traverse a line of wire cable two feet off the ground without slipping off. Some members of the group were instructed to remain mute, while others were blindfolded. The group challenge counselors will often reverse the normal leadership dynamics of the group, so that people who tend to follow have to lead, and vice versa.
In the debriefing after completing the challenge, the campers discussed how it felt for them to switch roles. It is an eye-opening experience even for the ones who are blindfolded.
Today, a special activity group called "Interesting Conversations" answered a list of 36 questions published in The New York Times designed to make you feel close to any person who answers them all. It is based on the idea that shared vulnerability breaks down barriers.
Only eight days remain in this session.
Visitors | August 8

We had a lot of visitors today. The Dean of the University of Maine's School of Law came to speak with the PSs about social justice and legal resolutions to societal problems. Portland's School Board President and the Schools Superintendent, plus our own Pious Ali, also a member of the School Board, visited Camp today along with officials from our Maine partner schools.
Basketball teams from nearby Fernwood and Agawam Camps visited us to play our boys and girls teams. Even though our teams are composed of players who have basically just met one another this past week, and the other teams have played together all summer, our competitiveness and skill won out. In fact, midway through the girls' game, the teams exchanged some of the players to even the levels. It probably helped our teams to have enthusiastic cheering squads as well.
Today, we took pictures of dining table groups. It is fun to see how close these groups are already. It probably helped strengthen their bonds when we gave the table groups time to converse outside the din of the dining hall last night as the evening activity.
A boys' dance group learned a one-minute dance, using Michael Jackson moves taught by a female Pakistani counselor and former camper this morning. It was fun to watch their progress after an hour of concentrated effort.
It was a great afternoon for sailing and canoeing, so that is what we did. Tonight's evening activity was a lip-sync contest between bunks, using some of their favorite popular songs. All of the fun activities purposely counterbalance the demands of the daily dialogue sessions. Working together is as important as tackling divisive topics in dialogue sessions. It is very important to see people in their entirety, not just in one aspect of their personalities.
Arts Day | August 9

Arts Day began in the morning, lasted throughout the day and capped off with performances by dialogue groups who worked on humor, radio interviews, TV interviews, storytelling, music, and group mural painting. The counselors skillfully coaxed along those who were timid about the arts, while putting the confident campers to good use. Everyone had a role to play; no one sat out and watched.
This was a whole new way for the dialogue groups to work together. At this point in the session, emotional eruptions have already challenged the groups, who are coming to terms with their own power and privilege or lack thereof. It is a good time to offer campers the opportunity to experience the people in their dialogue groups beyond accusations, history lessons, and hot topics. The arts can greatly broaden their appreciation of one another.
With the addition of our prolific vegetable garden came a real interest in how healthy food can be grown in small areas. It also inspired a new contest, called a Veg-Off. Contestants are challenged to act out "emotional vegetables," such as, a confused asparagus or a lost potato. A panel of judges selects the winner at line-up. Like every other contest at Camp—silly or otherwise—competition is strong.
International Dinner | August 10

Our morning line-ups are like a mini-talent show. Today, two new campers recited remarkable, original poetry. Catherine, a Maine Seed and counselor, sang a lovely song called, "Carry On" that she thought appropriate at this point in the session, given that the second week of Camp is typically harder than the first. With only three sessions left, the dialogue process has reached a critical stage. As their relationships have deepened, many campers are taking the risk to make themselves vulnerable. Others who are not ready to do so are being encouraged to step in and speak up.
The PSs talked to the campers about the conference on restorative justice they attended yesterday in Portland. Maine is taking a good look at its penal system in order to improve the way juvenile offenders are treated. Youth leaders are trying to find ways to bring juvenile offenders back into the community with a better chance of supporting themselves and not returning to prison.
The highlight of the day was the International Dinner. Everyone was encouraged to shed their usual green Seeds of Peace t-shirts for a few hours while we shared special food and danced a little. Campers were invited to describe the significance of their traditional clothing from such places as Cambodia, Southern Sudan, Vietnam, Somalia, Ethiopia, as well as the United States.
We are already preparing for the Talent Show on Friday night. Various groups of campers have been learning dances and forming musical ensembles, rehearsing in spare moments. Given the high level of talent we have already seen, the Talent Show is surely going to be one of the best.
Café Night | August 11

It was hotter in other parts of the United States today, but when it is hot at Camp, the only place anyone wants to be is in the lake, up to the neck in cool water. Water skiing and swimming were very popular—two activities sure to lower your body temperature in a hurry.
One of the hottest places was the high ropes course, situated at the highest point at Camp and completely open to the hot sun. A bottle of water for hydration was a must.
Although the tightrope course seems the most intimidating element, the Vertical Play Pen is actually the greatest physical challenge. We have watched pairs of campers puzzle over the strategy for climbing the element for seemingly endless periods of time. It is almost impossible to succeed in reaching the top together without mutual cooperation, starting from the ground and advancing to the higher sections. It is often extremely frustrating just to watch!
Toward the end of every Camp session, the PSs host a "Café Night" in a transformed Dining Hall. The idea is to provide the opportunity for campers to get to know other campers they haven't had the chance to meet. Cookies, cake, and music make the event seem like a café.
Just before the café begins, we always screen the documentary about John Wallach, Founder of Seeds of Peace, first shown at his memorial service at the United Nations in the fall of 2002. Leslie and Bobbie both spoke about working with John, who always asked the campers to make at least one friend at Camp. Café night always seems like a good way to continue this request.
Video | August 12
Talent Show | August 12

It feels like we squeezed three days into one. Tim Wilson and our communications team was on the job at 5 a.m., getting prepared for morning show interviews on Maine television stations. Morning line-up was mostly devoted to honoring Tim for his 50 years of service as an educator in Maine. He also spent many summers working as a counselor and camp director in this very space, first with Camp Powhatan and then as Seeds of Peace's first camp director.
Tim and Bobbie used to sing the Kermit the Frog song It's Not That Easy Being Green at Camp Talent Shows, but haven't done so for ten years. For old times' sake, they sang a reprise of that Muppet song at line-up to get a head start on tonight's Talent Show. Former campers Moose, Catherine and Sarah, now all on staff, spoke about what Tim has meant to them. Catherine sang an old Louis Armstrong song, What a Wonderful Life. We also placed a plaque on the Camp bell in Tim's honor.
The ropes courses were heavily used today. On the high ropes, one camper was coaxed to complete a challenge she thought she couldn't possibly accomplish. On the low ropes, the group decided to use their free time to complete the challenge. One camper was observed using yoga techniques to get across the rope without falling.
Behind the scenes, campers were practicing for the Talent Show. Also behind the scenes, 14 Color Games coaches were secretly separating the campers into two large teams—Blue and Green. They were also rehearsing their entrances for the announcement of Color Games, following the Talent Show.
All was proceeding normally until heavy rainstorms moved in. We hurried through line-up and dinner, which featured a Dining Hall flash mob coordinated by the "I love to sing and dance" special activity group. Just as the storms were upon us, we moved everyone into the Big Hall for the Talent Show. The rain continued, so the Color Games opening ceremony took place inside the Big Hall. Every camper has now been selected into either the Blue or the Green Team. Tomorrow will begin two days of competitions between the teams.
Color Games | August 13

The rope pull began our day at 7 a.m. with contests between girls, boys, and then everyone. Although one of the teams came out ahead on that challenge, the rest of the athletic competitions netted each team the same score: 2200 points. This is a very unusual outcome. Most years, one team gets a higher score the first day and the other team catches up by the end of the second day. But, human beings are not the same, nor are they entirely predictable. Each session is unique.
Ever since the first day of Camp, each camper has been given the support and encouragement they need to learn new skills and sports, to discover commonalities between themselves and other people from different backgrounds, and to become a better version of who they are. During Color Games, the competition can be fierce and campers are stretched to their limits. Still, as you glance around during a match, you will see arms around shoulders and high fives even with the campers on the opposite team. Their friendships are not suffering as a result of Color Games.
Tonight, we had a terrific Variety Show, comprised of dance, instrumental music, the written word, a capella singing, and a team song. A panel of judges scored each team's performance. The results will not be known until the final part of Color Games.
Message to Hajime | August 14

The second day of Color Games began with the Peace Canoe race. Ten members of each team received instructions before stepping into an old wooden Native American canoe and dipping their paddles into the water. They paddled in unison, past the boys dock, the girls dock and the boating dock to a senior staff member who waited in waist-high water to touch the hand of the person in the bow of the canoe. Then a runner took off as fast as possible and ran uphill to ring the Camp bell. One team won by less than 40 seconds.
All-star teams for Ga-Ga, volleyball, soccer, street hockey, swimming, kayaking, basketball, pickleball, dance, music, and art competed relentlessly to get the most points.
The finale is a huge relay race involving 86 stations, each one posing a challenge, with runners carrying their team's baton, station to station. This race called Message to Hajime, because at the end of it, one person from each team has to memorize a quote and recite it to Kyle or Bobbie, both of whom are sticklers for perfection. Yesterday, the Blue Team was way behind, but the memorizer won Hajime for his team because he got the job done in record time!
Meanwhile, the Variety Show scores were announced at the lakeside. The Green Team got the most points, winning Color Games, and went into the lake first. The Blue team followed. Hugs and splashing, screams and crying ensued. Chants of "make a circle" broke out as campers started singing the Seeds of Peace song. They then formed a large circle in the water as the song ended.
After a cookout, we all gathered for a memorial service at the peace garden. We remembered Asel Asleh and the 14 other Seeds who have died over the years, mostly from car accidents or illness. Amit, now a facilitator, who knew Asel, joined Bobbie in remembering all the personal qualities of Asel, the only Seed who has died in the Middle East conflict. Several PSs read from his writings. We also remembered Wil Smith, our former colleague and mentor to many Seeds. Eugene, one of our counselors, read his poem, written after he learned that Wil had passed on.
At the close of the day, we had a campfire with all the coaches from Color Games speaking about their admiration and love for the campers. This ended with a chant composed by Chris, a Maine Seed, which has a way of soothing minds and hearts, as everyone headed to their bunks for the night.
Wrapping Up | August 15

Everyone woke up realizing that this was the last full day of Camp this summer. The group we have with us this session is very expressive in every way—with written word and poetry, in particular. There were so many campers who wanted to present their verbal expressions to the rest of the campers we could barely fit them into the schedule. Several people were doing this for the first time in their lives. And what they had to say was difficult and poignant.
So, it was a surprise when the Quaker silent meeting was actually silent for 45 minutes. Eight people spoke about the impact of Seeds of Peace and what they hoped they could carry with them to their homes and communities. Then the bell tolled. Some people went to their last dialogue session, others took the exit survey for the University of Chicago researchers, and others began to pack. But the silent time we spent together was as precious as the thoughts expressed.
This year's recipient of the Camp Director's Award for Excellence went to Dick Romeo, who created a leadership training course for the PSs many years ago and never misses a summer, guiding the PSs in their development. He works with the PS facilitators to help each person find their own path to becoming the best version of themselves. He is interested in every Seed and they know it. Beyond that, he serves as our pickleball expert.
Tonight the campers spent a few hours going over the local Seeds of Peace programming they will have an opportunity to participate in at home. Most of these ongoing activities will involve their increased responsibility for taking the lead in creating a more inclusive, supportive environment where they live. They have lived two weeks at Camp—the way life could be—and we want them to carry that kind of life with them wherever they go. This is their second home now.
Farewells | August 16

At the end of the summer, we are both happy and sad at the same time. We are happy to have been graced these past weeks with the presence of such wonderful people during a very intense experience, and sad that we are now parting ways.
Some of these people now head home to communities that are the opposite of Camp and the safe, supportive, encouraging environment we have just enjoyed. Where they live, even the simplest activities are fraught with danger. The contrast will be sharp and painful. But they now know that peace and security are possible.
They are no longer campers—now they are Seeds. And that also makes us happy. We welcome them to the family of thousands of Seeds and Educators all over the world who carry their Seeds of Peace memories from their second home with them, as a turtle carries its home on its back.
May they stay safe, even as they share their new wisdom and knowledge wherever they are, wherever they go, every day of their lives.
Video | Slideshow