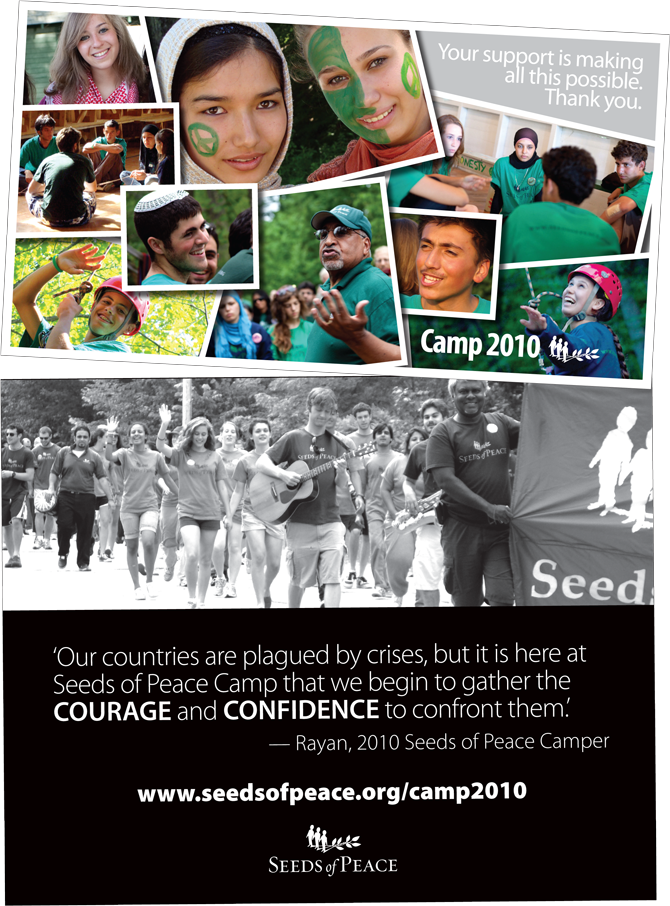 Camp 2010 in Numbers
319 campers representing 9 delegations: Afghan, American, Egyptian, Indian, Israeli, Jordanian, Maine, Pakistani and Palestinian.
123 Welcome Messages sent by you to Seeds.
30 hours of professionally facilitated dialogue for every camper.
19 alumni Seeds who have returned to Camp as Counselors or Facilitators this summer.
5 consecutive Color Games won by the Green Team.
34 Camp sessions that have now been conducted by Seeds of Peace over the last 18 years.
4,337 Seeds in our worldwide network.
Video | Seeds of Peace Camp
SESSION ONE: MIDDLE EAST & SOUTH ASIA
Pre-Camp Report | June 21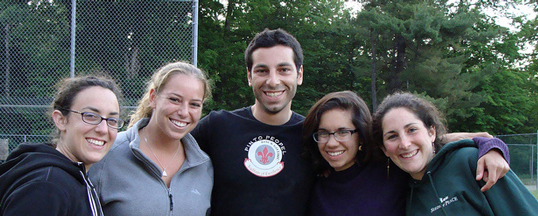 "Out beyond ideas of wrong-doing and right-doing, there is a field. I'll meet you there." —Rumi
Seeds of Peace is the field Rumi was talking about, way back in the 13th century. Over the course of the next two months, we will describe how Israelis, Palestinians, Egyptians, Jordanians, Pakistanis, Indians, Afghans and Americans will discover their common humanity and turn enemies into friends.
For the past seven days, the counselors, facilitators and other staff members have been preparing themselves to lend support and encouragement to more than 300 campers, who tonight are traveling to Maine, where the state welcome is "Maine: The way life should be."
Since we will be expecting the campers to take many life-expanding risks while they are with us, it is beneficial for the staff to experience a similar process first. This past week the staff has gone through swim tests, slept in bunks, eaten Camp food, had dialogue sessions, as well as completed certification courses for the waterfront and the ropes course. The people who work for Seeds of Peace come from diverse backgrounds and have a wide variety of talents. About one third of the staff is made up of former campers from all over the world. This group of Seeds (who are counselors, facilitators and delegation leaders/educators) makes us very proud. They are in their mid-twenties now, but we have known them for ten or more years, watching them blossom and mature into the people they wanted to become.
While the campers are making their way across the Atlantic Ocean tonight, the staff is rehearsing skits for later this week, adding the finishing touches to their bunks, creating the Camp band for the summer and learning such mundane things as how to use a toilet plunger.
By midday tomorrow, the new campers will begin to arrive on buses from US airports, and, having prepared as much as possible to deal with all kinds of issues, the staff will turn their attention to the campers for the rest of the summer.
Every delegation is accompanied by their own educators, who also have a special program at our Camp.
Two distinct Camp sessions, three weeks long, will take place and be over before we know it. But for now, let's begin the tale of the summer of 2010.
Arrival Day | June 22


Although we have had a busy week preparing for the arrival of 164 campers from the Middle East and South/Central Asia, nothing can adequately prepare you for the burst of excitement and sheer energy that erupts as the buses roll in and discharge waves of tired campers.
Between 2 p.m. and 9 p.m., four groups of delegations joined the hoopla of drums, tambourines, saxophones and noisemakers. Each group cheered the next arriving group until all the campers and staff were gathered together, some doing the "Electric Slide," some playing instruments, while everyone else clapped and called out, "Seeds of Peace!"
The campers meet their counselors and bunkmates, move their suitcases into their bunks, eat a meal in the Dining Hall and take a survey to help us determine if their attitudes toward one another will change, over time. Bobbie, the co-founder of Seeds of Peace, welcomed the campers to the 18th summer and told them that they will have a unique opportunity to see what it would be like if they could live together in peace with the very people they have considered enemies. It was explained that this is only possible if everyone is equal to everyone else at Camp, even to the point of calling everyone by their given name. Bobbie also pointed out that the motto of Maine is taken seriously at Camp – "Welcome to Maine, the way life should be."
The Camp schedule is planned ahead of time for every minute of the day. But quite often, something spontaneous happens that enhances our experience. Tonight, while the last bus of campers was eating dinner, we found out that this was the birthday of one of the Egyptian boys. So, two of the counselors created an impromptu birthday cake out of a pile of bread, brown sugar and some plastic spoons. We sang the birthday song and had Mahmoud skip around the room twice, like we normally do for birthdays. This may be a birthday that will be remembered for a long time.
This wasn't an easy trip for any of the campers. But they took the risk of coming here and now they will face many challenges. Sometimes they will have the most fun they have ever experienced, but there will be other times which will be quite difficult. The staff is here to support them. We honor their courage.
Video | Arrival Day, June 22
Getting it all together | June 23


This second day sets the tone for the whole Camp session. The campers spend the day with their bunks, touring the Camp facilities, taking swim tests, seeing the doctor and nurses, learning the Seeds of Peace Camp song, making name buttons, eating in the Dining Hall, learning games, cheers, and songs, and generally getting acquainted with their new surroundings.
Most campers are brimming with enthusiasm and have enough energy to fly to the moon and back. All of them called home today and they will be able to call home again once or twice a week. We serve healthy food, but it is different from what they are used to eating at home. The whole atmosphere is weird for the new campers, but we try to make it feel supportive, if not familiar.
One way to make people feel secure is to set forth expectations and parameters in an open, direct way. The counselors do that in the bunks and Wil, our assistant camp director, as well as Leslie, our camp director, and Sarah, the head counselor, all make the Camp-wide expectations clear. By now, everyone knows that we expect everyone to be where the schedule indicates they should be.
At night we usually have an all-Camp activity. Tonight, we are having a "Bunk Night" to further engage the bunk-mates with each other. Each bunk holds representatives from all sides of an area of conflict, such as the Middle East or South/Central Asia. Living together in harmony with historical and current enemies will require much effort and new learning. It will be accomplished over time, guided by patient and experienced counselors. We have only just begun.
Flag-raising day | June 24


Long ago, we decided to honor all the countries represented at Camp by raising their flags on high poles, outside our gate, similar to what is done at the United Nations. The wooded road leading to the Camp creates a surprise when people suddenly see the colorful flags surrounding the entrance, with a huge boulder in the center with "Seeds of Peace" carved into its sides.
On the second day of Camp, we all gather outside our gate to pay tribute to the countries the campers represent, with speakers, anthems and cheering for one another. At the end, we raise the Seeds of Peace flag and sing the Seeds of Peace Camp song while walking through the gate, back inside the Camp, where no other flag is permitted.
The Peer Support campers (the ones who have been chosen to return to Camp for a second summer) prepare speeches for this occasion. They reveal stories about their own first Camp experience and lend some sage advice to the new campers. They are a tough act to follow, but Tim Wilson, our former camp director, rose to the occasion and delivered his own sage advice.
Occasional thundershowers didn't really dampen any of the enthusiasm. Several bunks have come up with uniting themes and songs, which will carry them through some of the rough times ahead. Dialogue sessions began today too. Every camper spends 110 minutes a day in a dialogue group made up of campers from all sides of their conflict. The group facilitators are trained by Seeds of Peace, if they work with Middle East campers. The facilitators for the South/Central Asians were Camp counselors many years ago. Inspired by their work at our Camp, they became trained facilitators and now bring much relevant experience to their job.
The evening activity was the ever-popular Counselor Talent Show. While the show was really sensational, the loudest applause went to four Palestinians who finally made it to Camp. We have two more coming from Afghanistan this week and then we will have a full Camp! The new campers wasted no time joining the crowd of energetic teens enjoying the counselor show.
Just to add to our good feeling about this session, we discovered a "blessed event" happening in front of one of the bunks. A determined mother turtle laid and buried five eggs, while many of us cheered her on. After she left her buried eggs, we placed a protective fence and a sign there to keep the eggs safe. Witnessing the common concern for the turtle and her eggs, one could sense a uniting factor among the onlookers, a respect for new life.
Make a friend from the other side | June 25


Every delegation has one or more delegation leaders who are usually educators in their respective homelands. This morning each one of them addressed the full Camp, at Wil's suggestion. Wil, the Camp's assistant director, asked them to talk about why they chose to come to Seeds of Peace. Every one of them spoke about their own commitment to working toward peace.
A couple of them are also parents of Seeds, so they have absorbed their dedication to peaceful solutions through them as well.
One man spoke of missing his daughter's birth when he was at Seeds of Peace Camp last year and now missing her first birthday this time. A new delegation leader joked about wanting to return next year as a camper because they seem to be having such a good time. Also impressive were two delegation leaders, one Israeli and one Palestinian, who had established a strong friendship when they were at Camp two years ago. Their ongoing friendship is quite evident.
Wil asked the campers to consider why they had come so far from home whenever they feel the natural pull toward campers from their own delegation. This is the time they have designated for meeting and knowing people who are not like themselves. Otherwise, there would be no need to travel thousands of miles.
Getting past the comfort level of staying with one's own delegation takes courage, but they were chosen to come here because people who know them thought they could handle it.
This being Friday, the campers who are Muslim or Jewish observed the Sabbath. Otherwise, everyone was active in sports and had very good Bunk Night activities.
Bunk activities included a campfire, jewelry-making, a game of Steal the Bacon, and dyads with specific questions who were walking or sitting all over the Camp.
It has been a beautiful day.
Visiting Day | June 26


Each year the Young Leadership Committee of Seeds of Peace visits Camp to get reinvigorated about Seeds of Peace. Watching the campers interact is the best way to take in the beauty of the Seeds of Peace idea. In fact, this morning we inaugurated a new way of expressing what we do here. As has been noted, the motto for Maine is, "Welcome to Maine, the way life should be." We have adopted a new version of that motto, which is, "Welcome to Seeds of Peace, the way life could be."
Our visitors today included former campers and counselors who now work hard to raise money for Seeds of Peace as members of the Young Leadership Committee. Others came from various cities in the US, with backgrounds that are representative of the populations we serve at Camp. They interacted with the campers on the playing fields and at a cookout.
The special activities today included a lively game of cricket, a mixed girls and boys game of soccer, singing, dancing, rugby, origami, and a girls' fitness activity called Super Girls. The dialogue sessions have reached the point of wanting to create ground rules to keep the space safe for everyone, as they look toward more intense conversations in the coming weeks.
Tonight the whole Camp participated in "Seeds of Peace Idol," a lip-sync activity which involves dancing as bunk groups. This activity brings out the creativity and playfulness we haven't otherwise seen in these new campers, even with only 30 minutes to prepare for the competition. It appears that we have a very high level of dance talent at Camp this time!
Tomorrow being Sunday, the Catholic campers will go to Mass early in the morning and the Protestant campers will hold their own service at Camp. At another time, there will be a Hindu observance and a Quaker silent meeting. We do our best to accommodate all the religions represented at Camp.
Next week, campers will be invited to attend any or all of the religious services. In this way, they will see for themselves that all religions have traditional prayers for peace.
Balancing new learning, humor & music | June 27


Our normal days are abnormal, by normal standards in conflict areas of the world. So, when we say it was a normal day here, it doesn't mean that everything went according to the schedule and all the people got along perfectly. It just means that we moved one day closer to being able to come together as a community or family. We expect some people in uncomfortable dialogue sessions will come out for a few minutes of "fresh air" and then return to the discussion. We expect some people to cling to members of their own delegation out of fear of the "other." And we know that some people will warm up to the Camp life faster than others. But for the most part, everyone is glad to be part of Seeds of Peace. Three campers have learned to swim and another two have learned to water ski. Many are learning to play softball or baseball. They are sharpening their skills in basketball, soccer, rugby, volleyball and street hockey. Some are putting together a music video. The more new things they learn to do, the more likely it will be that they will have to courage to look at their conflicts with a broader perspective than they had before.
The last two people to arrive at Camp showed up today. One waited for six years get his visa approved and the other got his visa several days into the Camp calendar. Although they were very tired from their long trip from Kabul, both of them were overjoyed to join in the activities.
In the meantime, the adult educators are going through their own broadening process, including many hours a day in dialogue. Tonight they met with American educators from Maine and in the afternoon they met with their delegations to find out how the campers are handling their new experiences and to help them feel supported in what they are doing at Camp. This can only be accomplished if the delegation leaders from all the countries fully trust the Camp staff, which is something we try to achieve with open communication.
Music and humor are used a lot to relieve the tension and bring us together. Wil began the day by singing a Bob Marley song which has a line, "Don't worry. Every little thing's going to be all right." Pretty soon, others joined his singing and this relaxed the campers at the morning line-up. Sometimes the humor comes from Leslie's little son, Sam, who loves to mimic Wil. When you hear his 3 1/2 year old voice asking "Are there any counselor announcements?" how can you not laugh? We can always count on our music counselors to jump into a lull with a funny song they have made up or stolen from someone else. Shared laughter and music are a sure sign that we can appreciate each other's human qualities. It is a good start, anyway.
Courage and kindness | June 28


With the first week under our belts and the second week opening up, campers are reaching a fork in the road: they can decide whether to remain on a treadmill, or move forward into the confusing territory of self-reflection, open listening and trust. For a minority, the risk of coming to this Camp was the limit to their courage. We watch those young people with a measure of sadness. They are missing an opportunity that may never come again. For the majority, though, the daily risks of bunking and eating with historical enemies, as well as the risks of learning new challenging activities, are building toward something greater than they can imagine now. Identifying enduring values and learning how to consider "facts" with a critical eye are things not easily embraced in polarized communities. And these young people come from conflict areas which are highly polarized.
Today, two female campers apologized to all the other girls because a prank they played last night caused all of them to have to move to a small, crowded location. One girl was Egyptian and the other was Israeli. They didn't have to do this. No one knew that they were responsible for the mishap. But they valued honesty and trust and they were not afraid to act on these values.
At another point today, we witnessed the rescue of a broken motorboat, with two staff people in it, by a camper who towed the boat from the middle of the lake to our shore using only his small kayak. He made the effort because he cared and he was confident that he could do it. Heroic deeds require a wide circle of concern and a willingness to take risks. We recognized his good deed in front of the entire Camp.
It was pouring rain all last night and early in the morning. But the sun struggled to come out all afternoon and finally made it. We are supposed to have warm sunny weather for most of the week. That didn't happen all last summer or the summer before, so we are more than grateful! We know it is possible to run Camp in constant rainy conditions, but it is so much easier in the sunshine.
The second week begins | June 29


Yesterday at line-up, Assistant Camp Director Wil kind of embarrassed Omar, one of our counselors, by telling everyone that Omar had all the boys in his bunk set their shoes outside for the night, to air them out. But it rained heavily during the night and now all the boys had wet shoes. This morning, in solidarity with Omar, many campers placed their shoes outside on the steps. Wil just smiled and said, "They got me!"
Every day after breakfast the campers clean their bunks, with varying degrees of effort and success. One aptly named double bunk is called "The Dirty Thirty."
Sarah, the head counselor, goes through each bunk with Sam, Leslie's 3½-year-old son, and records what he has to say about the tidiness or lack thereof in the bunks. If he says that it looks "scary" or "yucky," this is duly noted. Clipboard in hand, Sarah reads out the scores at lunch line-up. Out of a possible ten points, bunks are rated on cleanliness and neatness, as well as poetry or artwork left for Sarah. Actual bribes are frowned upon. The prize of a pizza party goes to the bunk with the highest cumulative score after two weeks go by.
The dialogue sessions are getting more intense in a good way. One camper noted that she can no longer sit there as an observer. Now the discussion is "up close and personal." She has become part of it because it has an impact on her own emotions. Yet, when the dialogue session is over, after 110 minutes, it is over for that day. Sports, drama, boating, music and art take over, and the rest of the dialogue will continue tomorrow.
When they start wanting to be photographed with their new friends, we know campers have reached a new level of comfort. People who might have been homesick earlier are putting their arms around bunkmates and teammates, waiting for each other along the paths and joking with each other more.
When one of them feels bad for any reason, they are helped by friends from other delegations as well as their own.
A Universe to love | June 30


As we assembled for morning line-up, Jake suggested that we consider the fact that the moon was still visible on the right side of the lake before us and the sun was shining on the left side. By sundown, the positions of the moon and sun would be just the opposite. So, we are perfectly positioned to appreciate the universe.
This morning was devoted to picture taking. The entire Camp population assembled on the soccer field for a huge panorama picture of everyone together. As the camera panned the bleachers full of campers, two counselors could be heard running behind us so they could end up being photographed twice! That made many of us smile even more!
Besides that, we took pictures of bunk, table and dialogue groups. It was noticable how the mood changed from one type of group to the other. The dialogue groups were somber, whereas the table groups were playful. The bunk pictures were full of pride and bravado. The funniest picture was of Seeds who are now Camp staff—they decided to just make a pile of people.
Peer Support campers (PSs) took over Camp programming this afternoon. They organized socializing games, interreligious and intercultural dialogues, and ecological projects. All of the programming was done with great care and sincerity. Counselors played supportive roles but the PSs basically ran everything themselves, with the campers enjoying every bit of it.
Tonight we had our popular World Cup Ga-Ga Games. We divided the Camp into four countries: Spain, Argentina, South Africa and Brazil. The four teams played in the semi-finals and then the final, which was between South Africa and Spain. Spain won. From the level of enthusiasm, an innocent observer might have thought that these were the campers' real countries and that they had been playing this game all their lives. Not so. This made-up game seems like a combination of dodgeball and handball, played inside a circle of benches. Music from the competing countries accompanies the game, while the campers scream and scheme to win. They should sleep well tonight!
Video | Line-Up, July 1
Serious fun | July 1


We have reached the point in the Camp program when we can use humor and song to get the messages across, instead of lectures, and the skills taught last week are being put into service this week. People are making astonishing gains. For example, one of the smallest campers seems to be so determined to do well that he made it to the top of the climbing wall in a record 14 seconds today. The all-girls karaoke special activity group created a new version of an old song and the boys listening to them spontaneously joined in with a bass part. I came upon a "Steal the Bacon" game, which is done in a sand pit, and found everyone learning silly camp songs instead. A step dance activity morphed into an hour of congenial discussion.
All is not bliss, however. There are times during the day when the challenges are not only physical. Now that the campers have made good friends from the other side, what they say to each other in dialogue really matters and often hurts. Sometimes, the facilitators have to give the group a chance to air their frustrations in separate sessions for each side of the conflict.
Frequently the transition from the dialogue sessions to sports, art or music activities is very difficult. We try to keep all the motivation to "win" out on the playing fields and not in the dialogue sessions. Dialogue is not the same as debate. There shouldn't be any winners or losers. The objectives are mutual understanding, respect and concern. There will be no medals in the end. The potential rewards are much greater than that.
A seriously disheveled bunch of delegation leaders returned from a two-day camping trip tonight. They had frozen all last night beside the sea and then went ocean kayaking in the rain today. They all felt like coming back to Camp was "coming home." There is nothing like an ordeal to bring a group together and that kayaking trip sounded like a genuine ordeal. After a hot shower and a warmer night in their cabins, they should be ready to rise and shine with the rest of us tomorrow.
These educators are Indian, Pakistani, Afghan, Israeli, Palestinian, Jordanian, Egyptian and American.
The first thing they did upon their return to Camp was celebrate a double birthday with a delicious dinner and strawberry shortcake. Applause all around!
Sports Day | July 2


Fridays, the schedule is different from other days. Dialogue is suspended just for that day, while the facilitators have a day off too. A Muslim prayer service occurs in the early afternoon and a Jewish (Shabbat) worship service takes place right after our early dinner. This week all the worship services are open for observers.
Of course the services are not as elaborate as they are at home, but the general idea is conveyed. It is always an eye-opening experience to see how others pray, particularly if you have been misled about the others' way of worshipping.
At morning line-up, the delegation leaders spoke about their camping trip so the campers would see how they model the kind of cooperative behavior that we hope the campers will emulate.
In the morning and late afternoon, another camp sent teams over to ours to compete in boys and girls soccer, boys basketball and girls softball. Although our teams are made up of traditional enemies, the heat of competition trumps national animosities every time. The other camp has experienced teams, but they still couldn't beat us in soccer or basketball. Our girls softball team played well for people who have just started to learn the game. Some had only held a baseball bat once before in their lives. Even soccer for the girls is not played at home in many countries represented at Camp.
In the middle of the day we had a sing-along with all the teams before hosting them at a cookout. The songs usually have a message but are delivered with humor. Everybody Like Hummus, The Moose Song, I Guess You're Just What I Needed and What is Love (Baby Don't Hurt Me) are some of the most often-sung songs. Elliott, a counselor with an endless treasure trove of silly songs, has introduced a new one for us called I Wanna Be a Pizza Man.
Tonight was a Bunk Night. One bunk held a "beach party" for their campers in the sand pit where we usually play Steal the Bacon. Another bunk had a traditional campfire complete with S'mores. They taste just as good as ever.
International Dinner | July 3


All day we lived in anticipation of the dinner that would be cooked by the Delegation Leaders—a dinner with dishes from the home countries the campers have been missing for two weeks.
After lunch, our cooks turned over the kitchen to the Delegation Leaders and let them do all the chopping and cooking on their own. Together they produced a wonderful combination of South/Central Asian and Middle Eastern cuisine. Maine doesn't have all the ingredients to make everything perfectly, but it certainly came close enough for everyone here to really appreciate. Qabili Palou and maqlouba, hummus, lots of rice, potatoes with rosemary, kibbeh, and baba ghanoush all disappeared pretty fast.
One of the most beautiful aspects of the International Dinner is the national costumes that the campers wear for the occasion. Today the warm, clear sunny weather accentuated the vivid colors and sparkly beads on the magnificent dresses and caftans. Many family members and former campers and counselors joined us because it really is a spectacular event.
Former camper and counselor Marian Bazeed had to "sing for her supper," as she has done for many years. She sings Wanting Memories by Sweet Honey on the Rock with a crystal-clear voice that always moves people to tears and cheers.
Actually, we all had to sing for our supper after the kitchen lost electric power several times, delaying dinner by an hour. Singing together passes the time and also brings us closer together. We really didn't mind the delay at all.
Otherwise, it was a day like all of our days, filled with hundreds of endearing human interactions no single person could possibly capture.
Let the Sun shine | July 4


America's Independence Day is not celebrated inside the Camp, any more than any other national holiday would be. All flags remain outside the gates.
However, the town of Otisfield, where we are located, always invites us to participate in their low-key, traditional Fourth of July parade. We sent only the Peer Support campers, the Delegation Leaders and some staff members. Leslie stayed at the Camp, but this year her little son, Sam, really stole the show by riding in a fire engine, wearing his red fireman's hat. The PSs started working on a parade act yesterday and were close to being ready when they had to line up with fire engines, dressed up goats, llamas, white chickens, antique cars, another camp and a baseball team.
The facilitators tell us the the dialogue sessions are beginning to get calmer, as a new level of understanding and trust is being created. Even the doctor reports fewer and less frequent infirmary visits, which is a sure sign that people are feeling more comfortable at Camp.
The often unsung heroes at Camp are the counselors, who put in very long days and are on duty 24/7, with very little free time. They are continuously responsible for the health and safety of the campers. They also provide much of the fun at Camp, breaking into songs or changing their lesson plans at the drop of a hat. Tonight, for example, inside activities became outdoor activities when a temporary electric stoppage took away indoor lighting. One counselor seemed like the Pied Piper tonight, as groups joined him in learning new and clever songs. Another counselor moved her drama class from the stage to the outdoor table tennis court.
The camper-counselor relationship is very special. We have several bunks keeping in touch over multiple years by daily email exchanges. These connections keep the hope alive as much as the relationships between campers.
Jump in the lake! | July 5


Air-conditioning at Camp means jumping into the cool, clear, natural waters of Pleasant Lake. Forty-four acres of Camp land, shaped like a banana, are next to a beautiful lake. The water we drink is from natural springs nearby but the water we bathe in, and wash dishes with, is from our lake. With hot, sunny weather reaching 90° F, the cool lake was the best place to be most of the time. We shortened rest hour to a half-hour so everyone in Camp could have extra time in the lake. All the canoes, sailboats and kayaks were in constant use. Campers were purposely flipping their boats over so they could spend more time in the water.
Land sports and ropes course activities took place in the morning when the temperature was a little cooler. The group challenge course always culminates with a high wire exercise. Today there was a group of Middle East campers who were preparing for the high ropes when one boy, Adham, said he had a phobia about heights. (Other people were just plain scared.) But after they put on the harnesses and helmets and were given an explaination about the safety measures employed there, everyone took the chance to either walk across the high wire and switch places with a partner or else they climbed to the top of the verticle playground with a partner.
Adham was paired with a girl named Reem for the high ropes. They each climbed up two telephone poles at opposite ends of the high wires. The objective was to make their way walking on the wire to the opposite pole, crossing past each other in the center. Reem became frightened right away. One of the instructors told Adham to give her some encouragement. As he got interested in supporting Reem's motivation, he forgot his own fears. He was able to help Reem and he helped himself in the process. They both reached the center, crossed past each other, gave each other a high five and proceeded to the opposite poles.
The returning Peer Support campers climbed a small mountain and held a several-hour dialogue session at the top today. After returning to Camp and taking cool showers, they got to work on creating a Café night for the rest of the campers. First Wil and Bobbie spoke about John Wallach and then the film about John that was made for his memorial service in 2002 was shown. Then the campers were asked to pair up with someone from a different delegation who they wanted to know better and have a conversation. Nice desserts, colorful decorations and easy-going music created the right atmosphere.
Café Night is always a wonderful way to end a day at Camp.
Take Me Out to the Ball Game | July 6


Some of us long-time Portland Sea Dogs minor league baseball fans have yet to be present when our team has won. Tonight was no exception, although the New Hampshire Fisher Cats had to play hard to maintain their one-point lead.
If you were to look up into the stands to see how the Seeds of Peace campers were reacting to the game, you would be hard-pressed to find more than one or two people who were actually watching the game. Everyone else was cheering and stamping their feet, for reasons unrelated to baseball. They were just having fun together, setting aside for now any hard feelings that might have been generated by the daily dialogue sessions or other impromtu discussions around Camp.
The heat of the day seemed to have started earlier than usual today. By the time bunk clean-up was over, the sun was already scorching the playing fields. Activities such as creative writing in the shade made a lot of sense. Sailing and canoeing were also very popular. Land sports were not. Due to the heat, most activities stopped often for water breaks. Even having a beard became unbearable for many of the counselors, so they called for a "Mustachio Bashio" during lunch line-up. All counselors, male and female, were invited to compete. Creativity reigned.
The South/Central Asian delegations have been working with Steve Wessler, an expert on intolerance and hate. Steve helped the campers understand how much bullying during childhood can destroy self-confidence and scar individuals for life. They spoke about the reasons for bullying and the ways to build compassion and empathy in children's groups.
Community service | July 7


Several years ago, St. Joseph's College in Standish, Maine, found a way to feed the neediest families nearby with their own organically-grown vegetables and other donated food. Since PSs are expected to reach out to needy people in their home communities after Camp ends, we wanted them to meet the people who originated this food distribution program not far from our Camp. We went to their organic farm first to see how that kind of farming is managed.
Then we went to the food pantry to assist the volunteers when the local families came to get food. Rebecca, who started this program, explained their underlying belief that all people have worth and should receive our respect. She spoke about the indignity of having to ask for basic needs and how easily any of us could end up in the same situation.
The volunteers bag the groceries and carry them to the car for their clients, just as they would if money had been exchanged. Our Seeds filled bags with donated rice and raisins, played with children who had come with their families, filled baskets with farm produce, etc. Afterward, we shared a dinner with the volunteers and thanked them for allowing our campers to participate in something so worthwhile.
Preparations and rehearsals are underway for the Talent Show tomorrow night. While the campers work hard to polish their considerable talent, twelve counselors will secretly be huddling together to prepare for another event, even more engaging than the talent show. Shhhhh!
A new evening activity made its debut today. Table groups were given white T-shirts and were asked to create a Seeds of Peace shirt symbolizing what they think Seeds of Peace is all about. They were in competition for the best design so they worked hard on them. Each table had two representatives explain their designs.
Late tonight, familiar strains of music were heard after lights out. Tomer Perry, a former camper, counselor and now a facilitator, was singing songs he and his bunkmates, "The 17 Bad Seeds," created for their talent show in 1997. Hopefully, he will have a chance to perform the funny songs about Camp life for today's campers. It is amazing how so many Camp creations stay locked in our memories and are surprisingly still current.
Talent Show and Color Games | July 8


We should have anticipated that a group of campers who are the top 164 out of 8,000 would be extremely talented, but tonight's talent show was way far to the moon and back. The Palestinian, Indian, Afghan and Pakistani delegations had prepared their special national dances at home.
Other campers found compatible partners for bands, dance groups and vocals too. One girl played the piano so well, we forgot that it wasn't a Steinway. There were a rap group and hip hop dancers on the one hand, and classical ballet dancers on the other.
Behind the scenes during the day the Color Games coaches were preparing for their roles and their special entries at the choose-up meeting near the bonfire. Two of them entered as the Blues Brothers. One female arrived in a gilded cage. Another came on a boat and still others were carried in on the shoulders of fellow counselors.
Once the 12 coaches have entered, there is always a tense time when no one knows which color team they will be on—Blue or Green. Identities hang in the balance! Members of bunks come forward to find out from Wil what their fate will be for the next 2½ days. They put arms around their shoulders, hold on tight and then get divided up equally between the two teams. Each delegation has close to the same number on each side. Boys and girls are evenly distributed. Special skills and talents are fairly divided between the teams as well.
The first event will be a 7 a.m. rope pull for the entire Camp.
First day of Color Games | July 9


The rope pull was the first thing in the morning, 7 a.m., starting with all the girls, then all the boys and finally with the entire Blue team vs. the entire Green team. Well, it is one way to get the juices flowing in the beginning of the day, but you wouldn't want to make a habit of it. There is such a sinking feeling when you sense yourself and your team sliding in the wrong direction. But, what a glorious thing it is to feel the power of your team pulling the other team toward you.
As Wil said, "Don't worry about winning. Just be the team with the most points!"
Most of the sports competitions all day were between bunks. Everyone competed in their best sports, such as soccer, basketball, tennis, Ultimate Frisbee, Ga-Ga, Steal the Bacon, ping-pong and group challenge.
It was sunny and windy all day, with a very choppy lake, which made us glad the boating competitions will be tomorrow. Usually, we play these games for fun, but when there is a three-day competition going on, the tension and concentration can be draining. Hopefully, the wind will die down by tomorrow.
Even though we had Color Games today, we had religious services for the Muslims and the Jews at Camp, many of whom took time out to participate in group prayer. Outside the religious services, campers are wearing face paint to show their loyalty to their team and keep their spirits high. In fact, whenever anyone is not assigned to a specific competition he/she is assigned to cheer for their side. One and a half days are left, with the peace canoe and race for peace competitions set for 7 a.m. Art, music and drama competitions will also be scattered throughout the days.
Oh, and in case you want to know who is ahead, the Blue Team has 500 points and the Green Team has 550, so far.
Second day of Color Games | July 10


The Peace Canoe competition began at 7 a.m. with a loud foghorn announcing the start and the Camp bell declaring the finish. The event requires brawn and skill in equal measure. Ten boys or girls need to figure out how to paddle the huge war canoe from the girls dock to the beach near the Pines.
Before they can say they have "arrived," they must touch Wil's hand as he stands in water up to his chest wondering if he will have to swim out to bring the canoe in or if, wonder of wonders, the campers will make their way to him.
They do always make it to Wil, some more directly than others. The entire time, the team coaches, and anyone else who has some advice, scream out instructions to the campers in the canoe. After boys and girls groups from each of the teams accomplish the task, a runner races to the bell. The sound of the final bell means that it is time for breakfast.
Swim events were held in the morning, racing to beat the rain that was on its way to Camp. Sunshine in the afternoon helped us make up the time lost in the morning. All-star teams, including boys and girls soccer, boys baseball and girls softball, boys and girls basketball, Steal the Bacon, volleyball, Ultimate Frisbee, chess, dance, and creative writing more than filled the afternoon.
What the campers never see is a baseball game played by the counselors on the "white team" who support the coaches and campers with Color Games. It is played while the teams have a meeting. Leslie likes to be the pitcher for this game and the counselors generally show off their hitting, throwing and catching skills. They are very impressive, even though many come from countries that don't have baseball as a national sport.
Tonight was the Variety Show. Each team had two hours to prepare a new Camp song to be sung by their entire team, a comedy skit about Camp life, a capella singing, instrumental music, a dance performance, and a drama without words. Walking around Camp during the two hours of preparation time, one would be very impressed with the concentration and focus these highly-talented campers brought to the tasks.
Tomorrow is the final day of Color Games. Although the Green Team was 400 points ahead at dinnertime, the Blue Team could still catch up to them with the scores from the Variety Show and from the events in the morning.
Stay tuned.
Color Games & the World Cup | July 11


The Race for Peace road race began, as promised, at 7 a.m. Runners were trying all sorts of warm-up exercises, including dancing, stretching and jumping in place. Teammates lined the road, cheering on their runners, who passed the baton onto the next runners four times.
As the onlookers ran across the open field to catch a glimpse of the runners on the other side of the oval shaped road, it didn't take too much imagination to think of them doing the same thing on Tuesday, when they will be running to wave goodbye to the buses carrying departing campers. But, we can wait for that. The Blue team won both the boys and girls road races. That put them 100 points closer to the Green team.
The morning was devoted to the Message to Hajime, named in honor of a Japanese journalist who visited Camp one session in 1999. Originally, the game was called Message to Garcia. But we never knew Garcia, so we had no problem changing the name. In this game, there are about 110 challenges stationed around the Camp, ranging from math problems to running backwards around the baseball diamond, chugging Coke, wrapping bandages on an arm, singing the Seeds of Peace song, etc.
The final part is the toughest. One person from each team has to memorize a passage that is hidden under a plate, topped with whipped cream. One person on each team has to eat the whipped cream off the plate for the memorizer. Then the fate of the teams rests on the shoulders of the memorizers. One boy said that he has had to memorize many things for school, but this is the first time the pressure has been so great.
In the end, the Message to Hajime and the entire Color Games were won by the Green team. Each team ran into the lake fully clothed and soon the Camp was reunited with hugs and splashing. As is traditional, a circle was formed and everyone sang the Seeds of Peace song.
Somehow the World Cup final was scheduled for this afternoon—perfect timing! Most of the campers were happy to just sit on benches watching the match. This time the campers divided into groups cheering for Spain vs. The Netherlands. And the old competitive spirit re-ignited.
Since the conflict-related killing of one of our Seeds, Asel Asleh, in 2000, we have held a memorial service for him at Camp. At this memorial service we also acknowledge the deaths of nine other Seeds who have died of other causes. As it happens, some of Asel's friends from Seeds of Peace are working at Camp this summer. They were able to speak beautifully about what his life and death have meant to them.
This brings up many unresolved issues concerning the relationships between Jewish Israelis and Palestinians living in Israel, as well as other Arabs. After Color Games is a good time to focus back on the tough issues facing these campers at home. Tomorrow they will spend their final day preparing for their return home, not just physically, but emotionally as well.
Joy and sadness | July 12-13


When we reach the last days of Camp, we are filled with conflicting emotions. I think that is true for all of us. People who just yesterday looked like they would never get the point of Seeds of Peace are showing that they really do understand that all people are worthy of their concern and compassion. That courage is something you earn after you face your fears and do the right thing. That people are taught divergent versions about the very same incidents. That kindness is never wasted.
Everyone wants to go home, but they also want this session of Seeds of Peace Camp to continue a little longer.
On Monday morning, a Quaker silent meeting was offered by Bobbie along with several other people who have experienced the beauty of the traditional Quaker focus on the Inner Light of God in each person. Voluntary attendance, as for all religious observances at Seeds of Peace, was in effect, yet almost everyone was there.
Out of the silence, campers and staff members spoke movingly about their eye-opening experiences at Camp. Some were quite worried about life after Camp. Some tried to reassure the people who were coming to grips with their sadness. Fortunately, in anticipation of the emotions of the day, we had scheduled dialogue sessions, the gift of photo albums and necklaces, a giant slideshow of the whole session, and a big bonfire with the Color Games coaches showing their appreciation for the enormous efforts made by the campers.
Somehow, everyone packed their luggage and began leaving Camp at 7:30 a.m. Each delegation's departure was delayed by hugs and kisses, last minute book-signing and crying. Some people attempted lighthearted responses, but most campers would have none of that. They left reluctantly, wanting this session to go on and on. Still, all of us can feel profound joy in knowing that, for the 45th time, another session of Camp ended with everyone on board. Living in peace got the vote!
In a few days, 155 new campers will come through our gates. Our challenge is to gear up for their arrival with the same level of energy we had for the first session campers. This won't be easy, but we will do it.
Video | Last Day of Camp
Video | Session I Slideshow
Session I All-Camp Photo



Photo by panfoto.com. View full-size version »
SESSION TWO: MIDDLE EAST & MAINE
Session II Arrival Day | July 19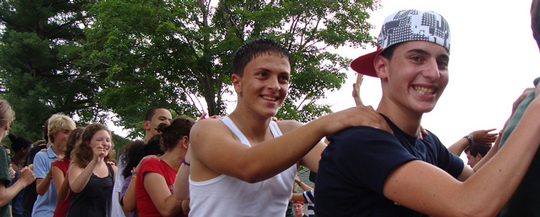 Khalil Gibran wrote, "The most beautiful thing in life is that our souls remain hovering over the places where we once enjoyed ourselves."
Although Camp consists of 44 acres of wooded land bordering on a beautiful lake, it is not only the scenery that makes Seeds of Peace Camp a beautiful place. More than that obvious factor, it is the hovering souls of thousands of Seeds who have strolled down the paths, purposely turned their canoes over in the lake on hot days, run to line-up, and slept in peaceful comfort with traditional enemies that make Seeds of Peace Camp such a special place.
Today a whole new group of Seeds of Peace campers came to Camp and was welcomed by counselors, facilitators and other staff. Each successive delegation arriving by bus had to stop and fill out attitudinal surveys, which will also be administered at the end of the summer.
They felt the excitement in the welcoming band of instrumentalists. Some were dancing in groups. Some were clapping. They ate together. Now they are sleeping beside supposed enemies. Some are scared, but they have nothing to fear. No one will harm them here. Each bunk has 8 to 10 campers and 2 to 3 counselors.
Only one bus will be arriving late. The Jordanians and Egyptians will come to Camp at 10 p.m. One camper from Gaza will come tomorrow. And then we will be complete.
The Maine Seeds, Israelis, Palestinians and American campers are already at camp. Lights are out. Tomorrow we will begin a new session of Camp.
Greening up | July 20


What we wear makes a big difference. Nowhere is that more apparent than at our Camp on the first day of each session.
In the morning, everyone was wearing their normal street clothes from home. They went around in bunk groups, taking time to phone home, buy necessities in the Camp store, check in with the medical staff, take swim tests, learn to play two important games at Camp, learn the Seeds of Peace Camp song, and play some games they knew well, such as soccer and basketball. They were dressed in many colors, with different messages printed on their T-shirts.
Some bunks were quick to come together, like the "Dirty Thirty" and the "Beach House." One girls bunk decided to walk down the path with their arms around each other. Still, it was not until later in the day, when every camper appeared in a new green Seeds of Peace T-shirt, that the Camp took on a unified look. The green shirts symbolize their willingness to join this experiment—to see if living together peacefully could be more enjoyable than being at war with each other.
Tonight is the first "Bunk Night." Since the bunks are their homes at Camp, the counselors who live with the campers make it a warm, supportive and safe environment. Bunk Nights are the best times to create unique, lasting memories of their Camp "family."
The counselors have the best and most difficult jobs at Camp. After the summer, they are the people most likely to receive emails and phone calls from campers. The bonds between the campers and the bonds between the counselors and campers are being created now, during bunk night, as well as during Rest Hour and line-up. We have confirmed over and over that whenever young people live together as if they are friends, they are likely to become friends—even if they started out as enemies.
Video | Seeds of Peace Song, July 20
Flag Raising Day | July 21


The Flag Raising ceremony really kicks off the Camp program. Yesterday was filled with necessary things that we had to get out of the way. But today we really got down to business.
The entrance to our Camp comes up unexpectedly after one drives down an old road, lined with forest on both sides. First you notice a big boulder with our name carved on both sides. Then you notice two rows of flag poles with about ten different flags flying on both sides of the iron gate. These flags represent all the different delegations which have attended Seeds of Peace Camp over the years. There you will see the Israeli and Palestinian flags flying side-by-side, an unusual sight to be sure, but it represents hope for a peaceful resolution to their conflict.
Usually, the campers are inside the Camp gate. But, on this day, we bring everyone outside the Camp to respectfully pay tribute to all the delegations, their flags, and their anthems.
The ceremony attracts people from all over who care about resolving conflict both abroad and here at home. A returning Peer Support camper from each delegation speaks to the new campers, generally encouraging them to take the time to listen to the people on the other side of their conflicts, get to know them as people and learn to speak in non-confrontational terms. The Maine Seeds program is unique because it is not about a conflict between nations. It is about identifying and dealing with the internal conflicts in Maine, including racial and ethnic tension.
Once the campers go back through our front gate, all flags remain outside. Only the Seeds of Peace flag flies where we can see it. Now we will build a new community together, one that will last for only three weeks in reality, but for a lifetime in our memories.
Tonight the counselor show presented the campers with the full range of activities and sports at Camp. The Seeds of Peace band entertained everyone before and after the show. The finale was its rendition of Lean on Me, which is perfect for a group trying to make human connections through individual and collective efforts, sometimes unusual and seemingly risky. Campers and counselors with arms around each other sang the song along with the band.
Who, outside this Camp, would guess that this is only their third night together?
Music in the air | July 22


A beautiful old church bell wakes us up every morning and rings again and again all day to announce the beginnings and endings of all our activities and meals. At night, it announces "lights out." The campers don't know it yet, but when they leave it will also toll for their departure.
The lake water washing the against the shore, the birds singing their songs, the leaves on the trees brushed by the wind, and the happy sounds of campers engaging with each other all form a harmonic musical background, so different from the city noises most of the campers hear at home.
Besides this bell, there is music all over the Camp, especially at line-up before our meals. Drums, guitars, pianos and other instruments are regularly played. Even without musical instruments, table cheers create their own very loud beat. It wouldn't be the Seeds of Peace Dining Hall without Bang, Bang, Clap, Clap and Everybody Shuki Now!
We think music is for everyone, so we have a special activity called, "Stomp!" which requires no previous musical experience. By now, every bunk has come up with its own musical cheer that helps to give them a Camp identity.
Counselors regularly introduce music that is imbued with a strong message in humorous ways. Everybody Like Hummus, Baby Don't Hurt Me, and I Guess You're Just What I Needed are just a few that the whole Camp sings together.
The Jellyfish and I'm a Little Teapot are songs for people who lose their name buttons. I Wanna Be a Pizza Man and The Moose song are just for fun, like when lunch or breakfast isn't ready yet.
Tonight we heard from Perri, an American Seed (2009), who joined several other American Seeds on a recent trip to the West Bank and Israel. It was organized by Ashleigh Zimmerman on our staff, who chose Seeds guides for them in Jerusalem, Tel Aviv, Jaffa, Nablus, Hebron, Ramallah and Jenin. Their two-week tour was especially meaningful because they saw all these places through the eyes of fellow Seeds who live there. As a result of the experience they had at Camp last summer, Perri said, these American Seeds were able to able to see and hear with a degree of sensitivity they would not have had otherwise.
Random acts of cheddar & kindness | July 23


Without warning, people from Cabot Cheese in Vermont showed up at our Camp to present us with a donation of cheddar cheese, just because they read about Seeds of Peace doing good work. It was delicious! They said they were going around Maine doing "random acts of cheddar."
Random acts of kindness are also being seen at Camp, as we move toward forming our small community. One girl was seen taking another camper from a different delegation all around the line-up area, naming everyone and introducing him as they moved around the crowd. The boy had been reluctant to make new friends. Now he knows most of the campers.
Everyone seems to be learning a new sport, such as Ultimate Frisbee, Steal the Bacon, waterskiing, street hockey, rugby, softball, etc. Coaches are taking the time to patiently teach each camper every sport. Every lesson learned will not only enhance Camp life but will also imbue each camper with greater confidence, enabling them to take intelligent personal risks, even in dialogue.
Alongside all the sports, the campers are also making a music video. Some groups of campers have given it more attention than others, but the entire Camp was filmed singing one song all together. Show business requires more than one take, so we found ourselves singing the same song many times, using English, Hebrew and Arabic.
Tonight, after religious services for the Muslim and Jewish campers, all the bunks are doing their own creative activities. Some of them make a habit of doing "Roses & Thorns" every night, going around the circle of bunkmates, each telling about a good thing (rose) or a bad thing (thorn) that happened to them during the day. This promotes empathy and makes the bunk a safe place.
Humor as a uniting factor | July 24


It is said that human beings are the only animals who laugh at each other or together at the same thing. Sometimes humor can be the best way to make a point, relieve tension, wake up a crowd or just have fun. So, of course we use it a lot. One funny thing we do is collect missing name buttons everyone is supposed to be wearing, and ask the people who own them to sing and perform a very silly act known as "The Jellyfish." The people doing it in front of everyone at Camp have to say "a jellyfish" several times after they have put their arms up, elbows together, knees together, bottom out, chin up, eyes crossed and tongue out. Bobbie did this for the first time this morning.
Often the humor is related to an urgent plea. One of our counselors likes to give instructions about using our ancient plumbing by holding a toilet plunger as a king would hold his scepter. Sometimes it is all about laundry. A missing laundry bag can readily become the subject of jokes. Sometimes it is all about bunk cleanup. Inspections done by the Camp director's three-year-old son can be hilarious. Occasionally, some of the campers will try to inspect the living areas of the inspectors, with surprising results.
Tonight, each of the bunks worked on and presented a lip-sync performance, which was full of humor and talent. The campers tried to impress each other with their costumes and dance moves. For the first time, we were seeing some of the quiet campers come out of their shyness and perform on stage because their bunk's status was at risk. Fourteen-year-olds come in many sizes and shapes, of course. One bunk has all huge boys in it with the exception of one really short one. He was a good sport and let himself be carried and turned upside down by the larger guys.
In the meantime, dialogue for 110 minutes a day continues on its course. After intense discussions about their conflict which really test their fragile new friendships, a little humor goes a long way toward buffering the impact. We have started to see some crying after dialogue, which is a sure sign that people are entering the hard stage of dialogue that will extend through the second week.
The role of Adult Educators | July 25


Each delegation of campers comes with adult educators from their respective country. What most people don't know is that these Delegation Leaders actually have a comprehensive program of their own at Camp, an adult version of what the campers experience, including shared housing with people from opposing sides of their conflict. They have three-hour dialogue sessions daily, workshops, and activities outside the Camp. They lend their support to the staff at Camp, working hand-in-hand with them when a camper has any type of problem. Because they are often much older than the counselors, they tend to have more of a parental role at Camp.
Delegation Leaders often find themselves outside their normal comfort level, as they confront each other on the tough issues and depend on traditional enemies to help them prepare meals, including the International Dinner, for the entire Camp. Their dialogues are probably more difficult than the campers' dialogues because they have had a lifetime of living the conflict. Yet, they see this three-week stay at Camp as their opportunity to understand and be understood by their fellow human beings who are also dedicated to educating their children.
Once a week, they spend an hour meeting with the campers who are in their delegation. They listen to the campers describe the problems they are having at Camp and then throw the questions back to the rest of the delegation for suggestions. In this way, they help the young people deal with their problems collectively. This fosters independence and creative thought. The Delegation Leaders have found out for themselves in their own dialogue that there is no single answer for their problems. A room full of many people grappling with the solution to a problem is usually much more creative than one person working alone.
Tomorrow the Delegation Leaders will be attending a wilderness program called Ripple Effect. There they will live in primitive housing and prepare all their own meals for two days. They will also learn to kayak in the ocean. From previous groups, we know they will come back to Camp glowing with pride in what they have accomplished together.
While they are gone, the campers will also move on to the next stage of their development. They have already begun to feel more at ease and willing to try more new sports and other challenges.
Today we watched them emerge from dialogue sessions with pride in the way they were able to speak calmly and listen attentively to people they have been taught to hate and distrust. The competition and challenges are kept mostly outside the dialogue rooms. Inside, they are trying to understand each other.
Camp Counselors | July 26

Anyone wanting to be a counselor at Seeds of Peace had better be ready for a life-changing experience, every bit as formative as the campers'.
As we often say jokingly, you don't have to be crazy to be a counselor here, but it will come in handy if you are! All day long, counselors have to maintain constant vigilance, while they appear to be comfortably in charge of the activities. They will patiently teach tennis or drama or dance to group members ranging from completely inexperienced to almost professional level in the particular activity.
For the record, they are charged with making sure all the campers are safe, well-cared for, on time for every activity, dressed properly, awake and asleep at the right times, in dry socks and shoes, indoors when we have thunderstorms, treating each other respectfully, calling home twice a week, taking their medicine, learning how to live with traditional enemies, avoiding areas where campers of the opposite sex live and swim, attending every line-up, not slipping away to make extra phone calls, and comfortable in the homey atmosphere of their bunks. If that sounds like a full-time, round-the-clock job, it is!
About one-third of the counselors are former campers still active in Seeds of Peace. They come from the countries represented at Camp, which is reassuring to the campers and everyone else. They are a resource to the other counselors because they can provide first-hand accounts of what it is like to live in the conflict areas.
All the counselors are here because they came out on top in the intense competition for their jobs. To say that they are talented would be an understatement. They know how to fix what's wrong, how to avoid mishaps and focus on the teenaged campers first.
Yet, although this is the end of the first week for the campers, it is the end of the fifth week for the counselors. The high energy level and attentiveness could start to wane if we are not careful. So we all have to watch out for complacency now. That's where the craziness can be most useful!
Tonight was a perfect example of how the counselors get pumped up all over again. We had the "World Cup for Ga-Ga," a kind of dodge ball game in the Big Hall. The entire camp participated on four teams: Netherlands, Spain, Argentina and Brazil. This is a high-energy game and all the counselors got into the program by wearing corresponding national sports clothes and playing with the campers on their teams.
For some reason, Spain always wins. But, regardless, everyone had the chance to play a game that really didn't matter, except for the way it reinvigorated the whole Camp!
Maine Seeds | July 27


This is the 10th anniversary of the Maine Seeds program. We are often asked why we run this program, since Maine is not at war with anyone. But conflict is part of the human experience everywhere, even in Maine. Thousands of lakes dot the land and forests that make up most of the state. So unlike the Middle East, land and water are not the issues at the core of conflicts in Maine.
Maine is one of the most northern states in the country. It reaches up into Canada, where winters are very cold for a long time. Huge amounts of snow and rain are what supply the lakes, rivers and ocean with abundant water. Summers are short but magnificent, often giving us cool breezes on warm sunny days. Summer tourism is still a huge industry, but several other industries have lost financial support in recent decades, including paper mills, shoe factories, shipbuilding, logging and fishing. Bottled water is the exception to the rule.
The other phenomenon that has had a huge impact on Maine's economy and culture is the arrival of thousands of refugees from African and Asian countries. They have have settled in Portland, Lewiston and Auburn, all cities in the southern part of Maine. Meanwhile, northern sections of Maine have lower economic levels, in general, and more scattered populations. It is as if there are two separate states.
Even with recent immigration, Maine has fewer people of color, proportionately, than any other state. Tensions between the new immigrants and the established Maine residents began over cultural differences, economic tensions, and jobs.
In 2000, the Maine Superintendent of Schools inquired about establishing a special leadership program for teens from the state at our Camp. We took up the challenge because it was the right thing to do. It seemed irrational to avoid addressing the conflicts in our own back yard, and the program has served as a way for us to thank Maine for embracing Seeds of Peace.
Since the beginning, the program has expanded from serving Portland to also serving Lewiston and Auburn, as well as places north of Augusta and on up to Bangor. The campers are nominated by their high schools, interviewed by a committee of educators, and then selected according to their abilities and balanced representation in the Maine Delegation.
Today, four Maine Peer Support Seeds explained the Maine program to the campers from the Middle East. The Middle East campers were very attentive. They acknowledged that they had not known what the conflict in Maine was about until now. And tonight, almost to prove the legitimacy of the conflict to themselves, the Maine Seeds had a very difficult dialogue session. They broke through the cover of jokes and pleasantries and discovered prejudices they hadn't acknowledged.
Now they will need to learn how to discuss these and other tough issues with empathy and kindness. This work will begin at Camp and then continue on throughout the years, with community service projects becoming the vehicle for their leadership development. The Maine Seeds program is year-round and continuous, just like other Seeds of Peace programs around the world.
Smile and say "Peace" | July 28


Today we took a panoramic picture of everyone at Camp, as well as smaller group pictures, including dining tables, dialogue groups and bunks.
The big shot of the entire Camp seemed to be done effortlessly. The photo was donated by Panfoto, a company specializing in panoramic photography. These photographers really had their act together. They could spot a pair of sunglasses on top of a head like nobody's business. But the smaller group shots were something else. Everyone at Camp seems to have his or her own ideas about how to present each group. After all, this is a camp full of leaders!
We start with bunk shots, which are complicated by various themes such as Bro Shack or Sunny Chicks. Some like to form pyramids. Others like to pose as models. Many wanted shots with the campers carrying their counselors. Many of the boys bunks are double bunks, but they are often combined for pictures and other purposes. The Dirty Thirty are actually both sides of double Bunk 15, for example.
Then we go for the dialogue group shots. If you want to know how a dialogue group is getting along right now, just try to take a group picture. There are no surprises. These photos create a real snapshot of the way the groups are organized. Those who dominate dialogue tend to arrange the poses, saving the most commanding position for themselves. The people who are trying to avoid dialogue generally hide in the shadow of other people, or pull long hair over their faces.
The table pictures are entirely different. These shots tend to be the most creative and carefree. The campers use their bodies to form shapes they associate with their Dining Hall experience. Or they jump in the air together. Or they poke their faces through a soccer net. Each picture is worth a thousand words.
Play for Peace | July 29


Just when a lot of heavy and often startling information was being batted around during dialogue, we scheduled a daylong visit from world-class athletes. Play for Peace 2010 included four NBA players, basketball legend Teresa Edwards, and Mia Hamm, the most famous female soccer player in the world. Between them, the group has eight Olympic medals (six gold), five NCAA titles, two FIFA World Cup championships, and an NBA title.
So, while there is a fair amount of negative energy coming from dialogue sessions and discussions in the bunks, there is also some positive energy developing, and a day with superstar athletes injected even more of it into the community. In the way these athletes interacted with the campers, they demonstrated that they consider what the campers are doing here to be very important.
The NBA players included rookies (Brian Zoubek from the New Jersey Nets and Xavier Henry from the Memphis Grizzlies) and a veteran (Brian Scalabrine of the Boston Celtics). All the players had the chance to discuss the impact of Seeds of Peace with the returning campers. A consistent theme heard by the athletes was the way in which the Seeds had changed after living so intimately with people they were taught to distrust and even hate.
All morning, afternoon and evening, the NBA players gave master classes and played HORSE or Knock-Out. Mia Hamm played soccer with the Seeds. She was joined by her husband, retired Red Sox shortstop Nomar Garciaparra, and Stanford soccer coach Sarah Kate Noftsinger. The counselors were included in the games and classes, which made it all the more exciting for the campers.
Nomar also became the guest coach for our girls softball team. Tomorrow we will see if this extra coaching will help our teams win their games against other camps. (It did!) It will be Sports Day, when two camps from other parts of Maine will come to us for matches in basketball, soccer and softball. The day after that, we hope to get back to a "normal" schedule.
Sports Day | July 30


Sports Day, coming right on the heels of Play for Peace, seemed like a lot of sports in a rather short period of time. But all the practicing with superstars really paid off in our games with visiting camps Winnebago and Fernwood. We had four competitions: boys soccer, boys basketball, girls soccer and girls softball. Four games, four victories!
Campers from the opposing teams joined us at line-up, where we sang some of our camp song staples and they sang theirs. We also had a cook-out lunch and taught our visitors the Pizza Man song.
Since it was Friday, we held a Friday prayer service for Muslims and a Shabbat service for Jewish campers. Other campers were invited to observe both, at will. All observers had to be dressed respectfully and could not walk out during the service. They also could not bring cameras. Those campers not attending or observing the services were required to remain in their bunks and be quiet. On Sunday we will do the same thing for Christian services.
Tonight we heard from a young man who was part of our first session this summer. He said he had a rough evening because all of his relatives were at his home for a visit. It made him realize how different his way of thinking is from theirs, after coming back from Camp. Although he told them about the friends he made from the "other side," his relatives couldn't fathom such a thing. They couldn't imagine that he would have survived living with his "enemies" for three weeks. Yet this Seed knew that his experience at Camp was real and actually wasn't all that difficult. He said that once he overcame his original fears, the rest of Camp was natural and easy for him. The only relative who reacted with an open mind was a cousin close to his age. Now he wants to encourage this cousin to try to come to Seeds of Peace next summer. The Seeds of Peace experience is taking root with this young man, but it isn't easy. Family discussions are often the first hurdles.
Casco Days | July 31


Instead of the usual bell, our lacrosse team woke us up with music in an effort to get the blood flowing through chilly limbs, as the cool summer night seemed reluctant to give way to a warm morning. People came to line-up in ski hats, scarves and gloves. The Maine Seeds are used to the cold, but the the Middle Easterners were incredulous. "It's not like this in my country!" moaned one camper.
Casco Days is a three-day town fair in Casco, a few miles down the lake from our Camp. The fair has a ferris wheel, junk food, small booths with games, and music. Other events, such as the Four-Mile Race and the parade, make the event fun for our Camp community. Matthew, one of our counselors, finished second out of about 500 runners. One of our campers finished first in his age category and came in ninth for the entire race.
The Peer Support campers spent the morning preparing their song and marching style for the parade in the afternoon. Unlike the Otisfield Fourth of July parade first session, this parade has entries from all over the area, including businesses, other camps, fire departments, Shriners, and veterans' groups. All proceeds from the fair are used to support the volunteer fire department and other local needs. Hundreds of families participate, bringing in all the money the town needs for a year.
Besides the parade and the four-mile run, our entire Camp goes to the fair, grouped according to their dialogue circle. This gives the campers an opportunity to share some fun with the people with whom they are usually quite serious and sometimes contentious.
Tonight, many educators from all around Maine came to a meeting with our adult educators. Our delegation leaders made presentations about the ways they run their schools and then there was a time for interacting with the visiting educators.
The evening ended with a beautiful folk-song concert by Doug Mishkin, a lawyer from Washington, D.C., who has been socially active, especially with organizations like ours which promote the peaceful resolution of conflict in the Middle East and elsewhere. As the delegation leaders were singing beautiful peace songs with Doug Mishkin, the booming sound of fireworks signaling the end of the fair was heard outside the window. Similar sounds in their homelands would have signaled something else entirely.
International Dinner | August 1


Teenagers and a young adult staff often move like molasses in the mornings. Sometimes Wil is brave enough to speak to them about important things at breakfast line-up, but sometimes it's better to do something completely different. This morning turned out to be one of those times for doing something different. Doug Mishkin stepped forward and in his clear folksinger's voice sang two songs about taking responsibility for your own character and soul.
Even though the campers were hungry, they asked for more singing. Doug played another song at lunch line-up, this time with two campers accompanying him on drums. Wil reminded the campers that they have nine more days—"What will you do with the time you have left here?"
This afternoon, about 60 Maine Seeds from the last ten years came to celebrate the anniversary of the program. For most of them it was a very happy occasion. They held discussions about the selection of new campers, emphasizing the need for fairness and wide distribution. They talked and took strolls around Camp, remembering their time here. For some this was a sad occasion as well, remembering the Maine Seeds who have died, Ashley and Aleigh.
The older Maine Seeds also met with the current Maine Seeds campers. It was wonderful to have them all back at Camp to reconnect with each other and with new Seeds.
Tonight we hosted our traditional International Dinner, served outside the Dining Hall. The Delegation Leaders prepared the entire meal, which consisted of national dishes they knew the campers would love. And indeed they did! Wil sent the girls to fill their plates before the boys, hoping the girls would help themselves sparingly. That didn't work out as hoped. The food disappeared almost as soon as it was brought out.
But it was a feast for the eyes just to take in the beauty of the national costumes. Standing back and observing the scene, we couldn't help but remember what this group was like when the campers arrived at Camp two weeks ago—separate, wary of each other and scared.
Those of us who have been working with Seeds of Peace for many years know that after two weeks, there won't be any competition about which national costume is the best. It is more likely that they will admire each other and bunch together for group pictures.
We are not surprised when this comes to fruition, but most visitors are amazed.
Friendship tested | August 2


Today provided a good example of how we handle bad news from the regions of conflict represented at Camp. Since there is a seven-hour difference between the Middle East and Maine, by the time we are having lunch, people in the regions are usually finished with work and school. Any events of the day are already in the media, reports from which we post in two readily-accessible places at Camp.
There were three separate incidents today involving all four of the Middle East delegations. As you would expect, all four were disturbed by the events, which seemed in stark contrast to the level of understanding and empathy the campers are achieving at this time. It definitely was a teachable moment. If we can help them cope with bad news here at Camp, among their new friends, we hope this experience will guide them other times after the summer is over. One thing was clear: without verification, rumors tend to become "facts" and emotions flare. All the campers who wanted to call home were permitted to do so. Again and again, their parents verified that the rumors at Camp were grossly exaggerated. Serious discussions were channeled to the dialogue sessions. Calm returned.
It was a normal day, despite the current events. The full Camp evening activity focused on making new friends. A film about John Wallach's life and hopes for the campers was shown first. Then the Peer Support campers invited the younger campers to join them in the decorated Dining Hall for Café Night, designed to promote open conversations between campers who had not yet talked to each other for any length of time. The PS campers did an amazing job of redesigning the seating in the Dining Hall, considering that they had just returned from a full-day hike up a mountain.
This morning, the campers and counselors in one of the bunks took canoes out to the middle of the lake, while the fog of early morn still concealed the shore. They formed a circle with their canoes and talked. Then they found their way back to Camp through the dense fog just in time to hear Wil Smith singing The Man in the Mirror, instead of ringing the bell for morning line-up. Several people emerged from their bunks dancing.
Rising to the occasion | August 3


There was no need for an alarm to go off this morning. Thirty-four Middle East, American and Maine Seeds dove into the lake and started swimming across to the other side, through dense fog. As they dove in, several yelled out—hence the lack of need for an alarm clock.
It was thrilling to welcome the swimmers back to the Camp dock in time for morning line-up at 7:30 a.m. This swim challenge was completely voluntary and required the highest swim level.
Several interesting special activities took place, including some weaving classes by a visiting master weaver. A cooking class has been serving themselves lunch every day this week. There is a jam session each day with a room full of talented campers who somehow can sense when it is time for each of them to play the right notes for what they are trying to convey. Also, in between dialogue, normal activities, and line-up (which included the second mustachio contest, our a capella group singing Wanting Memories, and learning songs for the baseball game), we had people trying out for the Talent Show as well. The Talent Show will be tomorrow night.
Just before dinner, we boarded buses for the Sea Dogs baseball game in Portland, which is about an hour's drive from Camp. At the game they mostly focused on the food and soda, with an occasional glance toward the scoreboard and the field. We sat with other camps, far away from most of the other spectators. We even had some cooperative singing with another camp sitting next to us. They really enjoyed Elliott's Pizza Man song.
The Sea Dogs were ahead at the time we left the stadium, but it is doubtful that very many of the campers knew that. They were too busy having fun together.
Inter-religious dialogue, Talent Show & Color Games | August 4


Many things happened today which would not have worked if we had tried them ten days ago. But, by now there is a visceral comfort level you can feel among the groups gathered around chatting before line-up or seated in the Dining Hall. Everyone knows where they are supposed to be and no one seems to be trying to sidestep rules and expectations. This is a talkative group, very much engaged with each other.
This morning, the facilitators met with small groups of campers who were interested in talking about their religious beliefs and practices. It was voluntary, but most of the campers welcomed the chance to do this. The religious commitments of our campers range from very religious to agnostic. They identify as Muslim, Jewish, Protestant or Catholic. The campers were intensely interested in each other's beliefs and really didn't want to end the discussions.
Regular dialogue sessions, activities and rest hour preceded a cook-out and then, the long-awaited Talent Show. There always is an enormous amount of talent among the campers and tonight's show was no exception. There were humorous songs and serious songs, hip-hop dance, as well as dances from India, instrumental music and bands.
Then, just as it looked like things were winding down for the night, the lights went out and counselors entered with green and blue lights. The Peer Support campers began to chant, "Hajime!" This marked the start of Color Games.
Down to the line-up area went the campers, streaming through counselors who formed two lines with lighted torches. Then the coaches were introduced. The most dramatic entrance was Sarah's on a horse! Then the campers had to wait in suspense, as bunk by bunk they were called forward to be put on either the Blue or the Green team. They all seem to be happy with their lot, but they are mostly relieved to know which team they're on. Tomorrow, Color Games will begin in earnest at 7 a.m.
Rope Pull | August 5


Each day of Color Games begins with one big all-Camp challenge. Today it was the rope pull. First all the boys competed, then all the girls, and finally, the whole teams pulled. There are many theories about how to win. Some say to put the heavy people in the front; others say put them in the back. Some say pull exactly together. Others say not to let up on the pulling. "One-two pull!" seems to be the mantra though.
And there is a little folklore too. Many years ago, we started a rumor that losing the rope pull destines your team to go on to win all of Color Games. This was a way to boost the morale of the losers and it had a 50 percent chance of being right.
The day began with Blue in the lead and ended with Blue in the lead, but Green could easily catch up and take over during the next two days. Former campers maintain a website that updates the scores three times a day. Seeds around the world keep an eye on the scores; once a Color Games team member, they remain fairly loyal to their team color.
After the rope pull, all the bunks played against each other, in rotation. The events included swimming, baseball, basketball, soccer, street hockey, Frisbee, Ga-Ga, as well as drama and dance. Later, the coaches hand-picked their best players in each sport to compete in "All-Star" events. And tomorrow morning we will begin with the Peace Race before breakfast.
Those of us who are not coaches run Color Games as members of the White team. The White team fetches the water, prepares for each sport, cleans up and sets up everything, judges competitions and acts as umpires and decision-makers. No one is allowed to be disrespectful to the White Team or the opposite team. We try to keep a balance between sincere effort and gentle humor, so the White team is called the "Always Right Team."
Color Games have a magical quality. Often there are self-confidence breakthroughs that are amazing. Young people who until this point have been reluctant to stand out in any way rise to the occasion and allow themselves to shine. This is what we have been waiting for!
Race for Peace & Variety Show | August 6


Today the pre-breakfast contest was a road relay race. The runners were amazingly fast! Each one ran a quarter of the Camp loop, with the first three handing off a baton to the next runner. The Blue team won the girls' race and the Green team took the boys' race. This was the turning point for Green, which made an anticipated come-back after falling behind so much on the first day.
Blue lost several events, allowing Green to regain its confidence. By midday, Blue was still ahead, but not by much. The All-Star games then gave Green the points it needed. By dinnertime, Green had slipped ahead by 50 points. The Green coaches and team members erupted with excitement at the news!
Still, the Blue team maintained its cool and went to work on the Variety Show. For the Show, each team had a few hours to produce a team song, a dance, an a capella song, a comedy skit about Camp, an instrumental performance, and a drama with no speaking parts. Since each team has 75 members, all of whom are leaders, you can imagine the competition that goes on just to come up with plans that everyone can support. The level of talent really is less important than the level of cooperation. And simplicity can be another key factor.
At the end of the Variety Show, we all stood together and sang the Seeds of Peace song. There won't be many more times that this group will sing it together this summer. Only two days remain.
Message to Hajime | August 7


"A Message to Hajime" is peculiar to Seeds of Peace Camp. At other camps it has a different name. It involves 112 tasks that have to be done in a relay race all over Camp. At the end, the crowning accomplishment is the memorization of a quote. Today it was something Kofi Annan said:
There is no trust more sacred than the one the world holds with children. There is no duty more important than ensuring that their rights are respected, that their welfare is protected, that their lives are free from fear and want and that they grow up in peace.
Over ten years ago, a Japanese journalist named Hajime came to Camp. In an effort to get the full picture, Hajime came for a day at the start of Camp and for another day at the end. John Wallach, the principal founder of Seeds of Peace, wanted to be sure that the campers pronounced Hajime correctly, so he had them practice saying it as Hajime was approaching the group. The campers made a joke out of it and started chanting "Hajime" while pushing their hands up in the air. He loved this and had a huge smile on his face. By the time Hajime returned at the end of Camp, the campers went wild and hoisted him up on their shoulders! They chanted his name so much that we decided to change the name of the game to honor Hajime.
Color Games was won by the Green team this time, but only by 20 seconds on the stopwatch. Green had already passed Blue by 200 points this morning, after the peace canoe races. No one knew it yet, but the Variety Show scores from last night were also in Green's favor. So Green entered the lake first and Blue followed. Everyone hugged and sang and the contest was over.
We had an extended rest hour and then the campers were given albums for their friends at Camp to write in and sign. These notes will record the memories which we hope will sustain them after they leave Maine in two days.
Later on tonight we had our traditional memorial service to remember Asel Asleh and nine other Seeds who have passed away. Many of us remember Asel, who was killed in the Middle East conflict ten years ago. Bobbie explained the circumstances of his death and his role as a bridge person in every aspect of his life. Netta, Tamer and Jane all spoke about his friendship and personality. We all miss him. The campers were quite moved by the memorial service, held in the Peace Garden. They needed a bunk night afterward and got it.
Both joy and sadness | August 9


Each time campers say goodbye, it is a heart-wrenching experience. After living together for three weeks in a very intense program, packed with poignant moments, deep concerns and profound insights, how could parting be anything other than painful? Add to that the chance that they may never meet again and the worry about safety in their respective homes, and you have human drama writ large.
But it can also be joyful. The joy comes from recognizing the signs of success. They achieved what they set out to do. Each camper has a much better understanding of the fears and ambitions of the people on the other side of their conflict.
And they do care about each other, not because they are the same religion or nationality, but because they went through a lot together and they know that the people on the other side, met and trusted at this Camp, are not people they want to continue hating. On the contrary, they are people they want to hold on to as close friends.
This is the last Camp Report of this 2010 season. It has been my pleasure to roam around Camp taking pictures and conversing with campers and their adult leaders. We are packing and cleaning right now, but it isn't too soon to begin to look forward to Camp 2011. See you then!
Video | Session II Slideshow
Session Two All-Camp Photo