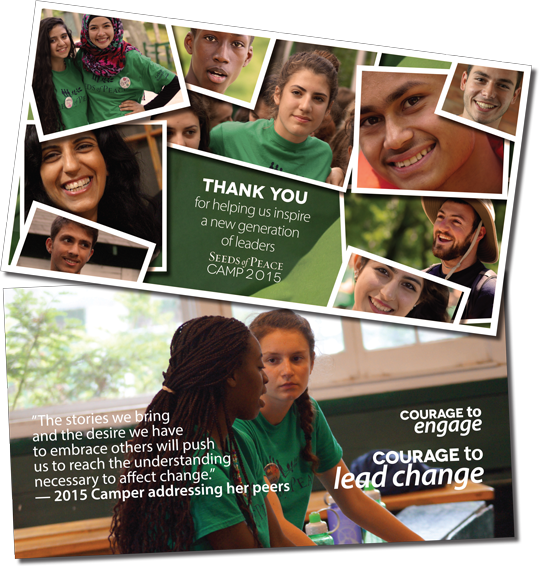 Camp 2015 in Numbers
296 campers representing 10 delegations: Afghan, American, Egyptian,
Indian, Israeli, Jordanian, Maine, Pakistani, Palestinian, and Syracuse.
49 Seeds returning to Camp as Peer Supports.
Over 25 hours of facilitated dialogue for every Seed.
20 Delegation Leaders.
23 consecutive summers of Seeds of Peace programming.
SESSION ONE: MAINE & SYRACUSE
Pre-Camp Report | June 28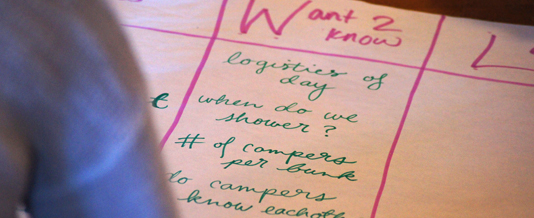 For a week or more before Camp begins, the counselors and facilitators prepare themselves and the physical environment for what will be a very inspiring, complicated program. This orientation period equips staff with important information about our unique Camp program and gives them a chance to form relationships, just as the campers will. During the orientation, we focus on specific skills required at any normal summer camp but also stress what is necessary to protect and guide teenagers coming from very difficult life experiences.
Many of the staff have been to Camp before, as counselors, campers, or both. About one-third are new to Seeds of Peace. All have successfully made it through our rigorous, highly-competitive selection process. They are chosen during the winter months, based on their skills, judgment, maturity, and emotional stability. They come from all over the globe, but they have one thing in common: they will need to come together as a staff before the campers arrive.
Tomorrow, we will begin with a two-week session for teenage leaders from the state of Maine and from Syracuse, New York. Many of the campers are immigrants, refugees, or asylum seekers from places like Somalia and South Sudan. Others are native-born Americans. Both groups will engage in year-round programs once Camp ends to help them stay on track for increasingly challenging leadership roles in their schools and communities.
The second session of Camp will be international, with campers coming from the Middle East, South Asia, and the United States.
Our staff is beginning this summer—our 23rd—with excitement and anticipation. Yet we are doing it sadly, without Wil Smith, our Associate Camp Director. He lost a long fight with cancer in February. We held an informal ceremony to honor Wil's memory. This helped the staff do what he would have wanted us to do: keep moving forward, expanding the community of kindness Seeds of Peace always strives to be.
Arrival Day | June 29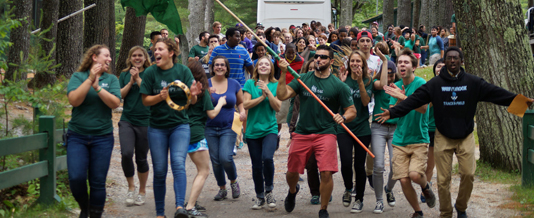 We woke up to a frigid morning. The only warmth came from the shared excitement of anticipating the arrival of all the campers for session one. We had a massive all-Camp clean-up and last-minute meetings, and then it was time to welcome the delegations from Syracuse and Maine. They arrived separately, first Maine, then Syracuse.
Our camper welcome tradition involves a lot of music, singing, and dancing in celebration of their arrival. While it may sound counterintuitive to welcome nervous people with loud music and singing, it is simple music easily joined by most people. We are told by older Seeds that this kind of welcome made them feel really important, and of course that is our intention.
Sarah Brajtbord (Assistant Camp Director) and Bobbie Gottschalk (Co-Founder) personally welcomed the campers in the Dining Hall. Bobbie usually talks about the road sign people see as they enter the state of Maine: "Welcome to Maine, the Way Life Should Be." She explains that at Seeds of Peace, we alter this to, "Welcome to Seeds of Peace, the Way Life Could Be." She also invites the campers to think of the lake as a friend—always there to calm troubling feelings they might encounter. Sarah introduced the campers to their counselors and helped them find their bunk and table mates. Then the campers settled into their new homes and spent some time getting to know one another and their counselors.
Tonight, the campers were introduced to their dialogue facilitators. Now they have met the three intimate groups they will be part of throughout their stay: their bunks, meal tables, and dialogue groups. Hopefully, this will help them feel at ease enough to get a good night's sleep. Tomorrow, they will all have a chance to phone home.
As has happened almost every year, there was an evening rain storm followed by sunshine, producing a lovely rainbow. That always feels like a timely celebration in the sky.
Orientation | June 30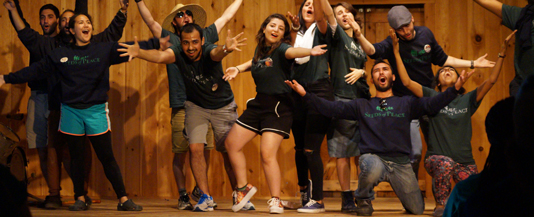 Campers woke up at 7 a.m., our normal rising time, and made their way to morning line-up. We have two other line-ups each day, before lunch and dinner. The purpose of line-up is to keep everyone aware of the schedule, which sometimes has to be changed due to weather and other surprises. Line-ups also provide a vehicle for uniting the Camp community through humor, music, and messages from staff members, visitors, or campers.
During the hours between morning line-up and dinner time, everyone learned the Seeds of Peace Camp Song, visited the doctor or nurse, phoned home, and began dialogue in earnest, creating the bonds that will become tighter as time goes by.
The Muslim holy month of Ramadan creates challenges for campers who observe their fast between sunrise and sunset. They often have less energy than normal and are in danger of becoming dehydrated in our outdoor environment. Those fasting also miss out on the fun in the Dining Hall.
Several times a week, non-fasting campers will join those observing Ramadan for a late Iftar dinner at sundown (we tide the rest of the Camp over with a "tea" in the late afternoon). This was our plan for today.
At dinner line-up, three counselors from different parts of the world spoke to the entire Camp about what Ramadan means to them personally. They spoke about how important this holiday is for their families, for shedding addictions, and for deepening a sense of community.
After line-up, the campers walked to the Dining Hall together. A counselor announced that for people fasting, it wasn't quite time for them to break their fast. Everyone was hungry, but the other campers decided to wait until their Muslim friends could join them.
Already, campers were willing to support their new friends. While they waited, the counselors sang a lovely song about making this place a home.
Topping off the day, we held the traditional Staff Show. It was done with lots of good humor and talent. There is no doubt that a day like this day goes a long way toward "making this place our home."
Rain and Happy Tears | July 1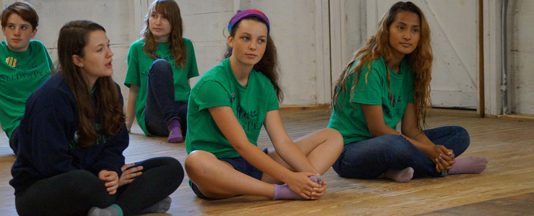 It rained from morning until dinner time. We figure that if it didn't rain (and snow) so much in Maine, there wouldn't be as many lakes, like our own Pleasant Lake. So we shouldn't complain. Besides, we know how to have fun in the rain.
Some of the campers were even able to waterski because the lake temperature was warmer than the air temperature. Most of us stayed inside to venture into the world of dance, drama, art, and sports in the field house. We all sang a rousing rendition of "You Are My Sunshine" in the Dining Hall.
Campers rotate through all the activities offered at Camp, usually with their dialogue groups. This is because we want them to have a chance to get to know this group in many other ways besides how they conduct themselves in dialogue. Once they have worked on skits together or played on the same team, they will be more open to listening to the very different perspectives of people who once were strangers.
In addition to the usual activities most camps in Maine provide, Seeds of Peace encourages counselors to work together on their own creative activities as well. One of these special activities this summer is called, "Humans of Seeds of Peace," modeled on the "Humans of New York" project. The campers will interview a variety of people in Camp and then write about them. In this way, they will learn how to do oral histories, culling out the most salient features of each person interviewed.
This was the day we took the big panoramic picture of everyone at Camp. Everyone will have individual copies to take home with them. Also, there are hundreds of Camp pictures uploaded continuously on Flickr online.
Sometimes, all the support at Camp is overwhelming. Yesterday, a counselor noticed that a girl at his lunch table had teared up. He asked her why she was crying. She replied, "Everyone here is just so nice!"
Camp is often a big change from what campers cope with in their schools and communities.
Unchartered Waters | July 2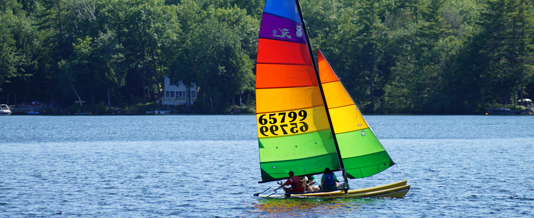 It was a magnificent Maine summer day today—sunny, cool, and windy. The dampness from yesterday's constant rain literally evaporated. The sailboats and canoes were out on the lake as the campers ventured to places they had not been before. The wind stayed just strong enough to keep the colorful sails billowing. Canoeing requires some acquired skills with the paddle and a healthy respect for keeping the canoe in balance so it won't tip over. Sailing and canoeing also require some new knowledge and language, given that many campers have never been in either type of boat.
On land, we had a normal afternoon, with rest hour, an all-camp swim period, and sports. Kickball turned into a hotly-contested game between two different dialogue groups.
Last year, the returning Peer Support (PS) campers created a campfire program for the first-time campers. They did so again this evening. With the campfire burning close to the lake, groups PSs spoke about the importance of Seeds of Peace in their lives. It was very moving. A group of counselors then sang "Home," "I Believe There's a Better Way," and "One Voice." Many people were teary-eyed; most of the returning campers and staff were remembering Wil Smith.
One of the new male campers stood up and thanked everyone for allowing him to be part of this Camp, but his voice wavered as he choked back tears. All the other boys immediately surrounded him with a group hug. These campers seem to know when competition is appropriate versus when an outpouring of support is the best way to go.
Bunk Night | July 3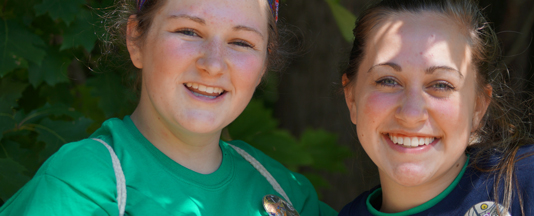 It was another beautiful Maine summer day so we spent most of our time outdoors. All of the special activities devised by the counselors are well underway.
The "Humans of Seeds of Peace" special activity was ready to begin interviewing and photographing selected people at Camp. Today they interviewed four people, asking open-ended questions such as, "Can you think of one occasion in your life which greatly influenced you?" Or, "Who are some of the people who had an impact on your life and why?" One person took notes while the other asked the set questions. The interview was done in a place chosen by the subject. At the close of the interview, the campers took three photos and the subject was asked to choose the best one. Finally, all the answers were reduced to one short paragraph, as a distillation of the conversation.
Since it is Friday, the Muslim prayer service and the Jewish Shabbat service took place for those who wished to participate. On Sunday, there will be a Protestant service as well as a Catholic Mass. There will also be an interfaith dialogue and observers will be invited to join all the services next week.
We also had quite a few visitors at Camp today, most of whom were counselors from summers past. They were welcomed back with open arms by this year's staff.
Tonight was "bunk night." Bunk counselors did special things with their campers to help strengthen the bonds between them. Some bunks shared a campfire and told stories or sang. Others divided up into pairs and interviewed each other. Still another bunk worked on an art project.
At this point in the session, we are still getting to know each other, and there are some campers who have a hard time understanding some of the shared humor and songs. However, by this time next week, we expect to know everyone really well. We will have many jokes and songs to add to our collective memory. And, we will have added another circle to the global Seeds of Peace community.
Parade | July 4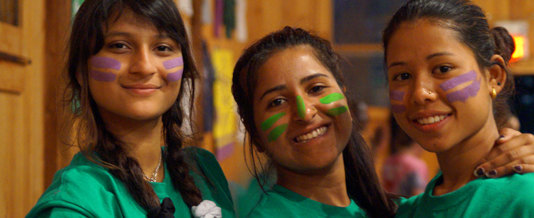 On the Fourth of July—independence day for the United States—the small town where our Camp is located celebrates with an old-fashioned parade. There are often as many people in the parade as there are lining the streets, watching.
This summer, the Maine and Syracuse PSs joined the parade, making up songs and dances for their march down the streets of the town. The first-time campers stayed at Camp and had a normal day. At the lunch time line-up, the PSs reprised their parade performance and announce that they received a "first prize" award, something which hasn't happened in many years.
We have been using line-ups to showcase special talent among the staff, as well as the learning experiences of the special activities. Today several campers performed African dances they learned in the past few days. It was wonderful to see a diverse group of campers enthusiastically dancing together.
Tonight we held a really popular event: The World Cup of GaGa. GaGa is a game similar to dodgeball, but much more fun. It is played inside a large circle. The objective is to never allow the ball to touch your feet, and instead aim the ball at the feet of the players on the opposite team. The only way the ball can be passed is low to the ground, using hands only.
We divided the campers into four teams with made up names. One team was called, "Chile-Rica" and another was called, "Seedsistan." After several rounds, the Seedsistan team won! At the end of the evening, the counselors challenged the campers in a massive game that took a long time to play out. Eventually, the campers won.
As the days pass, more and more campers are asking to have their pictures taken together, which is always a good sign. Watching carefully, you see countless kindnesses among the campers. In fact, some campers are giving out necklaces to their peers in appreciation for small acts of kindness.
Table Cheers | July 5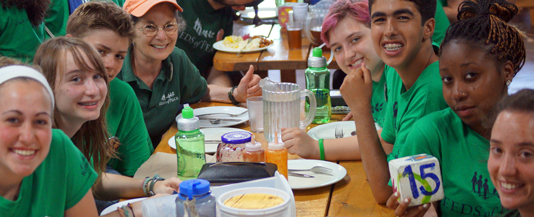 Late this afternoon, Rebekah, a former counselor, came for a visit. The PSs remembered a wonderful song, done in three part rounds, that Rebekah had taught them as first time campers. She agreed to teach it to the new campers today. One part of the song begins with "We've got happy lives to live, we've got happy lives to give." Yes, they do! Even though some of the campers with us right now have had very challenging childhoods, all of them have happy lives ahead if they can gain skills to deal with the inevitable problems they will face in a productive, positive way.
Group Challenge skill-building has become a lot more challenging than it was during the first week of Camp. One group was all twisted together and had to untangle themselves without releasing their hands, which were clasped with other members of their group. They tried many contortions to end up facing one another in a circle, holding hands. Another group had to balance themselves on a rocking platform so that there would be no movement for three seconds. Some of them were blindfolded and some were instructed not to speak.
The Dining Hall is organized chaos. Eating is only a small part of the experience. Each table has two counselors and about eight campers. The meals are served "family style." Once the tables have been cleared, the Dining Hall is dominated by table cheers, including banging tables in unison. This year, many campers arrived at Camp clearly schooled in the table cheers, having been taught by former campers in their schools.
Tonight's evening activity was the ever-popular lip sync competition. After choosing a popular song, each group had to create dance moves to go with the songs. They were supposed to lip sync while dancing. This kind of activity often brings out parts of the campers' personalities we haven't seen before.
High Ropes | July 6
Today was a real summer day. Everyone was happy about having a chance to swim or capsize a canoe in order to learn how to right it. We suddenly have many waterskiing and sailing enthusiasts as well.
The high ropes course is a challenge for most dialogue groups. We began preparing campers for cooperating and taking personal risks at the start of the session, but the high ropes course is 40 feet in the air can be quite intimidating. The campers are harnessed and tied to a "life line" so they can't fall too far. But they still might not feel all that secure near the top of the telephone pole they climb.
Most of the campers discover that they really do have the courage to take on the high ropes course elements. When they come back down to the ground, trained counselors encourage them to talk about how it felt completing the element with a partner. Very often, the partner is someone they have not been close to before this experience. But, upon completion, they usually trust each other much more.
The sound of beautiful voices coming from the Small Hall in the middle of Camp this morning was glorious. The a capella special activity group was working on a song called, "I'm Yours." The counselors working with this group are trained in voice and music. In two more days, they will be ready to perform for the other campers and staff.
In preparation for Sports Day, when two other camps will challenge our teams, players tried out for boys and girls soccer and basketball. We have some very skilled and spirited players here. In an art class, some of the campers used art to describe their partners and their families.
Tonight, the campers took part in a Dyad activity. Each camper paired up with someone who was still a stranger and spent some time getting to know his or her partner.
We are encouraging the campers to dig deeper to form more enduring relationships, even if it means arguments and tears. Avoiding their differences will prevent good friendships from forming. This is the time to break through the barriers. Then they will have enough time before Camp ends to establish a relationship on firm ground.
Arts Day | July 7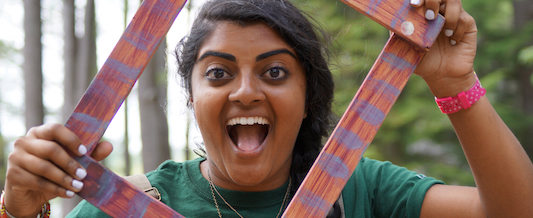 At morning line-up before breakfast, we all listened to a recording of a talk given by Wil Smith at that very spot five years ago. Wil talked about how he had grown up with prejudice based on his father's experience as an African-American soldier risking his life for the United States in World War II. However, his father had left the door open for Wil to make up his own mind about white people. While honoring his father and understanding why he felt the way, he did, Wil rejected his father's views on race relations based upon his own experiences.
Most of the afternoon was devoted to Arts Day. At a variety of places all over Camp, counselors worked with campers on a variety of arts projects, including original music, art, drama, poetry, and dance. Tonight, we showcased their work for everyone at Camp to see. In two and a half hours, each of the dialogue groups produced incredible work, reshaping their thoughts about emotions through the arts.
A funny and poignant spoken word piece was read by three boys from Syracuse. It shows how important Seeds of Peace has already become, just eight days into the Camp session. Here it is:
Seeds of Peace
Seeds of Peace: A place where you can wear a nasty wig and lip sync to a Black Eyed Peas song.
Seeds of Peace: A place to meet people from different areas, continents, and communities.
Seeds of Peace: A place where you can be a "jaunty nobleman."
Seeds of Peace: A place where guys can dance freely to a Taylor Swift song and not be judged.
Seeds of Peace: A place where a tiny lady with a camera follows you everywhere to take pictures.
Seeds of Peace: A place where you have a lot of support to get you through the hard times.
Seeds of Peace: A place where courage meets heart meets equality meets family.
Seeds of Peace means HOME.

Cafe Night | July 8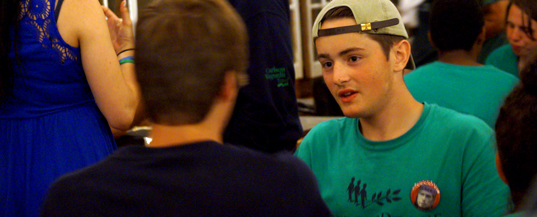 In a few days, we will host a talent show, but in the meantime, we are not at a loss for talent. Every line-up brings us a gift or two of songs, wake up exercises, "repeat after me" games, instrumental music and recitations from the spoken word activity. Today, one of our counselors had the campers do a Seeds of Peace version of what Jesse Jackson used to chant with crowds, "I am somebody!" And another counselor sang a beautiful song about the tragic waste of human life in wars.
One girl read aloud a piece she had written at Camp about her struggles with depression. She said all the therapy she has had before Camp helped her make the best use of the supportive environment she has experienced at Seeds of Peace. This took a lot of courage and her bunkmates welcomed her back to their row with a group hug.
The high ropes continue to be a major challenge for many campers. For some it is a fear of heights, but most of the fearful ones are just unfamiliar with a ropes course. They can't believe that they will be safe. Other campers scamper up the ladders and telephone poles, even while blindfolded, to walk across the ropes 40 feet in the air.
This evening, we had a program about the founder of Seeds of Peace, John Wallach. Our executive director, Leslie Lewin, and Bobbie Gottschalk, co-founder, spoke about John and his conviction that creating a domestic version of Seeds of Peace made sense. We also screened the short film that was made for his memorial service at the United Nations.
After the film, the PSs prepared a "Café Night" for the new campers, who were asked to pair up with someone they had never spoken to and get to know them, while enjoying lovely desserts and juice. We have done this program for many years and it works very well. Tonight was no exception.
Sports Day | July 9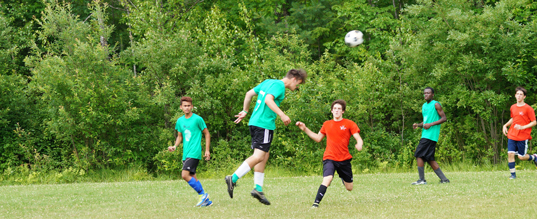 Sports Day is exciting just to watch. Camps Wigwam and Pinecliffe arrived with boys' and girls' basketball and soccer teams. They were met by Seeds who are counselors now and then toured Camp. They joined us for lunch line-up and lunch in the Dining Hall, complete with rousing renditions of table cheers from all three camps. Wigwam and Pinecliffe have cheers which are specific to them, but we do seem to share a song, thanks to two Seeds who are now part of the staff at the other camps. So, the Pizza Man song is destined for longevity and greatness!
The athletes were very impressive in both sports. Most of the campers either spent their time cheering for their teams or played Ga-Ga inside the Big Hall. Our campers made signs and painted their faces to show their support. By 4 p.m., everyone was very hot and sweaty, so they were invited to jump into the cool lake.
In the meantime, it was also visiting day for Maine Seeds. We even had one girl who traveled from Syracuse to visit. We must have had at least 60 Maine Seeds visiting. Since they attended the same high schools as the current campers, many know one another. The visitors were also delighted to reunite with some of their counselors who are still working for Seeds of Peace, and visa versa. The Maine Seeds stayed for a cookout. They were so happy to be back at Camp that they kept asking to have their pictures taken. Even though they have the opportunity to get together all year around, being at Camp is special.
Most of the time, the activities get introduced at Camp by enthusiastic counselors. Tonight, they had the opportunity to choose their own activities and swing dancing was chosen by many. Campers can't seem to get enough of it. It is fun because you don't have to learn any dance steps. You just follow a few patterns and stay on the beat.
Other campers were on the zip-line, which has nighttime lighting. Still others were back to playing Ga-Ga in the Big Hall.
A big shout-out to our kitchen staff who added about 80 people to the usual 150 they cook for each day!
Family Day | July 10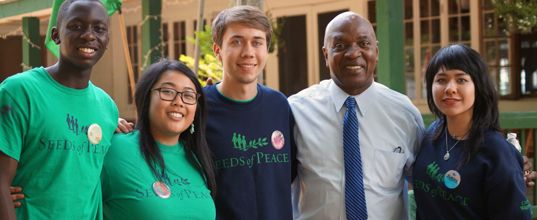 Family Visiting Day helps parents and siblings gain a better perspective on the Camp experience and its impact. Being in the environment and enjoying the strong relationships their children have formed help families appreciate why everyone will be so sad to leave in a few days. Campers whose relatives were not be able to visit were "adopted" temporarily by Maine Seeds' families and our staff.
Preparation for tomorrow night's Talent Show is being done in earnest. Some of the campers opted to skip swim time so they could rehearse and get some advice from our very talented staff. It looks like there will be an abundance of singing, humor, instrumental music, and of course, swing dancing.
The PSs had a visit from Professor Charles Ogletree from Harvard Law School and the Charles Hamilton Houston Institute for Race and Justice. He led them in an interactive discussion about matters of race, police protocol, and poverty in the United States.
Dr. Ogletree also addressed the entire Camp at lunch line-up about recent police brutality cases that have gained national attention. He told them about his own background as the first person in his family to finish high school, or college, or law school. Hopefully, the campers from Maine and Syracuse will be inspired by Dr. Ogletree's life.
In an unusual exchange, seasoned Maine Seeds have been invited to make presentations in his classes about the work they are doing in their communities to further social justice.
Since today is Friday, campers held Muslim Friday prayers at noon in the Big Hall and Jewish Shabbat services at sundown on the softball field. Unlike last week, both services were open to observers.
The kitchen did a phenomenal job feeding 165 family members of the Maine Seeds. In keeping with the Ramadan tradition, everyone gathered for a delicious Iftar dinner, with dishes ranging from Middle East maqloubeh to Maine blueberry pie. After dinner, the families departed, and campers settled in for an evening of activities with their bunks.
Talent Show | July 11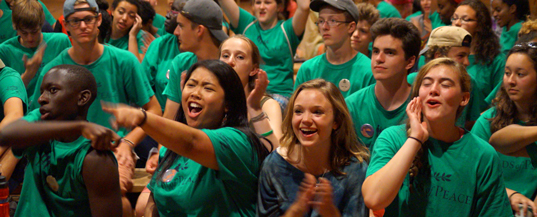 We have reached the point in the Camp program when the comfort level among the campers and staff is solid. Individual growth, whether singing a solo for the first time or helping another person sing a solo, is the outcome of hours of encouragement and modeling. Humor is also abundantly in evidence: today we had a performance of "The Screaming Goat" orchestra as well as a report from self-appointed inspectors of the bunk inspector's rooms (they did not score well).
On the serious side, we had poems and other statements about individual confidence as well as current social and political themes, like the Black Lives Matter campaign.
During the afternoon, the PSs created sessions on social action based upon their own experiences in their schools. They talked about the hurdles they got over and the ways they impacted their peers. In a few days, Camp will be over for this group. We want the campers to become "Seeds" in their home communities, building upon what they have just learned here and convincing others to join them.
We also had a visit from a Chief of the Passamaquoddy Native Americans, who spoke about the difficult history of his people and his tribe's efforts for self-determination and self-sufficiency in Maine.
The evening activity was the long-awaited Talent Show. By now, we know to expect fantastic performances. This summer, there have been many examples of hidden talent among the campers. For example, the following spoken word piece, written by three campers, was read by them at dinner line-up.
Make a Difference
You know how we got here. We got past our biggest fears.
We're finally showing emotions and shedding tears.
Shout out to all the Seeds who are changing while being here.
We came out of our shells by every morning waking up to three bells.
Afraid of falling and being alone. We look to each other as a family, away from home.
Dialogue taught us to open up and let go of your past, accept your emotions, and how to make it last.
I learned new sports and how to play. Ethnicity doesn't matter, Asian, Black, White, purple or gay.
I make a lot of first impressions. After this, I won't make any assumptions.
By learning about different people from session to session, respect all people and that's the biggest lesson.
Tonight's Talent Show provided two hours of amazing non-stop singing, dancing, instrumental music, comedy and poetry reading. Then, just when the campers least expected it, Color Games was announced. They were escorted through flaming torches to the line-up area, where they found out who the Color Games coaches are, and most importantly, whether they will be on the Blue or Green Team. The first competition will be the rope pull at 7 a.m. tomorrow.
Color Games | July 12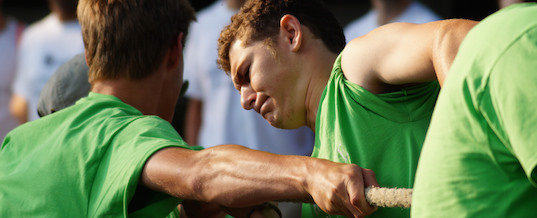 This first day of Color Games began, as usual, with the rope pull. We stretch a huge rope down the middle of the Camp's interior road. The rope and the road are marked so that it can be determined when one team has pulled it to a decisive win. All the girls from both teams pulled first, followed by all the boys, and finally all the members of both teams faced off against each other. It is highly unusual for one team to win all three contests, but today, the Green Team did just that.
Starting out with 500-point lead gave the Green Team the kind of head start their coaches normally could only dream about. There are six coaches for each team, equally divided in terms of gender and particular skills. The coaches have to keep track of their campers, making sure they are safe and healthy and are arriving where they are scheduled to be. The coaches for the Blue Team have to pump up the spirits of their campers while the Green Team coaches are tasked with keeping their team from becoming overly-confident. At midday the score was Blue 300 and Green 1200. By dinner, the Blue Team was up to 1400, but the Green Team was still way ahead at 2100.
One way the Blue Team might catch up would be to win all five parts of the Variety Show that took place tonight. The teams competed in performances of skits, dance, and song, with results to be shared tomorrow. The Blue Team would also have to win most of the Peace Canoe races and the Message to Hajime relay race tomorrow afternoon. So, it isn't over yet.
Behind the scenes, staff members are working on preparations for the campers' departures early Wednesday morning, just three days from now. Much will need to be done before Camp ends, but it is best for us to keep the campers engaged in Color Games as we wrap up this first session of Camp. They will begin to realize that Camp is ending as they finish Color Games in the lake tomorrow. We will be helping them take leave of one another, but it will not be easy.
Message to Hajime | July 13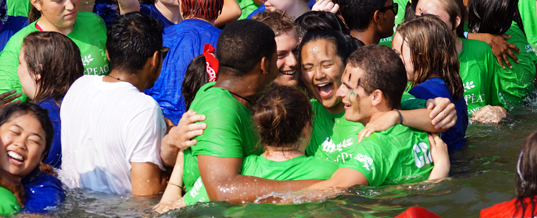 Pleasant Lake was crystal pure this morning as the huge "Indian war canoe"—what we call our peace canoe—was gently lowered into the water by five counselors. Ten boys and girls from each team prepared to paddle the canoe all the way from the boys' dock to the Pines beach—almost the length of Camp. The camper in the bow was charged with making sure they were headed in the right direction while the camper in the stern used various strokes to right the canoe each time it got out of alignment. They had to steer clear of the boats tied up at the boat dock and make hand contact with Kyle, part of the senior staff, once they got close to the beach. A runner from their team then had to run as fast as possible to the the big bell and ring it. Only upon hearing the bell ring was the clock stopped.
The Blue Team, which has been losing ever since the Rope Pull yesterday, performed extremely well, finishing at just under four minutes. The Green Team did not do as well. Many of us were hoping that the Blue Team would add enough points to its cumulative score to be more competitive. But the Blue Team, while continuing to do well in the arts, did not do so well in sports.
The final round of Color Games is a relay race called Message to Hajime. The teams compete on 76 different tasks, including bed-making, equation solving, walking with a book balanced on one's head, jumping rope, reciting a table cheer, etc. The last task is to memorize a quote and recite it to either Kyle or Bobbie. This time, the quote was a very appropriate one from Toni Morrison. The campers memorizing the passage cannot see each other, as they struggle to gain mastery over something they haven't seen before. Only when Leslie knocks on the door do they know that both of the campers have mastered it.
Down at the boys' dock, everyone gathered to find out which team had won. It is a very suspenseful moment. Team members held each other's hands and coaches wrapped their arms around one another. Finally, the score was announced. The winning team went into the lake—clothes and all. The other team did the same. Suddenly, it no longer mattered who had been victorious. They were together in the lake, hugging and splashing one another.
Tonight we had a powerfully moving memorial service for all the Seeds who have died, and for Wil Smith, our former assistant Camp director who died in February. We made special mention of Asel Asleh, the only Seed who has been killed in a conflict, three Seeds from Maine, and Sonia Shah, an American Seed who created a foundation to support a girls' school in Pakistan. We had several musical performances including a song composed by an Egyptian Seed, called "Say Hello to the Field."
A candlelight vigil and campfire ended what was in many ways a beautiful day.
Quaker Service | July 14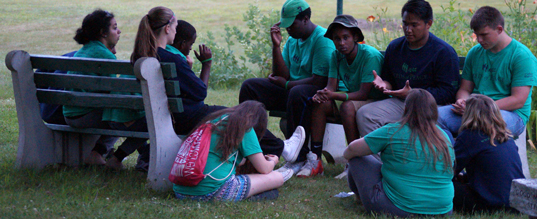 Today we finished the Camp program—the final dialogue session, signing memory books, finding lost laundry, putting an arm around a good friend, maybe for the last time in a long time ahead.
Bobbie invited campers and staff to participate in a Quaker Silent Meeting. Many Quakers sit in silence as a community and speak out of that silence if moved to do so. Participants listen intently to what other say in the meeting. The silence before and after someone speaks is a powerful uniting factor. The meeting this morning couldn't have been more Quaker-like, even though very few present are actually Quakers.
One of the many insightful comments made at the meeting was about appreciating personal growth among others who are also going through the same maturing process: "I didn't have to do it alone." Another camper who had memorized the Message to Hajime in Color Games thought it would be fitting to share it with everyone. Still memorized, he recited the following quote from Toni Morrison:
The person you are is like nobody else on the planet. You are your own stories and therefore free to imagine and experience what it means to be a human without domination over others, without reckless arrogance, without fear of others unlike you, without rotating, rehearsing and reinventing the hatreds you learned in the sandbox. And although you don't have complete control over the narrative, you can nevertheless create it.
The PSs took their high school peers through what is expected of them when they are back at school. Since many of the campers were born in other countries, primarily in Africa and Asia, we encouraged them to wear their traditional clothing for our International Dinner. Za'atar chicken, the Camp favorite, was served picnic-style. At line-up, Leslie asked campers to talk about the traditional clothing they were wearing.
This evening, the counselors screened a slide-show of the many photographs taken by Bobbie and Madeleine during the session. Then, our counselor band, the Smashing Chickpeas, performed one last time before everyone went to sleep in their bunks. We shall wake to the sound of the bell—a sound the campers will miss more than they can imagine. And then, off they will go to their homes across Maine and Syracuse.
SESSION TWO: MIDDLE EAST & SOUTH ASIA
Pre-Camp Report | July 20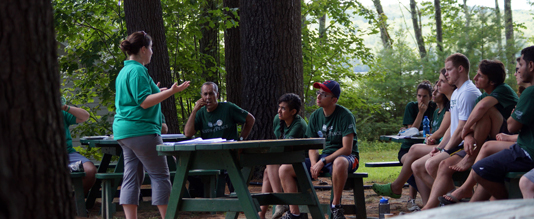 After a two-day break, most of the staff came back to Camp to prepare for the second session. Additional counselors and new facilitators also joined us. Although the second session program is similar to the first session, the campers represent major, generational conflicts in the Middle East and South Asia. They will be joined by an American/UK delegation.
International campers generally are chosen by the Ministry of Education in their countries or by panels of educators and regional Seeds of Peace staff. Out of many thousands of applicants, 188 were selected to attend Camp. These chosen few are trained at home as if they were coming to an international debate. Their heads have been crammed with "facts" from the perspective of their own governments and they are coached to respond to the arguments from the other side of their respective conflicts to answer in certain ways.
All this training at home will be played out during the first week of Camp, if all goes as it has in the past. Gradually, this debate stance will give way to active listening. But this outcome will take time.
In the meantime, there will be dialogue and bunk groups for each conflict. Table groups will be mixed so the campers can get to know people from other parts of the world than their own. They will be encouraged to take intelligent risks to stretch themselves beyond their comfort zones. As they grow as individuals, they will develop the courage to open themselves to new perspectives.
The experiential education of Camp will be put to a real test, however, as the campers return to their home countries three and a half weeks from now. For that, Seeds of Peace maintains ongoing programs in their local communities tailored to their age group. There are programs for high school students, university students, and "graduate" Seeds for everyone over 22. So, the Camp experience is the beginning—a crucial jumping off point—for a life-time of being a Seed of Peace.
Arrivals Day | July 21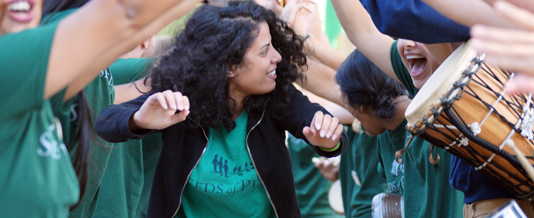 A cloudy day gave way to sunshine just as the first two buses rolled into Camp. The welcoming group of counselors and facilitators greeted the campers with music and dancing, as is our tradition. Israelis, Americans, and British campers soon joined the staff celebrating their arrival. About an hour later, the first group of Palestinians joined them as well. The remaining campers—the rest of the Palestinians, Egyptians, Jordanians, Afghans, Indians and Pakistanis—arrived in the evening.
Each group of new campers was greeted by Bobbie, our co-founder, Sarah B, the associate Camp director, and Kyle, the program director at Camp. In this way, the campers learned that they are now part of a program filled with opportunities. They are joining a growing community of Seeds all over the world and are very likely to have a wonderful, perspective shifting three and a half weeks here.
With all the delegations safely here, fed, and assigned to bunks, the new campers will get a good night's sleep, wake up, put on their green Seeds of Peace shirts and begin their new lives here on 40 idyllic acres beside Pleasant Lake. We know that some will not be comfortable at first, but soon they will settle in. And when Camp is over, they will feel like they are leaving home again.
Video: Celebrating Arrivals | July 21
Going Green | July 22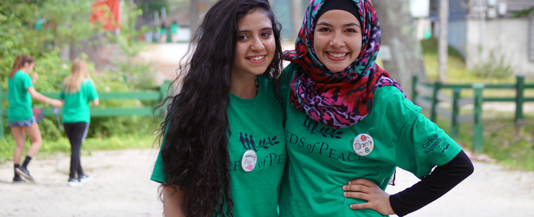 In the past couple of years, we have accelerated community building at Camp by giving everyone Seeds of Peace t-shirts and sweatshirts to wear on the first morning after the campers arrive. We used to distribute our Camp clothing later on, which only delayed the process of seeing and treating each other as equals. Besides, everyone looks great in green.
There are some basic things we have to get done before we can function as a coordinated program. We did most of that today. All of the campers needed to check in with the medical staff, take a swim test, learn the Seeds of Peace Camp song, make a name button to wear at all times, and take a tour of their new home. Every 45 minutes, the bell rang to remind them to move on to the next task. At the end of the day, everyone was sporting a name tag of his or her own design and could sing the Camp song. In fact, at the dinner line-up, everyone sang the song together.
We also have rules we expect everyone to follow. For example, whenever there is a red flag on the interior Camp road, boys cannot walk close to the girls' bunks and girls cannot walk in the boys' area. They have two swim areas, one designated for girls and one for boys. Today, two very proud girls from Afghanistan went into the lake to swim for the first time in their lives. As soon as they got into the water, they danced!
Some of the campers are not used to having so many rules. But, when there are people with so many different cultural and religious restrictions brought together in one small place, there have to be guidelines to maintain mutual respect and comfort.
Tonight, we had an ice cream social for the counselors and the delegation leaders to meet one another. From now on, they will have separate programs. After the social, the campers met their dialogue groups and facilitators, while at the same time, the counselors and delegation leaders were meeting.
Now everyone is prepared for the long days and short weeks ahead.
Flagraising | July 23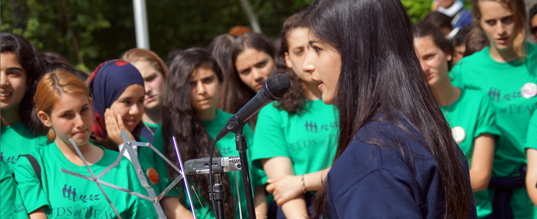 Flagraising has been our official opening ceremony since the beginning of Seeds of Peace. The flags of all nations represented at Camp hang outside our gate in a semicircle, similar to what is done at the United Nations in New York. Unlike anywhere else, though, the flags of the Palestinians and Israelis hang side-by-side, as do the Indian, Pakistani, and Afghan flags.
Once the campers from each delegation have sung their national anthem, listened to the beautiful speeches from their peers, and raised their respective flags, the only flag that flies inside the Camp is Seeds of Peace's. In this way, we show respect for each delegation's symbols, but use the Seeds of Peace symbol to help unite all the delegations into one community.
Of course, it will take a lot more than a Seeds of Peace symbol to fully unite the delegations that have traveled so far to be together but are, in reality, still very much separated by opposing narratives and basic differences. Although the flag-raising ceremony is an amazing display of tolerance and respect for the abundance of national fervor shown at this morning's ceremony, dialogue sessions later on in the day were fraught with challenges and accusations. This is to be expected during the first week.
As a counter-balance to the serious side of Camp, we have funny songs and talks at line-up and entertaining programs in the evening. Tonight was the counselor show designed to familiarize the campers with the diversity of activities they can look forward to at Camp.
We are aware that upsetting things are said in dialogue every day. The campers often look to their delegation leaders and Peer Supports (PSs) for guidance when they are confronted with arguments and accusations in dialogue. In a few days, however, the campers will gain enough confidence to think through the issues for themselves.
One way this happens is by offering them many opportunities to learn new skills in sports, the arts, and other creative outlets. It may look to the outsider as if they are just playing together, but far more than play is happening. They are going out on a limb, climbing over hurdles and reaching new heights they never dreamed they could before.
Soon, this growth outside dialogue will carry over to dialogue, and the campers will be able to think for themselves like never before.
Friday Services | July 24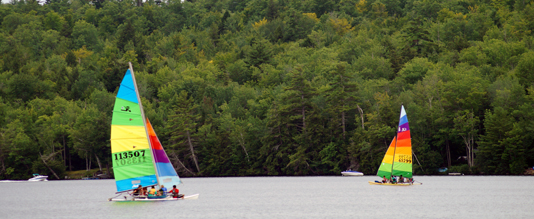 On Fridays we hold two religious services: a Muslim prayer service is in the early afternoon and a Jewish Shabbat service is in the evening. Both are conducted by counselors, delegation leaders, and campers. Attendance is entirely voluntary at all religious services, including the Protestant, Catholic, and Hindu services which will occur at other times during the Camp session. Next week, the those who are not worshipping will be invited to observe how each religion is practiced at Camp. Observing someone who is supposed to be your enemy in prayer is often a deeply humanizing experience.
The weather changes in Maine by the hour. In the morning there was hardly a breeze and the sailing activity had to use paddles to get to the middle of the lake. By afternoon, the wind picked up and dry cool air made the conditions perfect sailing. We gave the campers a demonstration with the air horn to let them know when they should seek shelter and when they should line-up in the field, depending upon the weather and safety conditions.
This evening, the campers had extensive planned time in their bunks. This gave the bunkmates and counselors a chance to bond more than they would if they only spent time waking up, cleaning up and going to bed together. Bunks are all organized by conflict zone. They are reserved as a safe space; campers need to trust each person living in this new home. Given that many believe that people from the "other side" cannot be trusted, there is much to overcome.
Casco Days | July 25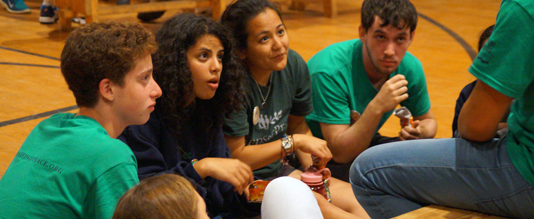 It is almost impossible to hold serious group conversations in the Dining Hall, given the clatter of dishes and people moving around to the salad bar and kitchen. Once every session, we try to rectify this by devoting an evening to "Table Talk:" quiet conversation with table groups in the Big Hall, away from mealtime clatter. The groups are given the same set of questions to answer, one person at a time.
Every summer, the nearby town of Casco hosts a three-day fair highlighted by games, fried food, a race around the lake, and a parade down Main Street. The money raised by the fair goes to fund the local volunteer fire and rescue squad. People join the parade from other camps, nearby fire departments, and local businesses. All along the road, families watching the parade cheer the people going past and try to catch the candy tossed by the marchers.
Seeds of Peace participated in both the parade and the race around the lake. Around 200 runners attempted to win the 4-mile race, but Seeds of Peace was able to secure first place once again thanks to Nate, a counselor, who finished first and made us all very proud. Prizes were also given to parade participants. The PSs who represented us came away with the "Spirit Prize." They danced and sang tunes from their home countries and regions, as well as some from Camp.
Many times during the summer, former counselors come back to Camp for a visit. Today, four of them were with us. There are ten current counselors at Camp who had been their campers years ago. Good role models produce more good role models.
Dancing in the Rain | July 26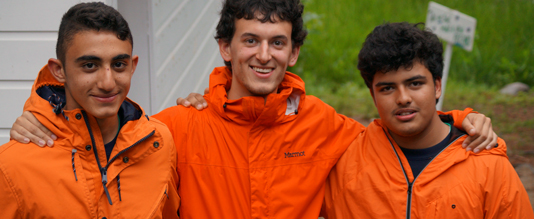 A rainy day! Since it was our first rainy day this session, it was a bit of a novelty for the campers. Those who followed the instructions on the packing list came prepared with rain jackets and boots. Those who didn't, well, they got a bit wet. Most of the day, it was just drizzling enough to make it uncomfortable to be outside, so we did most of our activities indoors.
We have wonderful dance instructors on our counselor staff. This morning, they were teaching African dance. This afternoon, it was Bollywood-style dance. They taught basic sets of moves and then the campers were let loose with the music. The intent was to help the dancers feel comfortable with the style of expression before creating a specific dance. Campers enthusiastically tried to do what the instructors were doing, and then began to dance on their own.
The delegation leaders had a chance to meet alone with campers from their delegations this afternoon. They reported that everyone is feeling comfortable. The delegation leaders themselves are participating in their own program, which is just as challenging as the one for the campers.
It is apparent that most of the campers have found people they enjoy here. Groups large and small are always asking to have their pictures taken. Their friends are no longer only from their own delegations. They seem to be doing a good job of keeping the more confrontational discussions inside dialogue. Although we have seen a few tears, most of the dialogue groups have not reached the point where they are thinking beyond the "talking points" they came with. Soon they will be ready to test the waters of critical thought, just as they have tried swimming in the lake and African dance.
Freedom Songs | July 27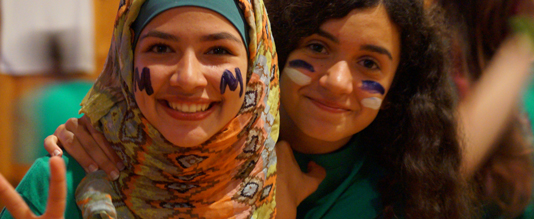 This was probably the closest we can come to having a normal day given that nothing about Camp is really normal. We had a normal schedule with dialogue, sports, art, group challenge, dance, swimming and good food in the Dining Hall.
One of the special activities this session is called, "Freedom Songs." For three days, participants listened to old freedom songs, including Bob Marley's work, and then the group composed their own song. One person in the group is an excellent musician. He used the words of the other group members and set them to music. They practiced the song over and over until they felt ready to perform at line-up. They performed their original song for the whole Camp today, to the delight of everyone.
Today, the PSs had a visit from Bob Bordone and Florrie Darwin from Harvard Law School's Negotiation and Mediation Clinical Program. They presented the PSs with a fictional situation that required a solution but had a confounding array of moral issues which had to be weighed. The PSs divided into four groups and met separately to come up with their own solutions. The problem's solution meant that choices had to be made regarding life or death issues for individual characters who were known to them. They were given a deadline, but no instructions regarding the methodology for making the critical choices. Once the groups explained their choices, it became apparent that there were flaws in the way decisions had been made and procedures were adopted. This was a great intellectual and emotional exercise.
Counselors hosted the semi-annual World Cup Ga-Ga tournament this evening. This is more exciting than any other kind of evening activity we have. The whole Camp is divided into four groups representing fictional countries, with banners and face paint. Ga-Ga is like a giant dodgeball game. It is loud, hot and chaotic but everyone loves it. The campers should have no problem getting to sleep after that game.
Opening Up | July 28
We began the day with a talk by Orlando from the Seeds of Peace regional staff, and two other Camp staff members, Nick and Eias, who are both Seeds. They addressed the importance of speaking your mind, even if you are in the habit of keeping everything inside. They also spoke about how being honest in dialogue sessions made their relationships with fellow campers more real, empathic, and lasting. The listeners could sense that all of them struggled to convey their thoughts. This made what they said more powerful.
At the lunchtime line-up, three staff members sang "I Want to See You Be Brave," which was also about expressing what is on your mind, even though you may have kept all your thoughts to yourself until now. And at the dinner line-up, the Poetry Into Song special activity group sang about being free to be oneself.
After so much encouragement to open up and be honest, no one should have been surprised to learn that the dialogue sessions were enlivened by all the honesty that spilled out! This is the right time for that to happen. With two more weeks of Camp, there is ample time to explore the frank statements and find the courage to listen.
Sometimes it is easier to open up to one person rather than doing so in front of a large group. Tonight's all-Camp activity is called Dyads. Each camper was randomly paired with someone from another delegations, given some pointed questions to discuss, and then left on their own. For 90 minutes these dyads remained engaged in conversations. The level of empathy in this community must have gone up much higher than it was when we woke up this morning. It was a beautiful Seeds of Peace day.
Expression | July 29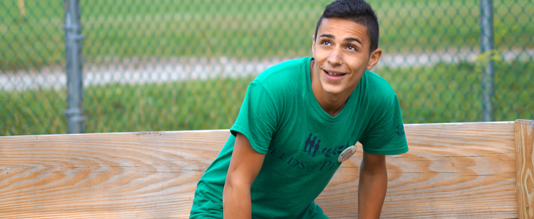 At morning line-up, the delegation leaders told the campers about their two-day trip off Camp. Then they led everyone in a Nigerian song called, roughly, "Good Morning!" It was lovely.
We use many different ways to help campers express themselves. Some campers are comfortable expressing themselves with music, dance, or art. Special activities give both the counselors and campers an opportunity to shine. One of the activities is called Pirates. Both confident and shy campers enjoy dressing up and pulling pranks with a pirate touch. Today, they kidnapped the staff members who do the bunk inspection scores.
At lunch line-up, the US Marshal for Maine, Noel March, entertained the campers by singing an old popular song, "I Believe in Music." The PSs joined him singing the chorus and soon the rest of the campers and counselors did as well. After lunch, the PSs visited St. Joseph's College to see the organic garden used both for teaching purposes and as a food source for the college students. They also met with organizers of a food pantry which feeds many people who would otherwise go hungry. These are two ways local organizations are making a difference, and we hope they inspire the PSs when they consider ways to help their communities.
Tonight, we had a lip sync contest, using popular music known in most parts of the world. First the bunks chose their music and then they had about 45 minutes to come up with a dance routine to go with the lyrics. Besides the bonding generated by this kind of activity, it is also a good way to expend the enormous amount of energy that 186 teenagers possess.
Digging Deeper | July 30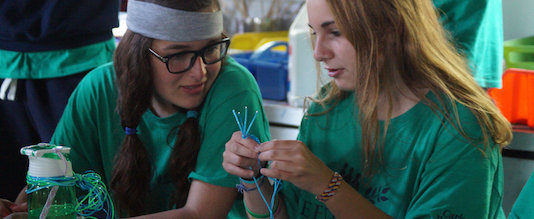 Here at Camp, value is placed on original ideas. The second week of Camp is more challenging for campers who are ready to think for themselves. Once they begin actively listening to campers from other delegations, their former positions might no longer make as much sense as they did only last week. Yet some of the other campers are not yet ready to accept the questioning of their beliefs. The facilitators may have to give the whole group more time to become comfortable with independent inquiry.
As life gets more challenging at Camp, some of the campers voice the opinion that two weeks of Seeds of Peace Camp would be enough. These are often the homesick ones. They could also be the ones who dread what is going to transpire in dialogue as people become more honest with one another.
Others have already begun to think about never being able to see some of their new friends again. It is sad to get close with people from whom one will be separated by walls, borders, checkpoints, and danger. At Camp, this is the way life could be, not the way it is at home. Seeds of Peace will try to bridge that gap, but it will not be the same as the ease of getting together with friends at home.
After dialogue sessions and normal activities, the whole Camp ended the day by going to the Portland Sea Dogs baseball game. About half the campers have been taught to play baseball, but we did not expect them to follow the game closely. They had ballpark food and plenty of time to converse with their friends. Before the game, they were taught the "Take Me Out To The Ballgame" song so they were ready to join the crowd singing it during the seventh inning stretch.
News from Home | July 31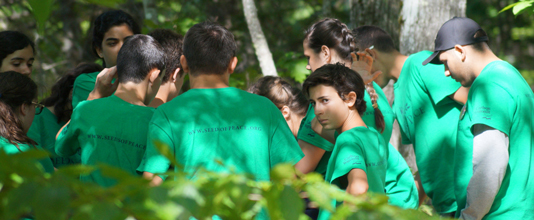 Conflict in the areas from which the campers, delegation leaders, and most of the facilitators come can create simmering tension just below the surface. Events at home can quickly spark anger and sadness. Today, terrible news from the northern West Bank created just such a spark.
We are exactly halfway through this session of Camp. In past sessions, horrible events have produced fear and distance between campers from certain delegations. The fact that Fridays are days off for the facilitators meant that the anger and sadness felt today could not be expressed in the dialogue sessions. Instead, many of the campers decided to refrain from taking part in activities, including Group Challenge. Eventually, a few campers on the low ropes course decided to participate and the rest followed suit.
We sang a song at dinner line-up called "I Believe There's a Better Way," joined by some very popular former counselors. The PSs couldn't resist welcoming them back. Two birthdays celebrated at dinner also helped to bring the campers closer together.
Tomorrow, the dialogue sessions will likely be difficult. The facilitators may have to help each group dig deeper than they have up until now. But, their discussions will probably be more focused and lead to more understanding and empathy.
A United Stand | August 1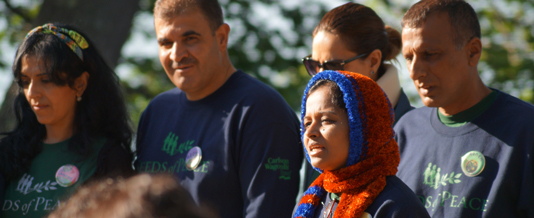 Our day began with a talk from one of our most eloquent Maine Seeds, Muna Mohamed. She told the campers about her own process of finding her voice and using it. When she first began public speaking, she used the words of other people with whom she agreed. Then one time she received some feedback from a judge at a national speaking competition which made her change her approach. The judge told her that people would be more interested in her own life experiences than in quotes from other people. At first she reacted negatively to the comment, but then she realized that her own voice would give her more power.
The delegation leaders at Camp are mostly educators who maintain an interest in the campers they have brought to Maine, but given that they are from the same places at the campers, they also go through their own process while they are with us. Knowing how difficult it was for the campers yesterday, they decided to come forward at line-up as a united group. The representatives from each delegation recited one line in their native language. In English, it was, "Together we stand with humanity against violence."
We tend to have very engaging line-ups with lots of musical performances. This day was no exception. We had soloists and groups performing. Some of the songs were serious and some were humorous. A duo of two brothers did an epic version of "Rattlin' Bog" at lunch line-up. And MC, one of our counselors sang a beautiful solo.
We also try to keep sports accessible to everyone. Sometimes, the sport requires little skill but plenty of enthusiasm. One of these is kickball. Another one is Ga-Ga, which everyone learned when it was an evening activity. This session, a couple of counselors are holding Ga-Ga tournaments during "free time." Each bunk nominated three players to represent them. Some of the contenders are normally not involved in sports tournaments, but this game brings out the competitiveness in everyone.
Tonight after another difficult dialogue session, most campers were happy to play a game of Pirates. But one dialogue group chose to continue their discussion until they were ready to call it a day.
Maine Seeds Visit | August 2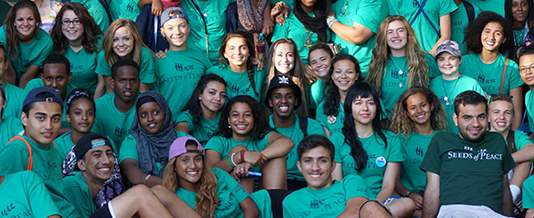 We ended yesterday knowing that many campers were having a hard time in dialogue. One difference between camper dialogue and PS dialogue can be measured in the amount of empathy shown to people in other delegations. After one or two years of continuing programming at home, as well as these past two weeks back at Camp, empathy is almost second nature for the PSs.
This morning, everyone was invited to either participate in or observe two Christian services: one non-denominational Protestant, and the other Catholic. We assured campers that they would have an opportunity to ask and answer questions about religious beliefs when we have an all-Camp Interfaith Dialogue session later this week.
In Group Challenge, campers advanced to low and high ropes course elements. The ropes course is completely new for the majority of campers, and it took an amazing level of courage to propel them through the various challenges, including balancing blindfolded on the high ropes, some 40 feet in the air.
This afternoon, campers met with their delegation leaders. It is important for them to be able to touch base once a week. This also presented the facilitators and counselors with an opportunity to meet as well.
The highlight of the day was a three-hour visit from 130 Maine Seeds, some of whom were campers many years ago, while others were campers just a few weeks ago. They brought an infusion of positive energy to Camp while intermingling with the campers. They sang a wonderful, original song that ends by changing the slogans about Maine and Seeds of Peace from "the way life should/could be" to "Seeds of Peace: the way life will be!"
Interfaith Dialogue | August 3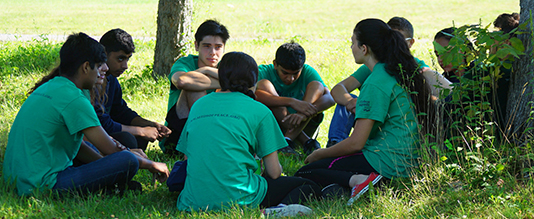 This morning we skipped the usual bunk clean-up and devoted an hour to Interfaith discussion groups instead. Beautiful, breezy weather made it possible and delightful to sit outdoors in groups of about ten, with campers representing each religion at Camp, as well as two counselors. These campers answered a set of questions about their religion, using "I" statements only. This allowed for the nuances between different practices of religion to be explored. Space was also made for those who do not have religions.
For most of the afternoon the campers devoted their energy to making art, including drawing and painting, stop-motion video, interpretive dance, poetry and songwriting. Dialogue groups worked together to produce a presentation of their work for an arts showcase in the evening.
Although most of the campers have tried many new things since coming to Camp and are quite comfortable here, there are a few campers still struggling to be at home. We will continue to work with them to help them find something they love doing at Camp and build solid relationships.
Sprinkled between the difficult work of dialogue and group challenge and are moments of fun, like silly or entertaining songs. One of the enduring favorites is "I Guess You're Just What I Needed." The counselors who sing it use guitars and kazoos, as well as bleating goat noises. You have to laugh at this.
Courage to Engage | August 4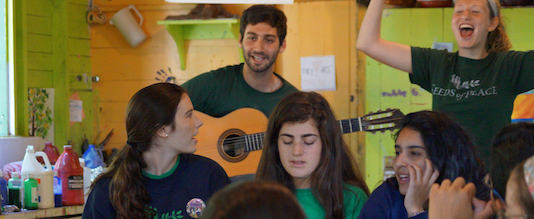 Some of the quietest campers are now breaking through their inhibitions and surprising us with their talent and courage. We are seeing this in the last round of special activities, on the high ropes, in music and art classes, in the Ga-Ga pit, at line-up, out waterskiing on the lake and at auditions for sports teams and the Talent Show.
Just as nice to see is the level of compassion and support in evidence among the campers. On top of that, there is a sense of appreciation for one another that was not present only a few days ago. As we take their group pictures, we can see that each group has a spirit of closeness demonstrated by the way they pose.
Tonight was a beautiful evening. While some campers were stretching their self-confidence on the high ropes, others were learning how to play "pickle ball" and football. Then we gathered in the big hall to learn about the founder of Seeds of Peace, John Wallach, from Leslie, Bobbie, and Maayan. This was followed by a short film from his memorial service held at the United Nations in 2002.
After the film, the PSs guided the campers to Café Night, a chance for campers to meet and talk with people at Camp they haven't had the opportunity to meet yet. For example, the Middle East and South Asian delegations rarely have activities together. So tonight was a good chance for them to find out more about one another. Of course, there were lots of cookies and cake, making it quite a treat.
Play for Peace | August 5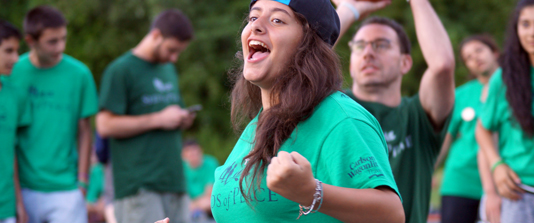 For the last 14 years, professional basketball players have come to Camp to teach basketball skills and to learn from the campers what it is like to grow up in the Middle East and South Asia.
The players who participated this year included veteran star Dwight Davis, four-time Olympic medal-winner Teresa Edwards, Matt Bonner of the San Antonio Spurs, Brian Scalabrine, who was making his 13th appearance, and several younger players who were visiting Camp for the first time.
Each gave up a day of vacation to spend every hour of it with our campers and counselors.
The campers were overwhelmed by the height of these players, who had to duck to enter or leave buildings and could effortlessly dunk the basketball. The players were all extremely patient as they taught to every level of basketball experience at the same time.
While one half of the Camp was in dialogue, the other half was working with the athletes. In the evening, the players took on the entire Camp—campers and staff—on our outdoor basketball court. They challenged all the PSs, all the girls, all the boys, and played five-on-five with the more adept counselors.
While all the campers were focused on basketball and dialogue, the PSs climbed a mountain and sat together overlooking the panorama below for a dialogue session. They returned to Camp in good spirits, although their facilitators looked kind of tired. As is true in most cases, the teenagers' energy level generally increases as the day unfolds. Mornings are another story!
Vine: Play for Peace | August 5
Video: Play for Peace | August 5
Video: Play for Peace | August 5
International Dinner | August 6
Some days seem too full to talk about. This is one of those days.
The day began with a presentation by members of the Zoroastrian, Jain, Hindu, and Buddhist religions, who described their basic beliefs and practices. The elements of nature hold great significance for them, especially fire. All strive for peace and harmony both within themselves, as well as the world.
Some of the special activities seem to reflect the pursuit of inner peace, as well. Yoga/poetry and meditation are very popular. On the far end of the spectrum is a special activity called "Being Weird" during which campers and counselors are anything but calm. They sing funny songs at the top of their lungs or play circle games which are also loud. We also have groups doing African and Indian dances, as well as an a capella activity. A rap group has written an amazing joint piece targeting race relations and inequality. Tonight, we had a showcase of many of the special activities.
For dinner line-up, everyone was invited to dress according to their identity, either in normal everyday clothing or in traditional costumes. The delegation leaders had given our chef, Earl, the most popular recipes of their countries. Between the colorful costumes and the delicious food, everyone was delighted. We ate together outdoors in glorious Maine weather. Soon the music of all the cultures represented at Camp brought everyone to their feet to dance, and dance some more. The families and friends of campers might not be able to imagine it, but the people dancing were a mix of delegations, joyfully trying out each others' dance moves. Even Earl joined the dancing!
Golden Days | August 7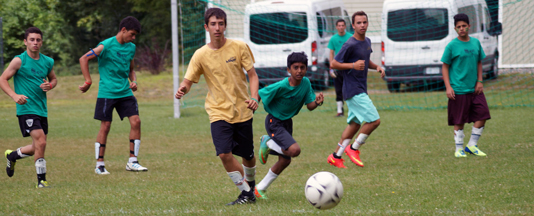 At morning line-up, Bahira, a PS from Egypt, recited from memory a long poem by Maya Angelou. Angelou often identifies the inequalities among minorities and usually offers a way to move on to a better life. The selection of this poem was very appropriate for where we are now in the Camp process.
We geared up for Sports Day by learning a new cheer for the campers who will be observing the four games against a nearby camp: boys' and girls' soccer, boys' and girls' basketball, as well as Pickle Ball. What is Pickle Ball? It looks like a combination of tennis and ping pong and involves a plastic whiffle ball and paddles. Every time the ball is hit, it makes a great big "whack!" As we are always looking for the best instructors for everything we do, two Pickle Ball champions visited Camp to give everyone some pointers and challenge the people here who have been playing the game obsessively since the beginning of summer.
Although our campers have only known one another for two weeks, they play so well as a team that they won every competition today. It was a pleasure to watch them score goals and make baskets without boasting. They were kind hosts to our guests, eating lunch with them and offering them a chance to sit in on a Muslim prayer service. This was a rare opportunity for the visitors, none of whom are Muslim.
In the afternoon, we held more try-outs for the Talent Show tomorrow night. Campers also went swimming, boating, and waterskiing. The so-called "rest hour" is so busy with other activities that when campers were offered a special activity called, "rest hour," a good number of them decided to join. They can be seen outside the Dining Hall lying on sleeping bags spread out on the lawn, listening to soothing music for an hour while others are learning a variety of skills. Perhaps we should call what they do "special inactivity."
Tonight, there was a Shabbat service for Jewish campers and those who wanted to observe the service. Afterwards, we had bunk night, with each set of bunk counselors created their own activity. These are the golden days of Camp. Everyone has completely settled in and feels good about being here.
Talent Show | August 8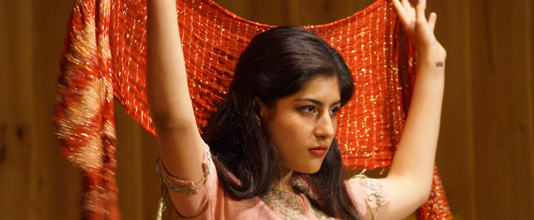 While the campers were focused on preparing for the Talent Show, 14 counselors secretly worked on organizing Color Games. Each camper is carefully chosen to join either the Blue Team or the Green Team to balance the representation of athletic and artistic talent and delegations. But the campers do not know which team they will be on until after the Talent Show.
Two hours of singing, dancing, reciting poems and instrumental music created an atmosphere of enjoyment and mutual admiration. The talent was amazing! All the delegations performed their traditional dances and there were many vocalists who performed solo.
Then, the lights went out and the Big Hall lit up with Green and Blue glow-sticks. The PSs began shouting "Color Games!" and the campers joined in. Excitedly, they followed the blazing torches to the line-up benches and waited to meet their coaches and be sorted into teams.
Color Games | August 9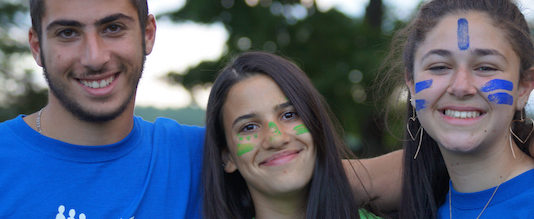 It is normally a challenge for counselors to get 186 teenagers out of bed and to line-up by 7:30 a.m. However, knowing their first Color Games event—the rope pull—was scheduled for 7 a.m. this morning, campers were all up early and out on the field with their teams, warming up and getting a few pointers.
During the rope pull, each team tries to give the first hard pull so the opposing side will be on the defensive. And they like to yell "pull, pull!" as they try to yank the opposing side toward them with the power of many people making an effort all at once.
Everything is different during Color Games. There are no line-ups and campers eat only with team members. There are no dialogue sessions, no bunk clean-up times, no phone calls home, and no special activities. Rest hour is a welcome relief from the constant pressure to do your best to win for the team.
Today, the bunk groups rotated through a variety of sports and dance. Anyone who was not involved in the competition was expected to cheer for his/her team. An aerial view of Camp would look like a giant ant farm, with so many coordinated activities going on non-stop. By dinner time, the Blue Team was ahead by 150 points, but since they began with a 200-point lead from winning two parts of the rope pull, it looks like the Green Team is making some progress.
Tomorrow morning will be another early start, with a relay race on the interior Camp road encircling the fields. The Green Team timed potential runners today in anticipation of the foot race. It will be interesting to see if this will give them an advantage.
Green vs Blue | August 10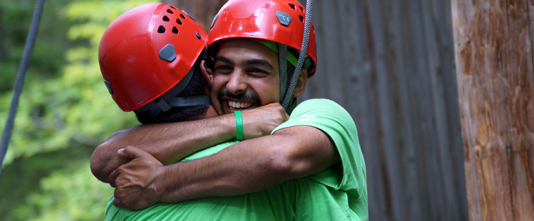 The second day of Color Games began with the Race to Peace relay around the Camp road. The road is divided into quadrants and runners wait to receive the baton before running against someone from the other team. One runner did a handstand to prepare himself for his run. Others did stretches and jumped up and down to wake up their bodies. Everyone else remained on the sidelines and cheered as blurs of blue- and green-clad runners zipped by.
At breakfast, lunch, and dinner, the winners of the judged contests were announced along with each team's cumulative score. The Blue Team won drama, music, cake decorating, and group challenge. The Green Team won wall-climbing, art, boys dance, the vertical playground, girls dance, and creative writing. By dinnertime, Green had accumulated 3050 points to Blue's 3250 points, a 200 point lead for Blue.
The Variety Show competition—instrumental music, dance, comedy, drama, a capella, and a team song—could change the score significantly, but those scores will not be announced until the end of Color Games.
Tomorrow is the big relay race called Message to Hajime. It will require the fullest effort and cooperation from every team member, and more than a little luck, to win. By noon tomorrow we should know which team has won Hajime and Color Games.
Hajime | August 11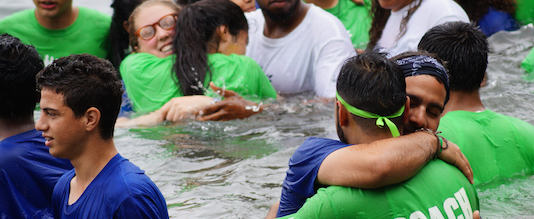 With heavy rain starting mid-day, we had a shorter amount of time to complete Color Games. So, we had to skip the Peace Canoe race before breakfast. That gave us a luxurious wake-up time of 7:30 a.m.
The Message to Hajime relay race began immediately after breakfast, so we would have the chance for the teams to complete 107 challenges, passing the baton with runners all 107 times. In each case, a coach ran alongside each runner and often a PS would accompany them as well. Challenges included passing the soccer ball 16 times from one player to another using only their heads, chugging Coke, eating whipped cream off a plate using no utensils, making a bed, jumping rope, balancing a book on your head, and solving an algebra problem.
The most nerve-wracking challenge is memorizing the actual message to Hajime. It is the final challenge and only commences once the team has completed all other challenges. It is usually a fairly obscure, but appropriate, quote from an essay or speech in English. The Toni Morrison quote we used today was about the individual collection of memories which make up each person's cognitive and emotional self, despite all of us being part of the whole of humanity.
The rain came as predicted. In the afternoon, we had a long rest-hour and time to sign memory books with kind words of appreciation.
In the evening, we had a remembrance ceremony in which we celebrated the lives of the 14 Seeds who have died over the years, along with Wil Smith, our Associate Camp Director who passed away in February this year. The people at Camp who knew them spoke or read letters and poetry. We closed with a song written by an Egyptian Seed, who referred to one of Rumi's poems: "out beyond ideas of wrong-doing and right-doing, there's a field. I'll meet your there."
Following tradition, the counselors who coached Color Games for the past three days offered their reflections to the campers. We ended with some music and then walked to our bunks singing. Departure the day after tomorrow is going to be hard.
Last Day | August 12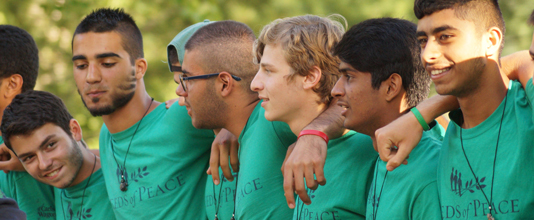 This was the last full day of Camp. All day long, people were feeling the impact of knowing this reality they constructed together would soon be over. No more waking up to the bell, no line-up, no PSs, no bunk clean-ups, no Bhangra dancing, no music shack, no camp food. But, more than anything else, no more being surrounded by the community we created during the past four weeks, from bunkmates to table mates, a community in which you are free to share your mind with people who will listen.
This morning, we held a Quaker silent meeting. It was silent for about 15 minutes. Then, one by one, the campers spoke about their own experiences at Camp and how much they would miss their new second home. The smallest camper spoke about being included in everything, including basketball, despite his very small stature. Many spoke about enjoying equality and freedom. Others talked about the risks they had taken at Camp, even though their greatest risk was in coming here in the first place.
Delegation leaders met with their respective delegations to prepare them for travel. Everyone packed. One last dialogue session was geared toward the campers' re-entry into their home communities, where reactions to their participation may be mixed.
At line-up, the Camp Director's award was presented to Glenn Pastore, our year-round grounds and maintenance director who keeps this old place, built in 1921, running.
Tonight, we screened a slide show created by two counselors of the many pictures taken this session. Once home, Seeds and their families will be able to view all the photos on Facebook and Flickr.
Tomorrow, we shall end the session the way we began. Before breakfast, we shall have music in the same place where the buses dropped the campers off four weeks ago. It won't be easy to get them on the buses. They will try to make Camp last a few minutes longer. And all of us will be crying and smiling because we did what we set out to do. Another group of compassionate, courageous leaders is about to face the world.
Goodbyes | August 13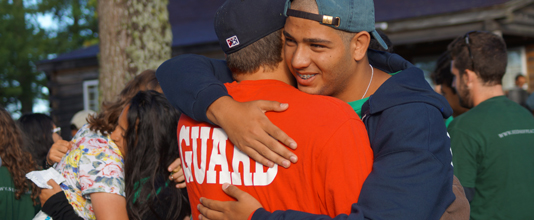 All of the campers left today, starting at 8 a.m. By mid-afternoon, the last van had left Camp for the airport. The final parting of campers and staff is wrenching, to say the least. It isn't just because we have lived in the same place for almost a month that makes parting so difficult. It is the caring, the real concern for the safety of those who are returning to volatile places, and the improbability of seeing one another again.
We worked hard to create a supportive and inclusive community, through hard times and fun times. It wasn't an imaginary bubble. It was real. We lived it. Our hope is for everyone to carry the feeling of being at Camp with them wherever they may be, just as a turtle carries its home everywhere it goes. As Wil Smith used to say, "Be the best person you can be, wherever you go, as much as you can. Be a Seed all day, every day."
Two days from now, there will be a memorial service for Wil Smith at Camp. Many people plan to attend. So many times throughout the summer, Wil's name has come up. Those were touched by his warmth and witnessed his grace in living and as well as dying, will be relieved to share our grief as a Seeds of Peace community, remembering him especially in this place. In a way, the new campers missed out on having Wil as a strong presence at Camp. But in many important ways his presence was felt despite his physical passing.
Next summer cannot come soon enough.