Dear Seeds of Peace Community,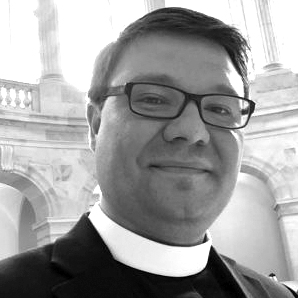 As we step into spring, I am feeling hopeful. The days are getting longer, the kids are dreaming of getting off Zoom for the summer, and steadily increasing rates of vaccination give us a tantalizing preview of a world where COVID-19 is under control.
It's a long way from where we were this time a year ago, and it is with this renewed sense of hope that we are launching applications this month for a wide range of online and in-person programs in all the regions where we work.
For months our U.S. staff has been meeting with experts and following the latest recommendations to allow us to safely bring youth together this summer. After 24 months away, we look forward to welcoming campers from the Northeastern United States back to the shores of Pleasant Lake in Maine in July.
In South Asia, and the Middle East, our newest generation of Seeds will gather locally to connect, forge new relationships of solidarity, and learn skills to create a brighter future.
In addition, we'll take lessons learned from virtual programming over the past year to bring youth from all over the world into our network and to reach participants, schools and communities that would otherwise never have access to our programs.
We've all felt the heaviness of loss and disconnection this past year. We still have a long way to go, but after a year of rarely being able to gather in-person, knowing that we have a full slate of summer programs is both a testament to the persistence of our staff and our youth, as well as a source of real hope within our community. We're happy to share with you today a few more details about those programs, as well as recent news and accomplishments from around our community.
With hope,
Josh
Fr. Josh Thomas | Executive Director, Seeds of Peace
---

Summer program applications roll out
Applications are now live for summer programs in several countries where we work, with more on the way in the coming days and weeks.
Ninth-grade Israelis and 14 to 17-year-old Egyptians can apply today for the Core Leadership Programs in their respective countries. This new program is an intensive course that is uniquely tailored to each region, while teaching all participants key skills around dialogue, leadership, and action-taking that will be universally familiar to all Seeds.
Ninth- and 10th-graders in the Northeastern United States are now invited to apply for one of two 2021 Seeds of Peace Camp sessions in Maine.
• Session I (July 11-28) is for campers from the greater Boston area (including Vermont and New Hampshire), the greater New York City area (including New York City, New Jersey, and Connecticut), and Syracuse.
• Session II (August 1-18) is for campers from Maine.
Youth from across the U.S. may now sign up for any of three virtual programs: the Core Leadership Program, the U.S. National Youth Summit, and a Leadership Certification in Civic Engagement.
Check back in April for more news from Jordan, Palestine, Pakistan, and India!
---

Now hiring Camp staff
We're looking for people who are flexible, caring, representative of the racial, economic, religious, and political communities of youth we will have at Camp this summer—and who are dedicated to creating an environment where youth are fully seen, heard, and equipped to make change!
Please share the word with any friends, colleagues, cousins, former Seeds, Kids4Peace participants, and long-lost pen pals of yours who live in the Northeast United States (Vermont, New Hampshire, Maine, Massachusetts, New York, Connecticut, Rhode Island, New Jersey, Philadelphia).
Applications—including activity specialists, lifeguards, health liaisons (CNA or current nursing students), facilitators, and camper well-being support (in-training or licensed MSW/LSW)—are due March 25.
If you know of someone who might be a good fit, you can connect them directly with Sarah (Stoney) Stone at sstone@seedsofpeace.org.
---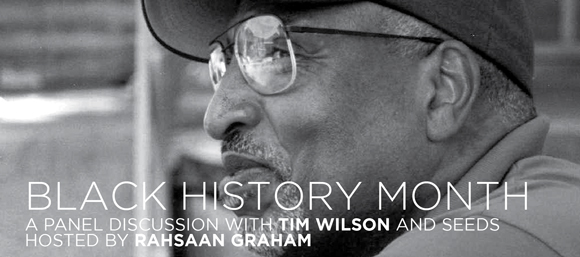 Seeds, staff host Black History Month Forum
Around 50 members of the Seeds of Peace community logged in to Zoom on February 25 to listen to a powerful, intergenerational discussion: "Black History and the Road Ahead: Tim Wilson and Seeds in Conversation."
Tim, who serves as Seeds of Peace's Senior Advisor & Director, Maine Seeds Programs, became the first Black secondary school teacher in the state of Maine in 1966. The webinar was moderated by Seeds of Peace Senior Advisor for Strategic Partnerships Rahsaan Graham with Danielle (2018 Maine Seed), Boni (2011 Maine Seed), and Hannah Cooke (Camp Counselor) joining Tim on the panel.
In a little over an hour the conversation covered a multitude of topics, including the long road to racial justice in America, Black leadership, self-care, and how non-Black people can be allies.
As Danielle put it: "The shortest, most immediate answer I can think of is: Stand in solidarity. The true definition of compassion is suffering with, and thus, creating a sense of kinship and unity. Acknowledge humanity on a whole, and advocate for those whose humanity has often been diminished."
---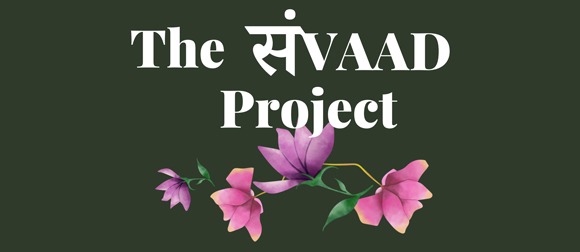 Meet the Samvaad trainers
As a young girl growing up with conflict in and outside her home, Rukmini Iyer struggled to wrap her head around the concept of "peace." Beauty queens said we needed it, Mother Teresa dedicated her life to it, but what did that mean for people in between, like her?
Decades later, Rukmini has built her own career around helping others see how we each, actually, have a large part to play in constructing cultures of peace, and as one of four trainers for The Samvaad Project, she hopes to empower educators to use dialogue as one tool to get there.
Kicking off next month, the pioneering program seeks to train university educators in Western India in interfaith dialogue facilitation over approximately six months of in-person and virtual learning.
Rukmini, along with fellow trainers Mansi Arun Panjwani, a peace educator and international consultant on peacebuilding; Sagar Gangurde, Seeds of Peace Director of Indian Programs; and Josh Thomas, Seeds of Peace Executive Director; she will support participants in the year following the program to help them create safe spaces for students to have interfaith dialogue in their communities.
"I hope they generate conversations around faith in a safe way, wherever they are," Rukmini said. "Even if they generate one question or reflection in their inner circle, that's good enough impact for me."
Read more about Rukmini's work, watch an interview with Josh and Sagar, or learn more about the program and trainers.
---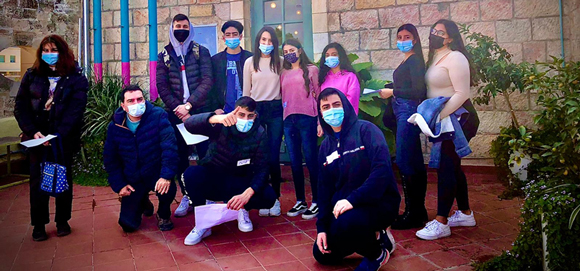 Faith as a starting point in Kids4Peace Jerusalem
The past year has been a unique one in the history of the Kids4Peace Jerusalem movement, which began over 20 years ago with a small group of Muslim, Jewish and Christian children wanting to meet each other and learn how to share this city in a more just and equitable manner.
Since August, we have had a few in-person meetings, but thankfully many interesting and diverse programs on Zoom, keeping youth engaged with our values of justice and equality.
Our interfaith programs begin with students in the sixth grade and continue into high school, with age-appropriate activities engaging and educating students in increasingly complex ways.
So far this year, participants have explored religious festivals, role models for change, Jerusalem inequalities, current events, and leadership. "Kids4Peace Jerusalem programs build a foundation for these kids to begin their journeys as peacebuilders and agents of change," said Ittay Flescher, Director of Kids4Peace Jerusalem Programs.
Learn more about the program at k4pjerusalem.org ››
---
Seeds of Peace Community in the Lead
• Ilan (1998 Israeli Seed) writes about honoring International Holocaust Memorial Day during times of COVID-19.
• Adam (2007 Maine Seed) writes for The New York Times on the Palestinian-Israeli vaccine debate while interviewing Abdulsalam (1997 Palestinian Seed), Head of the Public Health Department at Al Najah University in Nablus.
• Moses (2014 Maine Seed) raises awareness around the COVID vaccine to reduce the social anxiety around it and encourage people to get vaccinated.
• Amal (2001 Pakistani Seed) wrote a heartfelt letter in The Forward to Ruth and Judea Pearl, the parents of slain Wall Street Journal reporter Daniel Pearl, following the decision of Pakistan's Supreme Court to release his killers last month.
• Ariel (1993 Israeli Seed) interviews a Myanmar resident about the recent military coup and detainment of State Counsellor San Suu Kyi, and looks into Sweden's decision to ban burqas in public for I24News.
• Achim Nowak (Camp facilitator) interviewed Bobbie Gottschalk (Seeds of Peace board member and co-founder) about her work with Seeds of Peace and navigating your life's purpose over the long run in his podcast, "My Fourth Act."
• Cindy (2015 Maine Seed) invited Tim Wilson to read to her classroom in February. Fortunately, she recorded Tim's virtual story time so everyone can enjoy it.
• Karen (1999 Israeli Seed, Board of Directors) was named one of the 100 Most Influential Women in U.S. Finance by Barron's magazine.
How are you taking action for change? Let us know by emailing eva@seedsofpeace.org.