When teenagers have the opportunity to take the lead, great things can happen.
More than 400 students, educators, and parents from 35 schools across the Northeast United States traveled to Portland, Maine, in early April to participate in the fourth annual New England Youth Identity Summit at Waynflete High School.
The two-day event, held in partnership with Seeds of Peace, included musical performances, special guest speakers, and more than 40 workshops, nearly all of which were conceived, planned, and led by current and recent students (most of them Seeds). With a theme of "Voices Across Generations," the summit brought together participants from a wide swath of cultures and identities to find support and speak freely about some of the most complicated and important issues of today—racism, gender equality, and immigration, just to name a few—with the hope that participants will then turn those conversations into action in their own communities.
"Our intention is to facilitate a watershed moment for each participant, and to inspire them to be provocative leaders when they return home," said Ian, a 2018 Maine Seed who co-led the event's organizers with Dora, another 2018 Maine Seed. "It is a way of turning the perennial 'hope for the next generation' into something living and breathing."
Developing the skills and confidence to lead conversations that turn into action and change are core to the Seeds experience at Camp, and the idea for the New England Youth Identity Summit began a little over four years ago, after Tim Wilson, Seeds of Peace Senior Advisor and Director of Maine Seeds Programs, and Lydia Maier, Assistant Head of Student Life at Waynflete, attended another youth-led summit. The NEYIS has doubled in size since that first year, and has become a way for Seeds to further their leadership and facilitation skills while connecting with students across the region.
"When you teach something you get better at understanding it, and one of things I love most about my job is just watching kids owning this event," Lydia said. "It's a celebration of what's possible when people open up and share their experiences."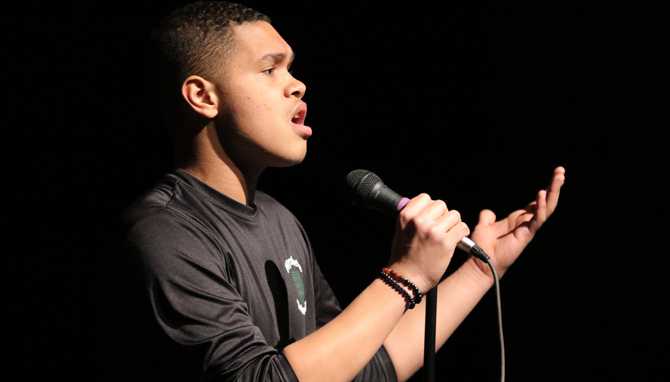 Planning for the summit begins each fall, with students brainstorming potential themes, speakers, performers, and workshops that they might like to lead. After several months and hundreds of hours of preparation, the process culminates in an empowering and illuminating experience for the students.
"I watched in the beginning of the planning last fall seeing younger students not knowing what they wanted to do, or feeling like, 'I can't teach this. I can't tell a bunch of people about a certain topic,'" said Dora. "By the end, they were saying 'I can't wait to teach this next year.'"
The 2019 event kicked off with an evening of music, dance, and spoken-word performances celebrating the community and diversity in Maine. It was was followed by a full day of workshops and speakers: Phuc Tran—a tattoo artist, Vietnamese immigrant, and Latin teacher at Waynflete who was also a mentor to the summit's other keynote speaker, Nicole Maines, a 2014 Waynflete graduate who recently became television's first transgender superhero.
The second day of the retreat students were able to practice their leadership and facilitating skills in workshops attended by peers, educators, and parents. In these spaces, the teenagers become the experts, turning the typical power structure on its head. It's an experience that can have "profound and emboldening effects" for the students, said Sarah Brajtbord, Seeds of Peace Camp Director and a presenter at the summit.
"Not only is it student led and student organized, it's student wisdom," she said. "When it's set up as an intergenerational space like this year was—with teachers and parents being part of conversations led by two high school students—it's a pretty powerful space to be in."
The workshops focused on topics like gender and racial equality, climate change's disproportionally negative affect on oppressed groups, LGBTQ+ rights, intersectionality, women in Islam, stigma around mental illness, sexual assault, and masculinity in America. It was a way for students to become the experts on subjects that are not only important to them, but sometimes adults have difficulty talking about to their children.
"I look up to adults, but being able to speak and have expertise on something that an adult might not have is truly inspiring and empowering to me," said Dora. "Other students came back to me afterwards and said it was felt scary but good, like they could go out into the world and talk to anyone no matter the age, because of the summit."
For anyone interested in starting a student-led summit or event back home, Ian and Dora recommended casting a wide net that includes leaders from other schools, communities, and social groups. But first and foremost, Ian said, "get a room of 100 percent kids, have a conversation and set some goals."
"The more demanding and definitive that students are early on in the process, the more ownership we will have over the final product. Sometimes the best way to do this is to organize a space with zero adults and have a candid conversation about how we envision the event," he said. "Adults are crucial in executing the vision, but the early stages of planning should be as organic and youth driven as possible."