Our alumni are working in ways small and large to make an impact in their communities. This "Alumni Profiles" blog series will feature some of our over 7,000 changemakers in 27 countries around the world who are working to transform conflict.
In 2015, the Syrian War and ensuing refugee crisis were making headlines. Social media allowed people around the world to follow this conflict in real time like never before. It was this phenomenon that inspired Pooja, a 2018 GATHER Fellow and Seeds of Peace Camp counselor from India, to do whatever she could with whatever she had to humanize refugee communities.
"It was the first war in our time that was livestreamed through social media and it really bothered me how we could just watch it happening and not do anything about it," she says.
"Also, the fact that more than 50 percent of the victims were kids—it just hurt me. The very fact that we are so used to treating these large-scale humanitarian crises with frivolity—I just wanted to do something about it."
She founded the Letters of Love initiative with the goal to connect communities, give people a global perspective, and humanize the "other."
Letters of Love began as just a "Facebook page with a bunch of friends around the world," who were united around the idea that something as small as a handwritten letter could connect communities, build empathy, and make a real difference.
It has since grown into a youth-led non-profit that connects children around the world to peers in refugee communities through writing and delivering letters. It is also an official member of the United Nations High Commissioner for Refugees #WithRefugees Coalition, the United Network of Young Peacebuilders in the Hague, and the UN Sustainable Development Solutions Youth Network.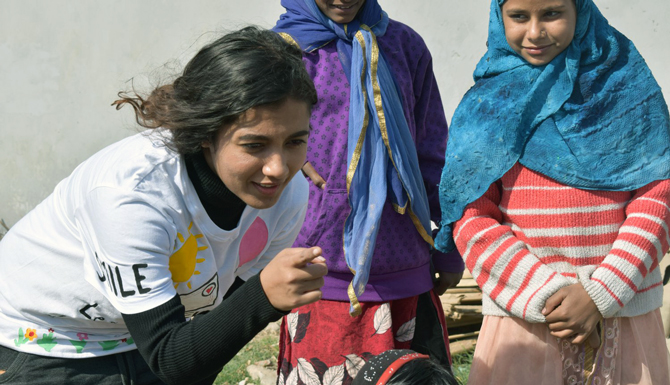 In just three years, Letters of Love has delivered handwritten postcards to more than 30,000 Syrian, Iraqi, Yazidi, Palestinian, Afghan, Kurdish, and Rohingya refugee children, and has effectively engaged more than 20,000 youth.
"We empower refugee children with joy, laughter, and psycho-social support, and we use empathy-centric education as a tool to sensitize school and university students about the ongoing refugee crises," says Pooja.
Even before becoming a GATHER Fellow or a Camp counselor, Pooja's connection to Seeds of Peace was essential to making Letters of Love a reality. When her husband, himself a Seed, mentioned the initiative at Camp, a counselor took note. That counselor reached out to Pooja and became her mentor as she began to develop Letters of Love.
Pooja says that her involvement with Seeds of Peace over all these years has been a transformative experience, one that has shaped her personally as much as it has her professional mission.
"I've witnessed the value in connecting communities that are indoctrinated to hate each other, and I've seen the value of communication and dialogue."
Pooja says that the GATHER Fellowship has connected her to a diverse community at the crossroads of social innovation and conflict transformation. This has given her access to potential partnerships, some of which she has already pursued, which she says has helped increase her impact both qualitatively and quantitatively.
"Being part of the Fellowship enables me to become a part of this ebullient community, share best practices, learn various aspects of setting up an organization, and also derive a multicultural and international perspective on various social issues."
An experience Pooja had as a counselor at Camp also inspired the Pen Pal Project, an offshoot of Letters of Love that uses strategic mapping dependent on age, interests, and other factors to connect high school students to peers in refugee camps in a more deliberate way, and on a more long-term basis.
"In my bunk, a Palestinian camper was freezing at night, and this Israeli camper put a blanket over her. The next day the Palestinian camper didn't know how to thank her, so she wrote a letter in Hebrew with the help of a few other Israeli campers and handed it to her first Israeli friend. It was such a powerful moment."
The campers told Pooja that they wanted their friends back at home to be able to connect with "the other" in the way that they were able to at Camp. Although Pooja, through Letters of Love, could not address the Palestinian and Israeli communities directly because of political barriers, she found another way to create an exchange of perspective and foster what she calls "unimaginable friendships."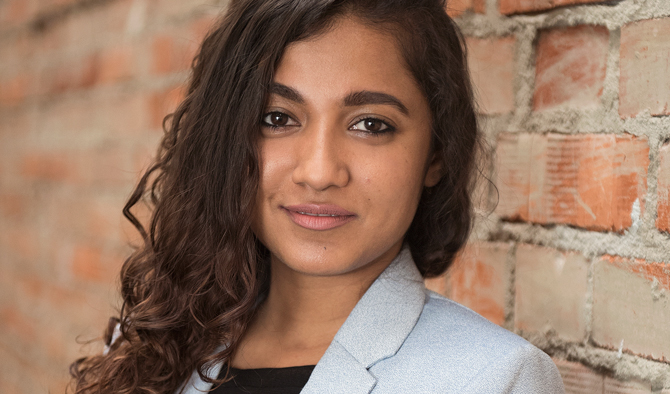 Through the Pen Pal Project, 350 students in India were connected to 350 children who were Syrian refugees in Turkey, internally displaced children in Syria, and Palestinian children in a community center in Gaza.
More than anything, Pooja hopes that participating in the Letters of Love initiative inspires young people to have more of an impact in their own communities.
"It's about highlighting the potential of each young person as a change agent in society."