Building on two decades of experience running dialogue programs in communities in conflict, Seeds of Peace is now partnering with other organizations to bring its model to new areas.
Over the past few months, Seeds of Peace partnered with Ung Dialog, a Swedish organization that counters anti-Semitism, Islamophobia, and other forms of racism and discrimination, and run a dialogue program for teenagers in the United Kingdom.
Sweden
Two Seeds of Peace staff members created and conducted a four-day workshop for 13 Muslim, Christian, Jewish, and secular Swedes ages 18 to 26. The program, held on on Ekskäret Island off the coast of Sweden from May 31 to June 3, cultivated participants' leadership abilities and allowed them to build positive relationships with "the other."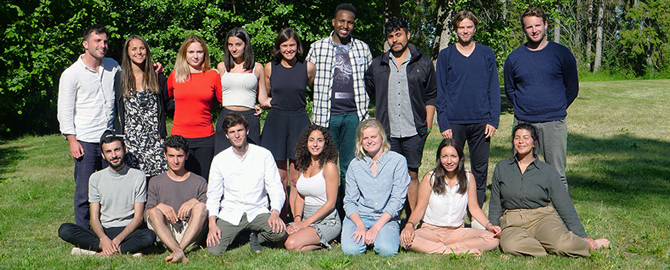 The inaugural Ung Dialog cohort, with Seeds of Peace facilitators Orlando Arellano and Kyle Gibson.
Many participants had ties to communities outside of Sweden, including Syria, Somalia, Lebanon, Palestine, and Israel. There were also individuals who were newly arrived to Sweden under refugee or asylum-seeking status from Syria.
Through dialogue and skill-building activities, the program developed teamwork and communication skills. Participants also engaged politicians, social entrepreneurs, and individuals working with Sweden's refugee and asylum-seeker communities.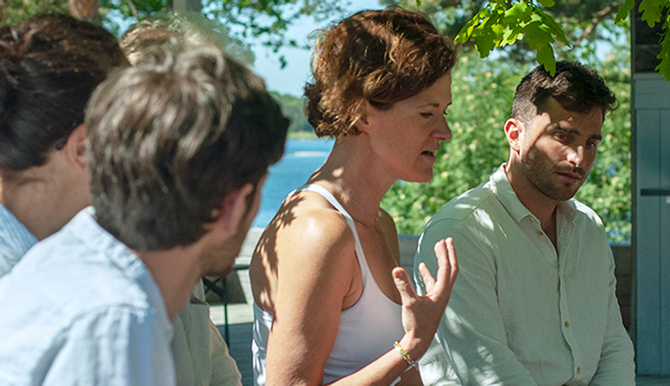 Participants speak with Anna Kinberg Batra, former head of the Swedish Moderate Party.
"Through this program I learned that it was okay to feel, and to express my feelings for the first time," said one participant.
Another said, "I have gained an understanding and perspective I missed … I think the opportunity to actually meet and hang out with people who have a different background than me can build long-term and lasting relationships."
United Kingdom
Meanwhile, in the United Kingdom, Seeds of Peace recently ran its first-ever UK Dialogue and Leadership Seminar at Grosvenor Hall in Kent. The event, which ran from May 4-7, allowed a diverse group of 17 London teenagers to explore topics like identity, gender, immigration, race, and interpersonal conflict as part of an intensive training experience.

Program participants and facilitators of our UK Dialogue and Leadership Seminar.
From there, Seeds of Peace staff helped them develop their own leadership and facilitation skills. By the end of the weekend, participants were even facilitating their own dialogues!
In the words of one attendee, "I gained a maturity through listening to others' opinions and experiences."
Another said, "I hope to be able to use these skills in my everyday life and at school, where I would like to start a 'dialogue and facilitation club' open to the whole school."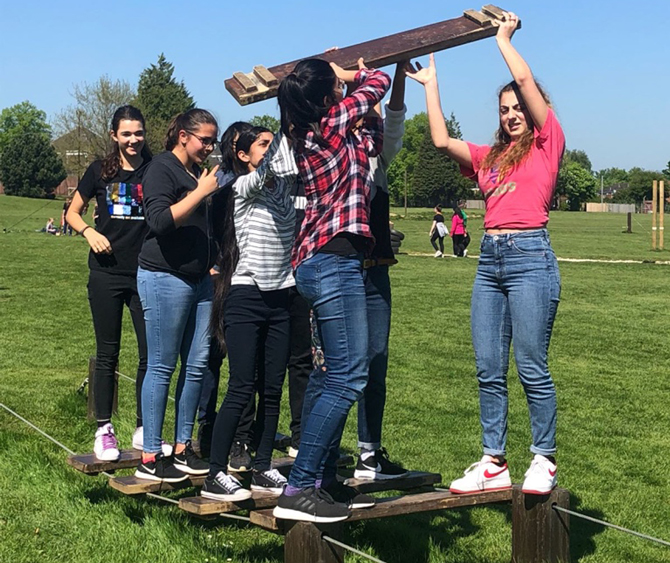 Program participants work together in an exercise mirroring the Group Challenge course at the Seeds of Peace Camp.
Want to learn more about our pilots and partnerships, or where the next one will be held? Interested in one in your region? Contact Kyle Gibson, our Deputy Director of Global Programs and Strategy, at kgibson@seedsofpeace.org.