Forty-four American, Egyptian, Israeli, Jordanian and Palestinian graduate Seeds, spanning Camp years 1993-2000 attended the April 24-27, 2008, Seeds of Peace summit in Aqaba, Jordan, in order to adopt a proposal for launching the Seeds of Peace Graduate Association.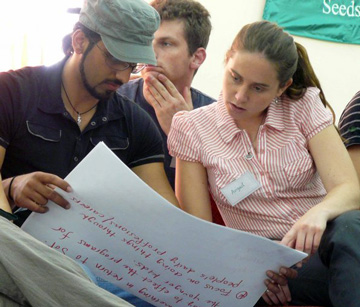 The Seeds also participated in workshops on community organizing, working with the media, and using business and entrepreneurship to build understanding.
The summit opened with presentations from representatives of the Jordanian government and the Israeli and Palestinian ambassadors to Jordan on Jordan-Palestine-Israel regional cooperation. It also included a field trip to Petra and the desert wilderness of Wadi Rum.
Three invited speakers presented their assessments of Jordanian-Palestinian-Israeli regional cooperation. Dr. Bilal Bashir, Deputy Chief Commissioner of the Aqaba Special Economic Zone Authority, opened the session by welcoming the Seeds to Aqaba. Bashir, who is also the Commissioner for Environmental Regulations and Enforcement, spoke about plans to join the Red and Dead Seas by canal as a means of saving the Dead Sea, whose water levels have declined dramatically in recent years. Bashir outlined some of the environmental challenges this project poses for the region.
Ambassador Jacob Rosen of Israel spoke about economic cooperation with Jordan and took a number of questions about visa issuance to Jordanians and Egyptians. Mr. Mohammed Abu Laban, Counselor of Embassy, represented Palestinian Ambassador to Jordan Attalah Khairy. Abu Laban spoke about the impediments that the Israeli military occupation places in the way of Palestine's participation in regional cooperation projects.
Seeds panelists led three workshops that explored the possibilities open to Seeds alumni for building peace through business and entrepreneurship, by working with the media, and through community organizing. The Seed panelists introduced invited speakers, shared their own perceptions and guided the general discussion with Seeds and staff members.
Mr. Baruch Spiegel and General Mansour Ar Rashed, both retired generals who had served, respectively, Israel and Jordan in the negotiations leading to the 1994 peace treaty, spoke about governmental efforts to stimulate cross-border economic cooperation among Israel, Palestine and Jordan and took questions from panelists and Seeds.
Graduate Seed panelist Adham Rishmawi shared his experience of the difficulties posed to Palestinian businessmen by the Israeli Occupation. Ha'aretz reporter Akiva Eldar and CNN producer Nidal Rafe shared their experience as professional journalists, addressing the question of how to interest the media in covering positive, peace-promoting events in the region. Graduate Seed panelists Liav Hertsman and Dalal Erekat spoke from their experience as students and practitioners in the world of journalism. Finally, Hagai Agmon-Snir of the Jerusalem Intercultural Center and Khaled Salim of Ta'awon Youth Forum spoke about organizing community actions supportive of peace.
On the final day of the four-day summit, after intensive discussions among themselves and with staff, including Senior Advisor and Director of Alumni Relations Tim Wilson and Board Executive Committee Member Bobbie Gottschalk, the Seeds put forward a proposal for the association's structure and its relationship with the larger Seeds of Peace organization. The proposal was adopted by an overwhelming majority of participants.



Aqaba Summit Photos