Breaking News, Making Headlines:
The Role of Media in Conflict Regions
The Seeds of Peace "Breaking News, Making Headlines" Conference helped 125 future leaders—Israelis and Arabs, Indians and Pakistanis, as well as teenagers from Afghanistan, the Balkans, divided Cyprus, and the US—to develop the independent thinking skills necessary to decipher media and utilize it to make their voices heard.
Each morning between October 10-16, 2003, plenary sessions brought Seeds into contact with leading journalists, editors, academics, and corporate executives representing a range of media outlets around the world. The Seeds spent the week critically analyzing the media that inform their war-torn regions and, in many ways, shape their perceptions. They have learned that media can be used as either a powerful vehicle that bridges divides between people or an inflammatory device that polarizes communities.
This unprecedented meeting will not end in New York; these young people will return home to continue joint media production, engage in educational workshops, and pursue related internships. Topics focused on the role of media in conflict, specifically addressing media responsibility and ethics, freedom of the press, covering conflict, defining news, the line between news and propaganda, and the use of media as a part of diplomacy.
View photos from the conference ››
Breaking News, Making Headlines
Mass media is perhaps the greatest force driving public opinion. In conflict regions, it is also the chief source of information about the "enemy," and therefore largely responsible for defining those images. In this way, media can be a polarizing agent or a mechanism for building bridges.
The "Breaking News, Making Headlines" Conference helped the 125 Seeds, aged 15-19, develop the independent thinking skills necessary to decipher media and harness it for a constructive purpose. Nowhere else were Israelis and Palestinians, Indians and Pakistanis, Afghans and Americans coming together in this fashion, insisting their voice be heard. Youth raised as enemies, the next recipients of generational conflicts, worked together not only to publicly display what is possible, but to engage their peers, communities, and leaders in pursuit of a more secure future.
Led by renowned media figures including CNN's Christiane Amanpour, who held a Q&A session, plenary topics centered on the role of media in conflict, specifically addressing media responsibility and ethics; freedom of the press; covering conflict; defining news; the line between news and propaganda; and the use of media as a part of diplomacy.
In the afternoons, conference delegates delved into assigned working groups with professional facilitators, media specialists, and technical experts. In teams of ten, Seeds from opposite sides of conflicts worked together to design and produce various media products. The "official" product of the conference was a Seeds of Peace Declaration to the Media, written by Seeds graduates from around the world with input from journalists, editors, and facilitators. The Declaration, presented at the closing plenary event, highlighted the power of the media to have a positive impact on conflicts by sharing the Seeds of Peace experience and notions of tolerance and coexistence.
Additional workshops that produced media products for distribution in the U.S. and in the regions of conflict included:
Feature stories, for TV, radio and print publications domestically and internationally
Opinion-editorials, for publication in major domestic and international newspapers
Photojournalism and digital media as means of communication and media literacy
Educational media as a teaching and learning tool
Saturday, October 11
Introduction to the Role of Media in Conflict Areas Danny Schechter (MediaChannel.org)
Media Ethics and Responsibility Marvin Kalb (Shorenstein Center on the Press, Politics, and Public Policy), Charles Lewis (Hearst Newspaper), Arshad Mohammed (Reuters), Charlie Wolfson (CBS News)
Sunday, October 12
Media as a Tool for Activism and Education Danny Labin (Sesame Workshop), Shamil Idriss (Search for Common Ground), Shira Golding (MediaRights.org)
Technology and the Media Kenneth Cukier (National Center for Digital Government), Catherine Davis (Yahoo! Education), Michael Leeds (CMP Media), Paul Shore (gnn.tv/Guerilla News Network), Sreenath Sreenivasan (Columbia University School of Journalism)
Monday, October 13
Freedom of the Press  Ralph Begleiter (University of Delaware), David Makovsky (The Washington Institute for Near East Policy), Shibley Telhami (University of Maryland), Mohammed Wahby (Al-Mussawar Magazine, Egypt)
What is News? Andrea Koppel (CNN), Ron Brownstein (The Los Angeles Times), Verena Dobnik (Associated Press), Hisham Melhem (As-Safir, Lebanon and Al-Qabas, Kuwait), Judith Miller (The New York Times), Michael Wolff (New York Magazine)
Tuesday, October 14
Q&A with Christiane Amanpour, CNN, Chief International Correspondent (live from London)
The Media in Conflict Regions Ray Suarez (The NewsHour with Jim Lehrer), Yoram Deckel (Channel One, Israel), Abderrahim Foukara (Al Jazeera), Scott Simon (host of Weekend Edition, National Public Radio), Fasih Ahmed (Friday Times and Daily Times of Pakistan), K.P. Nayar (The Telegraph, India)
The Power of the Image: War Photography Thomas Keenan (Bard College), Pedro Linger-Gasiglia (contributor to The New York Times and La Nación), Ron Haviv (Newsweek), Fred Ritchin (PixelPress), Moises Saman (Newsday)
Wednesday, October 15
Government and the News: Truth or Propaganda Bernard Kalb (former Assistant Secretary of State for Public Affairs), Raghida Dergham (Al-Hayat), Nathan Guttman (Ha'aretz), Mike McCurry (Public Strategies Washington, Inc.)
Where Politics Meets the News: Public Diplomacy James Clad (Georgetown University), Ambassador Marc Ginsberg, Talal Al-Haj (Abu Dhabi Television), John Zogby (Zogby International)
Thursday, October 16
Final Workshop Presentations by Seeds of Peace Graduates Remarks by David Westin (president of ABC News), Presentation of Products to Her Majesty Queen Noor of Jordan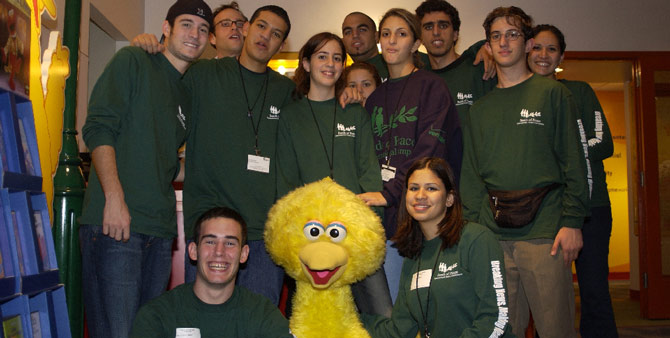 During the afternoons, delegates were involved in one of ten workshop with professional facilitators and experts in the field.
Each team was assigned the task of designing and creating a specific media product. A media specialist and several technicians worked with each working group in order to contribute the knowledge and technical support needed to help the youth meet the objectives of the conference. Final products were presented during the closing plenary session on October 16, 2003, to Her Majesty Queen Noor of Jordan.
Seeds of Peace Declaration to the Media: With the help of writers, editors and facilitators, participants in this workshop composed a document that served as the framework for the Conference and as the official Conference product. The document aimed to look at how the media can be used to have a positive impact on conflict regions. The Declaration was presented to all participants, media professionals, and Her Majesty Queen Noor at the closing event on Thursday, October 16, 2003.
Television Reporting: In this workshop, participants worked with a media trainer and staff from ABC News to produce a news segment for television. Participants visited ABC Studios to meet with editors and attended a live taping of a news show. Participants spent the last two days working in the ABC News studios to learn how to use television editing equipment to create their own news segments.
Feature Radio Reporting: Working with radio producers, editors and a facilitator, participants in this workshop conceived of, created, and edited a news segment for radio. The latter part of this workshop took place at CBS Radio, where the youth were introduced to studio equipment and worked with CBS technicians and editors to produce their final news segments.
Anatomy of a Press Event: Participants in this group became more media savvy by learning the nuts and bolts of a press event. Throughout the week the group worked closely with a media trainer and with Ruder Finn Public Relations to learn how to effectively interact with the media and how to draft press materials. In addition, the participants learned how to pitch a story to media outlets and were intimately involved with the implementation of the actual closing event on Thursday, October 16.
Opinion-Editorials: In this workshop, participants learned the art of Op-Ed writing. Working with a writer, an editor and a facilitator, Seeds learned what steps to take, from picking a current topic to writing an effective piece and getting it published in the kind of publication that will reach the intended audience. On day three of the workshop, Seeds visited The New York Times to see it in operation and meet with one of its editors.
Feature Newspaper Reporting: In this workshop, participants worked with a newspaper reporter and a facilitator to learn how to conceive of and draft a story in terms digestible for the public they are trying to reach. The youth also visited The Wall Street Journal. On day three of the workshop, the participants were given an assignment by the editor of TeenSpeak to write articles for this teen-to-teen quarterly publication. They also hit the streets of New York City and interviewed "locals" for their features. The last days of the workshop were spent writing and editing the articles in accordance with the editor's requirements.
Feature Magazine Stories: In this workshop, participants worked to conceive of, write and submit serious articles to pop-culture magazines. The workshop dealt with understanding one's audience and the ways in which to position serious topics so that people will read about them, hopefully awakening in them an interest that will encourage them to learn more about the subject matter. On Days 3 and 4, participants heard from the professionals themselves when they were visited by writers and editors from Sports Illustrated and Newsweek. The last day of the workshop the youth visited YM Magazine and pitched a story to its editors.
Photojournalism in the Digital Age: In this workshop, participants explored the power of photography in the media. All sessions occurred at the International Center of Photography (ICP) with participants looking at, examining and analyzing current and historical images from their conflict regions and from other parts of the world. Participants worked with photojournalists from ICP to use images from back home and photographs taken during the workshop to express themselves in a digital media piece that conveyed their personal stories.
Internet Workshop: Digital technology is being used more and more as a means for people to express their points of view and for news to be distributed almost in real time. The reach of the Internet is beyond that of other, more conventional, media as is the variety of voices and viewpoints represented. As a result, understanding how to effectively navigate the Web is an increasingly important skill to have. On Day 3, participants were visited by individuals from "Witness," which uses Internet and technology to advance human rights. Beyond effective navigation, participants in this workshop worked with a political cartoonist to create their own cartoons for websites that were identified in the earlier part of the workshop.
Educational Media: In this workshop, participants learned how media can be used as an educational tool. Working with the Sesame Workshop, the participants produced a pubic service announcement campaign targeted at youth from their home countries. As part of the workshop, participants also visited the Sesame Street studio and had the opportunity to meet the Sesame muppet characters, scriptwriters and producers to learn about the possibilities and limitations of Sesame's educational media.