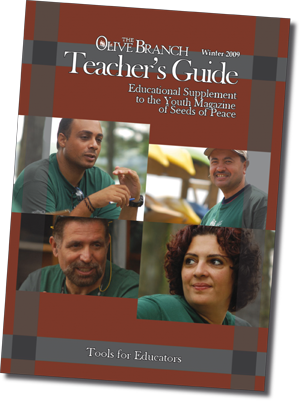 JERUSALEM | This new publication from Seeds of Peace is a resource for classroom educators who actively promote mutual respect, cross-cultural understanding, communication, civic engagement, leadership and peace.
The work of Seeds of Peace requires educators who can support the development of young leaders. These Teacher's Guidesprovide the tools, resources, lesson plans, best practices and inspiration from Seeds of Peace educators, who offer their experiences as pathways to peace.
In partnership with the United States Agency for International Development (USAID), we present the Winter 2009 Teacher's Guide.
Read more issues of The Olive Branch Teacher's Guide »
Learn about Seeds of Peace Educators Programs »