From 2007 to 2009, with the support of USAID, Seeds of Peace organized thirteen three-day workshops on peaceful learning environments for Palestinian educators from across East Jerusalem and the West Bank.
In August 2009, for the first time since Hamas took power in Gaza, Seeds of Peace organized a peaceful learning environment workshop in Gaza for Palestinian educators. This Gaza workshop, along with the thirteen West Bank workshops, which took place in Jenin, Nablus, Tulkarem, Bethlehem and Ramallah, were outreach initiatives into the Palestinian community. With the guidance and support of Palestinian Delegation Leaders, these workshops met the needs of Palestinian educators in places where peace seems very distant.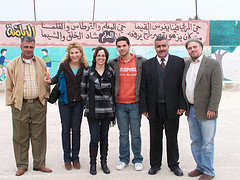 The core faculty members were Palestinian Seeds of Peace Educators—Delegation Leaders and graduates of other Seeds of Peace Educators' programs. Visiting faculty members—Delegation Leaders, Delegation Leader staff from the Camp in Maine—came from as far as Mumbai, India, Boston, Massachusetts, and Peak's Island, Maine.
Workshops focused on a range of topics: how to teach communication skills, how to encourage active learning, how to encourage respect, how to use drama, how to cope with violence in schools, how to transform the culture of a school, how to encourage cross-cultural understanding, leadership and civic engagement, how to establish peer mediation and community service programs.
Participants stayed in touch and supported one another. They were encouraged to participate in the SOP Cross-Border Educator's Workshops. Some also became part of the Model Schools Initiative.