With the support USAID Cooperative Agreement, over the last three years Seeds of Peace has designed and implemented a set of programs to reach into Palestinian and Israeli communities, to strengthen the values and skills embodied by Seeds of Peace, to make social and institutional change and to multiply the impact of the organization.
As part of this set of initiatives and working through the established network of Palestinian and Israeli Delegation Leaders, Seeds of Peace has worked closely with selected Palestinian and Israeli schools.
Teaching Tolerance in Israeli and Palestinian Schools—a Model School Initiative
To cultivate an environment of tolerance, dialogue and civic engagement in Palestinian and Israeli schools and youth organizations.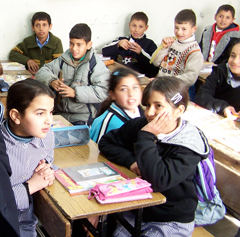 Objective: The objective of these project was to increase the number of educators in the region who support the mission of Seeds of Peace, to support these educators in their work promoting dialogue, peaceful learning environment, respect for the other and differences of opinion, non-violent resolution of conflict, and civic responsibility.
Project Description: Seeds of Peace, along with its regional and American faculty, worked separately with a selected group of Israeli educators and Palestinian educators who committed to develop action plans, to introduce new methods and new curriculum into their schools, and to train other educators. Both the Palestinian and Israeli Model Schools Initiatives included seven and four day workshops as well as site visits and online support. Participants were encouraged to participate in the Seeds of Peace Cross-Border Educators' Workshops. For the Palestinian Model Schools Initiative, Seeds of Peace partnered with Peace Games, a peace education organization based in Boston; for the Israeli Model Schools Initiative, Seeds of Peace partnered with the Greenshoe Group, based in Portland, Maine.