Nas talks fast because his brain moves fast. He can take you deep into the trenches of a subject without you realizing you were ever standing at the edge of a new topic, and he's constantly in motion.
This is likely one of the reasons why the New York City-based Palestinian entrepreneur has already seen more of his ideas come to fruition than most of us could dream of in a lifetime. To name a few, he's been a part of producing an award-winning film, opening a restaurant, running a series of pop-up dinners benefiting refugees, co-founding the food experience start-up Komeeda, advising a kitchen incubator in Turkey that trains refugees to build food businesses, hosting a New York City festival of refugee food and art, and, at the time of writing this article, he was in Morocco on a gastrodiplomacy mission to introduce American halal beef and poultry to a new part of the world.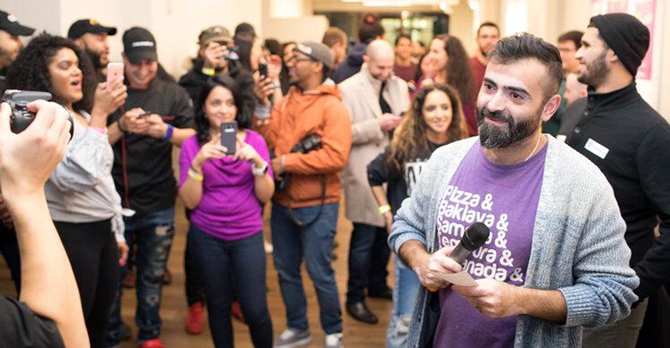 Now, as a 2019 GATHER Fellow, he's using his experience in gastrodiplomacy and storytelling to help lift refugees out of poverty, and at the same time, coming full circle on his own story of conflict and loss of community.
For Nas, much like the refugees he works with, you have to take the time, be willing to peel back the layers, to even begin to see the whole picture.
A WINDING PATH FORWARD
Nas was just a child the first time he realized that food could be much more than fuel for the body.
"I can tell you all the cliché things, like food brings us together, the way to the heart is through the belly," said Nas. "And they're all true, but it's also one of the cheapest things to weaponize."
Growing up in a small farming village in the West Bank, Nas saw his family's future, and past, turn into ashes, as their olive trees were burned one by one to make room for the expansion of the nearby Shilo settlement.
"Those trees had been planted by my grandmother's grandfather," he said. "She cried harder for those olive trees than when her husband died."
His family did not have much money, but with a keen sense of a good opportunity when he sees one, Nas found a way to make cash fast at the age of 13: traveling to Jerusalem to buy adult videos that he would then sell at a markup in his village.
It sounds like the kind of side hustle a cheeky teenager in a movie might come up with—but it came with serious consequences. A few of his clients were caught stealing money from a charity donation box, and soon a trail was traced back to Nas for what they had used the money to buy.
As punishment, his father pulled him out of the nearby private school run by American Quakers and for a year sent him to the village school, which he said, to put it mildly, was vastly academically inferior to the Quaker school.
Seemingly overnight, he went from being one of the most popular kids in the village to becoming a social pariah. The only person who would talk to him was a boy from the poorest family in the village who was also shunned because his grandfather had been an Israeli military sympathizer.
With the sudden ostracization, Nas went into a deep depression, and was eventually diagnosed as bipolar. During that time he also developed vitiligo, a condition sometimes triggered by extreme stress in which pigment is lost from areas of the skin.
The two-tone patches on his face are a permanent reminder of the trauma he experienced in his formative years, and yet, he says it gave him an important insight that aides him today: to see how quickly others are to judge a person for their current situation in life without bothering to learn the full story.
"It allowed me to understand that you have to talk to and engage with people," he said. "It is so important for us to look beyond what we see in front of us."
It was a lesson that would serve him well years later, working in kitchens among other immigrants and navigating the metropolis of New York City, where he moved to in 2001.
After a few years of working sales jobs, he enrolled in Baruch College with the goal of becoming an investment banker. Unfortunately, he graduated just as the economy was beginning to bottom out, and he couldn't find a job in finance.
Instead, he began waiting tables at a chain of barbecue restaurants in the Bronx, Brooklyn, and Queens. As he recalls, it was an extremely difficult time—he was embarrassed that he was still waiting tables while his friends were starting companies, buying apartments, and moving on with their lives.
"I felt like a failure, and I was really, really depressed. So at 30, for the first time, I went to therapy."
It was a major turning point for Nas, one that would finally allow him to stop comparing himself to his friends and set his own future in motion.
"I decided to take ownership of waiting tables and see how that works," he said. "Eventually, I became the best seller of wine, one of the best cooks on the line, you name it."
In the back of those barbecue kitchens and many more after, he would hear the stories of immigrants from Mexico struggling to make a livable wage, see how a decision as small as the source of the mint garnishes for your lemonade can make all the difference to one farmer, and learn pride in serving the food of his homeland.
And it was while working at the immensely popular Lebanese restaurant ilili that Nas was eventually asked to open his own restaurant, where he began hosting special dinners to tell the stories of the Palestinian diaspora in South America. He received a call from a friend at the United Nations asking if he could help out Lutfi, a newly arrived Syrian refugee who had faced discrimination among his community for being gay.
Nas decided to adapt the dinner series to allow Lutfi to tell his own story for two evenings. Lufti had never cooked a large meal, but it didn't matter. The dinners sold out, and soon, the Displaced Kitchens series began in collaboration with his startup, Komeeda.
They were immensely popular and went on to help many more refugees find a new way in a new land—some landed full-time jobs, others found apartments, but the point is to help others see there is more to the picture when it comes to refugees, and for the refugees to become self-sustained. Of all his projects, Nas said that these small victories are what make him most proud.
"If I can help you feed yourself and earn a living, it's a success," he said.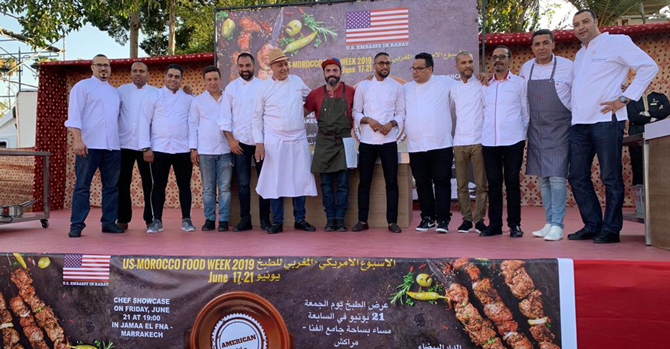 COMING FULL CIRCLE
There are many projects on Nas's mind at any time—including making Komeeda into "the Airbnb of food experiences," the gastrodiplomacy project for the U.S. government, a book, a television show, and setting up kitchen incubators for refugees in Sweden and Yemen.
But no matter where he is, or how much time passes, the conflicts of Nas's youth—between Israelis and Palestinians, and the competing chemicals in his brain—seep into everything he does: his work, his motivations, his relationships, "everything." "Every single thing, relates to the conflict," he said.
And for Nas, that's part of why he needed Seeds of Peace, an organization that, as a Palestinian youth growing up amid conflict, he once considered an agent of Normalization. It wasn't so much the prestige of a fellowship, networking, or the entrepreneurial development that led him to apply to GATHER, but rather, a need to see a vision of the world in which he'd like to live, and immerse himself further in a community of changemakers working to make it a reality.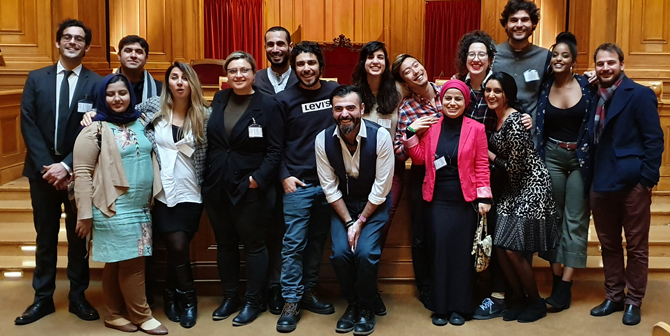 "Seeds of Peace allows me to find some healing and support for the conflict—to understand and work with what I assumed for a long time was the enemy," he said. "I care about the actual mission of Seeds of Peace, for the future. That's more important to me."
He sees his purpose today to carry on the mission of humanitarian minded chefs like José Andrés and Anthony Bourdain. And though one meal is not going to solve the world's problems, it can be a gateway to starting a conversation that might not have happened otherwise.
"I care about bringing stories to life and talking about difficult subjects through food," he said. "How do I sit down and talk with you about solutions to the conflict in the Middle East? Let's start through hummus and falafel."
This series highlights our 2019 GATHER Fellows. To learn more about the inspiring social change that Nas and our other Fellows are working towards, check out #FollowtheFellows on Facebook, Twitter, and Instagram.