Heart surgeon. Vegan. Stand-up comedian.
Those are just a few of the words one could use to describe Bassem Youssef, who performed earlier this week at The Public Theater in New York City to an enthusiastic crowd that included many Seeds and supporters.
At turns hilarious and biting, Youssef delivered jokes that poked a finger directly into Arab and Muslim stereotypes, as well as Egyptian politics and culture.
"Our revolution failed because of traffic," he said.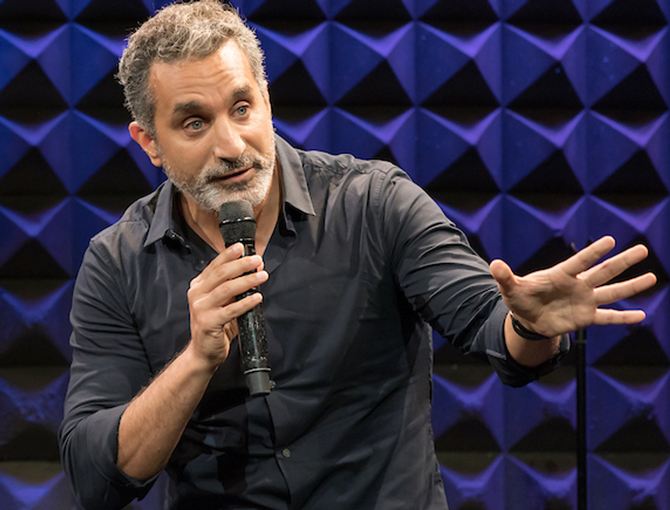 Youssef was the host of the popular Egyptian TV show Al-Bernameg—which was the first-of-its-kind political satire show in the Middle East.
Originally a five-minute show shot from Youssef's laundry room and posted on YouTube days after protests in Tahir Square unseated Egypt's ruling elite, Al-Bernameg became the most watched show across the region with 30 million weekly viewers. Accused of portraying anti-religious sentiments and insulting the President, Youssef was arrested and interrogated before being released on bail.
Youssef practiced cardiothoracic surgery in Egypt for 13 years before moving into political satirism. Now he lives in Los Angeles and uses comedy as a way to get inside people's hearts and minds.
"I'm going public with what it's like to be an immigrant here in the U.S. We need to be heard in the media so that people can relate to what's happening through informed voices."
After the show, an Egyptian Seed led an intimate Q&A between alumni, Seeds of Peace supporters, and Youssef. Asked whether he misses his homeland, Youssef said, "The Egypt I miss isn't there anymore."
Youssef offered advice to Egyptian Seeds coming home after spending time at Camp: "It's a society that is resistant to new ideas. Change will take time. It's dangerous to be vocal about what you believe in. Keep your person safe."
When asked what advice he'd offer to Americans at this unusual time in U.S. history, he said, "I can't give advice to you. But instead of sharing memes, go vote!"
He reflected on how eight months ago, he didn't know if he'd be able to do stand up at all, let alone in English.
"It's difficult to do comedy in a second language. It's a total rewiring of the brain. It's a hustle, it's interesting … it's very scary."
One fan added, "It's very inspiring!" Youssef replied, "If it works."
Judging from the laughter, the rapt faces of his audience, and the questions that kept coming, his message—and the method of his delivery—worked just fine.
Photo by Kevin Yatarola