Our alumni are working in ways small and large to make an impact in their communities. The Alumni Profiles blog series sets out to shine a spotlight on some of these changemakers and share their story.
Amany first came to Camp as an Egyptian Delegation Leader (DL) in 2009 and, like with so many others, the experience left her transformed.
Not only did she return to Maine in 2015 and 2018, but shortly after coming home from her first session, Amany decided to make a change and pursue her passion. Now, she is one of the first art therapy practitioners in Egypt. Her organization, Barah, recently opened its first workshop space and gallery.
We were lucky enough to speak with Amany about her journey from attending Camp to pioneering art therapy practices for Cairo's underserved communities.
How did you first hear about Seeds of Peace?
I'm the mother of a Seed! My daughter, Monica, got accepted to Camp in 2006, and it was a transformative experience for her.
Three years later, Monica applied to be a PS [returning Paradigm Shifter camper]. She told me, "Come on, Mom, you have to come! It's such an amazing experience!" So I decided, why not? And I applied to be a DL that year and got accepted. Since then, we've both been back in 2015 and 2018.
The whole experience was life-changing for me. The idea of seeing things from different perspectives, of accepting others even if you don't agree with them … I was raised up to love them and give them the benefit of the doubt.
Living the extremes at Camp, with all the emotions and difficult questions that have no answers, shook me to my core. And it also made me think that everything and anything is possible. So these moments of finding yourself, that you're lost and you don't know which side to take … it's hard to explain.
Did Camp help influence your decision to become an art therapy practitioner?
In 2009, a lot of things happened in my life, especially because of Seeds of Peace. It made me realize I wanted to do something different, and I felt like now I had the confidence to go through with it. So I left my job in the corporate world.
I remembered painting in the lounge with another DL. The experience revealed in me a hidden pleasure; it felt precious and therapeutic. And looking back, I think that might have been the first influence pushing me.
Once I got back, I decided to take drawing courses with a well-known artist here in Egypt, even though it was outside of my comfort zone—that's also something I took from Seeds of Peace. Once he saw my work, he encouraged me, and not long after that my art started getting featured in exhibitions.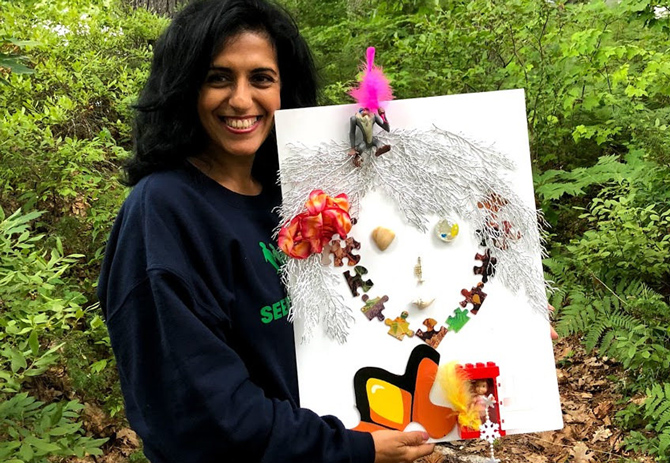 When did you take that passion and add the therapy component?
I had studied mental health and counseling for a long time, separate from my work as an artist. And when I left my job to look for my passion, I kept asking myself, "What makes you feel alive?" It was not an easy question to answer.
When I thought of times that I felt most like myself and was the most joyful, I imagined three circles overlapping. One of the circles was Seeds of Peace—the dialogue, the experience of being at Camp—another was counseling, and the third was making art. Those three circles share so many values: stretching out of your comfort zone, being at peace with not knowing the answer to everything, expressing your true self honestly, sharing without fear of being judged, openness to being vulnerable … the list goes on.
Articulating this helped me realize that I wanted to be around people who live those values, and to create experiences aligned with those values. That's when I decided I wanted to bring art therapy practices to Egypt.
Tell us about some of the workshops you've done through Barah.
One of the things that I'm honored to say is that I have worked with women HIV survivors in Egypt. They are having a really hard time, so I was blessed. If all that I've done is only for these 15 women, I would be satisfied.
I also work with Syrian refugees in Cairo, to help them process their trauma. And of course, I run workshops through Seeds of Peace, including with other educators in Cyprus. This past summer, I was able to do one with the other DLs at Camp.
Doing this work at Camp is a huge success, because it is the perfect environment. Art therapy practices work toward a similar goal as dialogue and verbal communication does, yet it is completely different. It activates a different part of the brain. So it complements what happens at Camp well.
Can you describe what art therapy practices looks like in action?
The key is that it's not about the product itself, it's about the process. As an art therapy practitioner, I facilitate a participant as they paint. But they aren't painting a painting, if that makes any sense. For the participant, it's about why you're making what you're making, what you go through as you paint, what you're feeling and how that's influencing what you put onto the canvas—and then processing that experience.
You go through all the hardship, frustration, everything through this process. And you can also identify patterns about yourself, how you think, how you feel, just using the colors and the white piece of paper.
It's similar to the dialogue experience at Camp, in that it's all about "trusting the process." Once I understood that, I knew this is what I wanted to do with my life.
With Amany having just opened a new workspace for Barah, we can't wait to hear more of what's in store for her practice. In the meantime, read more about our Educators who have taken their experience from Camp and applied it to inspiring others.