Three weeks ago, 162 young leaders from across the United States arrived at the second session of the 2018 Seeds of Peace Camp. Our 26th summer may have just ended, but there's no better time to look back on the memories these new Seeds will never forget. We hope you enjoy this Camp roundup!
Day 1: July 25
ARRIVAL DAY! Over the course of the afternoon, campers from all across the United States— from nearby in Maine all the way out to Los Angeles—arrived to the enthusiastic welcome of our counselors and staff. By dinnertime, all but four campers were settled into their bunks.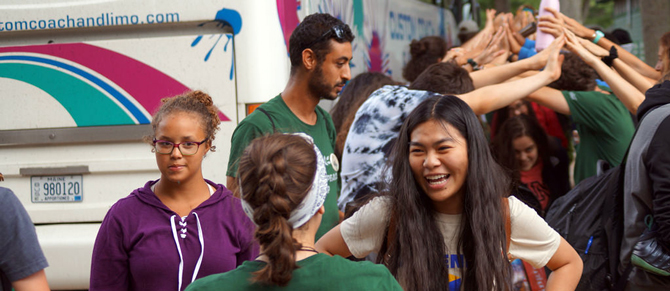 Day 2: July 26
Though it also marked the first dialogue of second session, the highlight of the day was a presentation our returning campers (called "Paradigm Shifters" or PSs) gave to new campers over a roaring fire. The PSs' sharp contrast between Camp—"the way life could be"—and the outside world was met with deep appreciation for their insight and honesty.
Day 3: July 27
Robert Bordone and Florrie Darwin, faculty at the Negotiation and Mediation Clinical Program at Harvard Law School, met with PSs to teach them valuable negotiation skills. The duo also run our popular Mediation and Negotiation Seminar in January.
Day 4: July 28
The spotlight was on our Educators program—teachers, school faculty, and community leaders who are go through their own Camp process as part of our Educators in a Diverse Democracy course. To decompress and reflect after their recent dialogue sessions, the DLs visited neighbors and supporters of Seeds of Peace at Moose Pond.
Day 5: July 29
In addition to trust exercises, rousing debates, and a visit from former head counselor Jerry Smith, this day featured our World Cup of Ga-Ga. Four teams of campers competed in the Big Hall, with the winning team facing off against counselors. This time, the campers prevailed!

Day 6: July 30
While this day was chock-full of activities, the most action happening was in dialogue huts. By now, this session had already gotten past the "getting to know you" phase—which sometimes can lead campers to beat around the bush on controversial topics—and have started confronting divisive issues plaguing their communities head-on in their dialogue sessions.
Day 7: July 31
Our PSs and educators went on an interfaith tour of Portland, hosted by 2016 GATHER Fellow and Portland city councilor Pious Ali. Meanwhile, Camp itself was bustling with activity—including a visit from Maine Seeds Program Director Tim Wilson.
Day 8: August 1
The highlight was "The Mostest," one of our most popular all-Camp events. Rather than celebrating being the "best" or "greatest" at something, The Mostest celebrates the act of committing to something the fullest. Other highlights include a powerful discussion of race relations from our educators and a performance from our Bollywood special activity group.
Day 9: August 2
Arts Day! This celebration of all forms of art—and how the arts can be used to physicalize and continue the dialogue process—occurs once each session, but a new feature was the "food truck" one group constructed and painted, from which the cooking groups could serve their creations. At night, each dialogue group gave a performance using drama, music and dance.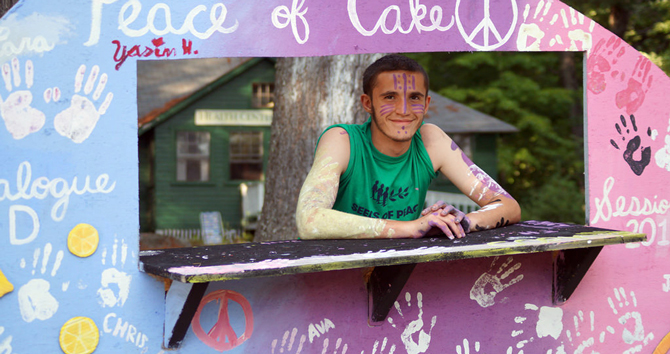 Day 10: August 3
PSs had two special sessions today: one with Seth, a Maine Seed who is now an investigative reporter covering stories about immigrants and refugees in the US, and another with our educators on improving relations between teachers and students at the high school level. We also offered all our campers the chance to observe the Muslim and Jewish faith services we conduct. For many campers, this was their first opportunity to view their religious practices.
Day 11: August 4
Sports Day! We were joined by two other Maine camps, which we played in soccer and basketball with our girls and boys teams. It was also a visiting day, bringing 40 Maine Seeds back to the place where they first learned "the way life could be." Meanwhile, Group Challenge—which, like Arts Day, physicalizes and continues campers' work in dialogue—arrived at its final stage: the ropes course!
Day 12: August 5
Almost always, around the two week mark is when the most challenging, and rewarding, period of the dialogue process begins. That was definitely the case with this session! The many activities campers could engage in, be they on the field, in the art shack, on the waterfront, or performing in the Big Hall, went a long way to defuse the tension.
Day 13: August 6
Our educators participated in two workshops on how to use the arts as teaching tools: one hosted by GATHER Fellow and renowned artist Hanoch Piven, another co-hosted by American Seed Micah and Mic & Pen participant Ami Yares. Meanwhile, campers rehearsed for the Talent Show and held a Café Night in honor of Seeds of Peace founder John Wallach, who passed away in 2002.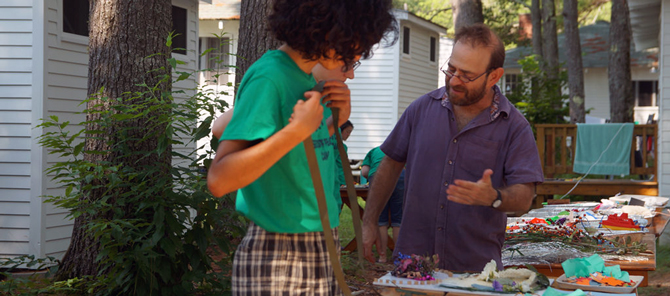 Day 14: August 7
Our PSs went on a hike up Bradbury Mountain, but they returned to tragic news. 2017 Maine Seed Laila, who was active in the community and who had come to Camp only three days earlier during visiting day, passed away in a bike accident. Staff and campers alike rose to their best selves in face of the news, giving one another the space and support to grieve.
Day 15: August 8
Everyone who knew Laila gathered in a circle, together in silence, during rest hour to honor her memory. Meanwhile, our beloved Camp Nurse, Peggy Ackers, was presented the Director's Award of Excellence by Seeds of Peace CEO Leslie Lewin and Camp Director Sarah Brajtbord. At night, campers presented a magnificent Talent Show, including a moving song about Laila by the PSs.
Day 16: August 9
While our educators attended the second annual Seeds of Peace Forum on Educating In a Diverse Democracy at Portland City Hall, back at Camp, Color Games officially began! The next two days would see campers divided into two teams, Green and Blue, competing in all sorts of challenges. By the end of the day, scores were tied!
Day 17: August 10
Color Games were in full swing: canoe races, soccer, basketball, street hockey, debate, art, music, dance, Ultimate Frisbee, and volleyball. All leading up to "Message to Hajime," a relay-race gauntlet comprised of over 100 tasks. The winner: Green Team!

Day 18: August 11
The last full day of Camp is always one of wrapping up. Campers had their last dialogue sessions, packed for their departures, and learned what year-round regional programs will await them back at home. In a Quaker silent meeting, many campers shed tears, expressed gratitude for being able to be who they really are at Camp without being rejected, and said that the experience made them realize that they could become the people they hoped to be. We also held a memorial service for the Seeds who have passed away over the years; including Laila, five were from 2018.
Day 19: August 12
Departure Day is always bittersweet; feelings of accomplishment and fulfilment clash with flowing tears for leaving the community we created at Camp. By the evening, only one camper remained; he rang the Camp bell one final time and, as its ring reverberated through the empty campgrounds, left on his bus.
Combined with our first session, this summer a total of 352 incredible young leaders—from now on officially "Seeds"—have now gone back to their homes with the skills, wisdom, and courage to lead change in their communities. Not only that, but they have returned to year-round local programming awaiting them there as well. Our 26th summer of Camp may have ended, but their journeys with Seeds of Peace have only just begun.