We hope you're hungry, because we're bringing you this interview from inside the kitchen at Camp. Meet Michael Warth, Food Service Director and Executive Chef. He's been a chef for 20 years, but this is his second summer at Seeds of Peace.
Seeds of Peace: What does it take to feed such an international staff and group of kids?
Michael Warth: For us, specifically, we have to have knowledge. I have to have a pretty sound grasp of dietary restrictions for Muslims, for Jewish people, for Hindu people—and then within that, just knowing, for example, the laws of kashrut [keeping kosher]. And then of course, we've got other dietary issues, like allergies. But I think that's probably the biggest challenge.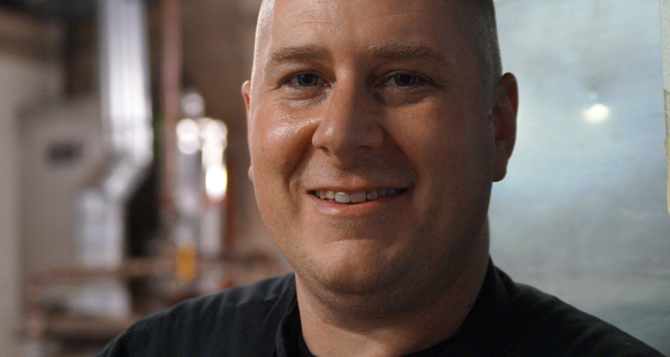 Seeds of Peace: And how do you balance the cultural needs of those different groups?
Michael: It's hard. So, you know, it's a lot of chicken. That's one thing. I think a lot time people don't realize that we are trying to accommodate and make it universal. So, yes, there's a lot of chicken. And not mixing meat and dairy, for everybody, which I know is off-putting for some.
Seeds of Peace: How much chicken do you cook each week?
Michael: We cook about 400 pounds of chicken in an average week. For the first session, it's more, because we do just chicken. We can do beef now in second session.
Seeds of Peace: And eggs?
Michael: I'd say we go through 20 dozen every day.
Seeds of Peace: Is it hard to keep everyone satisfied?
Michael: I wouldn't say that it's hard, no. It's more like trying to keep everybody happy. Even just getting what they want. I think we talked about pancakes. As soon as I heard that that's what they wanted, I was like 'oh yeah—let's do that.'
Seeds of Peace: Next day it was there!
Michael: Yeah! It's really just knowing what everyone wants—it's hard to know the general will as opposed to one or two people who come up and say they want this. And that might not be what everybody wants. But definitely the suggestion box is a big help.
Seeds of Peace: Can you talk a little bit about the suggestion box?
Michael: Sure. We started one just so campers could express things that they like and dislike, are tired of, or want more of. I think it's worked out really well. I don't know why we didn't do that last summer. It would have been a huge help. Most of the stuff is super easy. Sometime it's just something like 'crunchy peanut butter.' We're like 'done, easy—we can do that.' Just had to hear it.
We could definitely tell when we get multiple things like 'mac and cheese.' We probably didn't even plan on doing it. Sarah and I, when we plan out the menu, we're trying to do healthier foods. But the campers might not feel that. They may just send all the food we give back.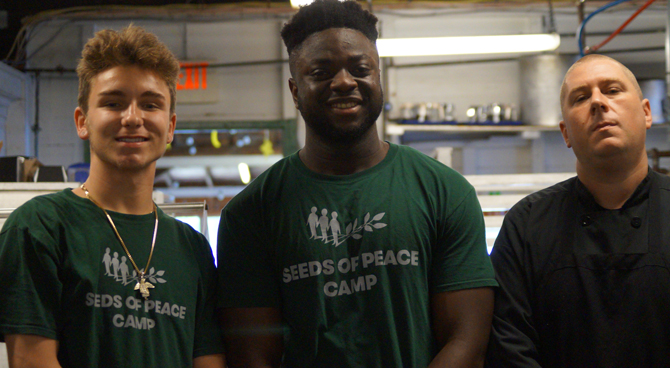 Seeds of Peace: Let's talk about healthy meals. Is it challenging to make sure that the food is nutritious for the campers?
Michael: It really is. It's a high-wire act. Dietary restrictions. Health and nutrition versus what the teens want. For example, if I want to do French fries and chicken strips, they're like, 'oh my God!' They're feeling that. Now, if I do that every meal, then I hear from Sarah, saying, "yeah, we've got to give these teens something better than just that." I think that's probably with all camps, not just ours.
I try to keep them healthy. If I just asked the campers what they wanted, it would probably not be that nutritious. And then sometimes we try stuff. We put out black bean salad on taco night. I think we first started with the bigger white bowls full of it, and we used to get a lot of it back. So now we have smaller amounts. We still try to offer it … but they might not eat it.
Seeds of Peace: What other foods have been a new experience for the campers?
Michael: Last year, we served corned beef hash—I don't know if you remember—for breakfast. Corned beef hash kind of looks like dog food. It was horrible. The sous chef wanted to do it and the campers were like "What … is … this? We've never had this before." It was terrible.
Seeds of Peace: And how far ahead do you plan these meals?
Michael: I have a month between when I get out of school—I work as a chef at the University of Nevada—and when Camp starts. So we spend about 30 days, Sarah and I, just emailing back and forth on menus and what restrictions there are.
And then, throughout the summer, we make adjustments. We're about a week ahead on everything, as far as ordering. Things change sometimes at the last minute.
Seeds of Peace: How is Seeds of Peace is different—especially in terms of meals—from other summer camps?
Michael: I worked for six years for a synagogue, which also had a summer camp. So I had some background in kosher-style cooking. And then I did full kosher for Orthodox kids for a couple of summers.
I just wanted to work here so badly. I literally was waiting for the phone call back, just because of what you do here. I really believe in the mission. And I feel like what I should do is just facilitate, and not interfere. I just try to make it so everyone's happy, because I believe in the actual work that's being done here.
It's the most awesome place I've ever worked, honestly.
Seeds of Peace: Eating together is somewhat similar to dialogue or our activities, where you need to maybe sacrifice what you want to eat in order to understand where other people are coming from, their cultural needs and their dietary restrictions, to create this equal community.
Michael: Yes. It's a complete parallel. When we do International Night, it's completely the same thing. Everyone's got to work together to make a menu that incorporates dishes that represent where they're from, and they are literally fighting for space. And usually the delegation leaders—maybe four people from each delegation that are cooking—they'll set up on the Pine Side [staff dining hall] and do all the prep … chop vegetables.
I order all the food that they need. And they sort of come in after lunch that day and start chopping away, making their dishes. Then they get in the kitchen to cook, and they share an area for stoves and for the ovens and everything. Everyone kind of coordinates, works together.
Perhaps some of the same stuff they are talking about in dialogue, territory or space, it's the same thing in the kitchen. People have to learn to work together.
And then of course, the differences in what their diets are like and what foods are like from different places. I'm conscious of what we call our food. If we make tomato salad, I don't call it "Israeli Salad." I know there's a dispute over some of that terminology.
Making it universal for everybody is hard, but good for everyone.
But I think people, once they get out of here, probably must not eat chicken for like a month.