In response to an increase in hostilities between Pakistan and India, Seeds of Peace is sharing voices from both sides of the border, including this one from Sana.
On a hot summer afternoon in 1999, Mum put my siblings and I down for our after-school nap. Around 4 p.m., I woke up to a loud buzzing noise which grew into the roaring of Air Force jets flying low.
I ran up to the bay window that opened in the front garden and got a glimpse of the fighter planes. That was the moment, at age 7, that I dreamed of becoming an air force pilot.
That night, our parents sat us down and informed us that Pakistan was at war with India. As kids, we did not really understand much, but we were excited because war meant no school or exams.
Dad noticed our lack of understanding of the situation, so he decided to share his experience of the 1965 and 1971 wars, and Mum recalled how she, along with her mother and siblings, would hide in a bunker under the stairs and watch the soldiers march the streets of Old Lahore.
The stories were very fascinating—like something out of a movie or a book—but they also highlighted the casualties and the horrific atrocities of war. While at school and in the media, people glorified the wars with India, I was grateful that, at least at home, I was being told the honest stories and the results of those wars.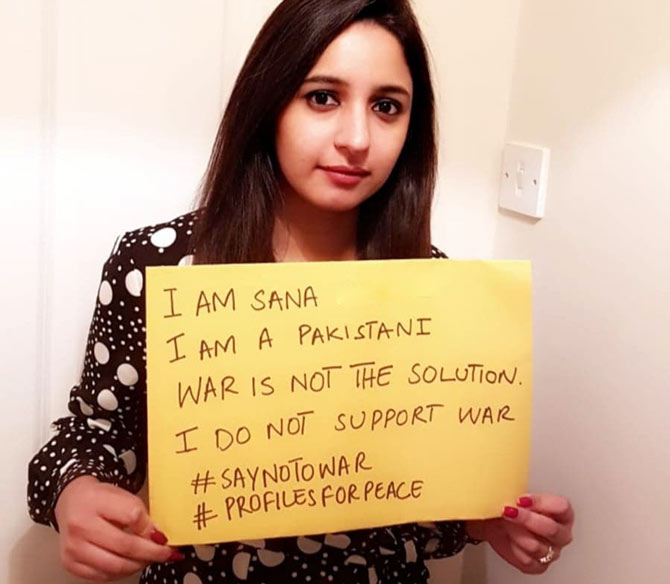 I recall Dad being upset for many years after the war. He was definitely not in the favour of this or any war, and he built a bunker in our house similar to those in the colonial houses. But he also looked to prevention: He took the initiative of taking us to the Hindu temples, Sikh Gurudwaras, Christian Churches, and other places of religious and historical importance to teach us the importance of co-existence. He taught us to be compassionate towards all beings, regardless of their race, religion, or creed.
In 2007 and 2008, I had the opportunity to attend the Seeds of Peace Camp. I was very excited about being selected, despite many people making a lot of negative remarks about having to associate with Indians.
This wasn't going to be my first interaction with people from across the border, as I have had friends from India from the days when I played squash for Pakistan, but this was the first time I was going to interact with them for an extended period on religious, political, and social topics.
During the three weeks at Camp, while sharing meals and bunks and playing sports and dancing with the kids from the other side of the conflict, I ended up seeing that the face of the enemy was very similar to mine, to the people of Pakistan. I am still friends with most of the people I met at Camp and regularly engage in healthy dialogues.
In 2011, I attended a multinational Seeds of Peace conference in Mumbai called Voices of People. My team and I chose the topic "Flipside of the Religion," in which we interviewed heads of places of worship and ordinary citizens of different faiths—Hindus, Muslims, Parsees, and Christians.
Through this research, we concluded that the locals of any faith were happy to co-exist with their neighbours from a different faith. They respected each other's beliefs, were a part of their neighbours' happiness and grief, and celebrated all the religious festivities as a family.
One moment that stood out for me was from two Hindu and Muslim neighbours who mentioned that on Eid, Muslims share their vermicelli with their Hindu neighbours, and on Diwali, Hindus send over the local sweets to their Muslim neighbours. They also respect each other's dietary requirements; if the Muslim neighbour were to share the food with the Hindu neighbour, they would ensure that the cooking pots had not been used for beef.
Such little gestures of humanity restored my faith that we could co-exist with each other and reinforced for me that the bigger enemies are the religious fundamentalists on both sides. There are political parties who spew hate for their vested agendas, and the price is paid by innocent citizens from both sides.
Seventy years since the war of independence, the two nations, both nuclear powers, still have people within them cheering for war. I have seen both hate and mockery of the situation from both sides of the conflict. I am appalled to see that there are people who want war, and as someone rightly said, it is clear that these people do not really understand war.
Today, I am thousands of miles away from Pakistan, but I worry about the friends and family on both sides of the border.
The enemy always has a face, but it is up to us whether we choose to see it or to turn a blind eye and cheer for war. There is no glory in war, and both sides of the conflict will face the consequences if a war breaks out. And who wins in the end? What will the war achieve?
There are so many serious issues to worry about, such as climate change, equality, education for all, clean drinking water and sanitation, female reproductive health, mental health, and the list goes on. Terrorism is an important issue, too, and the leaders of the affected countries should fight it by engaging in dialogue, rather than proving who is better at destroying the other nation.
I hope we learn to co-exist with compassion for each other. War has never done anyone any good, and history is the witness to this fact. War is not the solution; dialogue between the two countries is.