LONDON | To launch its first series of events, Seeds of Peace UK, headed by Michelle Mercer and her active steering committee, invited two graduate Seeds and Seeds of Peace new Executive Director Leslie Lewin for a weekend packed full of events to promote the mission of Seeds of Peace in London.
Between January 14 and 18, Palestinian Kareem and Israeli Sahar gave a radio interview on BBC World Service, spoke to students at the Southbank International School in London as well as at Eton College, held a discussion session with members of the London interfaith community and were guest speakers at a Seeds of Peace evening reception.
Kareem was born and raised in the Palestinian city of Ramallah. He attended the Ramallah Friends School, a Quaker school in the city. In 2005 he joined Seeds of Peace as a first time camper and then returned as a peer support in 2006, and visited yet again in 2007. Since his initial participation in 2005, Kareem has been part of various other organisations that promote reconciliation and non-violent conflict resolution, such as People to People, Palestinian Coalition for Peace, and Peace it Together. He has also been an avid contributor and leader in the Seeds of Peace regional programme. Kareem is now pursuing a joint degree in Economics and Middle Eastern Public Policy at George Washington University in Washington, D.C.
Sahar is 17 years old and has been involved with Seeds of Peace for three years, after having attended the Seeds of Peace Camp in the summer of 2007. Sahar was born in Beersheba to Russian immigrant parents and has a younger brother. He is currently a senior at Kfar Silver, an agricultural boarding school, where he has served as student council president for two years. He is also a basketball coach to 10 to 12-year-olds. Sahar has been an active member of Seeds of Peace regional programming, most recently attending a four-day seminar with Palestinian Seeds held in late 2009.
Leslie, Kareem and Sahar were warmly welcomed. Their presentations were inspiring and made a great impact on their different audiences. Below are snippets of their eventful weekend in London.

Friday: BBC Interview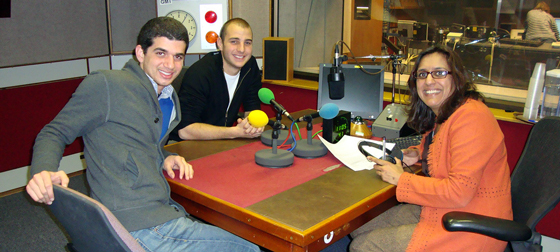 Kareem and Sahar embarked on their London visit with a 15 minute radio interview on the BBC World Service Outlook programme. The interview took place at Bush House, the BBC World Service London Headquarters.
The Seeds' interview was recorded Friday morning and aired in the UK that afternoon with repeats throughout the weekend around the world, giving Seeds of Peace extensive global exposure.
Outlook aims to capture the 'human interest stories behind the headlines,' and looks at how people's lives are affected by events and trends across the world.
Presenter Ritula Shah and producer Munnaza Khan were very impressed by the Seeds' ability and skill at answering penetrating questions on burning issues in the region.
Friday: Southbank International School Panel
A crowd of 120 students, comprising 8th, 9th and 10th graders from Southbank International School (SIS), assembled at Hallam Street Conference Centre in Central London for a lively panel discussion organised by Seeds of Peace UK and SIS Creativity, Action, Service Coordinator, Philomena Clancy.
After a screening of the movie 'SEEDS,' Palestinian Seed Kareem and Israeli Seed Sahar, together with Vivek, a Seed from London, and Leslie Lewin, Seeds of Peace's Executive Director, shared their own personal experiences from Camp and its impact on their lives.
The Seeds' personal stories were well-received by the student body, who were especially interested in how the Seeds dealt with issues once back in the region. The discussion was followed by a wrap-up clip about the significant roles Seed graduates play in their communities post-Camp.
In her closing remarks, Phyl Clancy noted a direct correlation between the international make-up of the SIS student body and Seeds of Peace's mission. Indeed, some SIS students expressed interest in applying to attend the Seeds of Peace Camp.
Saturday: West London Synagogue Panel
Kareem and Sahar, along with Seeds of Peace Executive Director Leslie Lewin, began their second full day in London by attending Shabbat services at West London Synagogue (WLS).
They were then invited for a panel discussion led by Rabbi Mark Winer and Rabbi Debbie Young-Somers. Over 75 people from WLS and outside the temple community attended. Kareem and Sahar spoke movingly about their experiences at the Seeds of Peace Camp and how they have changed and grown as a result. The question and answer session was full of raised hands as a lively discussion of the difficult issues developed.
One gentleman described Kareem and Sahar as "courageous and an inspiration for the future."
The afternoon ended with Rabbi Mark Winer describing his desire for future work with Seeds of Peace and he closed with the prediction that "one day, Kareem and Sahar will be leaders of their countries—just imagine the potential for peace!"
Saturday: Cocktail Reception
As much as the hosts Aenne and Claude Chene welcomed over a hundred guests into their beautiful home, the guests welcomed the idea of the Seeds of Peace organisation.
Along with Executive Director Leslie Lewin's informative speech about the theory behind the programme, three Seeds with firsthand experience of Camp shared their own accounts. Two Palestinian Seeds, Kareem and Raya, discussed their commitment to Seeds of Peace, while Israeli Sahar encouraged guests by sharing his metamorphosis into an open-minded individual.
The success of the evening was reflected by the keen interest shown by the inquisitive questions asked by the audience.
Sunday: Eton College Presentation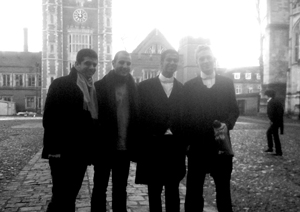 The last leg of Leslie, Kareem and Sahar's whirlwind tour was at Eton College. This is Britain's most prestigious boarding school for boys aged 13-18 and was founded in 1440. Eton is located on the other side of the River Thames to Windsor Castle, so this was a chance for Leslie and the Seeds to discover some English history.
Nicola Cobbold, the chief executive of The Portland Trust, coordinated this event together with Jonathan Paull, Eton's head of Jewish studies and Manauar Hussain, Eton's head of Muslim studies. Nicola's son, Jack, is a 10th-grader at Eton College.
Kareem and Sahar wowed their audience of 250 boys with their experiences at Camp and back home. They were superb. Standing up in the school's Farrar Theatre they told their stories to and answered questions from the boys in Jack's year and those from the Jewish and Muslim classes.
The event was so successful that Jonathan Paull wants to make Seeds of Peace an annual fixture on the Eton calendar.
He summed up the hour's meeting: "This has been an inspiration, a privilege and an honour."