Yonatan Belik, a Seeds of Peace Camp counselor from 2012-2014, has teamed up with fellow three-year counselor Mike Reid for an ambitious, unusual goal: set the world record for greatest distance on a kick-scooter in 24 hours.
In doing so, Belik recognized a life goal "to create empowering experiences for personal and collective growth based on cooperation."
So began Wheeling for the World, "a diverse group of passionate Seeds of Peace and Maine community members aiming to exemplify the power of working together across cultural boundaries by breaking a world record."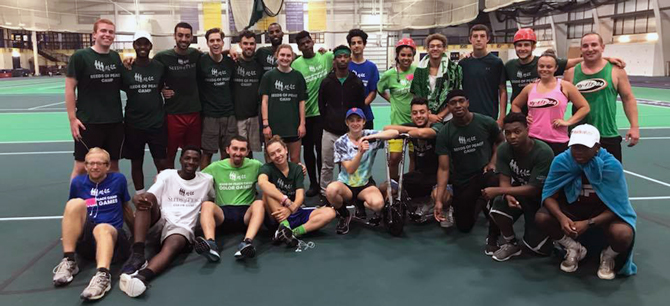 On August 17, 25 Wheelers descended by scooter onto the University of Southern Maine's Costello Sports Complex. Over the course of 24 hours, they traveled a collective 1,626 miles; the attempt is currently awaiting validation from Guinness World Records. The current world record (yes, this has actually been done before) is 343 miles.
On August 19, the Wheelers returned to Camp to celebrate the achievement.
Mike, who previously set a Guinness World Record when he and two others completed the longest journey by pocketbike, said, "I wanted to give Seeds a platform to express their love for the organization and [the opportunity] to engage further with those they care about."
For his part, Yonatan said, "I wanted to prove to people that unbelievable things can be accomplished—and that it's up to us [to do it]." He's inspired when people come together around a shared goal.
To assemble their team, the duo created a Facebook video calling on the Seeds of Peace community to join their effort. Their goal? "Rekindle relationships and revitalize the [Seeds of Peace] spirit for those near and far."
It worked. The video has since been viewed over 25,000 times, and almost all of Wheeling for the World's 36 team members are either Seeds, former Camp counselors, or both. Through team meetings, training sessions, and WhatsApp groups, Wheeling for the World presented not just an opportunity to break a world record, but also for members of the Seeds of Peace community to connect—and in many cases re-connect—with one another.
The training process, which Yonatan described as "rigorous," was developed by one of Wheeling for the World's advisors living in Egypt. From there, Mike and Yonatan would create weekly videos with instructions and updates for the team; each team member would then train at home on their own scooters.
"We needed to make sure they had the cardiovascular endurance required to complete the 100-meter sprints over 24 hours in shifts," explained Mike. "To do this, we asked them to recreate this 100-meter sprint in less than 15.4 seconds in a location they saw fit. After that, we had asked them to share their results with us and the team."
As with any group taking on an ambitious goal, Wheeling for the World encountered its share of obstacles to overcome along the way. "Murphy's Law is true: whatever can go wrong, will go wrong," said Mike.
In their humble beginning, he added, "we had no team, no venue, no scooters, no money, no sponsors, and this idea seemed crazy to so many. Even talking about the record was a joke for some people."
On top of that, they recognized that most of their time and energy was spent making sure the event would actually happen, rather than making scooter history.
But nothing shook them more than the loss of their teammate Laila, a 2017 Maine Seed who passed away in a tragic accident less than two weeks before the record attempt. The team was united in their motivation to continue in her honor—emphasizing how much Wheeling for the World is a vehicle for people to come together.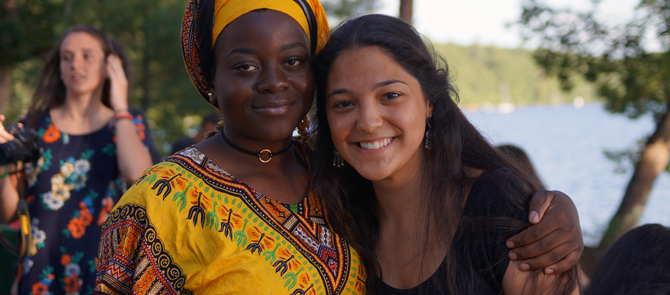 The team also had its share of breaks as well, including Guinness World Records allowing them to scoot simultaneously as a group, support from local Maine businesses, and a $6,000 sponsorship from scooter manufacturer Razor.
As for what was on their minds during the big day? "The final lap. Thinking of those who inspired us in our lives to make the most of every moment," Yonatan said. "Proving to myself that I can achieve what I dream. The gathering of love and support as teammates cross the finish line."
Mike also weighed in on what he looked forward to in completing the challenge: "Recognition that this seemingly impossible achievement is achievable. The visceral experience of joy and gratitude for the completion of this 6-month experience. And the appreciation of Yonatan and the entire Seeds of Peace community."
One thing they both learned from the process was engaging communities around a shared goal, a lesson they hope to take with them well into the future. Even more so than setting the world record itself, Mike and Yonatan hoped Wheeling for the World would show that, "when people are dedicated to make something happen, it happens."