Everyone has at least one moment I think of as a quantum leap—a big, abrupt changing point in their life from which there is no going back. Mine was when I realized that there is no one absolute truth, that none of us have the ultimate "right" point of view all the time. I'll never forget how I learned it.
I always knew that my judgment of something could be different from someone else's. But Camp was the first time I understood that this difference is the true nature of life, and that being cautious about issuing our judgments on others is a special kind of wisdom.
When I arrived at the Seeds of Peace Camp, I was astonished; I didn't know if I could spend a month with people that I would never have met otherwise. It was hard to learn other perspectives, and harder still to accept them.
Everyone was scared as we entered the dialogue huts for the first time. The rooms were far away from the bunks, surrounded by trees that cast a dark shadow over them. We knew that when we left the huts, the friendships we just made with each other wouldn't be the same. All of us were stressed out and fidgeting, moving our legs, playing with our hands. I've never thought of myself as being on any side of the "conflict," but having seen people hate each other because of it has affected me so much. It was hard for me to experience that again in dialogue.
When the facilitators felt that things were getting overwhelming, they stopped the dialogue and let us take a break to think about what just happened. It's hard to control yourself, but it's easy to think over what people have said when you have a moment to breathe.
Sometimes the opposite happened, and we just didn't want to listen. But at the end of the day, we were there to rediscover that we are all human beings. I believe now that this is what peace really is: to put acceptance above revenge, to make sure love comes before hatred, and to make reconciliation with the soul.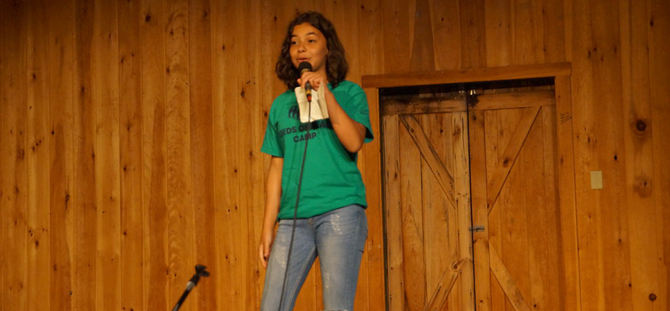 If I had the chance to go back again, I would savor every moment, and I would listen to each word in everyone's ideas. Seeds of Peace showed me that "peace" is a word of five letters, but many meanings.
There are a lot of things I've done in my life, and I've forgotten many of them, but I'll never forget my experience at Camp. Our life is full of experiences, but our time here is short. Don't waste it on things that you already know; try to find the key that will open different doors for you. We all have that quantum leap waiting for us. You just have to be open to it.