NBA stars turn out for Seeds to 'Play for Peace'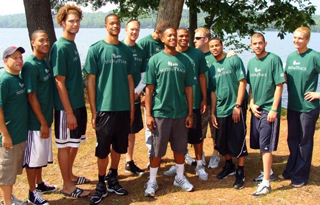 Ten NBA stars arrived at the Seeds of Peace Camp on Monday, July 28, to participate in the Seventh Annual 'Play for Peace' basketball clinic.
They were welcomed by 160 Egyptian, Jordanian, Israeli, Palestinian and American youth participating in the camp's second session, focused on the Arab-Israeli conflict.
NBA stars include top draft picks Derrick Rose (Chicago Bulls), Brook Lopez (NJ Nets), Robin Lopez (Phoenix Suns), Russell Westbrook (Oklahoma City), DJ Augustin (Charlotte Bobcats), Anthony Randolph (Golden State Warriors), with NBA 'Play for Peace' veterans Brian Scalabrine (Boston Celtics), Jordan Farmar (LA Lakers), and former WNBA star Sue Wicks (NY Liberty). Bulls great BJ Armstrong helped to lead the clinic.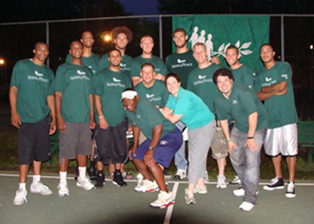 During the event, players worked with campers on basketball fundamentals and teamwork drills that help them understand the value of cooperation. In return, the players got an up-close and personal view of the nature of conflict, challenges to peace in the Middle East, and the possibility for lasting coexistence.
'Play for Peace' is organized by Arn Tellem, President of Wasserman Media Group Management, who is also the agent for the players and a Seeds of Peace board member. Tellem said: "At a critical moment in the Middle East and with renewed interest in diplomacy, it's important that the players do their part to advance understanding and coexistence. Every year, this visit becomes an experience as much for the players as it is for the camp participants."
Leslie Lewin, Camp Director at Seeds of Peace, said: "Sports, and in particular, basketball, is a very important part of the camp experience. The visit of the NBA players help teach the importance of cooperation and trust, and help draw attention to the courageous efforts of these teens."
South Asian Delegation in Washington D.C.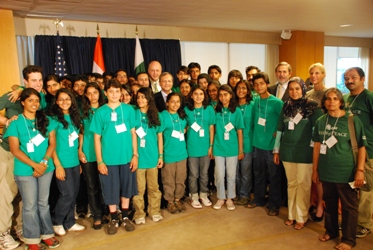 After the end of their camp session in July, the delegation of Indian and Pakistani Seeds traveled to Washington D.C to discuss the issues facing both countries and the possibility of peace. Their trip included a reception at the Department of State where they were welcomed by Deputy Secretary of State John Negroponte and Assistant Secretary Richard Boucher.
Deputy Secretary Negroponte said: "The young people we celebrate today will bring skills, perspectives, and experiences gained over the past three weeks back to their homes in India and Pakistan—two countries that are important friends and partners of the United States, and two countries we want to see succeed. You are a group of extraordinary young people with the courage and the imagination to look beyond decades of conflict and envision a peaceful, hopeful future."
Two Seeds also spoke at the event. Maria, a Pakistani, said: "Before coming to camp, I wrote something and I would really like to share it with you all. It goes like, 'We have one world to live in, one world to share, one world to care for, and our one world is here.' So Seeds of Peace basically highlights all of that. It brings us together to work for a better, peaceful tomorrow."
Parikshit, an Indian Seed, said: "Before coming to camp, I had a different mindset about the conflict between India and Pakistan. I had read stories and books, I had heard from the media, from my parents and relatives their versions of the conflict, whose fault it is, who is right and who is wrong. Well, I can say that after spending three weeks with so many people, so many friends over there, the one thing I've learned is that what I think is not true, not necessarily true. You know, I must always broaden my mind, accept what the others are saying, though I may not like it."
The Indian and Pakistani Ambassadors were in attendance in addition to many members of the domestic and international news media.
Seeds also participated in meetings on Capitol Hill with various members of Congress, many of whom serve on the Indian, Pakistani and Afghan caucuses. The Indian and Pakistani embassies also generously hosted the Seeds for briefings and tea.
Seeds Café focuses on media and conflict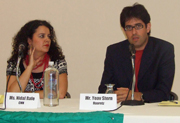 Seeds Café this month hosted television and newspaper journalists for a revealing discussion about the role of the media in the Israeli-Palestinian conflict. The guest speakers for this Seeds Café were CNN Producer Nidal Rafe and Yoav Stern, Ha'aretz newspaper's Arab Affairs Correspondent. The audience had an opportunity to hear what happens behind the scenes of the media covering the conflict on a day-to-day basis. They addressed the difficulty of having positive stories run in the press and the importance of having local journalists covering events in the region.
Help Seeds of Peace win 1.5 million dollars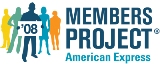 Please take a moment and help support Seeds of Peace in a simple way—that's totally free! Seeds of Peace is entered in the American Express Members Project. If everyone clicks on the link below and nominates our project, you could Help Seeds of Peace Win $1,5000,000! All you have to do is click! Every vote counts and the winner receives a $1.5 million grant. Runners up receive between $100,000-$500,000 each!
BUT … don't just nominate—spread the word! Tell your friends and family members. Everyone can support Seeds of Peace at no personal cost. And, the links at the bottom of our Members Project page will help you send emails and even add a link to your Facebook page, etc. Let's keep Seeds of Peace running for the next generation of leaders!

To make a tax-deductible contribution to Seeds of Peace, click here.