Seeds of Peace is thrilled to have been chosen as one of State Bag's charitable partners.
Not only did they donate a portion of the proceeds from their summer bag collection to our organization, but State Bags is raising the visibility of our work and mission through its #WhatDoWeTellTheKids campaign. Watch this video featuring six of our Seeds!
And meet Scot Tatelman, founder of State Bags.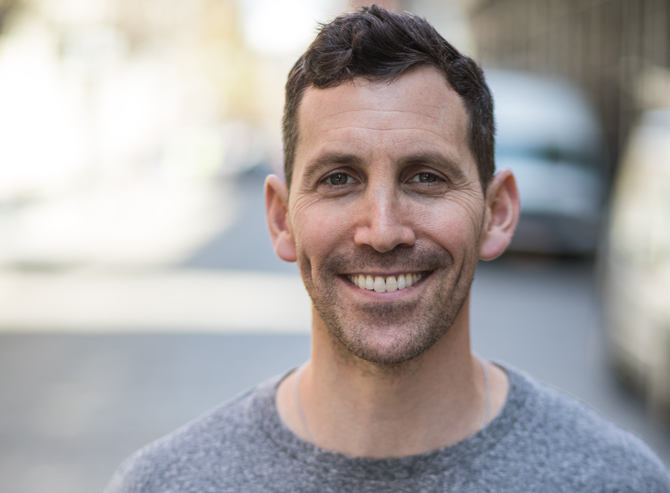 Seeds of Peace: Tell us about State Bags. We understand there's a connection to summer camp.
Scot: I've been a camp person my whole life. I worked at a for-profit summer camp in Maine and saw an opportunity to bring kids from underfunded communities in Boston to this beautiful, empty camp facility after the summer camp kids left. I worked with the Mark Wahlberg Foundation and the Boys and Girls Club. In 2005, we launched Camp Northbound and it became a huge success. It opened my eyes to giving the gift of camp to kids who wouldn't otherwise have that opportunity.
Eventually, it became a well-oiled machine and I wasn't needed anymore. I moved to New York City and worked in nonprofit in every underfunded community across the city. I wanted to take the model of Camp Northbound and adapt it to kids locally, so I put together a vision for what is now Camp Power. We bring kids from all across New York City's underserved neighborhoods and take them out of the city for a week to a summer camp in Pennsylvania.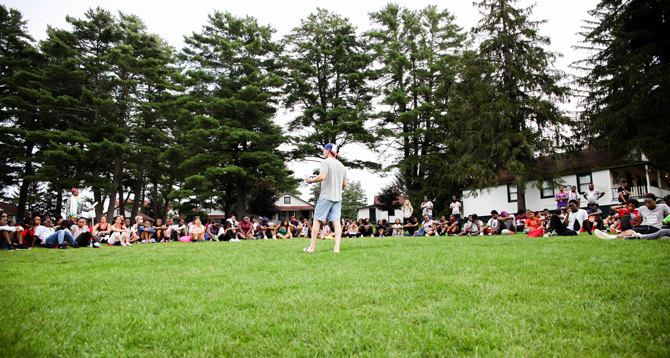 I bring up Camp Power, because we spent a lot of time in the neighborhoods where our campers live and we noticed that many kids were coming to camp, or going to school, with their belongings in ripped shopping bags. I thought 'This is nuts!' There are all these companies doing great work overseas with one-for-one models (you buy a product, and the company donates the same product to a person in need), but very few companies were focusing on kids here in the United States.
So we wanted to take the one-for-one model home to serve kids locally, but to do it with the energy and spirit and vibe of Camp Power, which is all about role models and positive messaging. We started State, which at the time was a one-for-one bag brand. For every bag we sold, we donated a fully-stocked backpack to an American child in need through our bag drop events. We went all across the country and put on rallies. We still do work with big name celebrities like Beyoncé, Chance the Rapper, and President Obama.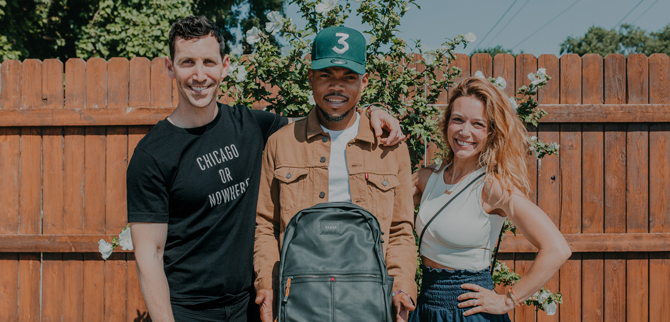 It just kind of turned into a business. I don't want to say it was accidental. But we were like 'How did this happen? We just wanted to do something good.' And now we have this brand, and part of the beauty of it is that my wife has a really deep background in fashion, which we blended with my background in philanthropy.
Seeds of Peace: What charitable initiative are you most proud of?
Scot: We started to separate ourselves from a one-for-one brand to a brand that took risks to stand on the right side of history through our What Do We Tell The Kids platform. Our first project was for Black Lives Matter, then we moved into LGBTQ issues, and then harmful language around disabled communities. We did it in parallel to what was going on in the political sphere, with people feeling marginalized and scared and fearful of their present and future. We would focus on a city or cause and find ways to shed light on that issue and work with people who were passionate about it and doing incredible work.
Seeds of Peace: What was it about Seeds of Peace that drew you in?
Scot: I can't put into words the power of camp. For me, as a kid who had the resources and was privileged to be sent to camp from 8 years old to probably too old … 27! … I was a changed person. I learned about myself, I learned that I wanted to work with kids. I shaped kids. I could reach kids on a level that I never could have in another capacity.
Seeds of Peace not only provides that gift of camp, but brings kids together into a place and does what I'm trying to do for my own kids … teach empathy. I feel like that's what's missing in the world right now. Understanding each other, and each other's differences and struggles. And I feel like the beauty of Seeds of Peace is creating that sense of understanding. State Bags is a company that's built on camp and built on empathy; there's no better organization than Seeds of Peace to rally our resources around.
Seeds of Peace: Do you see a common thread between a lot of the problems we're facing in this country and in the world?
Scot: There's so much venom and so much hate and lack of empathy right now that when issues arise, it's just fuel on the fire. I'm struggling with this—for me to find common ground with people who support the travel ban or support taking away LGBTQ rights to marriage— if you can conversate and create dialogue and say 'Tell me why you feel like this,' then maybe you can empathize with their fears. But we're at a point right now where we're short fused and everyone's angry. And that's a really scary world to bring kids up in.
Seeds of Peace: What should be the role of business in addressing some of these issues?
Scot: I'm a huge believer that if you have a platform, and you have a voice to speak to the masses—whatever those masses are—it's a responsibility. Especially in today's world. Whether you're leaning left or right, or right in the middle. This is too important a time to too many people to not utilize your voice to get people to think. We made a really kind of scary, but conscious decision that we were going to be on the right side of history and we were going to talk about things that we felt needed to be talked about, shed light on things that other businesses would shy away from. And I understand the risk. We've lost Instagram followers and email subscribers. But I'm a big believer that everybody is passionate about something and people work for companies that have certain values. It's almost a duty now for companies to take a stand on something and to use their voice to do that.
Seeds of Peace: What advice would you offer a young person today?
Scot: I know it's an extreme example but when you look at what happened in Parkland and you see people like Emma Gonzalez and these other young kids who have been part of something so tragic, and then all of a sudden just become these enormous influential people across the globe, it speaks to the fact that the power of your voice is real. And there are different ways to utilize it now. Social media, mobilizing, whatever. Unfortunately, a lot of youth feel that they're not heard or they're glazed over. But I look at the Parkland kids and they have truly created change at 16, 17, 18 years old. When young people come together for a common cause, incredible things can happen.
Have faith in the fact that there are for-profit companies out there that are committed to doing the right thing, beyond making and selling stuff. When you start pursuing your career, start to look at those types of companies if that's of interest to you. Be the change. If those companies can do things better, show them new ways. There is good out there. You just have to find it.