Congressional Record
UNITED STATES HOUSE OF REPRESENTATIVES
Tribute to Mr. John Wallach | Rep. Joe Knollenberg (R-MI) | July 15, 2002
Mr. Speaker, today I join the chorus of voices around the world to express my admiration and respect for Mr. John Wallach. On July 10, 2002, John Wallach passed away after a life of passion, hope, and heart. I offer my condolences to the family and friends of this truly great man.
Throughout his life, John Wallach approached all things with heartfelt passion. As an award-winning journalist, peace activist, and friend to so many individuals throughout the world, Mr. Wallach inspired those around him to believe in themselves and achieve their dreams.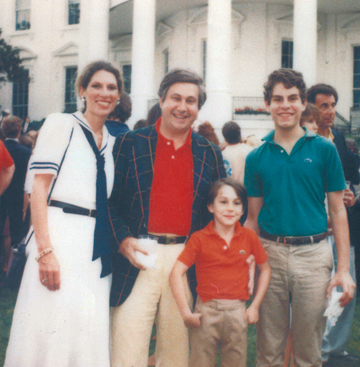 I had the opportunity to meet Mr. Wallach through his work as founder of, and force behind, the organization Seeds of Peace. Seeds of Peace promotes understanding and long-term stability by uniting teenagers from areas of regional conflict for a unique mediating program at its neutral site in Otisfield, Maine. It was John Wallach's confidence that hope and progress can succeed that enabled Seeds of Peace to grow from simply an idea into the world leader in conflict resolution for youth.
I have personally visited this camp in Maine, and seen first-hand the positive effect it has on the participants. Seeds of Peace has established a network of peace builders, who now serve as an inspirational part of John Wallach's legacy.
Before embarking on a second career as an ambassador of peace and mutual understanding, Mr. Wallach had a distinguished career in journalism and as an author. From 1968 to 1994, he served as diplomatic correspondent, White House correspondent, and foreign editor for the Hearst Newspapers. His articles earned many prizes, including two Overseas Press Club awards, the Edward Weintal Prize and the Edwin Hood Award, the highest honor presented by the National Press Club.
In 1979, President Carter presented Mr. Wallach with the Congressional Committee of Correspondents Award for his coverage of the Egyptian-Israeli Camp David summit.
As an author, he co-authored with his wife Janet Wallach, three books: Arafat: In The Eyes of the Beholder, Still Small Voices, and The New Palestinians. Mr. Wallach has also written The Enemy Has a Face.
John Wallach was a man with an enormous heart. Throughout his life he took chances to make progress, and motivated others to follow their hearts.
The world is a better place because of John Wallach, and I join many people around the world to commend him and thank him for what he has done.