Dear Seeds of Peace Community,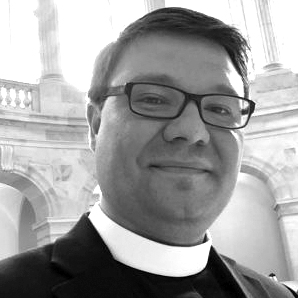 The spiritual teacher David Steindl-Rast once said that "There are many things for which we cannot be grateful, but there is no moment for which we cannot be grateful, because in every moment, even difficult ones, we have the opportunity to do something."
That commitment to do something is what unites us at Seeds of Peace. When it would be easier to sit back or give up, you have chosen to take a stand for hope, for justice, for the power of young leaders, and for the belief that we can build a better world—together.
Amid the many difficult moments of this year, I have been most grateful for the people I've met through Seeds of Peace. Over the last several weeks, I've spoken with dozens of you in virtual coffee chats, where I got to hear your questions and concerns, and your hopes and dreams.
Whether it was a dedicated educator in Pakistan, an Israeli Seed with tough questions, a faithful donor sharing stories of John Wallach, a young alum ready to take their leadership to the next level, or a passionate teen desperately waiting for their chance to get to Camp. In every conversation, and in every person I heard a persistent confidence that something really can change in our world, and a deep desire to be part of making it happen.
For that, I am grateful.
With hope,
Josh
Fr. Josh Thomas | Executive Director, Seeds of Peace
---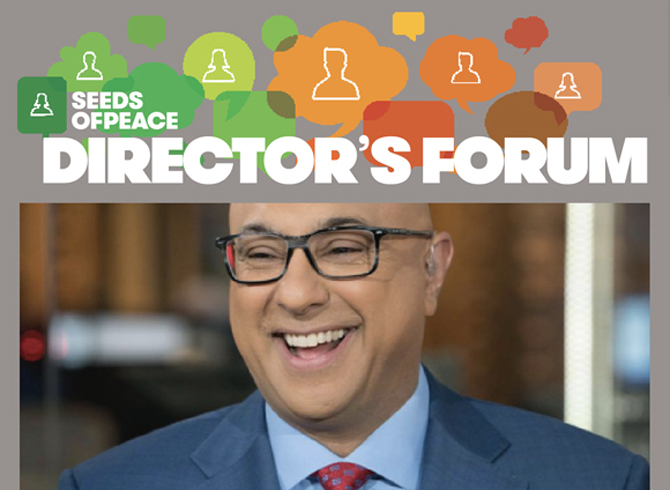 Director's Forum: "Hope for a divided nation"
Verify facts with multiple sources, seek differing viewpoints, and listen to youth: Those are a few of the pieces of advice that Ali Velshi gave in an intimate conversation last month with about four dozen Seeds of Peace alumni, supporters, and staff.
The intergenerational, interactive conversation with Velshi—an award-winning MSNBC journalist, Seed parent, and Seeds of Peace Board Member—was the first of the Director's Forum series, in which Executive Director Josh Thomas hosts discussions with thought leaders and alumni.
Attendees had the opportunity to hear Velshi reflect on covering the 2020 U.S. presidential election and what he learned in traveling across America to talk to voters. They also asked questions and heard from alumni like Sophie, a 2011 Maine Seed who was recently elected to the Maine State House of Representatives, and Danielle, a 2019 Los Angeles Seed and social activist.
Danielle asked Velshi what he thought youth like her—who want to make change but are too young to vote—could do to be taken more seriously by governments.
Citing youth-led social movements that have made progress in recent years, he responded that Danielle need not do anything differently: "I don't think you have to do anything for the world to take you more seriously. I think the lesson to the world is to take you more seriously."
---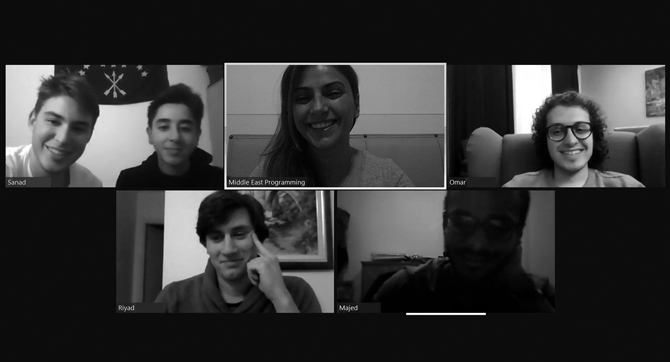 Gaining perspective on politics
With major elections taking place in the United States and Jordan this fall, local programs in those countries gave participants an opportunity to explore concepts around political systems and how real change occurs.
In Jordan, this meant a post-election day virtual meeting that explored possible reasons behind voter apathy (turnout was historically low—just 30 percent-—this year), the fundamental relationship between the state and citizens, and a question that confronts many young leaders: If you want to create a more just and inclusive society, is it better to become a part of the system and work to change it from the inside, or are other community efforts more effective?
In the U.S., a slate of online workshop series ran the gamut from exploring the radical nature of democracy, to navigating conversations across political divides, to using dialogue as a platform for change, to building concrete skills for activism in our communities.
Participants ranged in age from 6th to 12th grade and hailed from Seattle to Maine, and in the process of gaining new skills, they also formed trusted bonds with peers and learned that differences do not have to divide us.
"I often feel it's hard to bridge the gap and to discuss differing opinions with others," said Drew, a participant. "This program has helped restore my faith in having positive discussions on politics, which is something that, outside of a select circle, I had given up on."
---
Giving hope on Giving Tuesday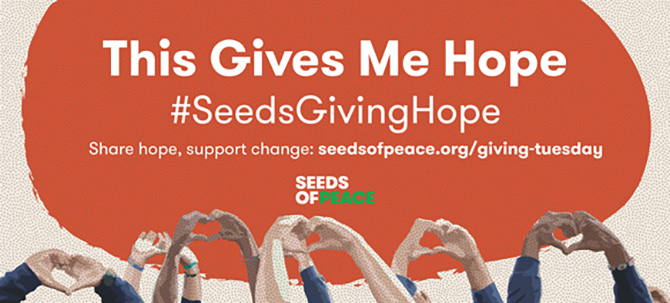 Giving Tuesday is always an important fund-raising day for nonprofits, but in a year like 2020, we asked our community to join us in raising something equally vital: hope.
Alongside dozens of participants in the #SeedsGivingHope campaign, we shared stories of alumni who gave us hope in 2020, and also raised funds to support our mission. Thanks to a generous board member, $100 was donated to Seeds of Peace for every participating post.
Thank you to all who spread hope and helped support changemakers in the process. Here are a few highlights from our community:
"What's given me hope this year? Resilient, kind individuals."
— Emily, Kids4Peace participant
"What gives me hope, is seeing our collective power in youth-led grassroots movements. The world is full of good people, working towards change, we all just need to find each other, spread love, and unite with our shared goals of making this world the best place that it can be. Forever grateful for Seeds of Peace and all that it has given me."
— Emma, 2019 Maine Seed
"In the wake of this December, I remind myself of the cold that's killing but the warmth that sustains us still. It's been a year of grief and longing, yes—but it has also been one that has taught us most about love and life and all that matters most. Not to expect too much from 2021, but I know that a lot of healing and smiling will be done—a lot of it."
— Nawal, 2015 Pakistani Seed
"One thing that has given me hope is having my family with me."
— Zeynep, 2020 U.S. programming participant
"One thing that has given me hope is the different ways I have seen people go out of their way to care for others. Whether it be through protesting racial injustices, campaigning for a presidential candidate that promotes unity, wearing a mask, or grabbing groceries for elderly neighbors, the pockets of compassion and concern for others I saw throughout this year were inspiring."
— Miette, 2019 New York City Seed
---
Looking ahead to summer 2021
Summer is fast approaching, and our team is working hard on planning mission-driven, dialogue-rooted, and action-oriented programs for the Seeds of Peace Community. As we look ahead, we know that the COVID-19 pandemic continues to pose challenges to how we run programs. We are deeply committed to offering opportunities, both in-person and online, that are safe and meaningful for all. We look forward to sharing all the program details for 2021 early in the new year.
---
Upcoming events

• December 15: Alliance for Middle East Peace's Shine a Light. Sir Patrick Stewart will be interviewing young leaders including Seeds of Peace Director of Israeli Programs Jonathan Kabiri, as we mark progress toward final passage of the International Fund for Israeli/Palestinian Peace. RSVP and celebrate (virtually) this network of peace organizations, of which Seeds of Peace is a member ››