If you've been following our work, you no doubt have heard about the Seeds of Peace GATHER Fellows.
Now in its third year, the program brings changemakers working to transform conflict from around the world together to develop their entrepreneurial skills, make crucial connections, and accelerate their impact.
This year, we partnered with SE Forum to kick off the 2018 Fellowship with a whirlwind incubator in Sweden from March 11-15—and our team kept a photo diary of the whole thing! In this post, you'll get a behind-the-scenes look at GATHER, meet the folks behind SE Forum, and learn why Sweden was the perfect environment for our Fellows to crystallize their projects.
We're excited to pull the curtain back for you guys, so sit back, relax, and without further ado, get ready for a lot of snow.
DAY 1 / March 11
Our journey began at the Sigtuna Foundation, about 30 minutes outside Stockholm's Arlanda Airport. It's a century-old cultural institution whose "principle aim is to inspire human thought and reflection … to offer an open space for people with different backgrounds, traditions and viewpoints who wish to meet, interact, and learn from one another in an atmosphere of mutual respect." In other words, it was the perfect place to begin the GATHER Fellowship!
After our GATHER Fellows arrived and, well, gathered, we spent the rest of the day getting to know each other, learning about each of their projects, and unpacking the challenges and opportunities of the coming week.
We also met up with our partners in hosting the incubator, an amazing Swedish nonprofit called SE Forum! This organization promotes, inspires and empowers entrepreneurs all over the world to use business as a force for good in addressing global challenges.
It's literally a castle!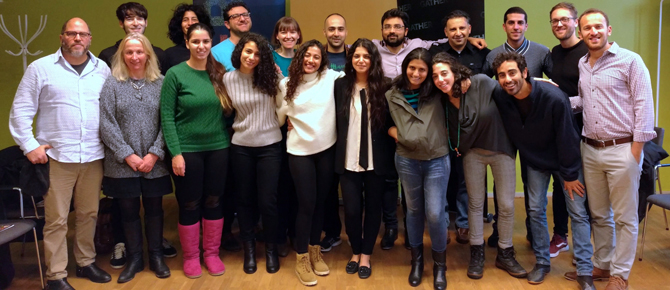 DAY 2 / March 12
The GATHER Fellows' day began with group-wide workshops in social entrepreneurship and adaptive leadership facilitated by two expert coaches, Lena Ramfelt and Elisabeth Heid.
Elisabeth focused on teaching the Fellows techniques in adaptive leadership while Lena specialized in skills to optimize social impact and create a sustainable business model.
We also made some time to visit the nearby Lake Malaren … at least until a local told us how dangerous it was to stand on the frozen lake. For some of the Fellows, this was the first time they had ever seen snow!
That night, the GATHER Fellows had their first big event of the incubator: each gave a one-minute "elevator pitch" to a group of local leaders and community members. It was a practice run for the showcase they would give on the last night.

Elisabeth Heid focused on teaching the Fellows techniques in adaptive leadership.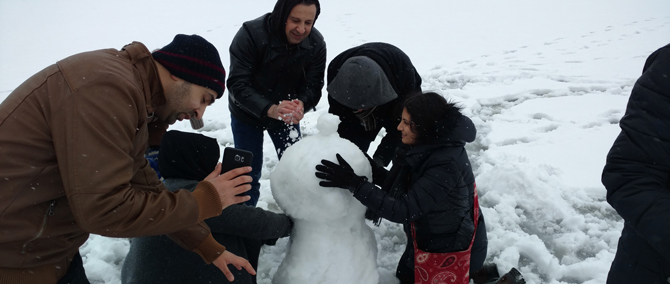 Do you wanna build a snowman?
DAY 3 / March 13
Like the day before, much of the third day was spent workshopping the Fellows' projects with Lena and Elisabeth. The GATHER Fellows also spent time in "pods," small sub-groups where they could reflect on the process, take on the adaptive challenges of their work, and find solutions together.
That afternoon, we left Sigtuna for dinner in Stockholm, where the second half of the incubator took place. Even though snow isn't exactly our favorite backdrop, the city is simply gorgeous.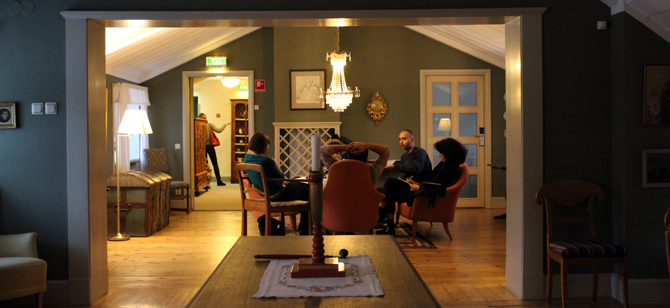 Fellows workshopping ideas in their pod. For a castle, the Sigtuna Foundation was quite cozy!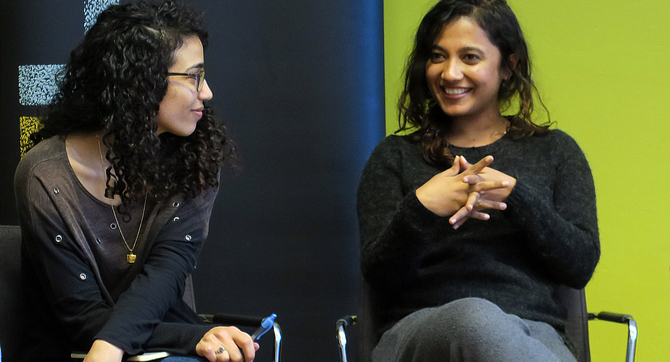 Fellows discuss breakthroughs they made after their pods.
DAY 4 / March 14
This day was jam-packed! We visited Parliament House to meet with politicians from across Sweden's political spectrum, as well as former Leader of the Moderate Party, Anna Kinberg Batra.
Sweden was the perfect choice to host the GATHER incubator in so many ways. First off, it served as a "neutral ground" for our Fellows from different countries to meet, which is not something to be taken for granted as many in our group come from regions of conflict. But as our conversations with Parliamentarians went on, we learned how Sweden is a microcosm of the opportunities and challenges faced by the world-at-large—especially regarding the ongoing refugee crisis, an issue that several of our Fellows' projects deal with.
Later, we visited Fryshuset, the largest youth leadership center in the world. You can probably imagine why Seeds of Peace would be interested in seeing it—and we weren't disappointed!

#ParliamentSelfie!

A stained glass window inside the Fryshuset.
DAY 5 / March 15
Today's the day! After half a week of extensive preparation, tonight our GATHER Fellows would pitch their ideas to an audience of business, NGO, and thought leaders who could take their projects to the next level. The Fellows spent the entire day in pods, continuing to workshop their entrepreneurial efforts and rehearsing.
The venue was at Norrsken Foundation—a cutting-edge shared space for startups known as Stockholm's "unicorn factory." (Another reason why Sweden was a great place to host this diverse group of social entrepreneurs? Stockholm is the startup capital of Europe.)
The showcase was a huge success! We were so honored to have Former Deputy Secretary-General of the UN and Swedish Minister for Foreign Affairs Jan Eliasson, but our Fellows really stole the show. Watch our livestream of the event:
The GATHER Fellows spent the last day reflecting on the past week and planning the steps ahead for their endeavors. Remember, this incubator is only the very beginning of the Fellowship: this spring alone, they'll participate in a Symposium at Facebook's NYC headquarters. As they prepared to return to their homes across the world, the Fellows were comforted knowing they now have a new set of tools to apply to their projects … and new relationships across lines of conflict.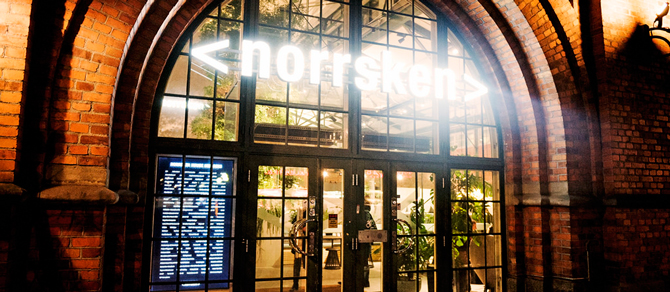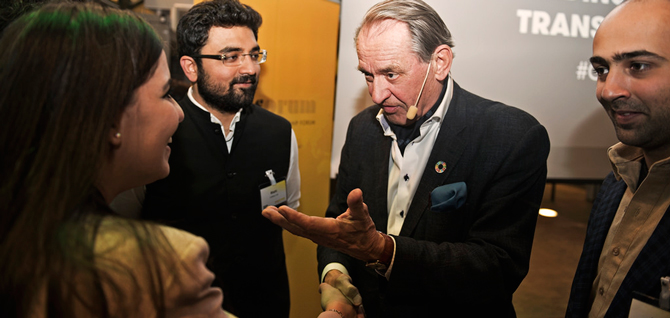 Jan Eliasson with GATHER Fellows.

PROGRAM PHOTOS