Asel Asleh became a member of Seeds of Peace in the summer of 1997 and remained an active Seed throughout his life, which tragically ended on October 2, 2000, at age 17.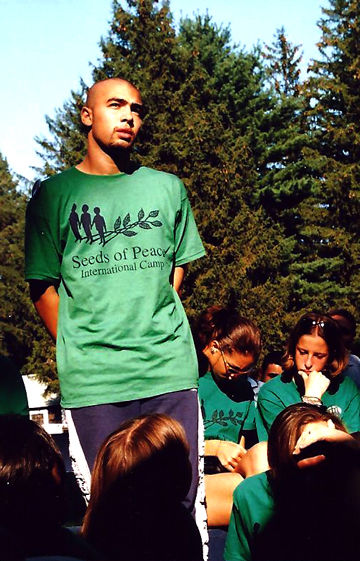 He was the first (and only) Seed to be killed in the Israeli-Palestinian conflict.
In the days following his death, scores of Israeli and Palestinian Seeds from around the country mourned for him at the Seeds of Peace Center for Coexistence in Jerusalem.
Many dozens of Israeli and Palestinian Seeds have since visited the Asleh family on the anniversary of Asel's death, and condolences have been received by his family from around the world.
Asel was deeply committed to his fellow Seeds and involved in numerous Seeds of Peace activities:
• Israeli Delegation, Camp 1997
• Peer Support, Camp 1998
• Program Leader, Camp, Session III, 1999
•One of 75 Seeds negotiating at the Middle East Youth Summit in Switzerland, May 1998
• Winter Workshop at Kibbutz Yahel, January 1999
• Homestay in the Hashemite Kingdom of Jordan, July 1999
• Emcee of the Jerusalem Center for Coexistence Talent Show, August 2000
• Originator of Seeds of Peace online correspondence, which became SeedsNet and later SeedsBook
• Host and guest of dozens of Israeli, Palestinian, and Jordanian Seeds and families
Asel was killed on October 2, 2000, by Israeli police forces. At the time of his death, he was less than a mile from his home in Arrabeh at the scene of a demonstration by Palestinian citizens of Israel.
Witnesses report that Asel took no part in any confrontation with police and was alone when he was killed. He died from a gunshot wound to the neck which appeared to be fired at close range. Asel was wearing his green Seeds of Peace t-shirt at the time of his killing, and was buried in it.
The Or Commission, the official Israeli inquiry into the killing of 12 Palestinian citizens of Israel, one Jewish citizen, and one resident of the Gaza Strip, reached no conclusion about how or why Asel was killed.
In a statement to the Seeds of Peace magazine The Olive Branch, Asel's parents Hassan and Jamilah said:
"We welcome all of Asel's friends from Seeds of Peace who have come to mourn with us. Asel spent many of his happiest moments with you, and you are welcome in our home as you were when Asel brought you here. We are not angry at any people or nationality, but at the police which caused the killing of our son and other innocent people."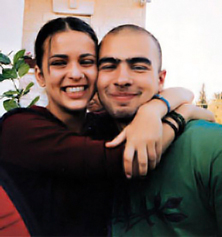 Asel Asleh was born in Haifa on May 6, 1983, the son of Hassan, a salesman, and Jamila, a teacher. He was the family's second child, born four years after his sister Nardin.
When he turned eight, his family moved to the town of Arrabeh in the Galilee along with his siblings Siwar and Baraa.
Asel attended the local school for gifted students. A classmate (and Seed) said of him, "I thought he was a snob, but wanted so badly to get to know him, because he was the star of the school."
One of the most memorable characteristics of Asel was his warmth. Asel spent many hours online, connecting with people. Some of the friendships that started online were very strong, and Asel traveled the country in order to meet the people he was chatting with. A friend wrote about him: "To this day, I envy Asel for that ability he had: be it seminars, camps or even random people on the Internet, he was a person who had the amazing skill of making friends."
In the summer of 1997, Asel attended the Seeds of Peace Camp for the first time. He was a member of the legendary Bunk 17, aka "17 Bad Seeds." Each bunk member was given a nickname taken from the movie Top Gun by counselor Caroll Lane, a former US Marine. Asel's nickname, Slider of 17, became his user name in every online program he used, as well as his email signature.
Seeds of Peace became a big part of Asel's life. He started the tradition of mass emails between Seeds, a tradition that later gave birth to the SeedsNet listserve. He took part in some of the most innovative activities in the region: the first bi-national school presentations, the first organized trip to Jordan, the first regional Purim party. The fact that he lived in a remote village never got in the way; he sometimes took four different buses to get to where he wanted to go, and he always had a friend's place at which to spend the night.
As a Palestinian and an Israeli, Asel visited friends all over the region. His Jordanian friend from Camp 1997, Sa'ad, wrote: "He visited me in my home, and I in his many times. We became a part of each other's families."
In 1998, Asel was one of three Israelis from his session invited to participate in a Seeds of Peace Summit in Villars, Switzerland. He was a member of the Declaration of Principles Committee.
Asel returned to Camp for two more summers and, more importantly, started a tradition of diligent and dedicated work within the Middle East. His quiet manner impressed both fellow Seeds and older staff. He exchanged emails long after camp not only with his bunk- and table-mates, but also with Bobbie Gottschalk, Ned Lazarus, Jen Marlowe and other staff members, all overwhelmed by—to quote Jen Marlowe's words—"his extraordinary maturity."
Asel wrote prolifically about being an Arab Israeli. His voice was loud and clear, and his devotion to this subject resonated throughout the organization. Roy Sharone describes a discussion held at Camp, in which Asel was accused of disloyalty by both Jewish Israelis and Arabs: "Asel remained unbelievably composed … he spoke from his heart and to the point. He was clear, confident, and always respectful. The group was silent, wanting to hear and understand more. Asel maintained their attention and respect, because when he spoke he took care to relate to both the Arabs and the Israelis."
In addition to dealing with his own conflicts, Asel offered support to younger Arab Israeli kids. Naeima describes their dicussions: "He told me about himself, but not as much as I told him about myself. I trusted him so much. He taught me to believe in myself and to keep my anger inside, and that I would find the right way to express it." Asel's supportive character was well known in the organization. Emma from Deir Hana describes the following after an identity crisis in a coexistence session: "My counselor Falestin gave me Asel's email and insisted that I talk to him, even though he wasn't at Camp that session."
At the age of 16, Asel started taking computer courses at the Ort Braude College in Carmiel. At the same time, he also started studying at Prophet Elias High School in Ibilin, a Christian school—a fact that settled well with Asel's pluralistic nature. His friends and teachers saw him as the symbol of leadership, modesty, quietness, happiness and independence, as they put it in a letter they wrote in his memory. After his death, the 12th grade physics class at Prophet Elias was given the name "Asel's Classmates."
In August of 2000, Asel was asked to co-host the first-ever summer talent show at the Seeds of Peace Center for Coexistence in Jerusalem with Talia. It was only two months later that he wore another green t-shirt at a demonstration on the outskirts of Arrabeh.
"Asel was a gift for our country, for our people, for the Arab and the Israeli people. He was a gift for peace. We gave him to you and we ask you to make clear that he does not want you to give up. I want to tell all the kids who year after year will be coming to Seeds of Peace that he is never going to be a sacrifice. His life was full and Seeds of Peace was what filled his life. Please take his life as a gift to go on. Hand-in-hand we'll work together. That is what Asel wants and what will give meaning to his life." — Nardeen Asleh (Asel's sister)