Our alumni are working in ways small and large to make an impact in their communities. This "Alumni Profiles" blog series will feature some of our over 7,000 changemakers in 27 countries around the world who are working to transform conflict.
For Lilly, finding harmony across identities and cultures isn't just her calling—it's a fundamental part of who she is.
After all, the 2018 Seeds of Peace GATHER Fellow is an American of Iranian descent currently living in London, and her work deepens our understanding of how we use technology to connect with others.
In that same spirit, we had the opportunity to speak with Lilly over Skype as she weathered a particularly dreary rainstorm, nonchalantly sipping tea in her cozy apartment. Suffice to say, she has made the transition to life in the UK very well.
Seeds of Peace: To start things off, what Hogwarts house would the Sorting Hat put you in?
Lilly: You know, I never actually got around to reading the Harry Potter books.
Seeds of Peace: Don't you live in London?!
Lilly: [Laughs] Don't tell anyone. I think it's a punishable offense here.
(Sorry, Lilly…)
Seeds of Peace: What did you read as a kid, then?
Lilly: I read a lot of Herman Hesse and DH Lawrence growing up—stories that have a spiritual aspect and have a deep understanding of human psychology, and that search for meaning and beauty. I also read a lot of Joseph Campbell. His approach to life really inspires me, the way he searched for universal truths across cultures. I always thought my own identity was very rooted in that.
My parents were from Iran, but I grew up in America. So I sometimes felt like I was both a part of and apart from two different worlds. The idea of what unites humanity and what makes us different appeals to me. I think I'm drawn to working with refugees because of that, because of my family history.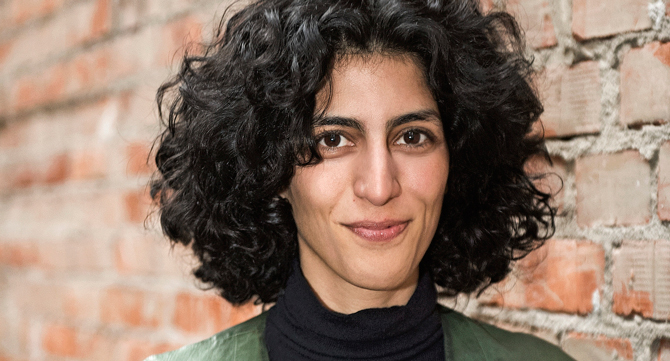 Seeds of Peace: Can you talk about what you are working on as a GATHER Fellow?
Lilly: It actually started out back in 2015, when the refugee crisis was reaching its peak. I was thinking about ways to work with young influencers, storytellers, and creators to educate society on the experience of refugees and redefine how we think of refugees, instead of just looking at them as victims. Part of that is also teaching how to successfully integrate migrants into their communities, which means understanding the needs of host societies.
We decided to do so through Minecraft. It's the most popular game in the world with almost 75 million players. So there's this huge audience, and because it's open world, there's also enormous untapped storytelling potential. I'm working with Syrian-American writer Alia Malek to develop a 45-minute interactive story in Minecraft that follows the journey of a girl who has to flee her hometown in Syria and make her way to safety.
Seeds of Peace: How are you going about developing this story?
Lilly: I travelled to Lebanon, met with Syrian refugees in the UK and France, and spoke to NGOs to craft a story representative of what young refugees are exposed to, while also being relatable to kids.
And this is how I learned about Seeds of Peace's model of dialogue and identity. The approach really appealed to me: leading by a search for commonality, while also exposing the tragic, individual realities of what young people are forced to deal with in these situations. It's important to show these hard conditions to a young audience—when I visit schools here in the UK, most children have no idea that classrooms get bombed in Syria regularly.
What really excites me about this project is looking at best ways in which we learn. Because the standardized education model is so archaic and out of touch with our societies and the future we need to build. I'm excited to shape this thing I'm passionate about in a way young people can engage with.

Seeds of Peace: You recently participated in our GATHER incubator program in Sweden. What about the Fellowship so far have you felt has been most helpful? And has anything been especially challenging?
Lilly: I've been most excited about having dialogue with people who have similar values but different experiences and initiatives. Also, being part of a network that can offer help. Working with mentors who have a lot of experience with budding projects, getting their input and guidance on turning mine into a sustainable business model, has been invaluable.
I don't like public speaking, so I've definitely been worried about that aspect of things. Seeds of Peace has offered a lot of support with it, though. "Support" keeps coming up in my conversations with people; it's been a really significant word for me recently. The power to rely on others to uplift you—it's something for which I'm grateful to Seeds of Peace.
Photos by Stina Svanberg.