2012 Camp Reports
Camp 2012 in Numbers
• 303 campers representing 10 delegations: Afghan, American, Egyptian,
Indian, Israeli, Jordanian, Maine, Pakistani, Palestinian, and Syracuse.
• 32 Seeds returning to Camp as Peer Supports.
• 23 Seeds returning to Camp as Counselors and Facilitators.
• Over 25 hours of facilitated dialogue for every Seed.
• 20 consecutive summers of Seeds of Peace programming.
SESSION ONE
Orientation Week 2012 | June 18-24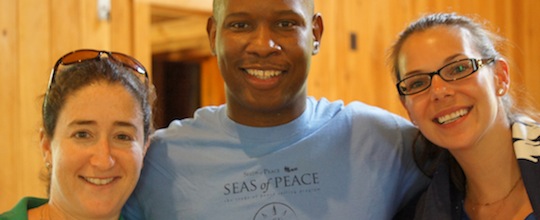 The 20th summer—and 37th session—of the Seeds of Peace International Camp is about to begin! Ever since the first session in 1993, Seeds of Peace has reached for the possibility of creating peace between enemies within a temporarily real camp community, deep in the woods of Maine. We believe that after experiencing how life would feel, living together in peace, removed from their normal reality at home, young people from entrenched conflict areas will be guided by a more hopeful quest for peace upon their return. As previous campers have said after their experiences at Camp, "We refuse to accept what is when we know what can be."
One third of this summer's staff members were campers many years ago. Now they have returned as counselors, facilitators and administrators. Other returning staff have Camp histories ranging from two to 19 summers. The entire senior staff has moved up through the ranks over the years, so they have had personal experience in many other positions.
New counselors and facilitators often come with only a vague idea of our mission and objectives. During orientation week, the heads of all the Camp and after-Camp programs meet with the staff to explain how our strategic continuum of leadership development plays out for every Seed. The Camp is the essential eye-opening experience, but the bulk of the work will take place after the campers return home as Seeds.
During orientation week, counselors and facilitators have simultaneously been trained as responsible adults while also being put into positions not unlike what the campers will experience. We expect our staff to teach by example and create an atmosphere of safety, creativity and purpose, in a Camp community so supportive that the need for discipline will be very low.
We have had extensive conversations about the developmental capabilities of adolescents, safety procedures, medical protocol and staff roles at Camp. We want the campers to be confident enough to take personal risks, but only intelligent, informed risks. We want everyone to have fun, but not at the expense of other people or of safety. And we know they will learn best within the context of positive relationships, a reassuring structure and mutual respect.
So, as we put the finishing touches on the bunks where the campers will be living, we are over the top with excitement. We know that the campers boarding their flights today will also be filled with mounting anticipation. When the buses from the airports roll in tomorrow, the sounds of welcoming music will reflect our shared excitement for a whole new summer of Seeds of Peace!
Arrival Day | June 25

Most of the campers have arrived at Camp, eaten a healthy meal, taken a shower and gone to sleep in a soft bed. Just a few more Palestinians and Afghans are still en route. As is our tradition at Seeds of Peace, the new campers were greeted with lively music and dancing by the whole staff and the campers who had arrived earlier. The long flights and bus rides from the airport generally bring the campers' emotions to a fever pitch. So joining in the celebration of their arrival seems like a natural way to let off some steam.
The new campers and returning Peer Supports, along with the Educators who accompany them, begin with a welcome by Bobbie Gottschalk, Co-Founder of Seeds of Peace, and Sarah Rubin, Assistant Camp Director. Bobbie always tells the campers that we take the Maine State motto very seriously—"Welcome to Maine, the way life should be!" And we have our own motto—"Welcome to Seeds of Peace, the way life could be!" And she points out that this camp will provide them with something they might not ever have another chance to do—find out what life would be like if they could live together in peace with their traditional enemies.
While the new campers are beginning their Seeds of Peace eye-opening experience, the older Seeds are watching from a distance through pictures and camp reports to see how this session will go. A Seed from Pakistan just wrote to his fellow Seeds on Facebook tonight, "Starting today, these new campers will get a chance of a lifetime to sort out issues between their conflicting nations and give rise to new bonds of friendship and love."
This year we have campers from Israel, the West Bank, Gaza, Egypt, Jordan, Pakistan, India, Afghanistan and the United States. The dining hall is going to be very crowded and the bunks where the campers sleep will be absolutely full. These two places are where we feel the differences in numbers. But most of the time, the campers will be outside playing sports or in the Big Hall, Small Hall and Field House, where large numbers are easily accommodated.
Our Camp staff has reached the goal we have been working toward during orientation week. With the arrival of the campers, all the planning and testing will be put into practice. Tomorrow, the first bell will ring at 7:00 a.m. and we will have our first "Line-Up" at 7:30 a.m.
First Day | June 26
With the arrival of the Afghan Delegation, all eight Delegations are present and accounted for! The Afghans who came tonight are the ones who were not able to come last summer, so while their actual trip took three days, in a sense they have been on their way here for more than a year. We welcomed them with the same lively music and dancing with which we greet everyone, but all they really wanted was to be at Camp, at long last.
The first full day at Camp is all business. The campers need to be seen by either the doctor or the nurse, make their name buttons so we can begin to learn everyone's names, take swim tests, phone home, learn the Seeds of Peace Camp Song and get six Seeds of Peace green T-shirts and two navy blue Seeds of Peace sweatshirts. The Camp Store, run by a Maine Graduate Seed, was open so they could buy necessities as well as phone cards for calling home. The counselors took their bunk groups on tours around Camp so they will have an idea where to go when they have a normal schedule.
We were worried about fitting all 210 campers into the dining hall at one time, but three very creative counselors were able to make it work by rearranging the tables. Amazingly, it doesn't even feel crowded!
We are getting more than our share of wet weather. Somehow, not a single camper complained about the rain that was falling almost all day. Most of them do not normally see this kind of weather in the summertime, so maybe it feels a little magical to have it rain like this.
Every year we watch the campers go through one eye-opening experience after another. Once they are ready to leave Camp, their demeanor and attitudes will most likely be changed from the way they were during the first few days. We give them an attitudinal survey at the beginning of Camp and again at the end. This documents the impact of the program and verifies what we know anecdotally.
Right now, you can look around at the campers and see that some are lost in their own thoughts, perhaps about home, and may be skeptical about Seeds of Peace and their bunkmates. Only time will tell if they will decide that they can really trust someone who is different and might be considered an enemy back home. After another six months, they will take one more survey to see if the impact has had a lasting effect. Right now they are living with enemies as if they were friends. It's confusing, to say the least!
Flag Raising & the Big Picture| June 27
Flag Raising Day is a long tradition at the Seeds of Peace International Camp. It gives every Delegation a chance to have its flag and anthem acknowledged by everyone else. We believe that, while at times divisive, national pride can be a useful tool.
The campers stand with their bunkmates and listen to encouraging speeches by the Peer Supports, Tim Wilson (Camp Director Emeritus), Wil Smith (Associate Camp Director) and Leslie Lewin (Executive Director and Camp Director). Many old friends of Seeds of Peace and several media representatives attend the Flag Raising Ceremony, which takes place just outside of our gates. At the end of the ceremony, the Seeds sing the Camp Song and walk through the gates into Camp, where the only flag flying will be the Seeds of Peace flag, a symbol of unity and hope.
One great thing about picture-taking is how it can bring people together. Today, all of Camp participated in a giant 300-person Big Picture. While we were getting set up for the picture, the campers spontaneously launched into a funny song called Pizza Man. Who would guess that so many people from different countries, many of whom are enemies back home, would break out in song without any prompting? It seems that humor and music can cross many borders and resonate equally with disparate groups.
Many of our normal daily activities took place this afternoon, including Group Challenge, sailing, swimming, dance, drama, Steal the Bacon, volleyball, street hockey, basketball, soccer and baseball. If you were to walk around Camp during these activities, you would see that it looks like a typical American camp, not a camp full of enemies. Living as if they are friends and family will help the campers break through the limitations of stereotypes and prejudice.
This evening, the entire Camp enjoyed a staff show meant to inform the new campers about the various activities offered here. There are so many talented staff people, but the most unusual talent is the ability of one of the counselors to recite the entire dialogue of the movie Shrek, starting from any point in the script. It is hilarious!
These first few days are often dubbed "the honeymoon." Impressive acts of cooperation and consideration exhibited by the campers can sometimes last for several days, but eventually campers will begin to let their guard down and express their displeasure openly. Since they are teenagers, they will probably test the limits and occasionally use questionable judgment. That's okay with us. It is all part of the learning experience.
Video: We Are Seeds | June 28
The Camp staff a capella group sings their version of We Are Young to campers at morning Line-Up.
A Camp staff a capella group who debuted at the Staff Show last night serenaded morning Line-Up with a song written and arranged by counselors Orlando and Adriel. Almost every Camp session has at least one favorite song and this one seems destined to become the hallmark of the session. Often the songs are re-mixes of catchy tunes that people have heard before, but there have also been entirely original compositions. One such song was called Everybody Like Hummus by Shami, a camper turned counselor and facilitator. Everyone at Camp relates to hummus; the song helps us create community.
We Are Seeds

Give me a second I
I need to get my hair gel straight
My friends are in the Big Hall
Playing Gaga like a bunch of apes
My counselors they are waiting for me
Across the Dining Hall
My seat's been taken by some PSs
Asking 'bout a call …And I know I waited for you months ago
I'm trying hard not to submit
But between the talks and subtle things
The doubts in my philosophies
You know I'm trying hard to get on track
So if by the time the Camp closes
And you feel like falling down
We'll carry you home …Tonight we are Seeds
We can change the world together
Make it better
Every day

Now I know that I'm not
All that you got
Guess that I
I just thought
Maybe we could find new ways to fall apart
But our Seeds are back
So let's ring the bell
'Cause I found someone to carry me home

Tonight we are Seeds
We can change the world together
Make it better
Every day Carry me home tonight
Just carry me home tonight
Carry me home tonight
Just carry me home tonightThe world is on my side
I have no reason to run
So will someone come and carry me home tonight
I can see the lake
It's never far away
So will someone come and carry me home

Tonight we are Seeds
We can change the world together
Make it better
Every day

So if by the time the Camp closes
And you feel like falling down
We'll carry you home … tonight.

Lyrics (by Orlando; arrangement by Adriel)
Special Activities | June 28
On a perfect Maine summer day—defined as 75 °F, a gentle breeze and lots of sunshine—we began the third day on a normal Camp schedule.
Each bunk had 30 minutes to clean its cabin, after which its efforts were scored on a 1-10 scale. A member of the senior Camp staff, Simonson, inspected the level of tidiness in each bunk, adding points for poetry and cute stuffed animals. The entire bunk was examined; if a counselor's bed was messy, Matthew docked points from the score. The Peer Support girls got a full 10, but the PS boys were not so neat and didn't include poetry.
This was the first day of "special activities" created by groups of counselors based on their particular talents and campers' interests. Activities included gardening, nature study, tie-dye and a digital photography course. Some special activities have implications that go beyond a particular session. Gardening, for example, is a carry-over from last summer, although it has expanded in scope thanks to a memorial donation.
Tonight there were PSs roaming around the Camp in twos, arm-in-arm. They were taking turns leading their partners—eyes closed—through their home towns, describing how everything looks and explaining the cultural values associated with town landmarks.
When they completed their strolls, several pairs were seen giving each other a hug. This exercise provided a safe and non-confrontational way for each to share their personal reality with someone who lives in a completely different environment.
Even though the PSs have been to Camp before, they would tend to interact primarily with their own delegation members if not challenged to leave their comfort zones.
Getting to understand people from the opposite side of a conflict as human beings is essential to being able, someday, to build a secure, just peace between them.
Group Challenge | June 29

Camp activities complement the 110-minute daily dialogue sessions. Campers are exposed to many different kinds of activities, with various degrees of difficulty depending on the life experiences and talents of the individuals. Sometimes the activities are familiar, like soccer or basketball. But baseball, softball, water skiing, swimming in a lake, canoeing, sailing, dancing, lacrosse, Frisbee and Ga Ga are often new.
Group Challenge activities are directly related to the dynamics in the dialogue groups. The Group Challenge counselors begin with challenges that expand communication skills and promote cooperation. The solutions to the challenges usually are not readily apparent and require imagination. As days pass, the campers are faced with increasingly more difficult sets of challenges on the low and high elements of the ropes course, the climbing wall and the zip-line.
In the Art Shack, campers are also working on projects that expand their understanding of humanity. Today, for example, campers were answering, in art form, the question, "What do all human beings need?" Some limited their lists to what they need; others considered the needs of others. The actual works of art were not as important as the thought that went into them, but many creations would also be considered substantive artwork.
In the yoga class, campers stretched and reached, in a calm atmosphere. The Girl Power special activity built confidence in young women, both physically and psychologically. Campers in Stomp! made music with unusual instruments—found objects from all over Camp. This stretches their imagination and appreciation for music in a broader sense.
We believe that the leaders of the future need to be compassionate and courageous and need to expand their "circle of concern" beyond their own people to include as many others as possible. One of the special activities at Camp this session is called Random Acts of Kindness. The campers are actually studying the elements of kindness and are promoting kindness all over Camp. They decided to look for random acts of kindness and reward the people who act kindly with necklaces made of rope and a bead. For example, one female counselor was wearing one of these homemade necklaces today because she quietly cleaned up the staff meeting room, on her own. Of course, the chipmunks who explore the staff room at night might not think this was an act of kindness!
Counselors | June 30

Counselors have the best jobs at Camp because they are the ones who spend the most time with the campers and have the greatest latitude for creativity. While the schedule is packed with activities, the nature of each activity is largely in the hands of the talented young adults who form the counselor staff. No one tells a counselor exactly how to teach art, water-skiing, cricket or Frisbee—the counselors come up with their own methods. And in the back of their minds they remember that people learn best when they are enjoying the lesson.
Working together, sharing ideas and experiences, the counselors learn from one another and depend on each other to get through the summer. The bonds that develop between the counselors extend well beyond the Camp setting. They seem to keep supporting each other years after their counselor roles are over. So it was no surprise today when several former counselors came to visit Camp and fell right into the routine of the community they still cherish.
Associate Camp Director Wil Smith reminded everyone today that this is the campers' time to listen, learn and respond. No one should be told what to say or how to react. This is the camper's time; it is all about them. Later on, Wil spoke to the Delegation Leaders to reassure them about the objectives we have for the campers. Camp is a safe place, where making up one's own mind is supported.
In the evenings, we usually do something enjoyable together as a community. Tonight the campers chose songs for their bunks to lip-sync. They had 20 minutes to practice and then their performances were judged, like a "Seeds of Peace Idol" show. The winning bunks will be announced in the morning.
Seas of Peace | July 1

Two birthdays graced our day, one for a camper and one for a counselor. Both celebrants wore colorful paper crowns and were congratulated all day. We try to have a cake for each person who has a birthday at Camp. We pound on the tables, sing the birthday song and then insist that the birthday person skip around the room, twice! Having a Seeds of Peace birthday is a major deal.
All of the Seeds participating in Seas of Peace, a sailing and dialogue program in its second year, came to Camp for the day. Since they had been at Camp from one to three years ago, many of the Peer Supports knew them and were overjoyed to see them again. They sang their signature Seas of Peace Shanty to our campers, revisited their favorite parts of Camp and joined a spirited kickball game.
They have been learning to sail small boats for the past few days. In a few more days they will set sail on a tall ship 125 feet long, going from Maine to New York, ending their journey in Boston Harbor. All of them will participate in four-hour watches in rotation, even during the night. Three counselors and two facilitators are leading the program.
Tonight's activity was meant to make up for the fact that the noise level in the Dining Hall is too loud for serious discussions. Table groups met in a quieter and more spacious setting to have substantive conversations. They were given prompts such as "Tell us about your family." The evening got increasingly more serious, ending with prompts such as "Tell us about a challenge that you've faced." Since the campers already knew each other, after eating twenty meals together, they had little difficulty sharing personal information with one another tonight. Many campers who ordinarily do not speak candidly at the table found the informal conversations in a quiet place much to their liking.
Visiting Seeds from past years are welcome at Camp, as long as we have prior notice. Today's visitors came from all over the world, as far away as Yemen and Afghanistan, and as close by as other places in Maine.
Reflections | July 2

What a difference a week makes! Seven days ago, buses were rolling into Camp with very tired but excited teenagers from the Middle East, South Asia and the United States. As soon as they emerged from their buses, music and dancing made them feel welcome, but not comfortable. They were nervous or even frightened about what they had gotten themselves into. Most of them fell asleep the first night due to sheer exhaustion, not because they felt relaxed.
Seeds who succeeded at Camp in past years have told us that Camp is where they were able to be the person they wanted to be. They felt like better human beings when they began to see the full humanity in people on the other side of their conflict. And they felt like they could have a positive impact, thanks to the leadership skills they were able to hone in a variety of Camp activities. This is why Camp feels like a second home for Seeds.
Much of the learning is challenging but is done with good humor and support. Almost all activities are framed as individual accomplishments building toward a larger group objective. By simultaneously building each person's strengths and creating something they can all look to with pride, we are forming strong foundations for both the camper and the community.
We try to recognize the campers who learn how to swim and water-ski as well as those who clean their bunks well. We also publicly recognize when the whole group improves its behavior—for example, when campers give others standing in line to call home the chance to do so. We believe that building individual confidence while forming the Camp community will create a solid bank of memories to guide the Seeds for the rest of their lives.
When Camp is in session, Seeds all over the world wait for new pictures and videos to be posted. They readily admit being envious of the new campers. They even cling to the notion that the Camp will be the same as in their days, asking for pictures of their bunks and wanting to know where their artwork and signs are now. They want the people at Camp, as well as the music and other activities, to stay the same. But Camp is a temporary reality. The campers with us now will leave in two weeks.
Maybe they won't remember the particulars of playing cricket or Steal the Bacon, but they will remember how great it felt to learn the sport together with young teens from the other side of their conflict. Perhaps, years from now, they will get the words mixed up, but they will always remember learning new Camp songs with their "enemies" at Line-Up before meals. And maybe they won't remember the pat answers their governments gave them to use in dialogue, but they will remember when they had the courage to express their own thoughts, based upon their experiences here. They will always know, because they have created it, that true peace is possible.
Ga-Ga, Seas of Peace and DLs | July 3

The Peer Supports left early this morning to volunteer at a daycare center for a diverse group of toddlers. They loved it! Then they went to the Portland Harbor and bade goodbye to the Seas of Peace crew, who were embarking on their sailing journey to New York and then back to Boston. Tomorrow the Peer Supports will march with the Educators in the Fourth of July parade through the tiny town of Otisfield. The Educators returned from two days of living in tents on Cow Island off the coast of Maine today. Asked about how this adventure went, they said on a scale of 1 to 10, it rated 100!
Camp feels like a new and exciting home to most of the campers now. They want their pictures taken in small groups, which often mushroom into larger groups as soon as the camera is visible. Campers are putting arms around new friends, sitting closer to each other and laughing at the same things.
Uncharacteristically, the Educators are progressing faster in their dialogue groups than the teens seem to be. We don't know why that happened this time. But the campers will soon catch up if the facilitators can help them get beyond their prepared strategies from home and give up on "winning" the argument and open themselves up to critical, original thinking. Honesty can be hard!
Tonight we had an all-Camp "World Cup Ga-Ga" game in the Big Hall. The campers were divided into four country teams: Spain, Argentina, Italy and Brazil. With 210 campers competing at once, it is not hard for people to cheat. In this game, if you get hit by the ball below your waist, you are supposed to drop out. But some campers were seen coming back into the circle after they had been hit. The thrill of winning sometimes gets in the way of honesty. They need to realize that cheating is an admission that the cheater doesn't feel skillful enough to win within the rules.
Parade and Peer Supports | July 4

On their way back from bidding goodbye to the Seas of Peace campers yesterday, the PSs stopped at the Portland Lighthouse beach. They discovered a hillside just right for rolling downhill, and when tasked with the challenge of creating a song for the Fourth of July Parade in Otisfield today, the words were all about that experience of rolling down the hill together. There are two PSs from every delegation at Camp, so a spontaneous fun activity helps the group bond.
The Otisfield Fourth of July parade is typical of small-town America. More people are in the parade than watching it. Otisfield, small as it is, still has to make an effort to make sure everyone knows and supports one another. The people living here year-round are proud that Seeds of Peace is part of their community, and we are happy to participate in their yearly celebration. After the parade and awards, the fire station turned on fire hoses spraying red, white and blue water over a field. Anyone who wanted to could run through the water to cool off. Our PSs loved doing that so much they did it over and over again until they were completely drenched.
The PSs are returning campers who have their own separate program in addition to being guides for the new campers before and during Camp. They are natural models for the new campers since they come from their own countries and have gone through the Camp program and have been working for peace ever since. This year, in addition to having a very strong leadership component to their program, they also have strong connections to helpful projects going on in their home communities. Before coming to Camp, they each found projects at home that intrigued them and arranged to contribute to them after their Camp training.
We saw a lot of fireworks today, some man-made and some from nature. We dodged a series of thunder and lightning storms after dinner and then the little towns around us were setting off fireworks as the campers went to bed. We warned them about the booming sounds accompanying the colorful lights. No doubt some were reminded of scary memories, but most enjoyed the show from the windows of their bunks.
Dialogue and Group Challenge | July 5

This week will be harder for almost everyone. This is the time we get below the surface in Dialogue and try to trust people on the other side of our conflicts with true feelings—not with whatever we have prepared to say before coming to Camp. If we were to paper over the emotions currently inside of us, we would achieve very little that would endure. By delving deeper, now that most people have begun to recognize our common humanity, we have a better chance of establishing strong relationships and mutual acknowledgment of human needs and suffering.
This is a time when even the most optimistic among us question whether or not we will successfully help people care enough for each other that they will want the best for them. This is the time, as Wil Smith explained this morning, for those who want to take the risk of trusting someone, to take it. Dialogue sessions are going to be more difficult to tolerate, even for Americans. But once we get through this period, as we have for 36 sessions already, we can afford to be optimistic.
Group Challenge is a program that runs parallel to the Dialogue Sessions. The Group Challenge counselors are trained to support the dialogue process. Today most groups were working on the low elements of our ropes course. In an effort to encourage the quieter members of the group to take some leadership within the group, the strong leaders are usually told not to speak or are blindfolded. Once the emerging leaders have led their group successfully in the physical Group Challenge, they are likely to continue to take on more of a leadership role in Dialogue, as well.
Tonight all of Camp took part in "Choose Your Own Adventure." A variety of special activities were available to the campers. These included Seeds of Peace Stories with Bobbie, Meditation, Beat Boxing and A Capella, Karaoke, a Mystery Mission, Rock Climbing (on the climbing wall), Nighttime Baseball, Boat Building, a Campfire, Fitness, the Zip Line, a Salon for Hair and Nails, a Scavenger Hunt, a Secret Art Project, a Woodland Adventure (creating a shelter out of woodland materials), and Street Hockey. Everyone—both leaders and campers—seemed to enjoy the chance to choose their own evening activity.
Sports Day and Bunk Night | July 6

Earlier in the week, counselors held tryouts for boys soccer, girls soccer, boys basketball and girls softball. Those who made the teams had three days to practice together before playing against a nearby camp. It was a hot, sunny day, with little wind to cool the active bodies on the field and players consumed copious amounts of water.
All the teams were excellent, but keep in mind that the Seeds of Peace teams consisted of campers from opposite sides of their conflicts. The other teams were all Americans. You only have to watch a few of these games to realize that the objective of "winning" trumps all other considerations. Team rules and loyalties take over, from the first throw or kick of the ball to the final whistle.
Those campers not on a team spent the day cheering for Seeds of Peace, having painted their faces and limbs with peace symbols. By the end of the day, Seeds of Peace had won the boys soccer and basketball games, but had lost the girls softball and soccer. Most of the girls were playing softball as novices and for many even soccer was something untried until they came to Camp. All of our team members displayed good sportsmanship toward the visitors, who returned the friendliness.
Since this was Friday, Muslims and Jews at Camp held worship services and allowed campers from other religious backgrounds to observe, including the visiting teams from the other camp. On Sunday we will have worship services for Christians.
Tonight was Bunk Night, during which counselors led activities for their bunk. One girls bunk learned rock-climbing on our climbing wall. Another played a Quidditch match, as described in the Harry Potter books. A couple of bunks separated into dyads and walked around Camp or sat in a quiet place, talking about their lives at home. Counselors in another bunk led a series of exercises to enhance mutual trust, like the "trust fall." The activities seemed like a good way to end a very strenuous day.
Creating community | July 7

At 7:30 a.m., 208 teenagers come together and sit on benches for morning Line-Up. They have the option of gazing at the calm waters of Pleasant Lake before them or paying attention to the announcements about the schedule for the day. And if you gave them a choice between going back to bed and eating breakfast, they would probably choose the former. This is the audience Wil Smith addresses almost every day.
Wil begins by making some observations about the way Camp is or isn't coming together as a community. Then he raises the bar of expectations to a level that is a stretch but ultimately achievable by those willing to make use of this unique opportunity. This morning Wil spoke about their having the chance to create a new narrative, incorporating what they have been learning about the people they expected to hate and distrust. There comes a time when sticking to the same old narrative, over and over, doesn't make sense anymore. Wil asked if anyone felt that, after all this time, he or she had convinced the people on the other side of their conflict of anything. No one raised a hand.
Many years ago, a Jordanian Seed named Shouq was asked to make a presentation when a group of Palestinian, Israeli, Egyptian and Jordanian Seeds were having a reunion in Jordan. King Hussein had invited the whole group to his palace. When Shouq considered all the possible things she might say, she eventually reduced it all to one sentence: "In order to make peace with your enemy, you must first go to war with yourself." Wil referred to that quote this morning, and it seemed to resonate with the campers.
If you were to roam around our Camp, you would encounter campers in dialogue or in other activities such as gardening, reenacting movies, composing music, putting together a dance performance, playing volleyball or Australian football, and creating artwork. You would also find some of them advancing from the low elements to the high elements of the ropes course. The introduction of the high elements closely parallels the goals of dialogue. Both require "pulling your own weight," one literally and the other figuratively, and are very hard work.
Along with the increased challenges is an increased level of comfort and attachment to this place and the people currently living here. During free time, you will always see groups of campers sitting on a sturdy fence near the Line-Up area, with others gathered next to them. These are integrated groups, just chatting like old friends or family members. The same type of group can be seen sitting on rocks nearby. Camp is becoming a real community, however temporary.
Footy & International Dinner | July 8

Australian football, also called "footy," was the highlight of the day. For over a week now there has been a special activity every day to teach campers the sport, and today the Boston Demons came up to Camp to assist in instruction and just have fun. Some of our counselors have been playing this game for years, but it is not well known in the United States. It seems to an observer quite a bit less aggressive than rugby or American football. At Seeds of Peace, it is played on the soccer field. The players run from one side of the field to the other and seem to be in perpetual motion.
We moved the evening Dialogue Sessions to the afternoon so we could devote the entire evening to an International Dinner. A savory meal was prepared by the Delegation Leaders—quite an exercise in cooperation, as our kitchen can seem rather small with 15 cooks! Two-thirds of the way through the Camp session, food that tastes more like home-cooked meals was very welcome. The campers were counting on them to do a good job. One of the nicest aspects was the way the foods from the Middle East, South and Central Asia, and the United States tasted together on our plates. It was a good metaphor for our Camp community.
The International Dinner was made especially beautiful by the array of traditional clothing worn by the campers and adults. Intricately-embroidered dresses and shalwar kameez graced our gathering. Many of the Israelis dressed as kibbutzniks. Others from various Delegations just took a shower and put on their party clothes. After the dinner, held outside by the lake, dancing and singing brought everyone together.
High Ropes & changing faces | July 9

Just at the point when the campers are being challenged in their daily Dialogue Sessions to really listen to the personal stories of their counterparts from the "other side," they are being challenged on the high elements of the ropes course to do things that seem just as impossible. The risks of vulnerability and empathy in the dialogue group are no less daunting than the risk of meeting and trading places with your "enemy" forty feet in the air on a thin rope.
Faces have changed so much during this session that one might think a whole new group of campers had taken the place of the one that started Camp two weeks ago. Fear, anger and holding back have given way to confidence, warmth and genuine interest in learning. Just when we think we have challenged the campers to their limits, one of them will ask to do the high ropes blindfolded, and his partner will overcome his own concerns by helping him "see" where to put his feet.
Campers are squeezing in practice for the Talent Show on Friday. We also have three other camps sending sports teams over to us tomorrow. Half the Camp will be involved on the fields playing the sports and the rest of the campers will be cheering for Seeds of Peace like crazy.
We are having a great stretch of sunny, breezy weather with the kind of high-definition views Maine is famous for. All the sailboats and canoes have been out on the lake all day. Many campers are having the opportunity to learn how to water-ski as well. Pleasant Lake is living up to its name.
Competition and friendship | July 10

Friendly competition is the hallmark of American camps. Good sportsmanship requires the players to accept the decisions of the referees and play by the rules. To win the game is the goal, but to win the game while building strong character in each of the players is the ultimate goal. To this end, our Camp doesn't allow booing or cheating. Nor do we separate the teams by nationalities. All of our teams have a nationally-balanced composition. Everyone cheers for the Seeds of Peace team but is polite and welcoming to the visiting teams from other camps.
Today we had three separate camps visiting us to challenge our teams in Ultimate Frisbee, baseball and girls basketball. It always amazes us that our teams play so well together, since they are comprised of traditional enemies from diverse backgrounds who often are new to the games. Frisbee and baseball are completely new to the campers, but their competitive spirit is so strong that they achieved tied scores in both games. As for basketball, the Seeds of Peace team was trouncing the visitors so badly that we had to join our team members in an even split to make it fair.
For the past two days the Peer Supports have been on a diplomatic trip to Washington, DC. They met with high-level officials in the US State Department and at the United States Institute of Peace and had the opportunity to ask thoughtful questions about US policy in their regions of conflict. Leslie Lewin, our Executive Director, and Janet Wallach, a Seeds of Peace Board Member, accompanied them on these official visits.
The "vertical playpen" on the high ropes course got a workout today. There are many ways to climb to the top of the tires and bars on this elevated construction. Although it helps to have a lot of arm strength, two of the smaller girls were able to make it to the top and sing the Seeds of Peace song while standing up high above the treetops.
A special activity called "Leave Your Mark" has made some interesting improvements to our place by Pleasant Lake. They created a large map of the whole Camp out of wood to be hung in a central place, so people will have an easier time finding their way. They also created signs with two handprints, instructing campers to place their hand next to a stranger's hand until they are no longer strangers. On this tenth anniversary of John Wallach's passing, nothing could be more appropriate.
Picture Day and Cafe Night | July 11

Picture-taking can serve many purposes; it isn't just for fun. When we take pictures of all the bunk, table and dialogue groups, you literally can ascertain the main characteristics of these groups. The people in each group determine together how they will arrange themselves. Some are very creative and visually attuned to the impressions they want to make, some borrow ideas from others, and some simply stand rigidly in a line. One favorite arrangement is to carry some of the people, usually counselors. This year, we have one unusually tall counselor who needed no fewer than five campers to stay aloft!
Perhaps the most impressive photograph was the one of all the counselors. It is quite apparent from this group picture, even though it is a large one, that the counselors are together, united in purpose and friendship.
It has become a tradition at Camp to remember John Wallach, who passed away ten years ago, with a Café Night hosted by the Peer Supports. We began the evening by showing the video played during John Wallach's memorial service, which was held at the United Nations in 2002. Then all of the campers and counselors went to the Dining Hall, which the Peer Supports had decorated in a festive manner. Many nice desserts were served.
The goal of Café Night is to inspire new friendships by asking each person to find someone with whom they haven't had a conversation yet and then sit down together and chat. John used to encourage the campers to "make one friend from the other side." He believed that one good friend could break through the barriers of suspicion, fear and hate that tend to be associated with war-torn populations. It is a simple concept, but it often works. Some of the Peer Supports, in fact, had become friends on Café Night when they were at Camp the first time. We stayed up a little later than usual, but it was worth it.
Interfaith dialogue, Sea Dogs | July 12

There really aren't too many dull moments at Seeds of Peace. Even the morning Line-Up can become a show, like today, when a flash mob from the "I Love to Sing and Dance" special activity created a musical performance right on the Camp road as the campers were on their way to breakfast.
In sharp contrast, we had very serious discussions about religion in interfaith dialogue groups made up of individuals who are Muslim, Jewish, Christian, Hindu, atheist, or none of the above. Small groups of ten campers and two counselors spread out all around the field outdoors. Using "I" statements, they explained what they believe, spiritually, to the others in the group. A week ago, this kind of discussion would not have been as civil or meaningful, but by now, the campers are able to listen to each other, even when they do not agree.
Tonight we took the entire Camp to the Portland Sea Dogs game. True to form, the campers enjoyed socializing, eating junk food, and cheering much more than watching the actual game. But this game was special for two reasons: one of our Seeds, Mujib, was given the honor of throwing the first pitch, and, by some good fortune, the Sea Dogs won!
Talent Show and Color Games | July 13

As the campers focused their attention on their Talent Show performances, fourteen counselors, selected to be Color Games coaches, were busily preparing for two and a half days of competition between two teams. Little did the campers know that they were already selected for a new delegation, either Blue or Green, until Wil Smith delivered the news to them at the fire pit by the lake amidst much fanfare and commotion.
The Talent Show had an unusual number of original compositions, both musical and dramatic. The Seeds of Peace Band and Singers performed "It's a Beautiful Day" at the beginning of the show. Counselors worked on the technicalities behind the scenes while the Peer Supports introduced all the acts in an entertaining way. Four delegations presented national dances. One camper road a unicycle while juggling four balls. Another camper was a magician. Slam poetry and one-act plays were also performed. Some campers wrote their own songs or wrote different words to old songs.
The Talent Show ended with counselor Leila singing "Last Night I Had the Strangest Dream," John Wallach's favorite song. All of a sudden, the lights dimmed and the counselors came screaming into the Big Hall with colored lights. The Peer Supports began to chant "Color Games" and "Hajime!" All the adults left the Big Hall and formed sides of a torch-lit path to the fire pit. Then the Color Games coaches were introduced with all sorts of hoopla and the campers found out what their new identity would be for the next two and a half days. A very memorable night!
First day of Color Games | July 14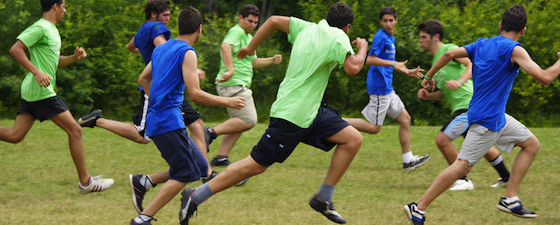 We always begin the first day of Color Games with a rope pull. First, all of the girls from the Blue and Green Teams oppose each other on the long rope. "One, two, pull!" is heard on both sides, while they are cheered on by the boys and the coaches. Once there is a winner for the girls, the boys take over the very long rope and try to win the same way. After a winner for the boys is decided, there is an all-Camp rope pull with both boys and girls. Each team has slightly over 100 players.
Campers eat at team tables for these Color Games days. Following each meal, the cumulative scores are announced. At lunchtime today, the Green Team was ahead of the Blue Team by 25 points, but by dinnertime, the scores were identical. After dinner, there were All-Star Games of basketball, soccer, Frisbee, volleyball and rock-climbing. There were also creative music and art competitions, as well as a cake decorating challenge.
All of the Color Games activities are meant to bring campers closer together through individual and group risks or stretches beyond what they think are their limits. Everyone has a chance to stand out as a brave participant and receive the gratitude of their peers. Originally, all the campers were chosen to come to the Seeds of Peace International Camp because they demonstrated leadership qualities, but living with so many leaders can discourage some campers from taking opportunities to learn. In Color Games, the strength of their characters is tested and made apparent. Older Seeds tell us that these challenges at Camp made them much more confident and strong for the rest of their lives. It seems that there is more to "winning" than today's victories.
Second day of Color Games | July 15

On the second day of Color Games, the competition gets more intense. All of the competitive sports are All-Star teams.
Before breakfast, the "Race for Peace" pitted superstar runners against each other in a relay race that circled the entire Camp. There were separate races for boys and girls. At this point, the scores were fairly even, but as the day wore on, the Green Team pulled way ahead of Blue.
It got very hot for a Maine summer this week and a jump in the lake in the middle of the day is a must! The campers have Kiss My Face natural soap they can use in the lake if they want to get clean as well as cool.
In between all the athletic activities, the two teams were preparing for the Variety Show, which incorporates competitions in instrumental music, dance, drama, a capella, comedy, and the performance of a song that includes everyone on the team. There are very strict rules about the length of each performance, who can appear onstage, etc. Eleven judges from the Camp community gave them grades on each act, but the teams will only find out tomorrow who beat whom in performing arts. At the close of the Variety Show, we all stood together and sang our Camp Song.
Before breakfast tomorrow, ten girls and ten boys each from the Blue and Green Teams will in turn paddle a big wood "Indian peace canoe" from the girls dock to the beach in front of the first two Pines cabins. It is a long haul, but once they have reached the beach, they will touch Wil Smith, who will be standing in the water, and then a runner from their team will go as fast as possible to the Camp bell and ring it.
There is only one half day left of Color Games. Tune in tomorrow for the results!
Back to SOP Green | July 16

All four rowing teams for the pre-breakfast Peace Canoe race paddled smoothly to the finish line: Wil Smith standing in the water up to his waist. The Blue Team won the girls and boys races, and although they didn't know it yet, they had won most of the Variety Show last night as well. So the two teams were no longer hundreds of points apart, and in the end, it all came down to the 109-station relay race we call Message to Hajime.
The message part of the relay race comes at the end. Each team selects someone who can memorize passages accurately and quickly. Today they were given a quotation from President Kennedy about creating peace. It was somewhat difficult, but not impossible to learn. Wil Smith tested one of the messengers and Bobbie Gottschalk tested the other. The Blue Team finished two minutes ahead of the Green Team, winning Hajime and Color Games.
The winning team gets to run into the lake before the "second winner." Soon they were all together frolicking in the cool water. They were excited to have the competition decided. The two teams reunited, and as the whole group pulled together, they formed a huge circle. Everyone sang the Seeds of Peace Song together. It was a wonderful—and familiar—sight and sound.
A long and necessary rest hour (or two) followed a lunch cook-out. The campers were then given scrapbooks, in which they wrote notes to each other. We also had a long sheet of paper posted on the wall of the Big Hall for them to record their favorite times at Camp. No prompting was necessary as they eagerly wrote all over it.
Following dinner, we had our traditional memorial service for Asel Asleh, the only Seed who has died as a result of the conflict in the Middle East. Bobbie and Wil, who knew Asel well, were able to speak about him in a personal way. Several PSs either read a piece that Asel wrote or composed their own words. We also had beautiful music by counselors Will and Leila, and counselor Mujib read a passage about using your voice to speak out about what is important. In addition to feeling a variety of emotions due to the presentations, the campers were also sad to leave each other, so there was a good deal of crying and hugging at the end of the service.
A bonfire and singing—at times funny and poignant—lifted the mood of the Camp. Color Games Coaches spoke to the campers and Wil Smith spoke at length about not slipping back into old patterns of blaming and defending.
Last day and departure | July 17-18

Instead of the usual bell that gets us up in the morning, we were greeted by upbeat music broadcast from the Big Hall. The music attracted everyone to the field in front of the building. From the porch, none other than Wil Smith sang a few songs. Then when we ventured down to the Line-Up area, we found that our usual theatre arrangement of benches had been transformed into a large circle. The PSs had changed things around to emphasize the circle of love that has transformed our Camp community in the past three and a half weeks.
At Line-Up, Bobbie invited the campers and counselors to a Quaker Silent Meeting. She explained that Quakers meet in silence to share the light of God found within each soul with each member of the community. Out of the shared silence, people who are in touch with their inner goodness may feel called upon to share their insights. Attendance was voluntary, but the entire Camp showed up and filled the space in the Big Hall. Several people had attended Quaker schools, and some were Quakers themselves. They helped explain the beauty of this kind of worship service. The campers changed the protocol a bit by snapping their fingers after different people spoke instead of remaining silent.
The campers had final delegation meetings and dialogue sessions in the afternoon. Pictures were taken of each delegation. At evening Line-Up, we took other group pictures, such as one of all the people named Sarah, all the people who were in Camp together in 2009 or 2010 and all the staff who are Seeds.
Later on, we spent two hours explaining what life can be like after Camp is over, when all of the campers have re-entered their home communities. They found out that many programs are already planned for them. Many Seeds of Peace staff will help them continue what they have begun here at Camp for years to come.
This was followed by a 40-minute slide show of Bobbie's pictures, all taken during their session at Camp. Over 1,000 pictures are available to them on Flickr and on the Seeds of Peace website.
The Seeds of Peace Band played, and then the counselors sang "One Voice," a perfect song to end on. Throughout the day and night, memory books were being traded for personal messages. Their final hours before "lights out" were spent in their bunks, with the campers and counselors who have made up their Camp family.
The PSs decided to clean out the old computer shack as their gift to Camp. We will have a lot of music during the second session, so this is not an idle gesture. The PSs have left their mark in many ways at Camp, but their biggest challenge will be the projects they plan to take on at home. Of course, they all got their turtle necklaces, so they can remember to carry their Camp with them wherever they may go.
Early the next day, buses began rolling into Camp to take the campers and their Delegation Leaders to various airports to begin their journeys home. As we have come to expect, there was a lot of crying and hugging before we could get them into their respective buses. Most of the staff cried at the sight of the campers crying, but we were also remembering that this is not just a sad parting of friends and family: it is also the acknowledgment of another successful session of Camp and the launch of a whole new batch of Seeds. Look out world—here they come!
Video | Session I Slideshow