Kathryn W. Davis Foundation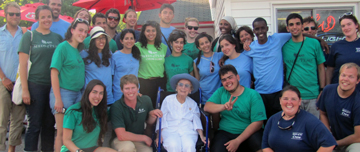 Kathryn Wasserman Davis, noted American philanthropist and recipient of the 2006 Woodrow Wilson Award for Public Service, made a commitment to advance the cause of peace in the Middle East through her generous support of programs run by graduates of the Seeds of Peace Camp.
These regional programs are designed to develop leadership skills while fostering mutual respect, trust, and coexistence between Arab and Israeli communities. Programs include community service projects, Hebrew and Arabic language courses and initiatives to empower women.
In August of 2008, Kathryn Davis pledged $500,000 to challenge Seeds of Peace supporters and advocates of Arab-Israeli coexistence to make a direct contribution to Seeds of Peace. The Davis challenge grant doubled the impact of donations.
Kathryn Davis renewed her pledge in 2011 with a challenge grant of $450,000 over three years to support programming initiatives in the Middle East.
Kathryn Davis met personally with Middle East Seeds on multiple occasions. In the summer of 2011, she hosted 15 Israelis, Palestinians and Americans as she renewed her challenge grant. Before she passed away in 2013 at the age of 106, she sat on the Seeds of Peace Advisory Board.
"We all need to talk more, not to our friends, but to our enemies. And I think that through talking and not fighting we might come to some agreement—or agree to disagree, and get along anyway." — Kathryn Davis