Seeds of Peace has initiated a program partnership with Ashoka to provide social entrepreneurial training to Afghan, Indian and Pakistani Seeds.
The new Seed Ventures program gives our South Asia Seeds the tools needed to develop innovative, effective approaches to societal issues while emphasizing the power of youth leadership and cross-border cooperation.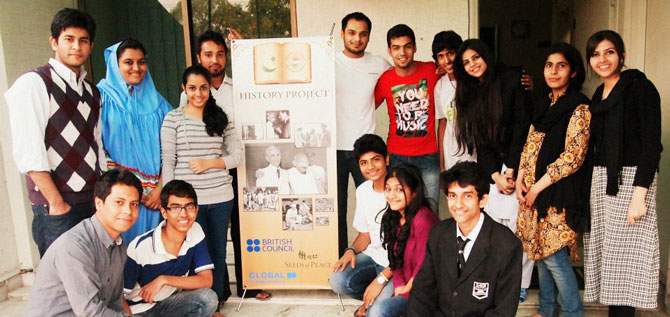 Binational
Seed: Qasim (Camp 2001)
History Project
Project Summary: Youth in India and Pakistan grow up with stereotyped images of each other that become ingrained in their national identities and narratives. This reality restricts the relationships between the two countries, as the governments of India and Pakistan do not want to appear weaker towards each other than their populaces. It also leads to broad public support for extensive military spending and a ratcheting up of the military programs in both countries.
The History Project seeks to address this issue by researching and creating a publication that focuses on the key figures of partition and juxtaposes the narratives of both Indians and Pakistanis regarding this crucial time in their history. Following the publication of this work, the team will distribute the publication to schools in both countries and promote the initiative through traditional and social media.
Project Status: ongoing

Seed: Jehan (Camp 2008, 2011)
Face to Face
Project Summary: With the assistance from Seeds in Mumbai as well as Lahore and supported with funds from Seeds of Peace, Jehan's project, entitled Aamney-Samney ("Face-to-Face" in Hindi and Urdu), will facilitate Seed-led interaction between Indian and Pakistani students, using safe, private online blog and Skype technologies.
The objective of the Face to Face project is to forge friendships across borders through online communication. Many times, youth in the region do not have access to youth in other countries, and thus, when they think of the "other side," negative stereotypes often come to the forefront of their thoughts. This results in having an image of the Taliban or bombs, when we hear or read of Pakistan or Afghanistan.
The project will work to connect young people from across the border between India and Pakistan and, thus, help those who participate to be able to put a friendlier face toward. By the time the project is complete, five to seven children from each school, preferably between 8th and 9th grades, will have participated in both the online and Skype chats.
Project Status: ongoing
Read more about the project »


Pakistan
Seed: Tooba (Camp 2006)
Interfaith Camp
Project Summary: Sixty Muslim, Christian and Sikh students attended the second Seeds of Peace Interfaith Harmony Camp at St. Anthony's High School from December 28-30. The teenagers, aged 14-16, came together from 14 different area schools.
The program, run by Pakistani Graduate Seeds, aims to "promote a sense of harmony, tolerance, co-existence and respect in these young minds," in the words of one of the Seeds.
To develop mutual understanding and trust, students separated into six diverse groups and participated in creative games and activities that required teamwork and cooperation, including sports, scavenger hunts, and group challenges. Each day began with an Interfaith Assembly in which students from each religion shared the teachings of their religions about peace, tolerance and humanity.
Project Status: completed
Read more about the project »

Seeds: Rana (Camp 2009) & Jasir (Camp 2011)
Free Medical Camp/Health Awareness
Project Summary: A team of Pakistani Seeds organized a free medical clinic in the Green Town area of Lahore on December 3. The clinic drew 300 people, 65 percent of whom were female, for health screenings and medical checkups.
"We wanted to provide basic health screening and create awareness about the importance of health and hygiene in the underprivileged community, which cannot afford private consultants," said Rana, the student in charge of the clinic. "These people only visit doctors when they have reached the last stage of terminal diseases."
Project Status: completed
Read more about the project »

Seed: Ghulam (Camp 2007)
Educating Underprivileged Children
Project Summary: It is not uncommon to see young children playing marbles in the street, begging for spare change, or involved in child labor. The Educating Underprivileged Children project was developed as a means to educate young children by equipping them with the knowledge of social awareness so that they may advocate for their civil rights and duties.
The project is designed so that the participants, mostly middle school aged, would be taught once or twice a week in a public park about these issues of concern. They will be taught English, Urdu, be made aware of important critical thinking skills, as well as taught to better understand their civic education and general knowledge about their rights.
The project, taking place over the course of six months, aims to enroll about 20 students (which will include some currently enrolled in school as well as others who do not attend at all). The pre-assessment has been done with 6 volunteers (Seeds and non Seeds). Two days classes will be taken (Saturdays and Sundays) starting from 4th of Feb. 2012 and the hope would be to have a graduation ceremony somewhere in mid to end of March 2012 marking the completion of the project.
Project Status: ongoing

Seed: Syed (Camp 2006)
Shelter for Animals
Project Summary: Throughout Lahore, it is not uncommon to see stray animals wandering the streets and treated poorly by the locals. Rarely are they fed, washed, or vaccinated. Through the Shelter for Animals project, those street animals would be provided with shelter, food and vaccines.
Project Status: ongoing

Seed: Jazib (Camp 2009)
Inter-School Drama Competition
Project Summary: Eleven teams from various government, semi-government and private schools of Lahore participated in the Seeds of Peace Dramatics Festival 2011 on October 22 at the Ali Institute of Education. The grade 8 to 10 students participated in the competition and performed a 10 to 15 minutes skit on the theme of "Imperfection: Man's Greatest Beauty."
The competition encouraged the participants to see beauty in the imperfect world around them. They took different issues (disability, hopelessness and its solution, extremism and its after effects, situation of 3rd gender in our community, etc.) and presented their impression of imperfection as human's beauty. The event was managed by a team of 20 Seeds.
Project Status: completed
Read more about the project »

Seed: Hamza (Camp 2011)
Mock Parliament
Project Summary: Twelve Seeds conducted the second Mock Parliament at Forman Christian College in Lahore on November 25-27. The purpose of the Mock Parliament was to replicate the structure and working of the Afghan political process. A group of 35 students from 13 schools in Lahore took part as Members of the Parliament of Afghanistan (Wolesi Jirga). Prior to the event, delegates attended an orientation at SOS Children's Village Lahore to familiarize them with the workings of the parliament.
On the first day, the simulation addressed the NATO and U.S. invasion and the security of Afghan citizens. Representatives also discussed whether the Taliban serves as an inspiration to other extremist factions in the region. The last topic for the day was the issue of sovereignty and its various interpretations. On the second day, delegates discussed negotiating with the Taliban and addressed the implementation of Shariah law. The business of the house shifted toward international relations and the role of the United States in infrastructure rebuilding. The third day began with discussion of the viability of a self-reliant and politically and economically stable Afghanistan. Next, students discussed opium plantations, the drug trade, and alternate agriculture and industries. At day's end, students discussed power-sharing and the possibility of an interim government.
Through the process, resolutions were passed aimed to strengthen the Afghan economy as well as to help the country earn international support for rebuilding efforts. Forman College's Dr. C.J. Dubbash distributed prizes among the participants.
Project Status: completed

Seed: Safwan (Camp 2005)
Medical Benches
Project Summary: Many of the teaching hospitals in Lahore do not have sheltered benches/chairs outside their wards, and patients, attendants and visitors sit on the floor. The Medical Benches project aims to provide 10 medical benches and waste baskets to ensure that trash is discarded in a proper manner by those using the benches.
Project Status: completed

Graduate Seed: Ayyaz
Agricultural Information Cell
Project Summary: Rural farmers in Pakistan often lack information on the ever-changing market price of produce. Often farmers do not have access to information on policies surrounding the marketplace, on entitlements that can be attained from the government, and on which mechanisms of information dissemination are available to them. These factors combine to create price dispersion unfair to the local producers.
The Agriculture Information Cell proposes using cell phones to disseminate information pertaining to the market price of goods. This program will primarily start as an initiative where farmers can call in for their inquiries. The next phase will come later based on the data and surveys gathered, and as farmers become more comfortable using SMS services. In addition, farmers will be informed on current market prices as well as government policies and entitlements that pertain to them.
Project Status: ongoing

Graduate Seed: Faizan
Know Electricity
Project Summary: Inefficient domestic electricity usage in Pakistan produces high electricity bills and overconsumption of electricity. Continuing power shortages will create a greater sense of deprivation amongst the people, and without community involvement for a solution, a sense of ownership crucial in mitigating the crisis will not develop, and instances of unrest will increase. Heavy load shedding (up to 16 hours in summers) has already resulted in rioting in underdeveloped urban and rural areas. These riots frequently result in private and public property damage, cause adverse effects on economic activity that result in additional losses.
Know Electricity's vision is to create a responsible, aware, and proactive community by equipping school children with the knowledge and skills to reduce energy consumption in its initial phase and then reaching out to adults through them. Over the course of two school terms, Know Electricity will educate students at four schools in Lahore, Pakistan on the importance of reducing energy consumption through discussions, seminars, and electrical-usage audits. Intended to inform and empower youth, the program hopes to instill a sense of responsibility within youth to address the issue in their communities.
Project Status: ongoing

Graduate Seed: Fahad (Camp 2002)
Labb Azad
Project Summary: The expression Labb Aazad literally means "free lips," but it is used to reflect the notion of freedom of expression in Urdu. In Lahore, Pakistan, there are academic disparities between students attending private schools and those in government schools. The students at government schools often lack the opportunity to learn basic oratory skills and, as a result, do not have the confidence to speak publicly.
Labb Azad's mission is to lessen the disparities between public and private school students by providing students from public schools the opportunity to gain confidence in their communication and language skills through formal debate. Students from four government schools will participate in monthly debate classes taught by professional debate coaches. At the end of five months, the students will participate in a debate focusing on civil issues in Pakistan for the opportunity to win cash prizes. This will develop their logical reasoning skills and promote free thinking.
Project Status: ongoing

Graduate Seed: Aneeq (Camp 2003)
Rabtt Summer Retreat and Public School Camps
Project Summary: Pakistan's reliance on rote memorization and narrow curricula often does not challenge students to think critically or independently. Those students who are lucky enough to attend a private school are often isolated from public school students, causing them to become disconnected from the reality of the majority of Pakistanis. Rabtt's mission is to create a generation of students and young professionals capable of critically analyzing the possibilities and opportunities present at their disposal and capable of making informed decisions.
Rabtt will create two camp opportunities for the communities mentioned above to come together in a safe learning environment. These camps will focus on improving English language skills, computers, art and drawing, world history, philosophy, and public speaking for students coming from public schools and will provide community service and leadership opportunities for all the participants.
Project Status: ongoing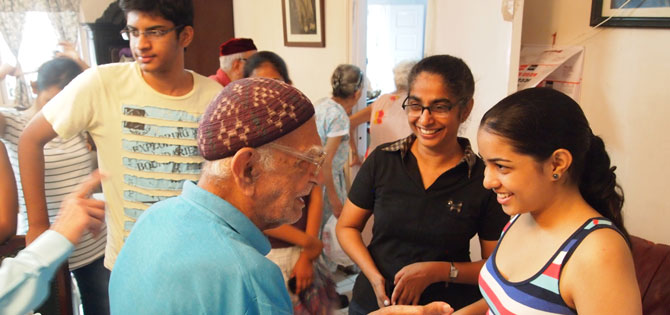 India
Seeds: Ruth (Camp 2009) & Ruxshin (Camp 2011)
Lighting up Lives
Project Summary: The Lighting up Lives project's mission and vision is to reach out to senior citizens in Mumbai, particularly those living in old age homes, as they oftentimes rarely have an opportunity to be outside.
The project plans to reach out to a group of senior citizens and aims to provide them with entertainment for half a day over the course of several months. In doing this, local Mumbai teens will volunteer and will also play an integral role in getting others to assist as well.
During the visits, activities will include conducting games such as "housie" (bingo) as well as putting on musical performances to entertain them.
Project Status: ongoing

Seed: Ira (Camp 2009)
Peace and a Play
Project Summary: The objective of the Peace and a Play project is to write a powerful script about the conflict between India and Pakistan. Once completed, the script will be acted out through local play readings as a way to help teach other young students in Mumbai, and possibly Lahore, about the conflict as the youth work toward constructive ways to address it. The ultimate objective of this activity is to create awareness of these issues, and to do so in a way that others can more easily access and relate to.
The target audience for the play is broad, ranging from school children to senior citizens, from the underprivileged to the so-called elite. The play is for everyone; the message will be universal and extremely relevant.
The idea of a play, including writing a script, preparing actors, and forming an entire production, is based on creativity. Creativity is the essence with which we hope to work. Creativity is what will guide us, since we have chosen theatre, which is one of the most expressive and dynamic forms of raising awareness.
Project Status: ongoing

Seed: Gaurav (Camp 2009)
R No.3 – Recycle
Project Summary: Though a huge amount of waste is produced in Mumbai, very little is recycled, as it is not segregated at the source of production. In light of that, this project aims at helping to recycle waste produced in Gokuldham, a SOP Mumbai partner school. The project will aim to set up a waste segregation system in which dry waste can be separated, and then collected and recycled at the recycling facility in Dharavi. In a school the size of Yashodham, which has more than 4,000 students, even if each student throws away a sheet of paper a day, a considerable amount of waste is generated. The project will aim to help the students recycle this waste and also think about ways that they can reduce the amount of garbage they produce.
Project Status: ongoing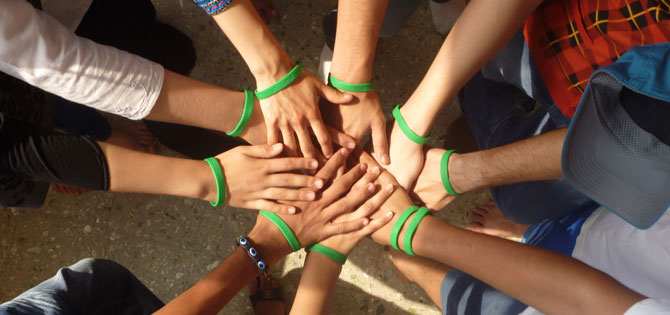 Afghanistan
Seed: Shapoor (Camp 2009)
Internet Training Course
Project Summary: Currently, in Afghanistan, access to the Internet is rare; its general absence leaves a void in a student's ability to access information about other countries and cultures. Through this project, an Internet training course will be offered to students who attend various public schools within Kabul. In total, over 300 students, during the course of six months, will attend the workshops.
Part of the project goal is to also provide leadership opportunities for students, so while the first workshop will be conducted by an adult teacher, the subsequent ones will be led by students who have attended the first workshop and are eager to teach others. The ultimate goal of the project is to work with schools so that they can develop an Internet training curriculum which can be used in their classrooms.
Project Status: ongoing
Read more about the project »

Seed: Mortaza (Camp 2010)
School Library
Project Summary: While there are many schools in Kabul, it is rare to find a school with the proper facilities and support for a student library. Thus, the School Library project will work with a former Seed's school as volunteers work to open a small library in that school. While a number of the books in the library will be about peace-related issues, it will not be limited to that topic. Further, the goal of the library is to have books available in Dari, Pashto and English. The hope is that the library will become a place for students to congregate and share ideas.
Project Status: ongoing