Daily Archives:
Aug 8, 2014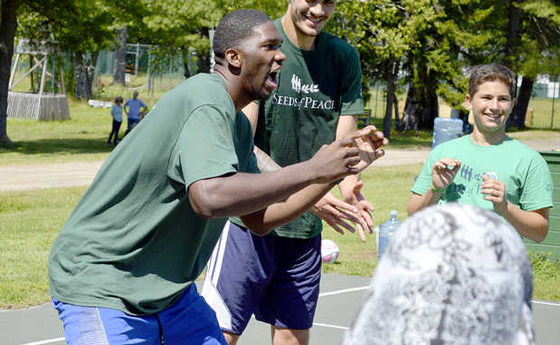 Aug 8, 2014

Scalabrine, Smart lead fun at Seeds
of Peace | LEWISTON SUN JOURNAL
OTISFIELD — The chant of "Mam-ba, Mam-ba" started as Brian Scalabrine sliced through the crowd and exchanged high fives. It built until its crescendo could be heard across Pleasant Lake as Scalabrine stood triumphantly before 200 campers, counselors and on-lookers at Seeds of Peace. Making what he estimated was his 12th appearance at the camp on a sun-splashed Friday, the former Boston Celtics forward known as "The White Mamba" had the crowd of teenagers from some of the world's most … FULL STORY
Former Celt praises Seeds of Peace campers | WMTW (ABC)
NBA players, including the Boston Celtics' Marcus Smart and former player Brian Scalabrine, paid a visit to Seeds of Peace camp on Friday. More than 180 campers from around the world attended the NBA Day event. More than half of the campers are Israeli or Palestinian. One goal of Seeds of Peace is to have an open dialogue between youth from around the world. Scalabrine, who is now working as a basketball analyst, has visited the camp before, but he … FULL STORY
Celtics Smart choice! | WGME (CBS)
Boston Celtics Rookie Guard Marcus Smart is helping out at the Seeds of Peace Camp this week and is having a blast being a Celtic!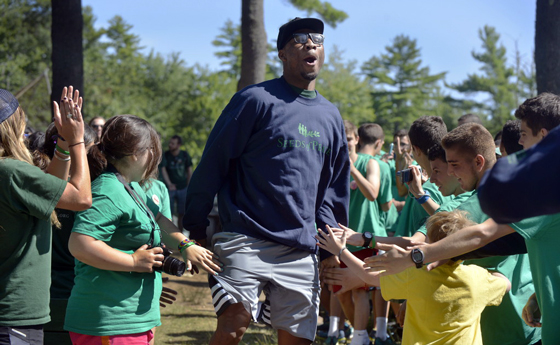 NBA players bring basketball,
fun to Seeds of Peace campers
| PORTLAND PRESS HERALD
As conflict continues in the Middle East, the players and campers from conflict zones learn from each other. OTISFIELD — Having fun. It's what kids should be doing. A group of NBA players made sure that happened Friday when they visited the Seeds of Peace camp, a program that brings together young people from conflict zones to meet their historic enemies and form relationships they can carry back to their countries in the hope of finding peaceful solutions. It's hard … FULL STORY
Celtics rookie excited
for Seeds of Peace camp | BOSTON HERALD
After one of his first visits to Seeds of Peace camp, and witnessing the rare interactions between Israeli and Palestinian youths, former NBA player B.J. Armstrong was quickly humbled. "We talk about war, but these kids have lived it," he said. "The thing I've learned from this is that I don't know anything." Celtics rookie Marcus Smart will receive his own education in the world's most unrelenting conflict today, when the camp holds its annual NBA players clinic. Agent Arn … FULL STORY
NBA players visit Seeds of Peace camp
| WCSH (NBC)
OTISFIELD, Maine | Campers at the Seeds of Peace camp got to take a break from intense dialogues about war and conflict to spend time on the court with some famous faces. NBA players came to the camp in Otisfield to hold a hoops clinic. The 180 campers from areas of conflict in the Middle East and South Asia learned from several players, including NBA veteran and former Celtic Brian Scalabrine, and Celtics number one draft pick Marcus Smart. "This … FULL STORY