Monthly Archives:
July 2014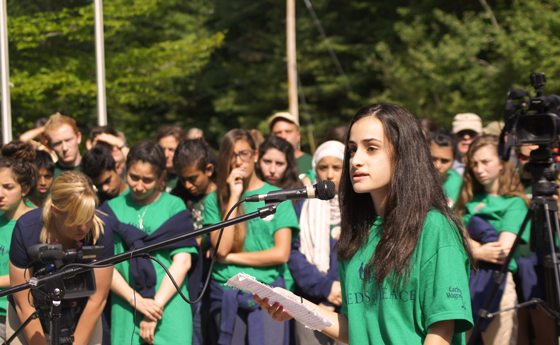 Jul 31, 2014

Read 2014 Session 2 Daily Camp Reports
OTISFIELD, MAINE | Throughout the summer of 2014, we will be posting daily reports and photos to keep everyone informed of what is happening at Camp. We know many of you wish you could join us at Camp; we hope these reports can be the next best thing! Read the latest report ››
Jul 29, 2014

Peace Camp in US Unites Israeli, Palestinian Teens | ASSOCIATED PRESS
It's no surprise Noa Epstein worries about the safety of her husband, a reservist in the Israeli army called to duty as war smolders in the Gaza Strip. But, still carrying memories of a transformative summer camp experience nearly two decades ago, she knows there is another side to the conflict, and she is filled with concern for the Palestinians too. As rockets fly, troops battle and casualties mount in Gaza, teens from both sides of the border are heading … FULL STORY
Jul 28, 2014

Interview with Leslie Lewin | Stand Up! with Pete Dominick (SiriusXM RADIO)
Pete Dominick talks to Seeds of Peace Executive Director Leslie Lewin on SiriusXM Radio.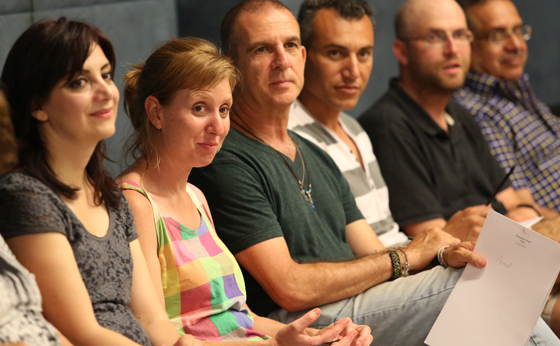 Jul 27, 2014

60 educators convene in Jordan
for Making History workshop
DEAD SEA (JORDAN) | Sixty Seeds of Peace Educators met at the Dead Sea in Jordan for Making History, a four-day cross border capacity building workshop supported by USAID and dedicated to engaging with the past in ways that integrate the arts and active learning, critical thinking, and cross-cultural understanding to affect a more just, peaceful future. The group included Israeli and Palestinian history, civics, drama, music, and dance teachers as well as curriculum designers and leaders of initiatives that … FULL STORY
Jul 18, 2014

In US, fearful campers eye Middle East conflict | ASSOCIATED PRESS
OTISFIELD, MAINE | Fighting in the Middle East has made for a summer of high tension, tearful phone calls and unlikely friendships between Israelis and Palestinians attending camps in the U.S. that host participants from the region. Seeds of Peace, a lakeside camp in rural Otisfield, Maine, has brought together teenagers from countries at war for more than 20 years. Its counselors, also from Middle Eastern countries, say they all are united by fear of the violence raging overseas and … FULL STORY
Jul 16, 2014

Seeds of Peace Op-Ed | MSNBC
BY DONNA STEFANO | Last month I attended a gathering of Israeli and Palestinian organizations to discuss the collapse of the US-led peace initiative. I pointed out the challenge of mapping out a new strategy when so many Israelis and Palestinians are disillusioned with negotiations, noting that the only certainty we have in this region is that a single unforeseen event can take us down a path we would never have predicted. The very next day, a few miles down … FULL STORY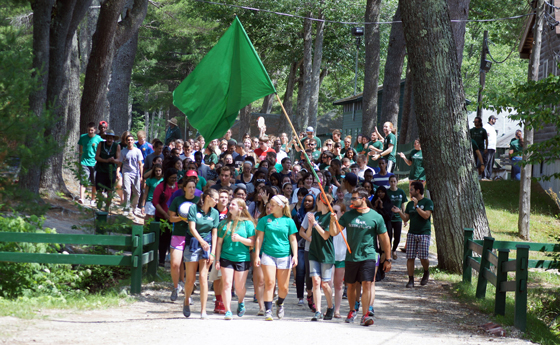 Jul 14, 2014

Planting 'Seeds of Peace'
in a time of conflict | KPCC
Seeds of Peace is a non-profit organization that brings together young "historic enemies" from regions of conflict at a Camp in Maine. Campers share a living space and engage in dialogue sessions together as part of a conflict transformation program. Right now, teens from the U.S. are at camp tackling issues facing their communities like racism, immigration, and education policy. But Seeds of Peace will host their International Camp in a couple weeks, where Israeli and Palestinian teens will come … FULL STORY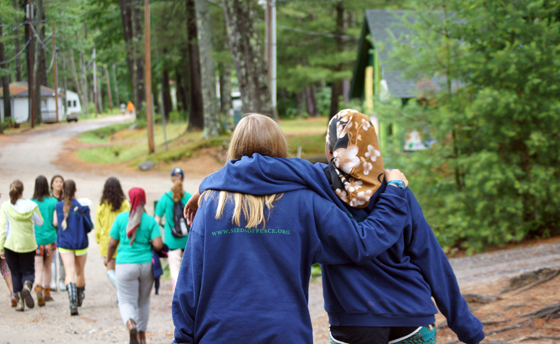 Jul 3, 2014

Camp kicks off 22nd summer in Maine
OTISFIELD, MAINE | The 22nd summer of the Seeds of Peace International Camp is set to begin on July 7. This summer, Seeds of Peace will graduate nearly 300 young peacebuilders who will join over 5,000 alumni from 27 countries who have been making a difference across the globe since 1993. The first session of Camp welcomes over 100 teenagers from Maine as well as Syracuse, New York, who will come together to tackle internal tensions within their communities. Maine … FULL STORY