Honoring a leader in progressive camping and leadership education
This scholarship fund enables teenagers from diverse communities to attend the Seeds of Peace Camp on the shores of Pleasant Lake, a place deeply rooted in the belief that children of all backgrounds can develop into tomorrow's leaders.
A LEGACY OF LEADERSHIP
Joel Warren Bloom was born on May 7, 1916 in New York City. At the age of five, in 1921, he became a camper in Bunk 1 in the first year of a new camp called Camp Powhatan for Boys which his father, Ira "Chief" Bloom, had just founded.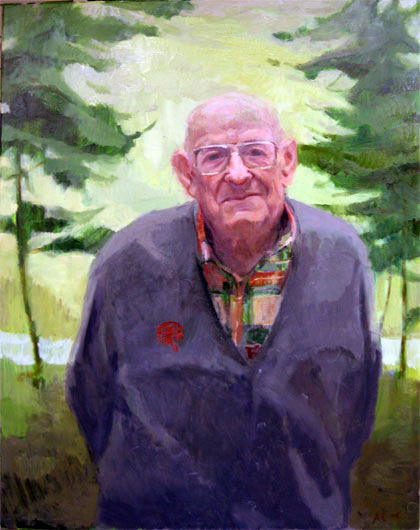 In 1941, after receiving his Masters degree from Columbia University's Teachers College, Joel enlisted in the military. Twice he was discharged from the service for health reasons–his asthma and his now-famous shoulder–and both times he fought to re-enlist. In fact, in 1942, Joel went so far as to take "the New York City draft board lady" out for dinner, during which he beseeched her to let him serve. Her response? She said that she had been taken out by many men, but that Joel was the first who wined-and-dined her in order to get in to the war, rather than to get out of it. Weeks later, Joel was in a naval training school in Rhode Island.
During World War II, Joel was EO and then skipper of various PT Boats and saw combat in both the North African and South Pacific theaters. It was perilous service. The exploits of PT boat crews was memorialized in a book and later a movie starring John Wayne and aptly titled They Were Expendable.

CAMP POWHATAN
After the war, Joel returned to New York and became the director of Camp Powhatan in 1947. In October of that same year, he met a young bookkeeper named Evelyn Kerner. According to Ev, her mother actually fell in love with Joel before she did. But Ev did eventually fall for Joel and they were married on June 24, 1948.
Beginning the following summer Ev assumed her long-standing role as camp bookkeeper. Ev and Joel have three children, all of whom grew up at Powhatan: Mark was born in 1949, Charles in 1952, and Jane Ira in 1955. They also have three grandchildren: Michael, Amanda and James.
From the very beginning, Joel challenged camping dogma and was soon recognized as the nation's foremost progressive camp director. In 1951, he became the first person in the United States to earn a doctoral degree in camping, which he received from Columbia University; his dissertation advocated interest-motivated camping. For the time this was a revolutionary concept, proposing that campers would most benefit from being empowered to choose activities in which they would work to develop proficiency throughout the summer. In fact, the revolutionary character of Joel's theory was underscored during Joel's dissertation defense when Chief, who was in attendance, was asked by a Professor/examiner what he thought of Joel's theory and responded that he, himself, didn't buy it.
Joel sought to bring his progressive vision to the entire camping community: he served as President of the New England Camping Association and the Maine Camp Directors Association and Vice President of the American Camping Association (ACA). He also served as president and founder of the Pleasant Lake/Parker Pond Association.
Joel's guiding philosophy can be found in a 1960 brochure he wrote for the ACA:
"At camp, our major concern is the camper. Whatever effects him is important to all of us. What happens to a growing child at camp not only influences him at the moment, but also may affect his future, and because children are our nation's greatest asset, our country's future."
His understanding of the power of summer camp to cultivate future leaders also led Joel to pioneer the integration of summer camping, both racially and socio-economically. In the early 1950s he hired the first African American counselor, Jim Luck, and over the next forty years continued to hire a diverse staff, from his first year counselor right up to his head counselor.
Early on, Joel initiated a scholarship fund which, especially after the assassination of Dr. Martin Luther King, he used to bring to Powhatan campers of all races who would otherwise never have had that opportunity.
In 1971, he worked with Maine's Governor Ken Curtis to create the Susan Curtis Foundation which was founded on the belief "that summer camp is a critical element in a child's education, and that underprivileged children were excluded from this opportunity."
Joel's approach was simple: put kids in the same bunks where they will eat, sleep and compete together, and they will quickly learn that they have considerably more in common than they have apart.

SEEDS OF PEACE
By the 1990s, in fact, a significant number of Powhatan campers were at camp on a scholarship. In 1993, John Wallach, the parent of a Powhatan camper, recognized the power of summer camping and was inspired to found Seeds of Peace, which brings teenagers from conflict regions to camp where they start learn how to coexist with the other. In many ways, Joel's vision and spirit live on in Seeds of Peace, which continues to bring kids to the shores of Pleasant Lake.
Even more strikingly, however, Joel's legacy lives on in us. Many of us consider our Powhatan experience as among the most formative of our lives, and, to a very large degree, that experience is thanks to the leadership and vision of Joel Bloom.
Donate to the Joel W. Bloom Campership Fund