2013 Bridges to Peace London

Gear up for Bridges to Peace 2013 on Sunday, 29 September. Details below.
WHERE AND WHEN
Meet promptly at 12 p.m. noon on Sunday, 29 September at:
The Hilton, Tower Bridge (Building 5, More London Place, Tooley St, London SE1 2BY)
Registration will close around 12:20 p.m. so please be there on time. The walk will kick off after a short program.
The Bridges to Peace Festival, where the walk ends, will take place at The Music Rooms (26 South Molton Lane, Mayfair, W1K 5LF)
Our Festival includes live music, storytellers, food, drinks, art and fun. The Festival will end around 6:30 p.m.
Join our fundraising walk, cross bridges and show your support to the young peacemakers who help bridge major conflicts.
In celebration of International Peace Day and the vital mission of Seeds of Peace, changemakers around the world will cross a bridge for peace. A shared photo gallery will collect images of walkers on bridges, and become the symbol Seeds of Peace's worldwide network of supporters. Be part of something global: walk for peace in London!
Your effort and support will be rewarded with a free ticket to our Bridges to Peace Festival at the end of the walk with live music, storytelling and refreshments
Sign up here to walk for peace!
It's easy. All you need to do is:
Set up a fundraising page or make a donation
Walk for peace on 29 September!

 
Bridges to Peace Festival
The festival will kick off at 3:30 p.m., featuring artwork by Nobel Peace Laureate Nelson Mandela! Also featuring:
-Jack Savoretti will be performing and debuting a new hit
-Live music by Crash Island
-Storytelling by Wilf Merttens, and Alia Alzougbi accompanied by Khaled Hakim not to be missed
-Artwork made by Seeds at the International Camp in Maine
-Delicious home made food and drinks will be served
It will end at 6:30 p.m.
Families
The Walk and Festival are family-friendly, so please brings your children with you! To join with your family, register for the walk and select the family option. There is a £150 minimum fundraising commitment.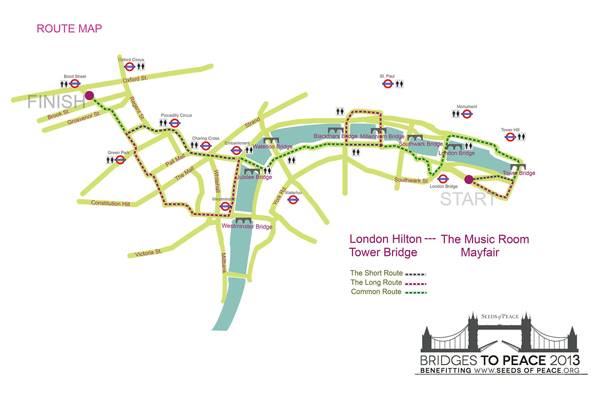 BRIDGES TO PEACE 2011-12
Get the flash player here: http://www.adobe.com/flashplayer