2012 Session Two Camp Reports
Session II Arrival Day | July 24

Today the familiar sound of drums, singing and dancing welcomed new groups of people to Seeds of Peace International Camp. Three separate programs will be running simultaneously at Camp for the next two weeks. About 60 campers from Maine, including a few returning campers, will begin the 13th session for Maine Seeds. About 40 Syracuse campers, also including a small number of returning campers, arrived as well for the second annual Syracuse session.
Both of these delegations are comprised both of teenagers who were born in the USA and of refugees from Africa and Asia who have resettled here. The third group is comprised of 35 adults who have traveled from other US states, the Middle East and South Asia for the Educators Program. They will be learning a variety of approaches to promoting peace in the classroom through the arts.
The challenge for the staff at Camp is to begin where the new campers are. The staff has been here for more than five weeks, so everyone feels fairly comfortable in every way, whereas the Maine and Syracuse campers are at "day one." As Wil Smith pointed out in a meeting, we need to get back to our "day one" feeling, focusing on the needs of the newcomers with full attention. But as bright fresh gazes met ours, it wasn't hard to begin anew, creating another temporary reality, "the way life could be."
Another challenge this session is the fact that some of the Muslims will be fasting for Ramadan. Our kitchen staff provide five meals a day, so there can be a late dinner and a very early breakfast for those who are observing Ramadan as well as three regularly-timed meals for everyone else. Earl, our chef, enjoys being able to do this.
All the new campers will be sleeping in bunks with people from their own geographical area, but the groups will be mixed in many activities and in the Dining Hall. Our hope is to expand their circles of concern beyond people just like them and to bolster their confidence, creativity and character development. Tonight they took a research survey designed to measure their sentiments toward and previous interactions with people from different backgrounds and to document their own assessment of their leadership capabilities. When the last day of Camp arrives in two weeks, the same survey will be administered to record whether the changes we anticipate in their outlook and skills took place.
Here we go again!
Steal the Bacon & Staff Show | July 25

Steal the Bacon is probably the most universally popular game at Camp, with GaGa coming in a close second. The "bacon" is actually a tennis ball placed in the center of a sandy court. The game has specific boundaries and rules but also has room for creativity. To win, the team members from one side of the court must grab the ball and run back to their end without being tagged by a member of the opposing team. But we add excitement to the game by designating a style, such as "like a chicken" or "like Michael Jackson" or "no bones," in which they must do this. Teams accumulate actual game points and style points from the counselors acting as judges, who are sometimes assisted by passersby. Sometimes more than one person from each side is called to get the ball, so teamwork can become part of the strategy. And then there is "gobble gobble," a situation in which all the team members from both sides converge on the tennis ball to "steal" it. More often than not, everyone dissolves in laughter.
Tonight, we had the best, best, best Staff Show ever! This show sometimes seems like a comedy of errors, but this time it was very well done. It really showed a broad range of talent among the staff, including dancing, singing, comedic skits, beat-boxing and instrumental music. Everyone who works with the campers went on stage to show, in an entertaining way, what kind of experiences are available to them at Camp. Every type of land sport, water sport, music, dance, and art was shown; dialogue itself also made an appearance.
It was also the day we had our big, panoramic Camp picture taken. Two counselors will appear on both sides of the picture because they were able to outrace the panning camera as it focused on a section of the picture at a time by running around behind the campers on the bleachers. This is a traditional ploy, but it is still funny to watch.
The adult Educators were busy with Group Challenge in the morning and small group discussions in the afternoon. In the evening they enjoyed an iftar dinner to break the Ramadan fast. All in all, today was a good beginning.
Olympic Ga-Ga & other sports | July 26

While the rest of the world eagerly awaited the start of the Summer Olympics in London, we held the first ever Olympic Ga-Ga tournament. One would assume that an Olympic game would have teams of experienced players coordinating and strategizing their plays. On this occasion, however, the campers had not yet officially learned the game of Ga-Ga, since it was only their second day. Yet despite their lack of experience, the rounds were played in the same extremely competitive and skillful manner as if they had been playing the game all their lives. Brazil took the winning cup, perhaps because the counselor leading them is from Brazil, although the Netherlands, Spain and Australia tried their hardest to beat them.
With 37 sessions of Camp under our belts, we can safely say that each session has a personality all its own. This one is incredibly "gung-ho." On so many levels, they are diving right into every opportunity to learn or enjoy something new. For example, the boys swimming area usually has a bunch of campers who hang out on the beach instead of enjoying the lake—but not with this group. They have invented a game they play in the water that includes them all!
Today a baseball game looked like so much fun that Leslie Lewin, the Camp Director, joined it as the pitcher for both teams. Boys who claimed not to be baseball enthusiasts nevertheless hit far into the field, caught fly balls and tagged the runners just split seconds before they would have been safe. Then they went on to their lacrosse, Group Challenge or drama activities with the same high level of energy.
Earlier in the day, Tim Wilson, the founding camp director of Seeds of Peace, spoke to the campers about taking the "hard road" whenever they are faced with a choice between an easy alternative and a challenging one. At the end of your life, Tim said, you want to be satisfied that you have given everything your best shot. If anyone will take this advice seriously, it will probably be these campers who are with us for our 38th session of Camp.
Changemakers & Casco Days | July 27

Ten Maine Seeds have been taking a four-day seminar on constructive and principled leadership. Dick Romeo, who ordinarily works with the Peer Support campers over a three-week period, condensed his regular course into four solid days of teaching and learning.
This is the first time Seeds of Peace has offered a program at Camp specifically for returning Maine Seeds. It was a rigorous course with almost no play time. Today was their final day. As part of their ending, each participant gave a speech in front of the others and then accepted a critique. After attending Camp together last summer and meeting on many occasions over the winter, these ten Seeds felt very comfortable with each other. They could be direct with one another without being hurtful; they truly care about everyone in the group. They also felt comfortable in critiquing this new program when the Camp directors asked for feedback.
Now they will go into their own communities in Maine and work on projects they have designed to aid people in their vicinity, as well as lead state-wide projects.
The new campers enjoyed an afternoon of water and land sports. It was cool and sunny, with almost no wind, which was a bit frustrating for the sailors, but everyone else played soccer, ultimate Frisbee or baseball, under ideal conditions. Others were able to canoe or go to a Muslim prayer service.
Right after dinner the entire camp went to "Casco Days." This is a traditional yearly country fair from which all proceeds pay for the fire and rescue squad of Casco. Food typical of American country fairs was in abundance, as were many games offering stuffed animal toys as prizes. This was a welcome break from all the serious educational objectives at Camp. Tomorrow several counselors and campers will take part in a hilly run around the lake. The runners are hoping for another cool day tomorrow.
"We've Got Happy Lives to Live!" | July 28

Today was the birthday of Rebekah, a Seeds of Peace arts counselor for many years. This year she brought a song to our Camp that is singularly captivating. It is sung in three rounds, each with a different cadence, and it sounds beautiful, especially in the early morning. When Rebekah's birthday was announced, the other counselors spontaneously began singing the song, starting with, "We've got happy lives to live! We've got happy hearts to give!" These second session campers had not yet heard the song, so to them, it must have seemed like being in a movie.
Just as the campers were finishing lunch and table cheers, another movie-like event occurred. The counselors and campers taking the STOMP! special activity each morning started banging everything they could find in a coordinated way and ended with a tap dance. Even Sarah Rubin, Camp program director, joined the dance at the end, once again just like a movie!
Casco Days are still going on. Today was the running race around Pleasant Lake. Several counselors and campers participated in the race. Out of more than 600 people competing, our own counselor James finished first! Matthew, director of sports at Camp, finished in 11th place, which also made us proud. When we found out that James' mother placed high in her age bracket as well, the joke went around that this sort of success must "run in their family."
People often ask us how one session of Camp compares with another. Instead of comparing, we like to think that each Camp session has a personality all its own. For example, the first session had a "hang out" area on a fence close to the line-up area during free time. But they were impossibly slow to move to the line-up benches following the sound of the bell. This session, the campers spend their free time playing soccer on a field far from the line-up area. Boys and girls play soccer together, without counselors and without keeping score. But when the bell rings, they stop playing soccer instantly and move directly to the benches. They all have happy lives to live, in their own way.
Around the world | July 29

Today we took advantage of the fact that 35 educators from around the world are with us at Camp, having daily workshops on the uses of the expressive arts in building peace creating social change. Daniel Moses, the director of our Educators Program, told the campers that they would spend an hour and a half visiting various "countries" under the guidance of the educators, who would describe their homes culturally, historically and politically. Various buildings in Camp transformed into learning centers for all the countries represented in the educators group, and campers moved from the Middle East to South Asia and on to Cyprus, as well as to various places in the United States. At each station, educators gave history lessons, taught traditional dances, played instrumental music, described their populations and answered campers' questions.
These campers from Maine and Syracuse seem to be hungry for knowledge and eager to learn new skills, rapidly absorbing and applying new information. Anyone who tries to teach them something new is astonished at how quickly they catch on. For example, some Israeli musicians showed them the different beats associated with Western and Eastern music then asked the campers to combine them so it would sound like a real piece. They were able to do this instantaneously. And every day, five or six campers learn to water ski within the span of an hour.
Tonight we showed the movie SEEDS, a documentary made at our Camp in 2002. We wanted our Maine and Syracuse campers to see the program after which their own programs were patterned—a camp session with campers from the Middle East, South Asia, and the United States. They noticed a fair number of similarities and differences between the programs.
At long last, those participating in the gardening special activity were able to reap their rewards. First they made open-faced sandwiches with cheese and olive oil, using their own ripe tomatoes and basil. Then they made blueberry pie from "an old family recipe." The pie even had a lattice top. So good!
Interfaith dialogue & Scal | July 30

Brian Scalabrine of the Chicago Bulls and Boston Celtics has visited Camp along with about eight other NBA and WNBA players every summer for the last ten years, with large press in tow. This year, he came alone—he just couldn't imagine skipping a year, regardless of the fact that there would be no press. He even designed special T-shirts for the occasion for everyone at Camp.
For five hours, Scal gave master classes to campers and counselors on a very sunny court. We have a lot of really fine athletes at Camp this time, and Scal was impressed with their quickness, one-handed passes and accuracy. In fact, we are a little concerned for the teams coming from three other Maine camps to play soccer, basketball and baseball later this week: with the added advantage of these workshops with Scal, our campers will be formidable.
One of the nicest parts of our visit from Scal happened at Line-Up. He talked about the friendships he has made with people on his team not because they come from similar backgrounds but because they work well together. Then, right on cue, one of our counselors turned on Scal's favorite song, "Don't Stop Believin'" by Journey, and everyone joined in, singing and dancing. Wil Smith probably enjoyed it the most, standing on a bench leading everyone in song.
We also had interfaith dialogues this morning. Small groups incorporating balanced representation of the major religions and beliefs at Camp sat in quiet areas, engaging in serious conversations. As usual, we structured the counselor-facilitated conversations so that everyone would use "I statements" to describe their thoughts and practices. This exercise encourages mutual respect and replaces what might have been long-held assumptions about various forms of worship with information gleaned from each person's own narrative.
Group pictures & PYE | July 31

Group pictures often tell us a lot about the way the group members relate to one another. Today we took pictures of table and dialogue groups. The table groups reflect the culture of the Dining Hall, where the same 6-8 campers and two counselors sit at each table to share three meals a day for the entire Camp session. It is a lively time, with lots going on besides eating and drinking.
Every table group has a personality all its own. Some like to play games with the tableware, while others enjoy giving "shout-outs" to other tables. All of them like to do table cheers, which involve creating rhythms on the tables and with their hands. Every now and then, someone in the Dining Hall will shout out the start of a cheer and the rest of the campers and counselors join in. These table cheers have been passed on from one year to the next, with some of them going back as far as 1994. The table group pictures show the various table personalities: one table group wanted their picture taken while they jumped in the air, while another wanted to lie on the ground, propped up on their elbows.
Tonight, the entire Camp came together in the Big Hall with two leaders of PYE—Partners for Youth Empowerment. We learned how to guide a person to perform an action merely by saying "yes" each time the person came close to the objective. One camper was encouraged to go on stage and play the cymbals. Another, navigating by means of our chorus of "yes," went up to Bobbie and gave her a hug. And a third accomplished the most complicated objective of the night: removing the hat from a particular camper, walking across the room to give the hat to Wil Smith, and putting Wil Smith's hat in turn on the original hat-wearer's head. At the end of our time with PYE Global, the leaders divided us into thirds and gave each third a different part of a South African song to sing. Everyone sang together in glorious harmony.
Alongside such special workshops, the regular Camp program continues. Dialogue is becoming more intense, with campers inquiring deeper into each other's lives and perspectives. Sometimes they hurt each other in the process, but they take care to restore their friendships outside of the dialogue huts. On the high ropes course, campers are creating new challenges for themselves, such as timing themselves while passing each other on the high ropes forty feet in the air or performing the task with one or even both climbers blindfolded. These young people are not afraid to give the Camp program their best effort. It is wonderful to see!
Art & expanding our circle | August 1

Wil Smith began the day with a Line-Up talk about being inclusive. It is great to have a circle of good friends, but it is even better to keep expanding that circle to include more people, especially those who are different from the current group members. Some of the most interesting people are shy or quiet. Judging from the way the campers were accepting this advice, it is likely they will take it to heart.
Many campers are outstanding athletes, but quite a few have not learned the art of cooperation on the field. Tomorrow, teams from other camps will be playing our own teams, and today, in preparation, coaches challenged campers with sophisticated strategies that required them to work together.
One of the new special activities is Hunger Games, based upon the books by that name. Like the Harry Potter books, the Hunger Games series is a uniting factor among the campers and counselors. The members of the activity group compete in various activities, gaining points that will eventually determine the winner. They also brought the rest of the camp into the contest at the pre-lunch Line-Up.
This afternoon, the Partners for Youth Empowerment representatives and a number of the arts educators at Camp came together with the campers to engage in community-building games and play music. It was not simply a way of providing the campers with a beneficial and fun activity; it also gave the arts educators, who are studying new techniques, an opportunity to practice before returning home.
This evening, Bob Katz, the Maine artist who created the front gates and the big yellow peace boat at Camp, showed the arts educators many of his community-building and community-repairing arts projects, which are all over the USA and Canada. Bob described how he meets with people in each community to come up with ideas for sculptures that reflect their history and values. Then he relies on volunteers and donations of materials to construct each sculpture.
Just like every night this session, our kitchen staff served a delicious iftar dinner to all the people fasting for Ramadan as well as to the Educators. This food is worth waiting for!
Sports Day & Cafe Night | August 2

All this week we have been working on teamwork strategies, and today that paid off. Two nearby camps sent girls softball, boys basketball, girls soccer and boys Ultimate Frisbee teams to play ours this afternoon. The basketball teams had to be divided so that each side had some Seeds of Peace players and some of the other camps' players on it. Their players were much younger and smaller, and our team had the advantage of recent master classes with Brian Scalabrine of the Chicago Bulls, so mixing the campers created a more fair and fun game.
The Ultimate Frisbee, softball and the soccer teams were well matched and played hard. All the campers who were not playing became the cheering squads, complete with painted faces, arms and legs. Having opposing teams from other camps tends to bring our own campers closer together. They are happy to unite in support of their bunkmates, tablemates and dialogue friends.
The Dining Hall is another story. The table groups like to tease each other with humorous chants in between the all-Camp table cheers. They also play competitive games when the meal is over if there is extra time. Tonight each table had three minutes to come up with a surprising fact about anything at all. The tables with the best fun facts won.
Tonight was Café Night. As usual, we began with the memorial film about Seeds of Peace founder John Wallach, and two counselors who had been campers talked about the opportunity to make new good friends at Café Night. But this time we had an additional treat. One of our Seeds from last summer, Hattie Simon, is a professional singer and jazz pianist. She sang while the campers enjoyed each other's company as well as an array of desserts. Hattie's songs were perfect for this occasion, and a lot of new relationships got off to a good start because the atmosphere was so pleasant.
Talent Show & Color Games | August 3

It was so quiet today that many of us kept wishing we had more campers.
But the quietness was deceptive: evening dialogue was moved to the afternoon, so half the Camp disappeared behind closed doors, while the other campers were debriefing with the Group Challenge counselors. The campers were asked to think about their experiences on the high ropes and share what they learned about themselves, 40 feet up in the air. For many, the high ropes experience was a "break-through" moment, when they realized that they could be brave and no longer needed to think of themselves as timid about trying new things. For others it was about trusting another person who is not like themselves.
Another reason the day seemed quiet is because there were worship services for both Muslim and Jewish members of our Camp community. This week, non-worshippers were allowed to observe the services. Many campers took advantage of the opportunity, so fewer campers were visible outside the Big Hall.
Behind the scenes, two groups of six counselor coaches for the Blue and Green Color Games teams were strategizing. They knew they would have to hit the ground running as soon as the talent show ended. They also had to plan their grand entrances at the fire pit tonight, after which all the campers find out which team they would be playing on for the next two days. Everything they were doing had to be a secret, so they were out of sight.
The talent show is always an eye-opening experience for us. We just have no idea how much talent the campers possess until we see them perform on stage. This time there were many beautiful voices and terrific dancers, as well as rappers and "top models." Even the adult Educators who are with us gave a short performance. The Masters of Ceremony were also quite talented, so the whole evening was a real treat. At the end, Sarah and Jake, two Seeds/Counselors harmonized John Wallach's favorite song, "Last Night I Had the Strangest Dream."
Then, the lights went out and counselors began running around shouting "Color Games!" The Big Hall erupted in excitement as the adults left to form a long torch-lit avenue for the campers to pass through on their way to the fire-pit. The coaches were introduced in a dramatic way. One counselor came dressed as a bride and then someone threw blue paint on her white dress to indicate which team she was coaching. Another coach used a Harry Potter theme. They were all unique.
One camper was overheard saying tonight as he waited to find out which team he will be on, "This is the best camp in the world!"
First Day of Color Games | August 4

Color Games days are different from our normal Camp days in many ways, but they also put all that the campers have learned from Camp to the test. We hope they will come out of the experience not as entirely different people but, rather, as "better versions of themselves," as one former camper recently put it.
The rope pull before breakfast surprises many campers because it is much harder than it looks to win. One really has to rely on the sustained effort of everyone on the team and even that may not keep the rope from moving in the wrong direction. So, lesson number one: one cannot control everything, even with all one's power. This morning, the Green team won all the rope pulls, giving them a healthy 250-point lead.
Breakfast was organized by teams rather than by usual table groups. During Color Games, the campers do not have counselors at their tables. All the coaches eat at one table, where all their meals are working meals. The other staff members serve as the White Team, the support system for the campers and coaches. All three teams have their own cheers, shouted out in turn at each meal.
All day the Blue and Green Teams competed in land and water sports, first by bunk groups and then as All-Star teams. Those who aren't actually playing a sport cheered on their teammates. The All-Star events were stunningly skillful.
Behind the scenes, musicians, actors, poets, dancers, filmmakers, and artists from the Educators Program were practicing for their performance in Portland tomorrow night. It is heartening to watch performers and educators from entirely different backgrounds come together artistically, with sensitivity and mutual appreciation.
Tonight, it was the campers' turn to create their own performances. The Color Games Variety Show required each team to present an a capella group song, a team song and a comedy skit. The comedies were about Camp special activities, which are designed by counselors. The imitations of the counselors were really entertaining. It is always illuminating to see how campers uncover and portray the funny aspects of their counselors' personalities. The judges must have had a very hard time deciding which team won in each category.
Second day of Color Games | August 5

As it turned out, the Green Team won Hajime, the grand relay race with objectives all over Camp, and the Blue Team scored the most points overall, thereby winning Color Games. So it was a victory for both teams, although just yesterday it looked like the Green Team was destined to win. The Blue Team rallied this morning, winning most of the All-Star games and also winning two out of three events at last night's Variety Show. That all added up to a 300-point lead, and the Green Team just couldn't garner enough points to regain first place. Once again, the old adage came true: the team that loses the rope-pull wins Color Games.
Tonight, after the competition ended, an unusual blue and green cloud formation appeared. The presence of our Color Games colors in the sky seemed like a magical occurrence.
Tonight, everyone was back in one color, wearing our Seeds of Peace green shirts, and back at our regular dining tables. A thunderstorm followed the lovely cloud formation. The rain and lightning kept us in the Dining Hall, eating our "cook-out" indoors and singing lots of songs. At last the storm moved on and we gathered in the Big Hall for memory albums. The campers use these blank books to write letters to one another that they can read over and over again once they return home.
We also had our traditional memorial service remembering Asel Asleh, the only Seed who has died in political conflict in the Middle East, two Maine Seeds, and seven others. Most of them died in car accidents or from illnesses. A couple died in other accidents or through domestic violence. Wil talked about the importance of taking care of one another. Bobbie talked about the kind of person Asel was and read the last letter he wrote to her before he was killed, and several campers read Asel's letters or other poetry. Three campers sang "Blackbird" and Adriel, a counselor, sang "Wish You Were Here." The service was held beside our peace garden.
Finally, the whole Camp assembled by the fire-pit, where team coaches gave the campers feedback on Color Games. The counselors were in awe of what the campers had been able to accomplish in only two days. Wil spoke about taking Camp home with them, forming larger circles of friends, and seeking out the people in their schools who, like the counselors, will provide them with unconditional love and support. In the end, Jake LaChance sang a song composed by Christopher Gilman Scott, a Maine Seed from 2006, and Aaron Shneyer, his counselor at the time. Jake had the campers sing along, sing alone and then walk back to their bunks with their bunkmates, all the while still singing, "Every time I lie awake in bed, I'll be thinkin', I'll be thinkin' of you."
Last Day | August 6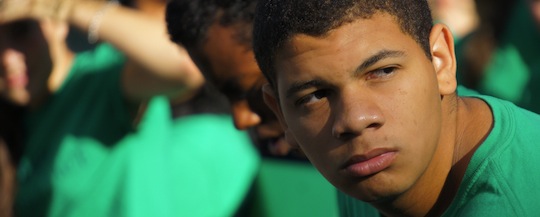 On this last day of Camp for the summer, all of us are sorry to see it end but so, so happy that once again it happened so beautifully. So many hurdles had to be jumped, so many behind-the-scenes traumas had to be resolved, but in the end, we had all the people we were expecting and their contributions to the program far exceeded our expectations.
We have had an abundance of musicians this session, proving once again that there is no such thing as too much music. Music broke out no matter what was going on. Whenever we talked to the campers about staying hydrated, the counselors broke out into a funny song they made up, "Water for the Children." Whenever we were too early for breakfast, music counselors came up with entertaining camp songs. Any free moment that needed to be filled was usually filled with music. Tonight, our Camp band, The Smashing Chickpeas, played many songs that were just right for the last night, such as "Lean on Me" and "One Voice."
We also had a slide show with 200 of the 2,000 photos taken by Bobbie over the course of the session. Each slide drew cheers as the campers and counselors were recalled their two weeks together. These photos can be accessed on the session set on Flickr.
In the morning we had an all-Camp clean-up and an all-Camp lost and found. Everyone worked hard, and some people found objects that had been missing for a long time. One counselor had borrowed a bear costume for his entrance as a coach the first night of Color Games and was desperate to find it so he could return it to its owner. Unbeknownst to him, however, the owner already had the costume back in her possession. Today she came to Line-Up wearing the very realistic bear suit; the counselor was greatly relieved.
We always help the campers make the transition to home by having some of the people they will be working with during our year-round programming meet with them prior to leaving Camp. We also give them an outline of what their involvement with Seeds of Peace will entail as they grow older. But at this moment, campers and counselors are mostly concerned about the upcoming separation from each other and from their home by Pleasant Lake. For all of us who have worked here multiple years, separation from Camp life is a necessary struggle. We definitely feel their pain. But, as one Seed who is now a counselor said to me tonight, "I can't wait until next summer!"
Departures | August 7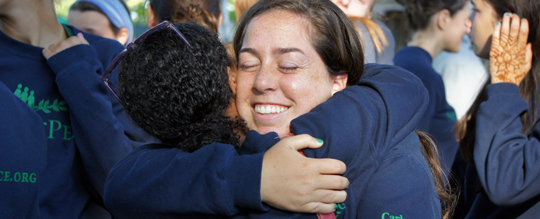 We knew this day would come. We knew we would all wake up a bit early, go to a final line-up and then walk the campers to the buses. We knew it would feel sad and almost cruel to separate them from Camp life. And we knew we would have conflicting emotions—glad that we had succeeded for the 38th time and sad to have Camp end.
Yesterday at the Quaker silent meeting that Bobbie assembles each session for everyone who wants to participate, the campers seemed unusually silent. Several counselors spoke but none of the campers said anything. All the other times we have had such a meeting, the campers took the time to reflect publicly about their Camp experience. Some of us wondered why it was different this session. We speculated, but nothing we thought of seemed to fit. Then we learned that many of this session's campers had only come to grips with the fact that Camp was almost over on last night in their bunks, when many cried and talked about their sadness.
In the early morning, as we walked the campers to the buses, many of them were in tears. Although they all live in the same country, it is still an 8-hour drive from Maine to Syracuse. While all of them will have the opportunity to participate in on-going Seeds of Peace programs back home, they will certainly miss Camp. The love of counselors and facilitators and the many opportunities to master new challenges in most cases will not be available to them at home. They will have to seek it out in their own environment and create life "as it could be" in their communities.
Today the counselors have cleaned up the entire Camp and put everything away, where it will be protected from the severe winter weather in Maine. They also held a powerful closing activity conducted by Wil Smith that allowed the counselors to show appreciation for one another. Many counselors were surprised to learn that their presence meant so much to others. We all shared a Thai dinner and then had a party at a local bowling alley.
During the dinner, counselor Mary-Kate read a note that was written on the side of her bunk by a camper named Rachel. It is a fitting end to these Camp Reports.
"It's hard to explain. Seeds of Peace Camp is a place where strangers laugh, cry and open up to one another until they are no longer strangers but friends. I like to think the bonds we built are not broken easily, no matter where you live. The staff here supported us, loved us and pushed us, instilling goals of teamwork, leadership and confidence. They helped us push and break boundaries within ourselves—ones we weren't even aware we had."

"Now I'm leaving and I feel like both laughing and crying. I'm happy because I get to see my family and friends again but I also feel great loss because, in a sense I'm leaving my family behind."

"This was an experience of a lifetime and I hope I can return here someday. A lot of people say that those who haven't gone to Seeds of Peace will never understand the journey we embarked on. But if you close your eyes and picture a place where everyone is welcomed, heard, understood and respected, you can begin to understand the Seeds of Peace experience."
Video | Session II Slideshow